I first tasted almond butter at the YouTube Studios in NYC where Google makes sure that YouTube partners have their choice of healthy eats. I tweeted about it and my favorite healthy foods guru responded. Gluten free soul food chef Rhonda Peters is the author of the cookbook, "So, What Can I Eat Now?!" available on Amazon.
If you've ever dealt with any sort of food allergy or sensitivities, you know that this can be hell. Rhonda's cooking tips are a lifesaver for me and many others. After you make her homemade almond butter, don't forget to read our in depth interview with the soul food nutritionist and chef. Take it away, Rhonda… -aa
Hey Sacred Bombshell,
Almond butter should be a staple item for anyone who is living a heart healthy lifestyle and does not have an allergy to nuts!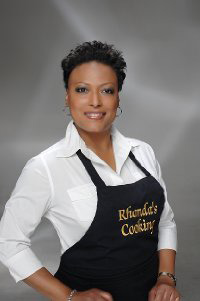 Raw Almonds–the ones that have not been cooked in oil and spices–are naturally gluten free, high in fiber, protein, iron, and monounsaturated fat–"the good fat", and low in carbohydrates.  These awesome nutrition facts make almond butter the perfect heart healthy snack!
Similar to peanut butter, almonds can be roasted and ground to make almond butter.  It has a slightly different taste than the natural peanut butter, but it is a great substitute because peanuts are higher in saturated fat and tends to be more moldy thus causing other problems for some people.
Purchasing dry roasted almond butter in the store is about twice as much as natural peanut butter, and ranges from $5 – $10, depending on the brand.  Because I was tired of spending money to purchase something that was just ground up almonds, I decided to buy a large three pound bag of raw almonds for about $12 and make much more almond butter!
With my food processor cleaned and ready to go, I made my first batch of almond butter about four years ago, and  I have been making it ever since.
Here is my quick and easy recipe for all-natural almond butter:
Ingredients:
1 pound of raw almonds – yup! That's it.
Cooking Instructions:

Preheat the oven to 350 degrees. Place almonds onto a large baking sheet pan and place into the oven.  Roast almonds for about 8 to 10 minutes.  Depending on your taste level, you can roast longer—the longer you bake, the almonds will darken and potentially smell and taste burnt.
I recommend that you roast no longer than 13 minutes.
Remove the pan from the oven when done, and let almonds cool for about 2 to 3 minutes.
Add roasted almonds to a food processor, and process until smooth, no longer stiff.
Bonus Almond Butter Tips:
To obtain chunky almond butter, reserve about 1/4 cup almonds before processing.  Chop almonds then add them to the almond butter, and stir until well mixed.
This recipe can be used to make hazelnut butter or even pecan butter.  Note that the roasting times will vary, so keep your eyes open and noses alert!
---
Nutritional Content
CALORIES 170; FAT 15g (sat 1g, mono 9g, poly 4g); PROTEIN 6g; CARB 7g; FIBER 4g; CHOL 0g; IRON 6%; SODIUM 0mg; CALC 8%


About Rhonda's Cooking
Rhonda Peters is a Certified Nutritional Counselor and founder of Rhonda's Cooking, LLC. She is a featured blogger for Real Health Online Magazine and is the Phoenix Metro Gluten Free Expert on Examiner.com. Founded in 2005, Rhonda's Cooking is an award winning publishing company with a mission of distributing healthy cookbooks and promoting alternative cooking options for food allergy sufferers and those who because of chronic illnesses are forced to modify their diet. To learn more about Rhonda's gluten free soul food cooking, visit RhondasCooking.
---
---
If You Like Gluten Free Soul Food, More Passionate Living!
---