Having dealt with eczema for most of my life, shea butter and other natural oils and butters have been my best friend. This month, Coye reviews Majestique Spa Shea Buttah skin cream. Will it keep her feeling sexy, looking glossy and ash-free this summer sans grease? -aa

[dropcap]W[/dropcap]hen summertime weather arrives, so does the summertime apparel and with summertime apparel, out comes the summertime skin. And when you're showing more skin, you want to make sure it is well-moisturized and luscious to the touch.
For the last five years, I have been a loyal customer of Majestique Spa, not just during the summer but all year long. Founded and owned by creatix, C. Little, Majestique offers a wide range of all-natural spa products that could entice anyone who loves to have an at-home pampering alone or even better, with that certain special someone.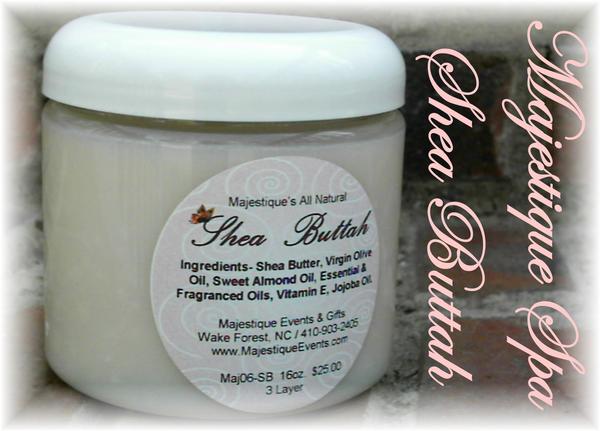 While I have dabbled with many of her products, my favorite from the line would have to be the Majestique Shea Buttah which are custom-blended and accented with a personal touch.
Why I Love It
Available in almost every scent imaginable (seriously, the company boasts well over 50 scents), the Majestique Shea Buttah is embedded with many nutritious treats such as Vitamin E, Olive, Almond and essentials oils to moisture every thirsty inch of your skin, a definite plus for those who may have very dry skin or eczema.
Applying is just as smooth as "the buttah" itself but what makes this particular brand my favorite over others is the way my skin feels afterwards especially after relaxing in a candlelit bath.
My skin has a nice shimmer but thankfully doesn't leave me looking like I did a baseball slide into some cooking oil.
During times of a find-a-penny, keep-a-penny economy, the entire Majestique product line is reasonably priced especially since a little goes a long way. Currently, prices for her chemical-free skin smoother start as low as $5 for 2oz.
An Almost Oops!

Since the weather is warming up, don't make the same mistake I did last summer by leaving it in your car in the scorching heat.  My shea butter looked more like shea milk. The not so big of a problem was corrected when I placed the container in the refrigerator for about 30 minutes and it was good as new.
To indulge in the naturally fabulous "Majestique" experience for yourself and possibly someone else too, the Majestique Shea Buttah is available exclusively at ByMajestique.com.

—
Featured Photo Source: S Buchanan Photography on Flickr. It's his copyright. All rights reserved. 
—
More Passionate Living!