Can we love two people at the same time? The featured logo is from the short-lived Wendy Williams relationship game show. However, we're talking about real life dramas here.
This week's column is about love, dating, break ups, make ups and relationship solutions…

Greetings Lovies,
This week, a reader wrote in to my "Dear Abiola" Essence advice column with a dilemma about loving two men at the same time. She reconnected with her ex whom she left when cheating with her current boyfriend. Wait – what?
Okay, I know the situation sounds convoluted — and it is, but we are a judgment free zone, remember? We do the best we can given our current levels of self esteem and personal development. Let she who is without sin, stop lying to herself. In the column, I give her a step by step guide on how to free herself from her current love drama.
To directly answer the question of whether a person can be in love with two men at the same time, I believe that love is infinite so it most likely is possible to have love for more than one person at a time. There are different kinds of love, however, so this would probably be challenging for most of us.
My love coach sister Kenya K. Stevens and her husband Rakim Sekou, for example, are poly-amorous in a happy, open relationship. However, Kenya and Rakim have been together for over 15 years and they are both consenting adults. They also explain in their books how they conquered monogamy before opening up their marriage.
Cheating on your partner is not being poly-amorous, it's just being deceitful and out of integrity with yourself. If you want to be in an open relationship, find a partner who wants to do the same.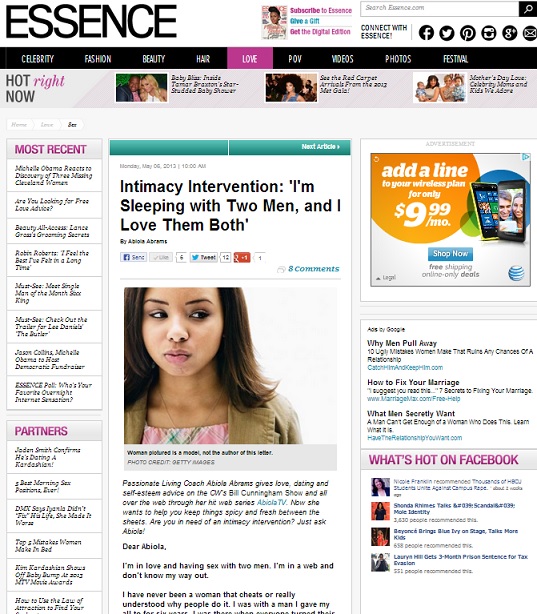 It may have been fun to choose sides as in Team Jake or Team Edward for the object of Bella's affections if you're into "Twilight." (Yes, I am!) It was not as much fun when Kristin Stewart created a very real love triangle or quandrangle with her married "Snow White and the Huntsman" director Rupert Sanders and her boyfriend Robert Pattinson who plays Edward.
There is nothing romantic about relationship deception. It's better to stay single than to be a liar and cheater. In the Stewart situation, Sanders' wife, the lovely Liberty Ross filed for divorce and now their children will grow up in a broken home.
Read this week's Essence advice column here, and watch a flashback web TV video (below) that I did in Woodstock, NY about open relationships.
I would also recommend that if the reader cannot find support at this time with a counselor or coach, she tries healing modalities like meditation and Emotional Freedom Technique to help her get through the multiple breakups that may be on the horizon.
Open Relationships Flashback Episode

For those looking to learn more about "alternative" relationships, tantra and open marriage as a lifestyle, Kenya K. Stevens' book is called "Change Your Man: How to Become the Woman He Wants"
and her husband's book is called "Tame Your Woman: Be the Man She Needs You to Be"
by Carl Stevens. They both offer coaching around these topics and can be found here.
I haven't read either of their books yet, but I adore both of them. Their relationship is open, honest and works for them. What else matters? It may not be my choice or your choice but so what? Each couple should create their own world that works for them.

Video produced by iCreateTV.com.
—
More Passionate Living!