Can your favorite Mexican food be healthier for you?

Hey Rockstars,
My current dietary plan is 6 days of strict adherence to avoiding corn and white foods- white flour, white rice and white potatoes. One day a week, however, I eat whatever I want.
I say dietary plan vs. diet because we all know that diets don't work. My objective is to make sustainable healthy life choices for better health, wellness, fitness and energy.
One of my favorite "cheat day" indulgences is chicken and nachos from Lolita's in Harlem. The high fat meal is a delicious salty concoction deep fried chips, cheese, sour cream, refried beans, guacamole and chicken.
Here's a video I shot 2 years ago of my former UNHEALTHY Nachos indulgence:

Although I only was eating these Chicken Nachos from Lolitas once a week, it is now feeling heavier to my cleaner palate. The nutritional facts for this meal from the restaurant are: 850 Calories, 40 g of Fat, 1990 mg. of Sodium, 70 g of Carbohydrates, 10g of Fiber. Because my recipe is for 4-5 hearty servings, the Lolita's Nutritional Info numbers to compare to my numbers below are: 3,400 Calories, 160g of Fat, 7,960 g of Sodium, 280 g of Carbs, 40 g of Dietary Fiber.
Even taking into consideration that I ate one portion as approximately 3 meals, this is an extraordinary amount of fat and calories from one meal! No wonder I gained weight. Ugh.
Here's my new HEALTHIER Spinach Chicken Nachos Recipe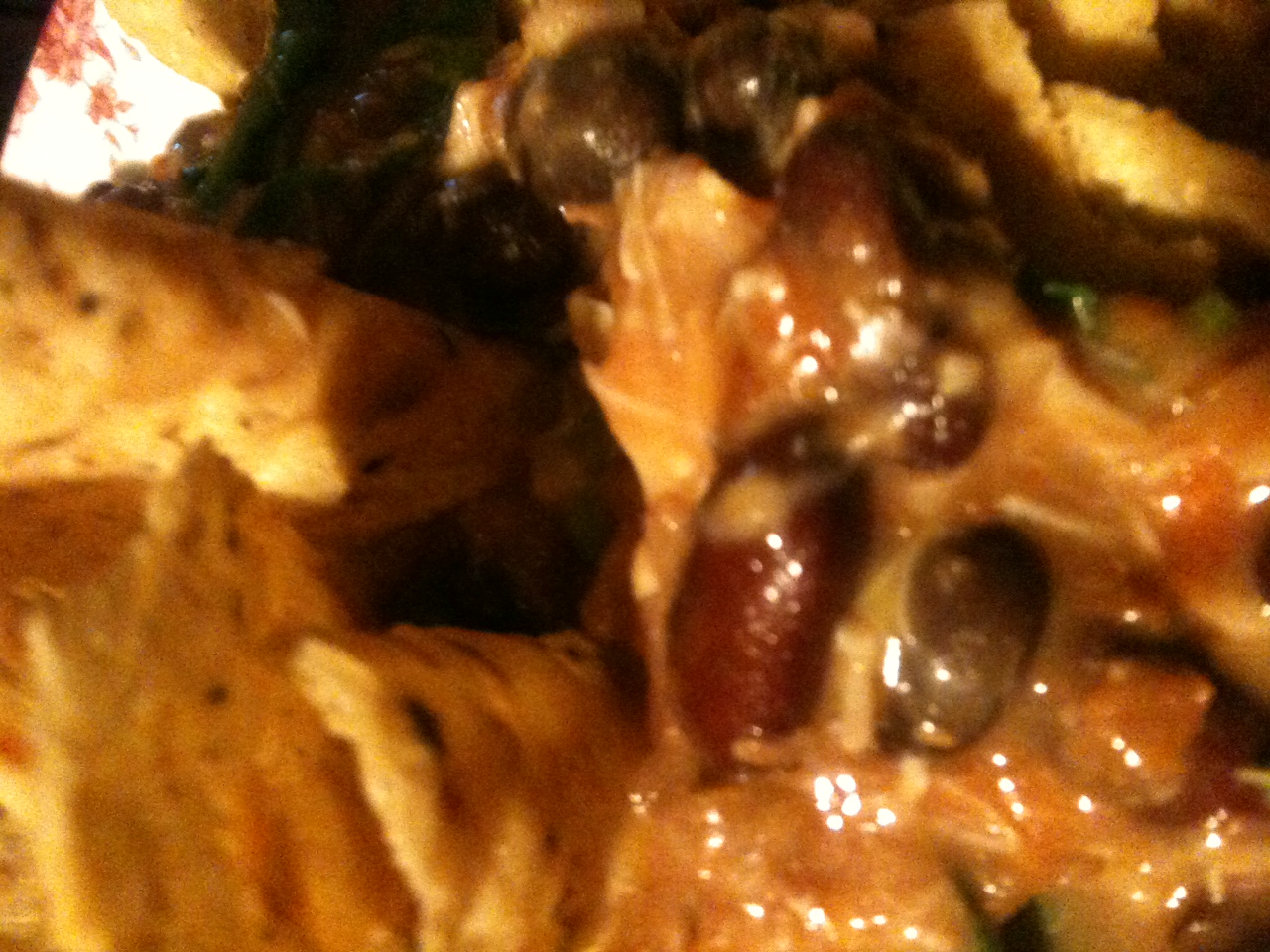 My Low Fat Nachos Recipe Ingredients:
(Photos below. Calories below are per cooking pot not per serving. Sodium below is pre-rinsing of canned items.) Nutritional Value per Saucepan is 782 Calories, 18 g of Fat, 2,386 Sodium, 153 g of Carbs, 26.5 g of Fiber.
Thorough rinsing canned foods reduces sodium by about 80 percent. Nutritional Info Per Serving Post Rinsing: 195.5, 4.5 g of Fat, 196 g of Sodium, 38.3 g of Carbs, 6.6 g of Fiber.
1) Valley Fresh 100% Natural Chicken (White & Dark)
Per Saucepan: 80 Calories, 3.5g of Fat, 270 mg. of Sodium, 0g of Carbs, 0g of Fiber
2) Fresh Baby Spinach
Per Saucepan: 7 Calories, 0 g of Fat, 24 mg of Sodium, 1 g Carbs, 1 g Fiber
3) Taco Bell Fat-Free Refried Beans
Per Saucepan: 100 Calories, 0 g of Fat, 540 mg of Sodium, 18g of Carbs, 4g of Fiber
4) Weight Watchers Mexican Style 4 Cheese Shredded Blend
Per Saucepan: 80 Calories, 5g of Fat, 190 mg. of Sodium, 1g of Carbs, 0 g of Fiber
5) Goya Black Beans
Per Saucepan: 90 Calories, .5g of Fat, , 460 mg. of Sodium, 19g of Carb, 6g of Fiber
6) Sophia's Red Kidney Beans
Per Saucepan: 160 Calories, 1g of Fat, 562 mg. of Sodium, 26g of Carbs, 13g of Fiber
7) Chopped Onion & Ground Black Pepper
8) Tostitos All-Natural Restaurant Style Salsa
Per Saucepan: 15 Calories, 0 g of Fat, 250 mg of Sodium, 3g of Carbs, .5 g of Fiber
9) Tostitos Artisan Recipes Roasted Garlic and Black Beans
Per Saucepan: 150 Calories, 8g of Fat, 90 mg of Sodium, 18 g of Carbs, 2g of Fiber
Spinach Nachos Cooking Directions: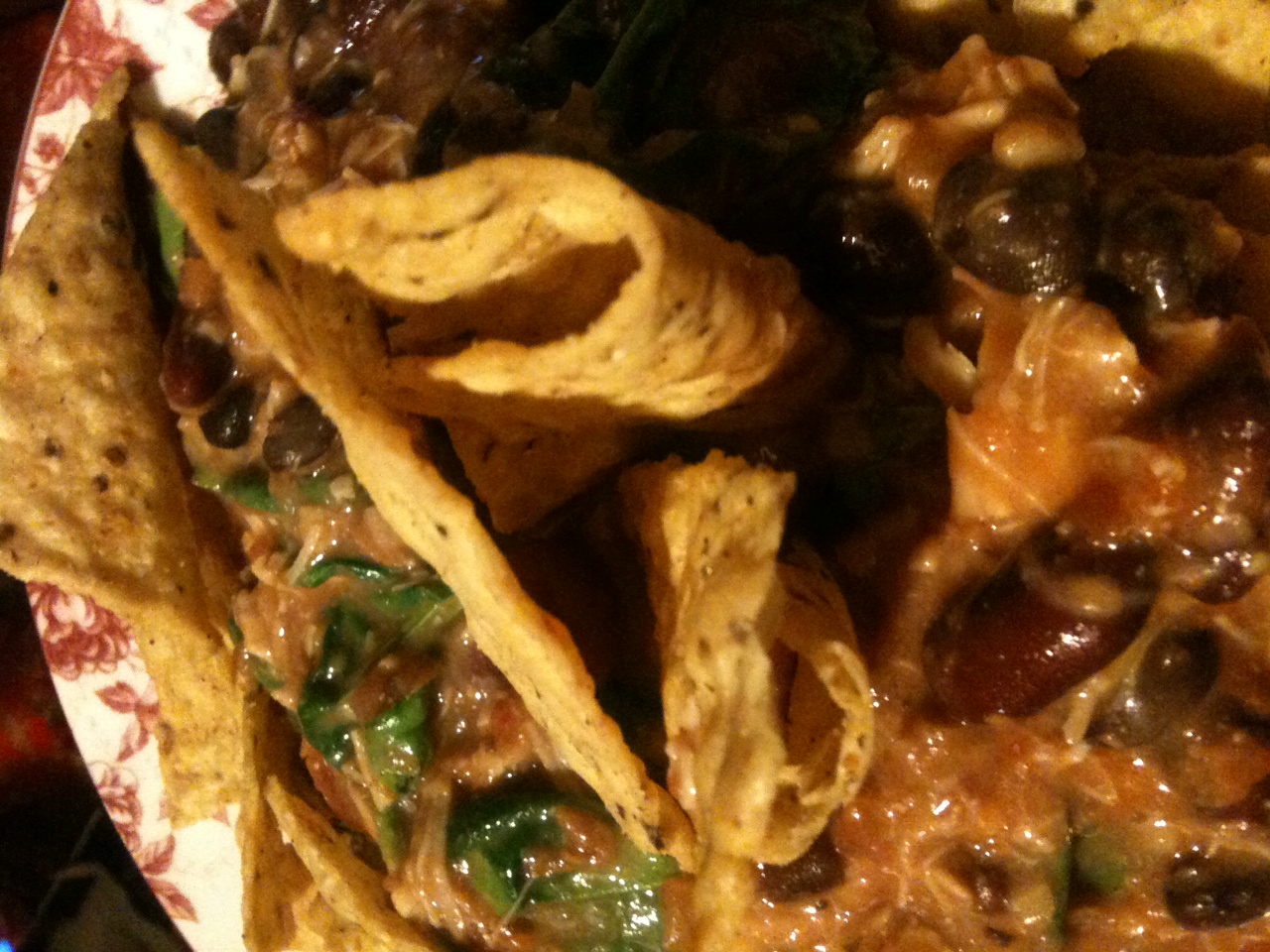 Rinse the canned items thoroughly. Cook on low heat in a saucepan adding the chicken first and all ingredients one by one in the order above. Add the salsa last.
Serve with the Tostitos Artisan Recipes Roasted Garlic and Black Bean Chips. My supermarket comparisons found this version to have the least amount of calories, fat and sodium.
Total prep time is about 25-30 minutes.  This was delicious and is either about 4-5 servings for one person or 2 1/2 servings each for two.
The low-fat free cheese and refried beans make a big difference. Adding the fresh spinach insures that there's at least something healthy in the mix. The Artisan Recipe Tostitos had less fat and calories per serving than my usual Scoops version plus added great flavor to the meal over all.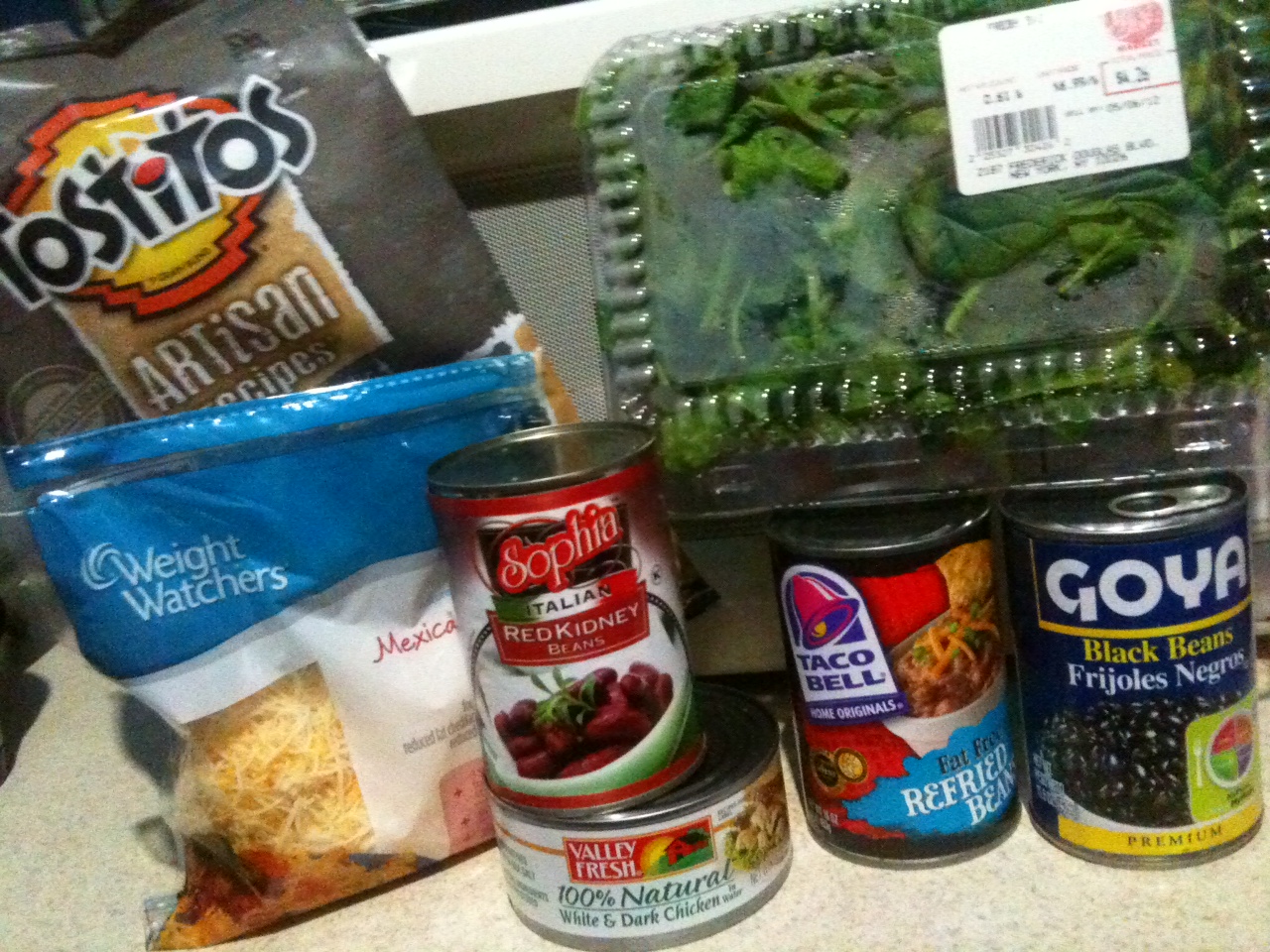 My other cheat day indulgence is a turkey burger and sweet potato fries. I'll adapt that on another day.
Ways to make the recipe even healthier?
Better health is not an all or nothing enterprise. Incremental changes result in longer maintenance for life changes. Don't wait until you can change everything. Adapting your favorite recipe to be just a little bit healthier is wonderful.
I am lactose-intolerant but I tend to crave cheese however you can easily omit the cheese or any one of these ingredients if you have food sensitivities. I always rinse canned foods to lower the sodium. Someone like my mom who needs to avoid salt should still probably avoid this meal altogether. You can also omit the canned goods and make all of the elements from scratch.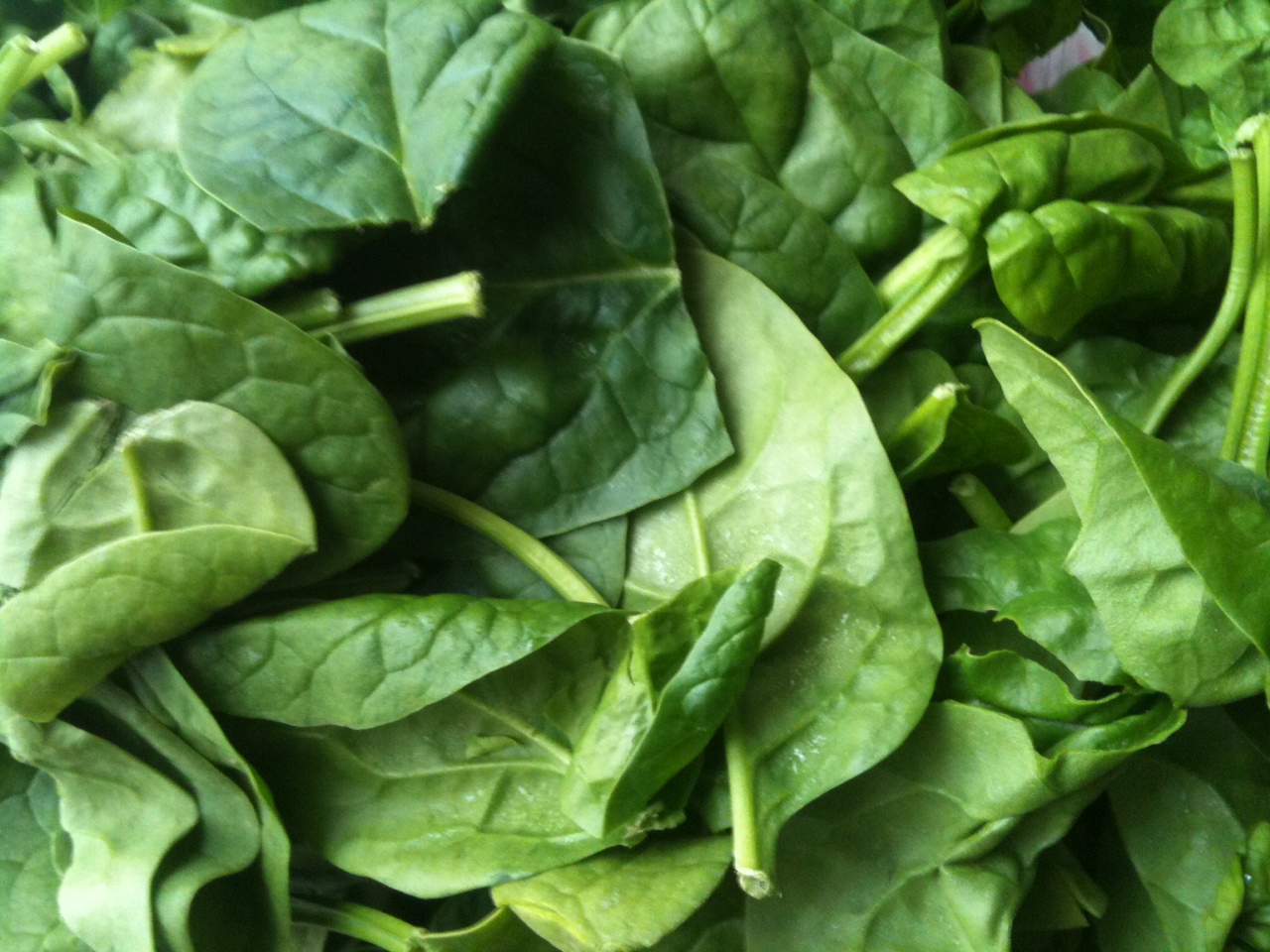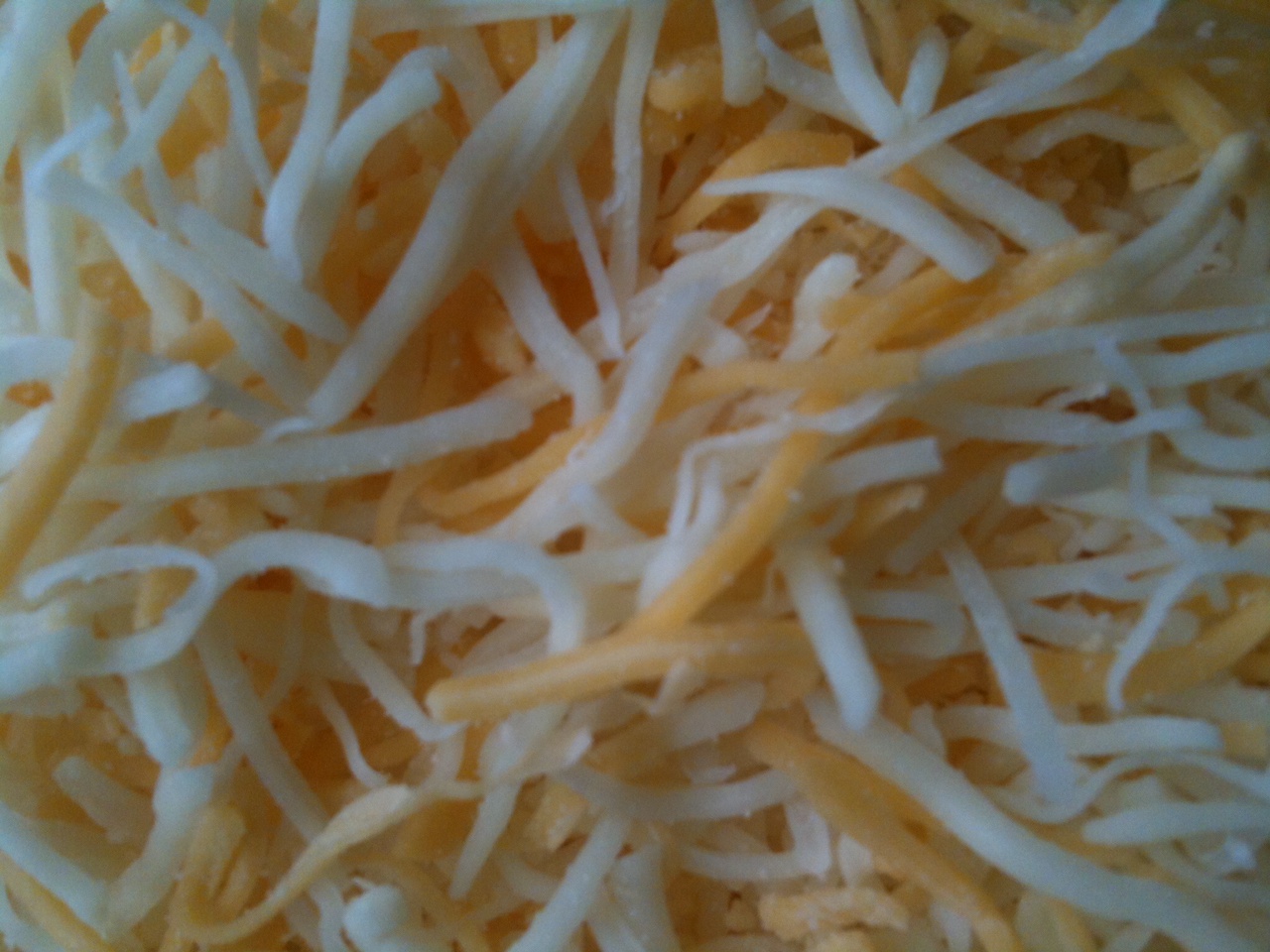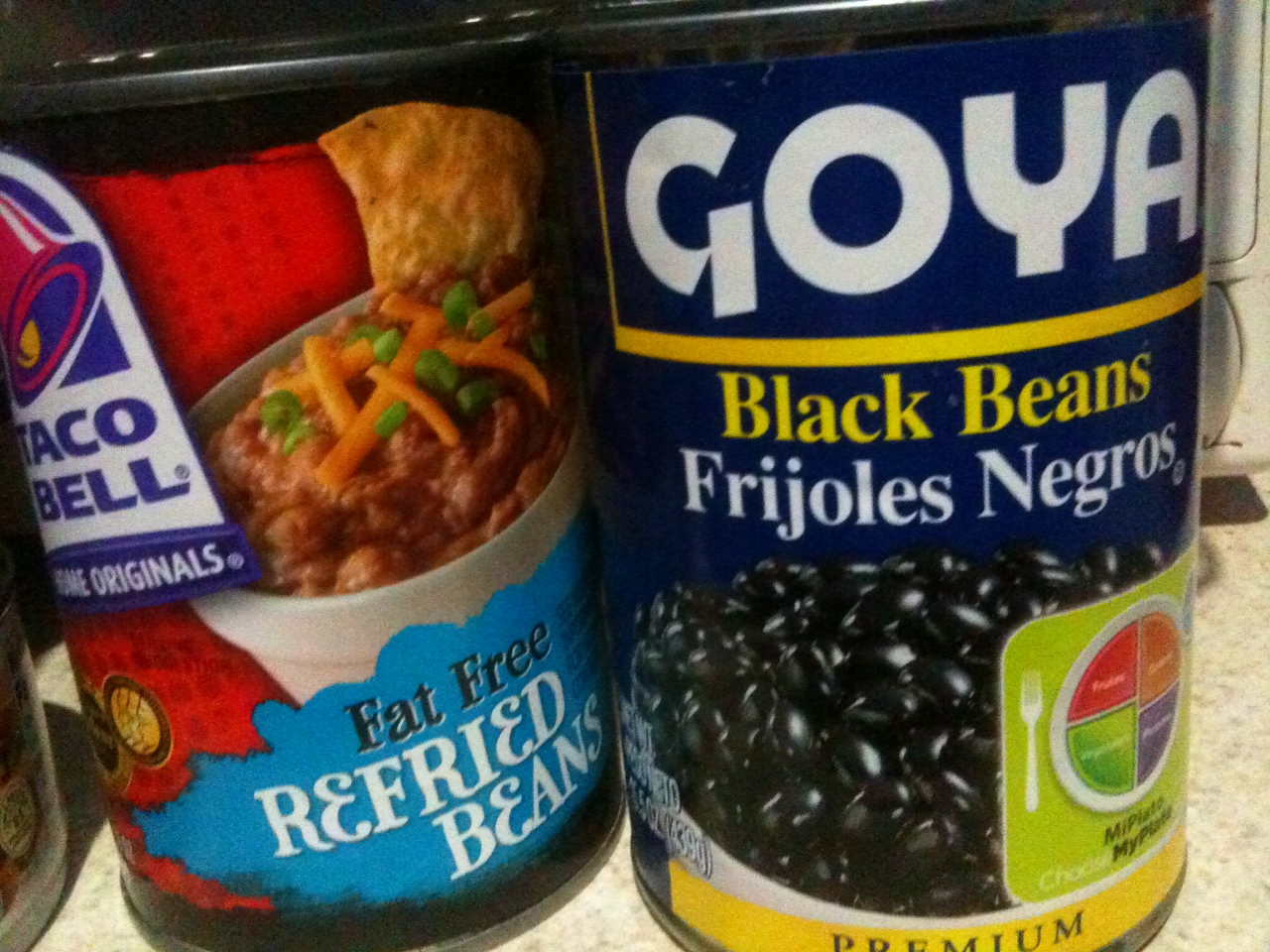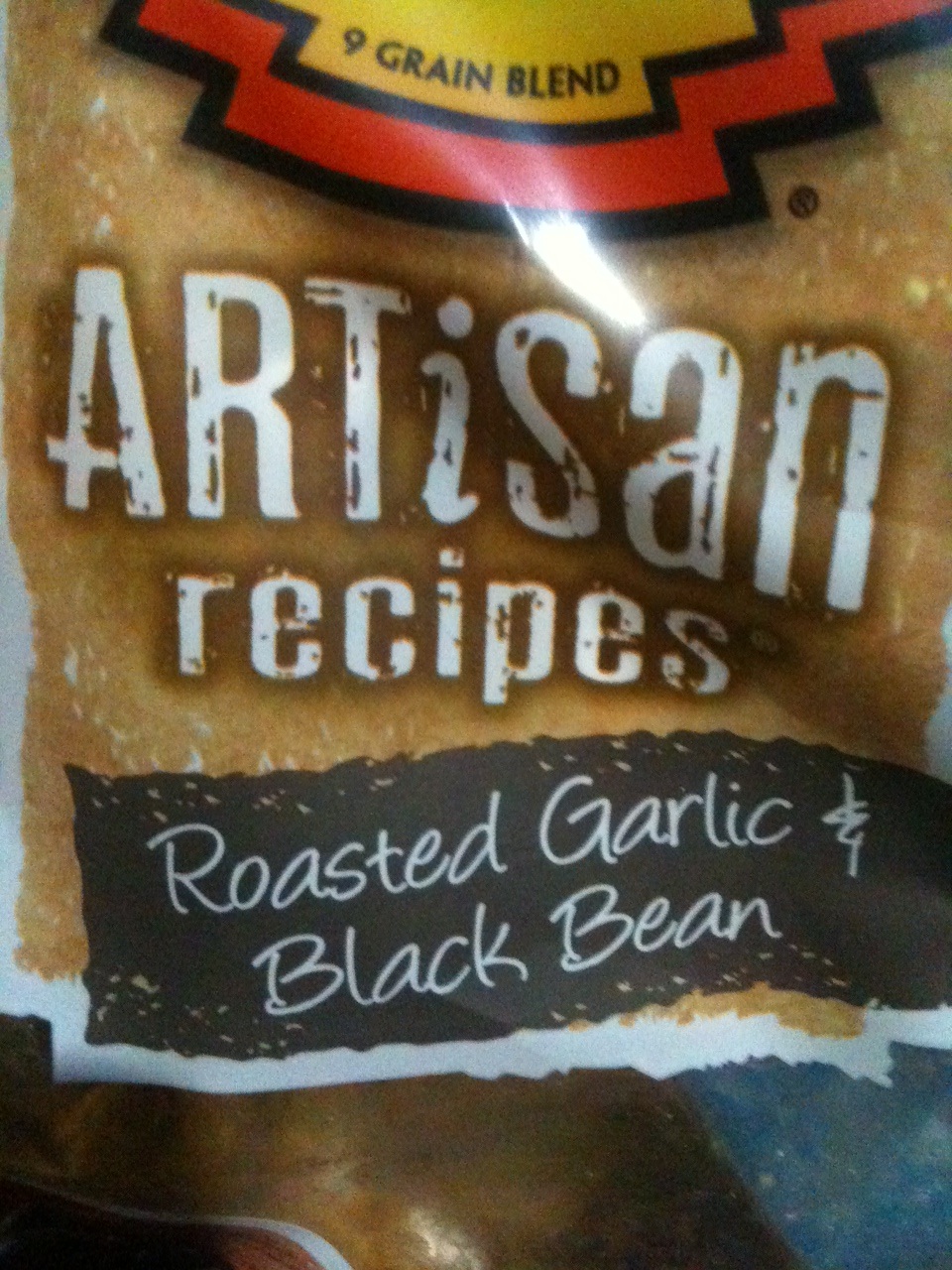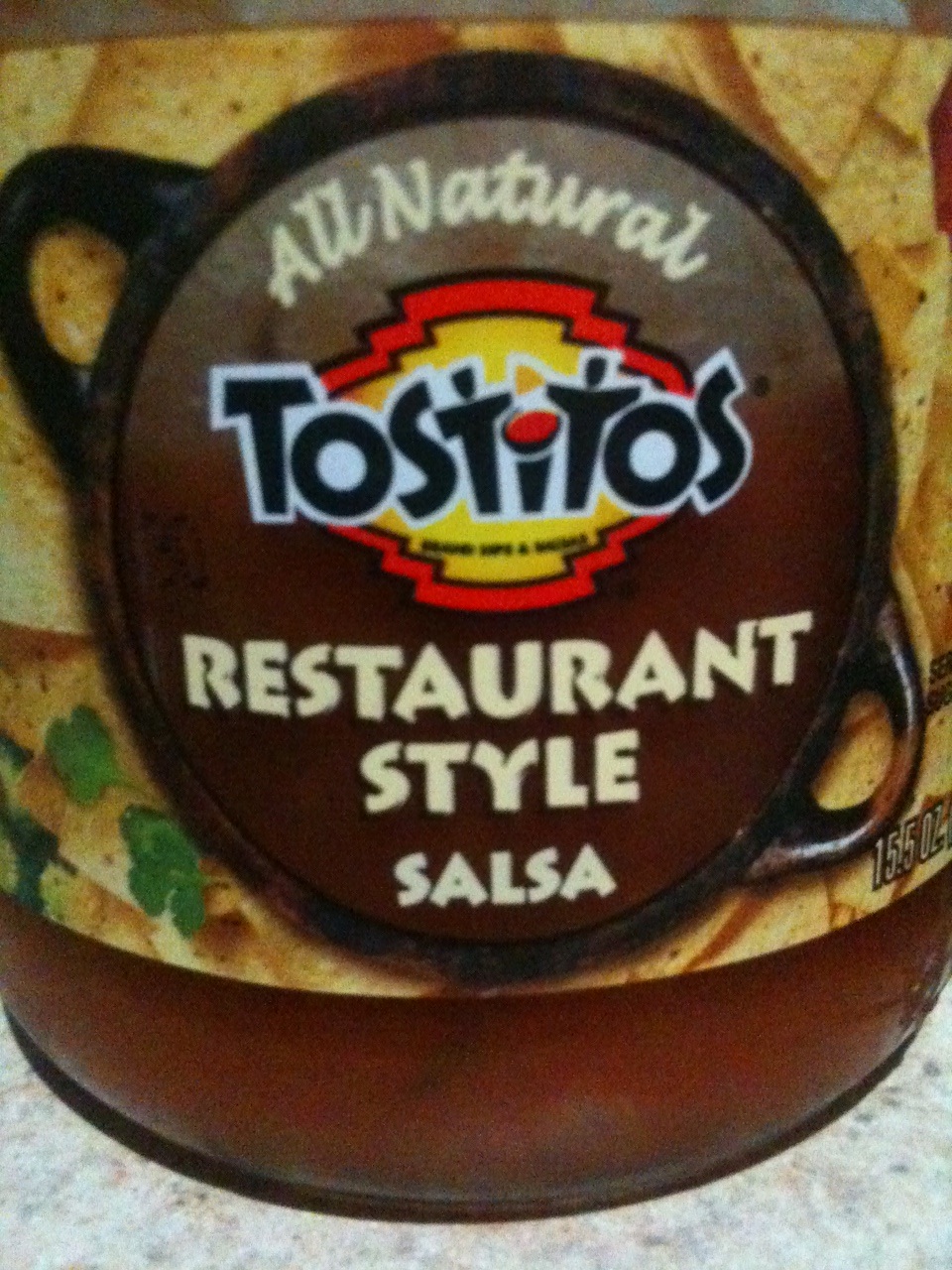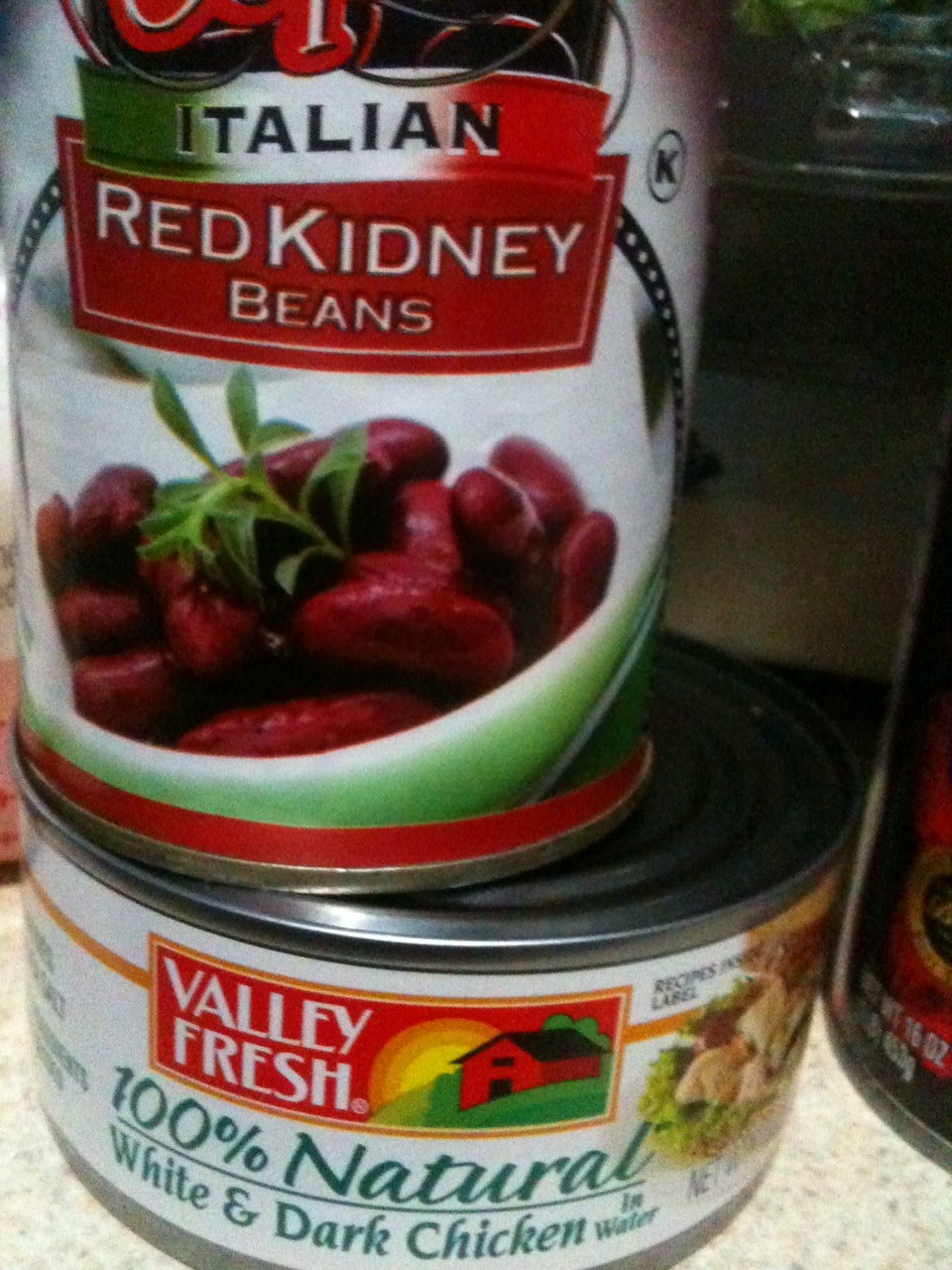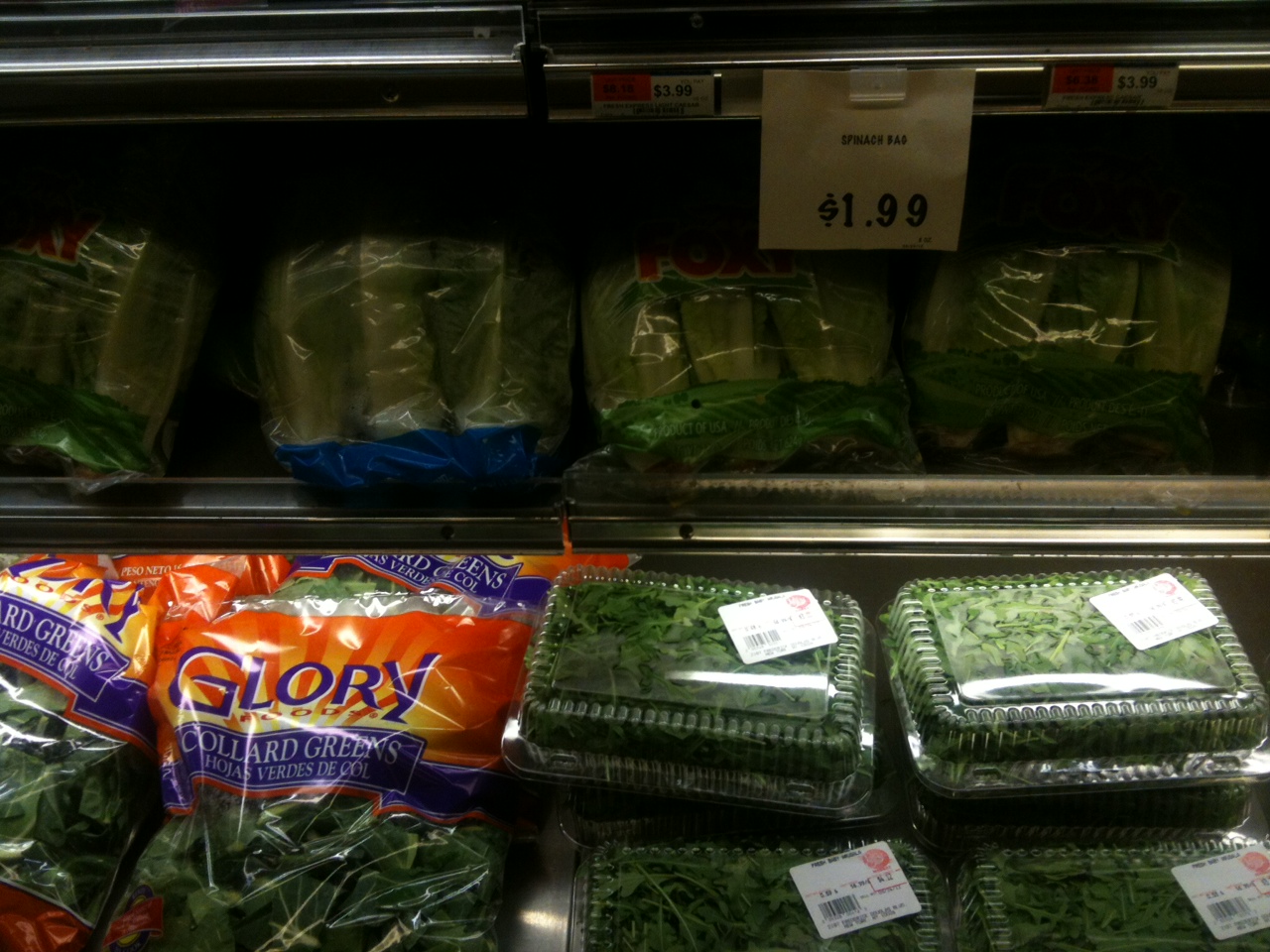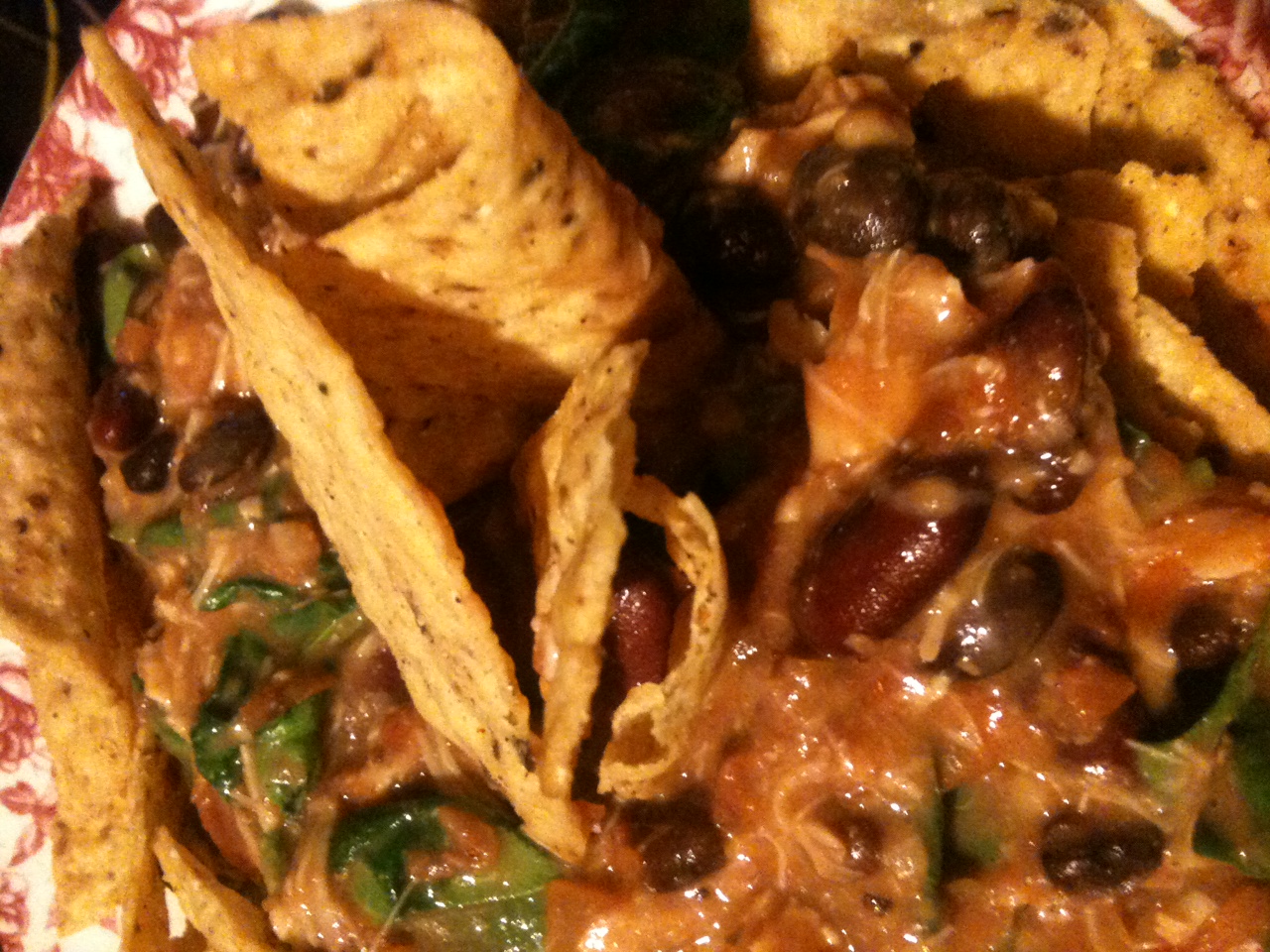 You May Also Enjoy