Esteemed Chef Marcus Samuelsson, the Pope of Red Rooster Restaurant in Harlem, has a fascinating life story. His most recent book "Yes, Chef: A Memoir
" shares that moving tale across continents with delicious food. His favorite Swedish childhood meal is gravlax or gravad lax (Wikipedia), a Nordic dish consisting of raw salmon, cured in salt, sugar, and dill. Gravlax is usually accompanied by a dill and mustard sauce, either on bread or with boiled potatoes. Thanks to Daily Candy for the fun recipe video.
[dropcap]A[/dropcap]bout the Book: "It begins with a simple ritual: Every Saturday afternoon, a boy who loves to cook walks to his grandmother's house and helps her prepare a roast chicken for dinner. The grandmother is Swedish, a retired domestic. The boy is Ethiopian and adopted, and he will grow up to become the world-renowned chef Marcus Samuelsson. This book is his love letter to food and family in all its manifestations."
If you can't see this Daily Candy recipe video, click here.

From the book, excerpt.
Chapter One:
My African Mother
I have never seen a picture of my mother.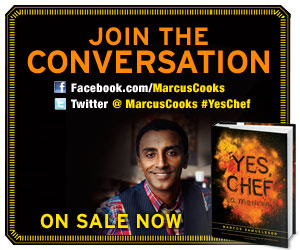 I have traveled to her homeland, my homeland, dozens of times. I have met her brothers and sisters. I have found my birth father and eight half brothers and sisters I didn't know I had. I have met my mother's relatives in Ethiopia, but when I ask them to describe my mother, they throw out generalities. "She was nice," they tell me. "She was pretty." "She was smart." Nice, pretty, smart. The words seem meaningless, except the last is a clue because even today, in rural Ethiopia, girls are not encouraged to go to school. That my mother was intelligent rings true because I know she had to be shrewd to save the lives of myself and my sister, which is what she did, in the most mysterious and miraculous of ways.
My mother's family never owned a photograph of her, which tells you everything you need to know about where I'm from and what the world was like for the people who gave me life.
In 1972, in the United States, Polaroid introduced its most popular instant camera. In 1972, the year my mother died, an Ethiopian woman could go her whole life without having her picture taken–especially if, as was the case with my mother, her life was not long.

I have never seen a picture of my mother, but I know how she cooked. For me, my mother is berbere, an Ethiopian spice mixture. You use it on everything, from lamb to chicken to roasted peanuts. It's our salt and pepper. I know she cooked with it because it's in the DNA of every Ethiopian mother. Right now, if I could, I would lead you to the red tin in my kitchen, one of dozens I keep by the stove in my apartment in Harlem, filled with my own blend and marked with blue electrical tape and my own illegible scrawl. I would reach into this tin and grab a handful of the red-orange powder, and hold it up to your nose so you could smell the garlic, the ginger, the sun-dried chili.
My mother didn't have a lot of money so she fed us shiro. It's a chickpea flour you boil, kind of like polenta. You pour it into hot water and add butter, onions, and berbere. You simmer it for about forty-five minutes, until it's the consistency of hummus, and then you eat it with injera, a sour, rich bread made from a grain called teff. I know this is what she fed us because this is what poor people eat in Ethiopia. My mother carried the chickpea powder in her pocket or bag. That way, all she needed to make dinner was water and fire. Injera is also portable, so it is never wasted. If you don't finish it, you leave it outside and let it dry in the sun. Then you eat it like chips.

In Meki, the small farming village where I'm from, there are no roads. We are actually from an even smaller village than Meki, called Abrugandana, that does not exist on most maps. You go to Meki, take a right in the middle of nowhere, walk about five miles, and that is where we are from.
I know my mother was not taller than five feet, two inches, but I also know she was not delicate. Those country women in Ethiopia are strong because they walk everywhere. I know her body because I know those women. When I go there now, I stare at the young mothers to the point of being impolite. I stare at those young women and their children and it's like watching a home movie that does not exist of my childhood. Each woman has a kid, who might well be me, on her back, and the fingers of her right hand are interlocked with another slightly older kid, and that kid is like my sister. The woman has her food and wares in her bag, which is slung across her chest and rests on her hip. The older kid is holding a bucket of water on her shoulders, a bucket that's almost as heavy as she…
—
More Passionate Living!