My Essence Column & The 'Bill Cunningham Talk Show'

It's been a while since supermodel Tyra Banks instructed her fat haters and detractors to "Kiss [her] fat ass." Since that time Howard Stern insulted the body size of Oscar-worthy actress Gabby Sidibe. Model Kate Upton also felt the effects of bullying from other women for not being a size zero. My friend, the hot comic Erica Watson, had her body mocked on a major sitcom starring Tatyana Ali. I wrote about it for Yahoo. I also wrote about Kirstie Alley saying that she was too fat for love, sex and a relationship. Yup, lots has happened. Fashion mags are reportedly even hiring skinny models and accentuating their bodies with Photoshopped curves…
Hey Goddess,
Last summer I participated in the PBS web series "Black Folk Don't" talking about the lie that "Black women don't have eating disorders." I shared my own recovery from emotional and disordered eating. As a Passionate Living life coach, it has been very important for me to empower other women in the areas of body love, self love, and body acceptance.
At my highest weight I was racked with food allergies, pre-diabetic no longer fitting into my clothes and extremely unhappy with my lethargic body. Still, I was beautiful (as is the woman in the "Bill Cunningham Show" video) and 110% worthy of being loved. I am proud to say that I have released 55 pounds through healthy lifestyle changes with food, fitness, and emotion management, and it's been interesting.
My Afro-Caribbean culture  prefers a more zaftig female form. I've had more people comment on my weight now ("Don't lose another pound. Do you eat? You look malnourished.") than when I was using food as a drug, seriously overweight and compromising my health. I love my fit body and can't "weight" for people to learn that the bodies of private women are not on display for public discourse.
There are women who can be H.A.E.S. (Healthy At Every Size) – and I believe that – but I was not one of them and my body rebelled. I wrote about my dermatologist poking me in my belly fat and offering me liposuction for my teen girls' advice column on Gurl.com. Articles like last year's New York Times story, "Why Black Women Are Fat" certainly don't help women of any background feel better about themselves either.
The featured photo is the gorgeous plus-sized model Anansa Sims. I did a fun interview with her supermodel mom Beverly Johnson last year. The photo is from a controversial Glamour Magazine article entitled "Health Controversy: Can You Be Fat and Healthy?" (They retain full copyrights of the beautiful photo.) Anansa says that she's plus sized and never been healthier. She looks great to me — so it's up to every woman to find what works for her.
The idea of being too fat for love, sex, dating and relationships keeps coming across my path. In the video below you can see me counseling a lovely woman on the issue on the talk show where I am a resident love and relationship coach. Then, I also received a letter from another woman experiencing a similar struggle.
I answer her question on love, body size and deservability this week on my Essence love advice column.
Dear Abiola,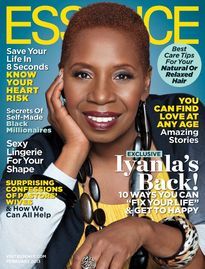 I've been dating this guy for almost 18 months, and I know he's cheating on me. He says it's my fault because I gained 25 pounds since we've been together. I don't even want to look in the mirror anymore because I feel so fat and disgusting. We haven't had sex in a few months.
My boyfriend says he'll pay for me to get a gastric bypass—just so he can touch me again. I do love him, and I think once I lose the weight we'll be back to normal. The worst part is the more he stresses me about being too fat, the more I eat. And yes, I used to be a pretty woman.
Should I let him pay for the surgery?
Signed,
Fattie Mc Fattie
***Please click over to my Essence Magazine relationship column to find my answer.

The real deal is that we ALL deserve love. You are worthy and deserving of love from the moment you are born. Anyone who believes otherwise does not deserve a front seat in your life. Period. This sort of conditional love is not love.

—
More Passionate Living!