You think it might be time for cohabitation. Now what?

Hey Rockstars,
Moving in with a significant other is a major step and one that should not be taken lightly.
Here at the Passionista Playbook, we personally don't recommend moving in until you are already partnered, committed or engaged. If someone wants all of the benefits of living with you then they can certainly make a full and complete commitment to you. However, this can also be a great transitional time for some couples as they decide if a further commitment is the next logical step.
When it comes to moving in with someone, there are a few steps that can be taken to ensure this transition is a smooth one.
Small Steps.
In the beginning, it might not be the best idea to move everything into one person's home. This might be a bit overwhelming for both people.
Small steps and taking time to make a full transition might be advisable. One of the first steps might be to have a dresser or a closet in the other person's house. Staying over and having some belongings there is a good place to start. People get accustomed to living alone, so moving things slowly is often ideal.
Keeping Two Residences.
At first, it might be wise to keep both residences. There are a lot of factors to this such as location and finances.
Getting rid of one of the places is definitely more economically sound. Selling one's place or getting out of a lease shows the other person that it is a complete commitment and the person is serious about the relationship.
Storage Options.
Moving in with with your sweetie pie means that there will be a good deal of belongings, furniture and clothes.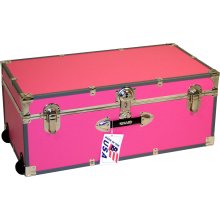 In many cases, one apartment is not big enough for the two people and all of their belongings. There may also be furniture and decorations that simply do not go well together. In these instances, renting a storage facility is ideal. Belongings that do not fit into the new space can be tucked out of sight. This will certainly make things easier on both parties.
Utilizing a storage space is also ideal when it comes to long term solutions. The couple may be waiting until they can move into a larger house. At that point, furniture and items in storage will be needed and can fit in the new home. Renting a storage facility is a safe, secure and economical way of storing household belongings until they are needed.
Moving in together is a big step. It is a difficult and potentially stressful time. Taking things slowly and utilizing a storage facility will certainly help to make the transition a smooth one.
Thanks to Paul Benjamin, a District Manager at EZ Storage, a self storage company providing storage solutions for both residential and commercial needs. If you're moving in, give them a jingle…
 You May Also Like