"A hamburger, also called a beef burger, hamburger sandwich, burger or hamburg, is a sandwich consisting of one or more cooked patties of ground meat, usually beef, placed inside a sliced bun. Hamburgers are often served with lettuce, bacon, tomato, onion, pickles, cheese and condiments such as mustard, mayonnaise, ketchup, relish, and green chile. The term burger can also be applied to the meat patty on its own, especially in the UK where the term patty is rarely used. The term may be prefixed with the type of meat used as in turkey burger or veggie burger." – via Wikipedia

Greetings Gorgeous,
The McDonald's near NYU on 8th Street has Veggie Burgers. They've had them for over 10 years. I remember getting them wayyyy back. They then disappeared for a short time but from what I hear, they're a permanent fixture now.
I see your IG accounts. I know many of my tribe loves some McDonald's. PLEASE be sure to reach out and ask questions about the ingredients and quality of McDonald's food.
Explanation? Here's the deal: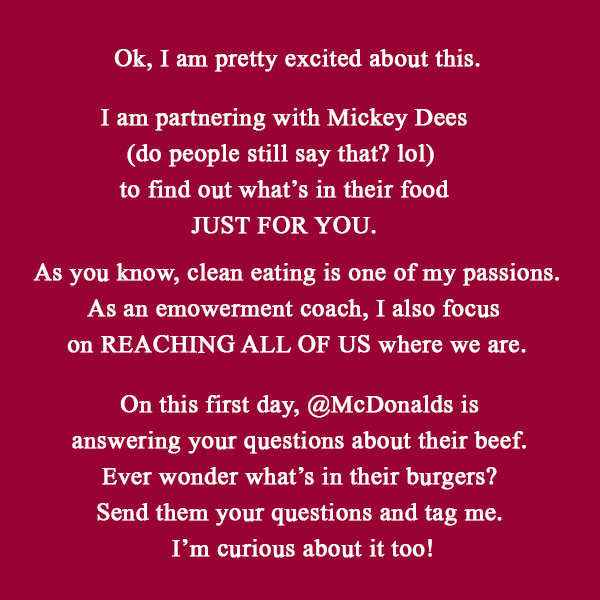 Here's what I tweeted yesterday:
Have a question about your @McDonalds' food? They are taking your questions. They say tweet them ANY question and they'll answer you. There's also a video about it on their Twitter. I'm curious to hear what they say as well. #spon xoxo
For the first time ever, McDonald's is inviting you to have an open conversation with them on how their most iconic menu items are created. From suppliers' production facilities to their restaurants, McDonald's is opening up and inviting you in to see for themselves as the company unveils the truth about its ingredients.
Starting Monday, October 13, you can visit McDonalds.com or www.365Black.com to watch the first in a series of "Our Food. Your Questions." videos. In the first video, the quick service restaurant chain will tackle frequently asked questions about its 100% USDA-certified beef. Over the next few months, it will continue to roll out more "Our Food. Your Questions." videos, focusing on hot topics, such as the chicken, eggs, potatoes and other ingredients used in their menu items. (via Media Kit)
People have started to add their questions for McDonald's on my Instagram. Tweet yours and @ me @abiolatv.
Here's the link to find McDonald's' information about their beef.
---
Is McDonald's beef real?

If you can't see this link, click here.
---