Our resident astrologer Grear came out of her self-imposed isolation and headed to the World Famous Apollo Theater for the Sisterhood Experience. The old school R&B music concert featured the well-known songstresses: Meli'sa Morgan, Mikki Howard, Alyson Williams, Melba More, Monifa and Ms. J. performing live & singing their greatest hits. Find the video links on the bottom to make you get your sing on!
Our astrological pop cultural commentator is weighing in on the music. Her magnificent views are her own, and as per usual, we left in her unique grammatical stylings and Grear-isms. You're still talking about her open letters to "Married to Medicine," Kenya Moore, Keyshia Cole, Beyonceand DMX aren't you? POW. -aa
A dear friend (Peace, Ridge) had told us about "them" performing a couple of months back at a landmark restaurant in Harlem, and that Ms. J. mentioned our names in his and her discourse, inviting us too. I wanted to go then, but couldn't make it. Thought we miss the window on that one.  But there's always a second window…
Soon as I think to deactivate my facebook page once and for all, I see something that I know I would not have seen coming down the stream had I not been on fb. And most times (well, with the fb-friends I have) it's something positive; but it's those unexpected times when something negative or sooo shockingly upsetting that comes down the pike that urges one to just DEactivate! That, and whiling away precious time poring over posts posted—commenting, then what? Yes, I know, we're all social communicative creatures and… Yo, be it negative or positive, spending an hour or worse, more, on any of the social networks isn't prudent time spent for any serious student. I could spend that time studying, writing, if I am to ever finally graduate. OK, enough with that—don't wanna make this article read as some kind of anti-social media campaign. Lol. Just wanted to express how glad I was that I was on there [fb] at that very time [& space] to catch the advertisement for the concert: "A Sisterhood Experience."
 The book Medicine Cards by Jamie Sams speaks to all the animal medicine.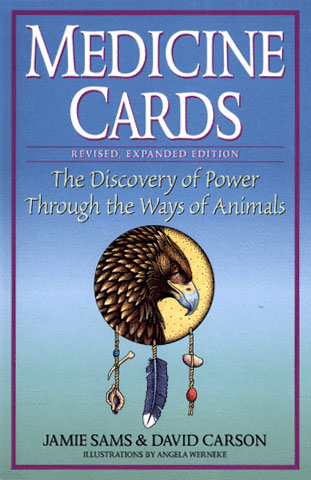 'Was not too long ago studying about the Otter and how that relates to sisterhood. It was the Otter's description that really resonated with me…once you read you'll know what I mean. So NOW I was really on board, ready to go to the concert to experience sisterhood in motion and in song. <3
Told the Owls (my homies) about it, but they had prior commitments that evening. Told my Poppa about it, said he'd buy me a ticket but something about the concert's title made him feel he shouldn't be in tha house. Smiles… Love you, Poppa. Shared the information with two of my other besties, Ridge and Mr. G., we're platonic yet our bond is strong—one could assume it's more than friendship, but today, it isn't—just sincere comrades. Ridge was interested, a second opportunity, as I mentioned above; plus, we know one of the performers, Ms. J. We know her in the professional sense, yet over the years that professionalism evolved to a friendly space.  We dug discovering she possess these other cool talents: singing and promoting shows/artists.
It was settled, "Poppa, order Mama a ticket!"
Called Ridge to see if he had ordered his. He didn't. Couldn't. Turns out he had to take some overtime. Yes, work. 
Oh well, the Otter 'll fly solo.
Then Mr. G. calls to tell me he procured some tickets. Cool.
Now, Poppa wants to go. Though he trusts me and knows that Mr. G. and I are strictly platonic, still, his going now sparked Poppa's wanting to go. Suppose it was confirmation that other men will be in da house to also enjoy A Sisterhood Experience. Besides, Poppa wanted to see Melba Moore. He says, it's been a long time since he seen her perform live.
It was a chilly, VERY chilly, spring Saturday evening. I was tempted to wear a bubble goose down vest. But didn't wanna look like winter in spring. To only get outside to feel like it was winter in spring!  But I was a trooper, kept pushin' till we made it to the legendary Apollo. Hadn't been inside that place in years! Well, let me think…I think the last time was when they held that Old Skool Hip Hop set there, with Big Daddy Kane, Dana Dane 'n them. 'Probably was like '07, '08. Thus, each time we step inside there it feels like stepping back in time, in a grand way.  If you understand the fourth house and knew what yours truly had in there, you'd know that "nostalgia" is the ultimate natural high for me. Really, it is. Well, being specific, nostalgia in the uplifting sense.
It's the darndest thing—perspective. When you're running late for a concert, you hope they don't start on time. When you're on time, you wish they hurry up and hit the stage. Perspective. Relativity. Smiles…
We sat and waited patiently for the stage to set up and the show to begin. Poppa's ticket had him sit separately from Mr. G. and I. Which only turned out to be food for my restlessness, walking back and forth to talk to he and Mr. G. Till G asked, "Do you want me to switch seats with him?" I answered, "No. Then how would I busy myself till the show starts?" Lol. Quirkiness can be inevitable when the element of air loads the chart.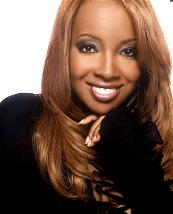 After the graceful Mount Horeb Praise Dancers, Meli'sa Morgan opens looking lovely in a white and gold gown, sounding as powerful and lovely as she did in the '80s. Gorgeous! And her smile…big, bright and beautiful! As a Sagittarius, I know she has to be cool, a gang-of-fun to hang out with.
After she sings, she shares that she'll be co-hosting with (WBLS) radio personality Shalia, Vaughn Harper was present. All the memories from radio when radio was really GOOD radio, came rushing back. Yes, I know "good" radio is relative to one's era; so know that I'm speaking to mine here. It's a rare occasion you'd even catch us listening to radio today.
We had wished that Shalia had sole-hosted, this way Meli'sa Morgan could have had her own full set. Oh how we longed to hear "Do Me Baby." They used to play that at the end of the night (or wee hours) at The RoofTop; when the club was winding down, signaling folks to egress. Now, had I heard that tune, the nostalgic high would have been on SWOLL! But she did sing another fave: "Love Changes." Yes, she hit all those high notes!
50 Cent said in an interview once that music marks time. It sure does. With each song sung my mind instantly visited where I was during the time that song dropped. Who I was dating, what I was wearing, where I was living, etc.
Next up to bat was Monifah.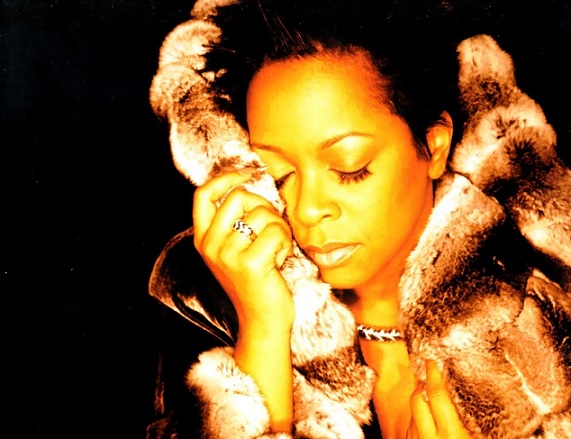 Since seeing her on the TVOne show "R & B Divas" I really take to her as a person. There's a sincerity there that one can't feign. She's an Aquarius. One that ate that stage up! Dressed in a white sheer top, white capri's, pink bolero jacket with a hot pink bra underneath finished with teal pumps. And the hair wasn't purple that night, it was a cute cut with bronze'zee highlights. I liked it. I also liked the purple mane too. Amethyst is Aquarian's birth stone. And purple is the crown chakra's color. Reminds me… Monifah, your cover of Prince's "Purple Rain?" Stellar!
Mo spoke to "Paying it Forward" then brought a young man out to sing named "Jay Rose", pardon me if I misheard his name, but it sounded like that, wait…let me see if his name is in the program…no, I don't see it in there. Brotha, if you are reading this and I got the name wrong, forgive me. Nevertheless, you sounded so good.
They sung "I believe in you and Me, I believe that we will be…in love eternally…" Oh, y'all know the rest. 'Had to get up to go find my Poppa to kiss him. I know some who were seated behind or near me kept saying, "I wish this biG lady would stay in her seat!" They didn't say it out loud, though. Thank Goodness! This way there'd be no need to call "Security!" Lol…
But one rude person did call that very word out; not to quell Mama G's restlessness though. But to one of the performers on stage. He had an effeminate-sounding voice as did his own personal audience; cause one of them playfully warned "Now now, don't go readin'…" Then he mentioned the "K" word. You know the one, the one that begins with "K" and ends with an "e."
At that point I had to spin around to side-eye. Place a face wit' tha ill-timing critique.
Yes, I know the Apollo is known for its critical audience, but this was not an Amateur Night show with Tony Rock. We were seated in an area where people paid a premium ticket price for their seat to see a show, not hear him read. Come to think about it, didn't he pay for his ticket as well?
Ugh. Who actually pays good money to go to a show to act like that?
That same voice continued…now he had unkind things to say about their gowns and physical shapes. Don't you know that Poppa said that voices, female (not feminine-sounding) voices behind him had a bunch of negative comments to spout about, too. At one point, so much so, he wanted to take Mr. G. up on his offer to switch seats with him. 'Told Poppa don't even bother that I too had a heckler seated two rows behind me. And they weren't too low in audio about it either. You know, when the attention span is just too short to have patience for a new face, an unknown name…sigh… I can't! Thankfully the band played well and loud enough to drown out the foolery from reaching any ears on stage with them.
Speaking of the band, that Todd, the saxophonist…cutie. Talented cutie. In fact, the Aaron Sinnerton Band, all of you, Superb!
Back to Monifah. Mo, you can do no wrong in my book. Invincible! 😉 Your aura alone radiates a particular sweetness that's more ingratiating than any of your songs could ever be…in my book. Keep going.
Next up: Alyson Williams.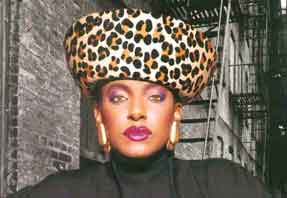 I like her. Didn't know that I did or would. Yes, like most, I knew that I liked her song "Just Call My Name" but I never got into her any further than that tune. She's got personality! I mean like she could chill wit' the Owls over here and fit right on in. I was feelin' her! Plus, she shared that she's a Taurus. Ma, you're speaking astro-speak—you speaking my language!
The band she said is her's. Impressive. 'Cause they sure are! She even shared tales about how she and Meli'sa Morgan met back in '77 in Queens. Done told y'all how me and nostalgia gets'down, right? So you know I was in heaven. Back-shares like that can be better than the music sometimes.
Ms. Williams was draped in this black pants ensemble trimmed in silverish metallic with heels to match—and heels she can boogie in too. She even gave mention how there are talents that she has and honed: running, cartwheels and singing. Smiles… Do you see how we were instantly smitten wit' she.
Yes, I'd bake her a peach cobbler, and mine itn't all syrupy sweet, neither. Gotta cut it wit' citrus. She's my kinda lady. Even Poppa held a sparkly-glint in his eye. Yes, for a second, I had to side-eye my man. Lol…
Then Meli'sa returns to sing the classic "Fool's Paradise." This song not only marks a dope period in my life but it marks a specific time, specific to this song specifically. If you know what I mean? OK, one day me and my homie Tiny were walking down the street, on one of our long excursions, no point-of-destination in mind, just strolling, as teens you did that…and never tired. A nice car drives by with a nice-looking sista pushin' it. She was blasting hard core rap music. A tune we liked, too. But as we danced and strolled, Tiny stopped and said, "She shouldn't be playing that—not as a lady." Tiny is a refined regal dark-skinned beauty. To date, she's the most beautiful being (aside from my offspring) I ever laid eyes on. So this (lady-like say) coming from the likes her, I was all ears. That's when she concluded with "A lady plays songs like 'Fool's Paradise,'…" when she's cruising in her whip.
Made sense. A few more blocks walked and sure nuff, a sista drove by blaring what? "Fool's Paradise." Tiny looked at me and said, "See." All we could do was smile and dance—a happy dance, you'da thought we hit the number or something. I'll never forget that moment. Every time I hear that song it brings me right back to that moment with Tiny walking in Hollis.
 Meli'sa rocked it! Her dancers were dope! 'Especially the dude. His colorful rhythmic presence struck the perfect balance. He shined! 
You know the more I write here…the more it plays back, Meli'sa Morgan's co-hosting assignment [now] makes sense to me. To have a fire sign enter intermittently like that is a necessary refresher.  Fire purifies. It's an illuminator.
Now, Ms. Miki Howard.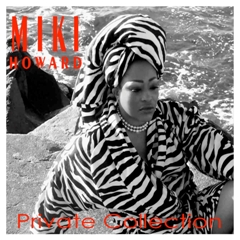 As a youngin' , I'd go up to my aunt's house on some weekends and hear my aunt sing "Baby Be Mine" all the time. My mom's sister held a pair of powerful lungs in her own right. So you know it was a joy to hear them throughout her house as she walked through it singing "Baby be Mine…you never really got to know me, Baby be…"
When I finally saw the video, I was really in love with it, the tune, the video and the singer. I was much too young to think of some guy in that way (although I secretly did—that Mike B., when New Edition was together in its original line-up), yet I still loved that song. My all-time favorite from Ms. Howard is a duet—the one she did with Gerald Levert "That's What Love Is." Gosh, did you hear her strong pipes [his too] in that tune? What a beautiful dual force of nature!
Meli'sa had changed into a red gown, one that she said Miki told her to put on, not only introduce her to the stage but also one to wear to escort her out to the stage. I smiled so much, I thought I'd get a joy headache. That's really the performer's job, to perform from the heart, to invoke joy, make them forget their problems, if only for the duration of the show. Thank you ladies for exactly exact that.
Back to Miki Howard.
She hit the stage in red. Red tuxedo pant suit. Loved it. She shared her age with us and added "I look good!" 'Couldn't agree more. Loved the hair. Loved how she joined us in the audience, sung up and down each aisle. One guy even stood up to dance with her in the aisle. I was completely enthralled! Her handsome son helped her get her blazer off revealing a sexy strapless corset. Some hummed, "My, she does look great for her age!"
Once back on stage she shared her current sentiment about her hit classic song "Love Under New Management", dedicated it to all that it is applicable to and rocked it anyway! Wait, before she closed her set with said song great song, she said something that totally resonated. You know, words that make you p a u s e… She shared how she does watch Monifah's show and see the ladies fighting 'n such then looked out at us—the audience, looking completely perplexed; as if to ask why this is occurring?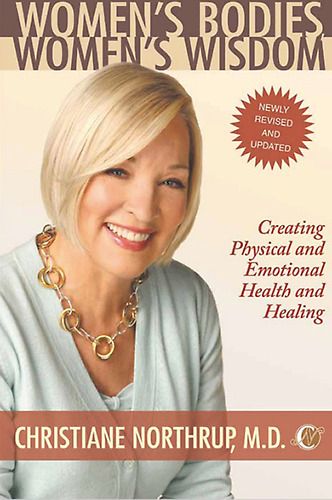 She went on to tell us—the audience how she and her R & B diva friends don't fight—never fought. They sit on the phone for hours and… Just love. The way she said it you felt it, knew it was truth! I thought of that scene in the TV show "A Different World" where Patti Labelle's character kissed Diahann Carroll's character smack on the lips. Purely platonic, sisterhood and love.
Then a passage in Dr. Christiane Northrup's book "Women's Bodies, Women's Wisdom" came to mind:
"The female energy is 'drawing-in' energy, or centripetal force. This centripetal female energy is irresistible. It is so powerful…" pg. 73
Then something Moorish Brooklyn voiced in his "Science of the Woman" video "…a nation can only rise as high as its women."
With that I knew what Miki was describing, the love she and her friends share is wayyy bigger than just their interpersonal sisterly loving circle. Esoterically speaking, their mutual respect is a greater aid to healing a nation. Even if they don't see it that way, or you don't see it, John & JaneQ reader—trust me, it does. Dr. Northrup's book speaks more to this science at length.
Wow, Mikki, talking about being y'all friendship = talking about emotional responsibility. <3
Syleena Johnson's sister said something on their R & B Divas show in a recently aired scene, she spoke to how poorly women are treated in the industry then for women to turn around and treat one another the same way? Yeah, that. Just doesn't make emotional or logical sense. I was so struck that she had the courage to say that—and on air…that I couldn't tell you what the next scenes were immediately thereafter. I was still stuck on that one—quietly applauding Syleesha (I hope I spelled your name correctly, sis). It's like we all notice this come feral feline trait but no one really denounces it. She did. Again, kudos!
Back to the concert at the Apollo. Melba Moore was last up to bat.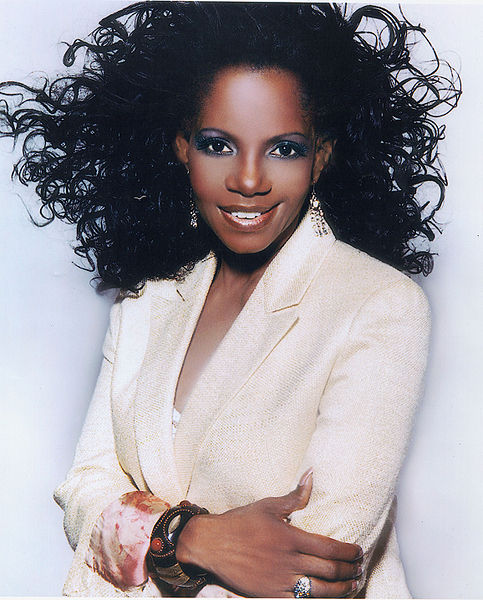 She looked exquisite in a shimmering navy blue one-shouldered gown. I was kinda composed till she sung "Love Coming At You," got up to boogie! Then had to tinkle.  But didn't wanna leave the auditorium in search of the ladies' room—not while my jam was being performed. I remembered being nine years old when Ms. Moore came to the block party in Spanish Harlem and performed that dope tune. Was so happy ma-dukes let me go outside to play that day.
The ones sitting around me in the audience all seemed to wanna hear her "Lean on Me" though, in the section that I sat was the crowd favorite. Oh, they liked "Love Coming At You" too, just not in the way I LIKED IT! It's all good, I'll aisle-boogie dolo.
Melba Moore introduced each band-member (don'tcha just love when the artist remembers to do that?) and the back-up singers. That Keith and Kelly…gosh, hope I'm recalling the names correctly…y'all can SANG!
Then the finale, the closing, all the ladies rejoined the stage as one… Wait, before I close out this review with how the show closed out…would be remiss if I didn't also share…Yo, that "Bolegged Lou" person…why? How do I opine here on this matter…using tact and diplomacy?
We're certainly happy to discover other luminaries in the house that also came out to see performers we all love or admire perform, but when… OK, for example, like when it was acknowledged that Lilo Thomas was in da house. Folks around us were saying things like "Word? Hope they give him the mic, surely he can sing a few bars of 'Good Girl' for us."
The song "Good Girl" would have been much more fitting at "A Sisterhood Experience" versus what Bolegged Lou shared with us.
With Ms. J. paying homage to Harriet Tubman, Rosa Parks, Angela Davis, it's safe to feel that this would be a safe setting to edify and uplift sistas.
He should have held that obvious interest sacred during his tenth house stand (the tenth house rules the stage). But noooo… he… Look, don't get me wrong, we all have a sense of humor. Well…most of us. We're all for comic relief, bringing levity to the mix…when it's needed. We were all already upbeat.
Seeing the sistas sing live, naturally we reflected on their UnSunG specials, even thought of his, I personally thought of when he sung at a former-friend's cousin wedding up in the Boston area some years back. You know, good thoughts. ChileEaze, they hand this guy the mic, the first one didn't work that well (probably were the Ancestors trying to warn him NOT to do what he was about to do!), so someone to his left hands him her's. Unfortunately [for that moment] her's worked fine. He tells us to acknowledge legendary rapper Biz Markie. That he too was in da house. At first most looked up to the balcony, assuming that's where a fellow luminary would be seated. But the house lights shined on the floor, the orchestra, most heads looked around, but no Biz. Then Lou clarifies by saying something along the lines of "Oh, that's not Biz. My bad. Lady, you kinda looked like him with that beard 'n all." Generated some chucks and giggles but not the uproarious laughter we think he may have hoped for.
It wasn't really c l e a r which "lady" he was referring to—a good thing. No one pays the price they're charging for shows these days to go out to get humiliated. There was a clear disconnect in the audience, like… "Why? What was that for?" Most didn't get it. Such inane comic relief should relieve restlessness, boredom. But the audience wasn't in that state. And when in that state, it should relive it where? At a comedy show. Ugh.
OK, back to the sweet closing…no, wait…forgot one other notice… Chile, when we looked up to the balcony locales thinking that's where Biz was sitting, saw no Biz, but did see an old co-worker. 'Caught Poppa's attention and pointed in that direction so he could see our former co-worker too. I cringed at the idea of the ladies on stage noticing him and acknowledging him as well—at A Sisterhood Experience. And he rise and all the sistas clap for him not knowing how he treated all—well, most, of the sistas he supervised on the job. Before I even met him I was warned about him how he's only abrasive to the women NEVER the males. My Poppa Bear worked there thirty-one years and never had an incident with him or ever heard of him having one with any male—nope, he only heard about him GOING AT females. We don't need to expound here any further, now do we?
And get this… my homie Mr. G. a fellow Harlemnite and well-respected there [as a professional] also knew him; and not just from his hit classic '70s song, he knew him. Citing, "Oh, he used to live in my mom's building." Then he shared another back-story with me, a story that explained the why of it all…why he'd just be "that way" towards a female (don't let your mind go there—nothing of a sexual note; just abrasive).
To know their 'y' gotta know their 'x' too, the unknown story, their bio.
So glad they didn't see him sitting up there and honorably acknowledged him, like they did Lilo Thomas and Lou. I would have been sickened to the point of making an early exit. Lol… No, but forreal, tho!
Now, lighten up, back to the sweet close-out. Melba Moore exited stage right, her right our left, returned wearing this lovely black feathered jacket over that exquisite gown—Loved It M.M.! J
All the ladies joined her also wearing black. Mo's black shirt read in white lettering: Keep the Faith. We sure will, ma. We sure will.
They sung Chaka Khan's "I'm Every Woman."
All the ladies in the audience joined in in song and spirit! So much love & hope in the air. The only personal downside was I didn't make it to the party. No worries, I made it to THE PARTY—the show. And what a memorable one it was. Again, Thank You Ladies. <3
Otter…
So playful! Coquettes by the stream. The medicine of woman, The Realized Dream.
Otter: Woman Medicine
An excerpt: Otter teaches us that balanced female energy is not jealous or catty. It is sisterhood, content to enjoy and share the good fortune of others. Anchored in the understanding that all accomplishments are worthwhile for the whole tribe. Otter people express joy for others.  ~Medicine Cards
 Miki Howard, I walk with Otter energy…do you see how I was near tears when you shared with us how you and the ladies don't fight. Proof that there's some sista-ciphers still left on the planet that's feral-free. Owls are y'all reading this? Smiles…
Lastly, a private share…can I? May I?
When I listen to Frankie Beverly & Maze's "We Are One" there's a way in which he sings "…how we make each other feel so bad…" that dissolve me every time. I can barely listen to that part. Makes me think about me and my sister's relationship or the lack thereof—other than having the same mama, we just don't seem to relate—on no topic. Back to Frankie's groove…
No, for real, I'll fast-forward that one part in that classic groove…it's not what Mr. Beverly is sayin'-sangin', per se, but how he's singing it—like from his core straight to yours. Like, he too, is at a lost as to why we treat each other the way we do?
[After studying Dr. DeGruy's work on "Post Traumatic Slave Syndrome" I know why, but it still… Well, you know]

Then the movie "How Stella Got Her Groove Back
", where she goes over to her pregnant sister's house to have her told about how she treated her much younger suitor [dismissive] that night before at the movie theater. Now, usually after such "a telling" there's usually a STORMING OUT or an Ordering Out of one's home! Or both.
When Angela Bassett's character calmed down to ask, paraphrasing, "What are you cooking…Can I have some?" Yo, that's it! I'm bawling!!! When that movie is on, I fast forward that scene.
The ego would have one believe that so-called HAVING SOMEBODY TOLD is gratifying—maybe for some egonics it is. But such small victories are exactly that—short lived. The ego is fire and fire goes out quick—why the ego is so stingy. Fire isn't self-sufficient, it needs oxygen (air) to survive.
Redemption. Forgiveness.
When sincere—all water entities. And Water can hold its own. Why the good vibes last so long…that's if you don't allow the ego to intercept. Smiles…
Ms. Howard, after hearing you, it is my hope that soon all sisters and sistas will commune as you and yours do. *Multitudes of Gratitude* for singing to us, yes, but for also divulging those sacred shares between the songs. <3 Selah!!!
-Mama G

All photos Wikimedia Commons.
—
Video Resource List