This week on my Mommy Noire column: "Miss Picky" says… Let's talk about being selective in matters of love. It's all about you getting the full-on juicy love that is your birthright. No one should stand in your way… not even you!

Greetings Goddesses,
There's lots of hoopla about women being too picky. However, in matters of love I find many women not being picky enough. If women were consistently too picky we wouldn't have the STD and AIDS stats, hardworking moms with "fatherless" children and domestic violence stats that we have.
On the other hand, reality check! You want to make sure that your "pickiness" is not a shield from vuilnerability and intimacy. Sometimes when we've been terribly hurt in the past we guard our hearts by making sure that no one new can get in. In a cosmic sense, whoever you are with is the one in that there's something to learn. You deserve to have the big, fat, bodacious and juicy man of your dreams. It's so amazing when you connect with someone and feel like, wow, he (or she) is really perfect for me.
One way to see whether you are avoiding taking the risk of being in a relationship is if you're looking for only exterior, superficial qualities with no focus on the interior. Ultimately, the most powerful way to go is to focus on BEING the person you're seeking. In other words, ask yourself if you have or are working on all of the qualities you're seeking. Work on you because ultimately we attract people who will mirror back to us exactly what we already think of ourselves.
Don't let anyone tell you that you don't deserve to have all you want when it comes to love. The idea that you should have to settle with the big planet full of people is ridiculous.
Click to read the entire Mommy Noire Love Class.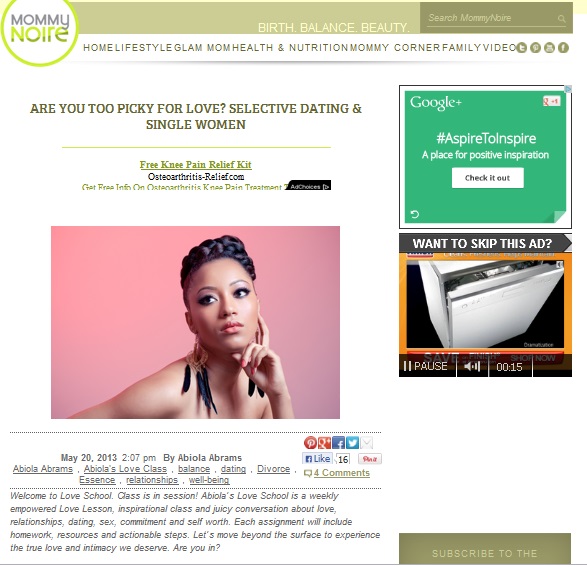 Read the entire Mommy Noire Love Class here. The "Miss Picky" advice video below is from my Bombshell Academy course a few years ago.

Here's a full list of my Mommy Noire Love Class relationship columns.

Featured photo from the awesome Dove Real Beauty Campaign, public domain.
—
More Passionate Living