Yay! Recently Curly Nikki interviewed me about my Spiritpreneur business and my coily natural hair secrets. It was so much fun.

We were all taught, "your hair is your crown and glory." Having eczema on my scalp as a teen made me feel ugly. But actually YOU are your own crown and glory. We are the crown and glory, bald, weave, long hair don't care, kinky, curly, coily, bobbed straight and everything in between.

:::Read the awesome Curly Nikki interview here: Abiola Abrams: Lifestyle Guru & Empowerment Coach

WATCH! Kinky Coily Natural Hair Secrets
---
Q: What do you do and why do you love it?
Hi there, Curlies! I love Curly Nikki and I am so honored to be part of this column. I'm Abiola, founder of Womanifesting.com, born in NYC of Guyanese parents.
I am a transformational speaker, author, advice columnist, media personality and Spiritpreneur coach. I help spirit-led women leaders – coaches, healers, creative priestesses – to step greater into personal power, reach more people than ever before, and build lives of freedom and abundance. I do this through coaching, courses, award-winning books and affirmation cards, and events, like my 2018 Goddess Pray Love Feminine Power Retreat to Belize.
I say all the time that I have created the BEST job in the world. In the past 12 months, my kinky-curly-coily Afro and I have: led my Abundance Pray Love Retreat in Bali, spoken at the College of Psychic Studies in London, meditated at the Eiffel Tower in Paris, spoken in the Bahamas at the Creativepreneur Summit.
This year's Goddess Pray Love Retreat to Belize will allow us to work with Garifuna and Mayan healers and bellydance, meditate and pray in the jungle. YES!!
And the best part of my job is getting to work with spiritual women influencers and experts as a part of my Spiritpreneur Warrior Business Sisterhood. A few years ago, I heard the Divine Guidance, "Get up! It's reaping season" and everything changed.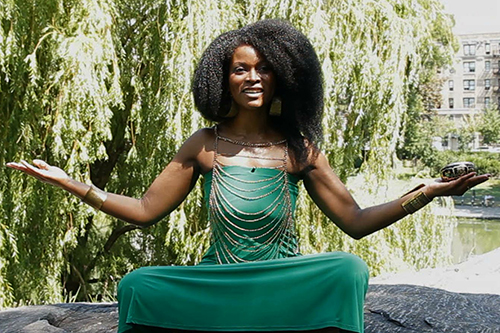 Q: What motivates you?
I think we have a sacred duty to have each other's backs.
My work – holding space for us to evolve –  really is my ministry. My YouTube channel (YouTube.com/planetabiola) houses my self-love sermons. Every Sunday morning on my Facebook page (Facebook.com/abiolaTV) we have church in Goddess Temple Sunday. In my Facebook groups we pray, meditate and share inspiration in a safe container for creative women, coaches, and healers — to build their businesses and build their lives. I try to share more than just the fun and highlights on my Instagram (@abiolaTV) because we are all in this together.
I am motivated by the times when I doubted my own worth to do everything that I can to uplift my sisters. If we don't heal it, we pass it on. When we heal ourselves of our primal wounds, we have the power to heal our ancestors and generations to come.
My great-grandmother was a midwife and women's fertility healer in Guyana, South America. I am the first person in my family born in the United States. She helped women to give birth to their babies and I help us to give birth to ourselves.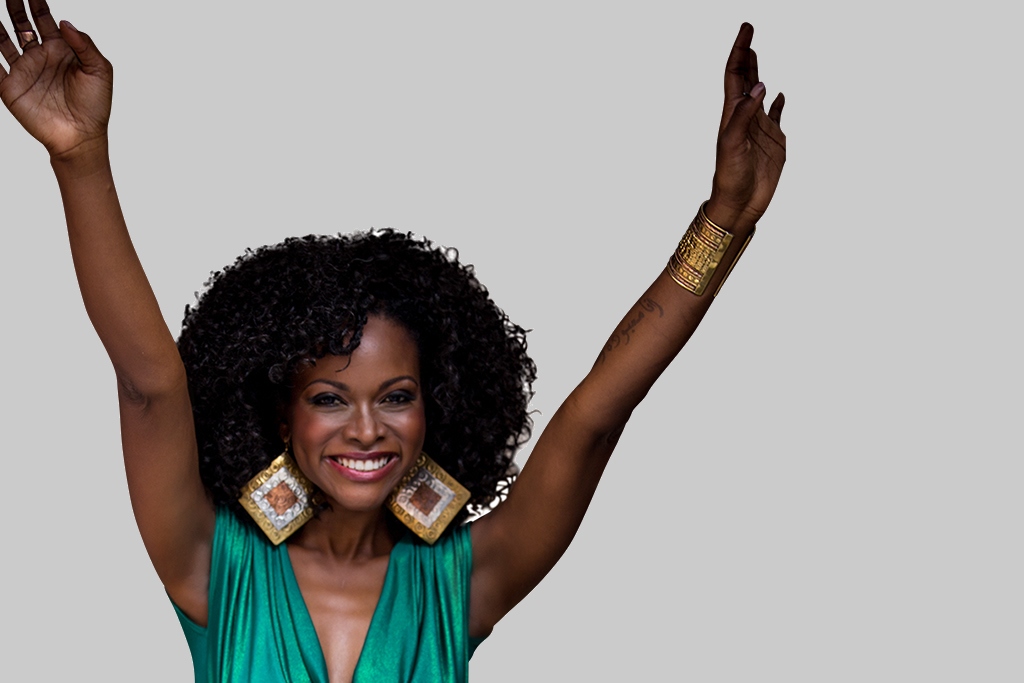 Q: Did you have any positive hair role models growing up?
My beautiful mom and my aunts had these glorious afros back in the day, but I only got to enjoy those in photos. By the 80s, all of the women in my family had jherri curls.
But I have a powerful memory of my Aunt Wendy coming to babysit me on breaks, when she came from Guyana to attend Tuskegee. I didn't know at the time that she was bullied for her gorgeous ebony skin by the other students, just after the height of the Black Power movement. But when she came to take me out, I was allowed as a toddler to have my hair combed out into an afro like hers. And I got to wear a special sundress called "my Afro dress." And my Aunt Silvy ALWAYS rocked a stunning, close cropped wash and go fro in colors from midnight to copper.
I look at photos of my mom and aunts in their 70s fros and feel beautiful and invincible. Just this morning, I was about to beat myself up for not having my next book out yet. Then I looked at these women with halo hair and said, "All is well!"
Q: What's been the best part of your natural hair journey?
I created the African Goddess Affirmation Cards (AfricanGoddessAffirmationCards.com) because I couldn't find any decks that looked like me. These cards feature goddesses from throughout the African diaspora. They also feature beautiful contemporary African goddess art, in all shades of US from cafe au lait to the deepest ebony, with all shades of our hair from coily natural hair to tight luscious kinks to bountiful curls.
The fact that people contact me from around the world and say, your African Goddess Affirmation Cards make me feel beautiful inspires me!! This year, a matching journal and second edition is coming.
Q: What products do you use on your hair?
Here are some of the products that I recommend from my hair care regimen:
Pre-Pre-Poo Detangling: Pantene Gold Series Detangling Milk

Pre-Poo: Coconut Oil/Olive Oil

Shampoo: As I Am Coconut Cleansing Conditioner

Conditioner: SheaMoisture® Community Commerce Manuka Honey & Mafura Oil Intensive Hydration Hair Masque

Leave in: Carol's Daughter Almond Milk Leave-in Conditioner

Daily Maintenance: Cantu Shea Butter Curling Creme

Jamaican Black Castor Oil

Styling: Camille Rose Naturals Style Maker

Dark and Lovely Au Naturale Curl Defining Crème Glaze

Carol's Daughter® Black Vanilla Moisture and Shine Hair Smoothie

Natural Hair Clip-Ins: HerGiven Hair
Pin Me!