Torrei Hart went through the fire in her high profile breakup from movie star Kevin Hart. But she is making a comeback with her new natural hair care line and advice on healthy co-parenting, beauty and self-care.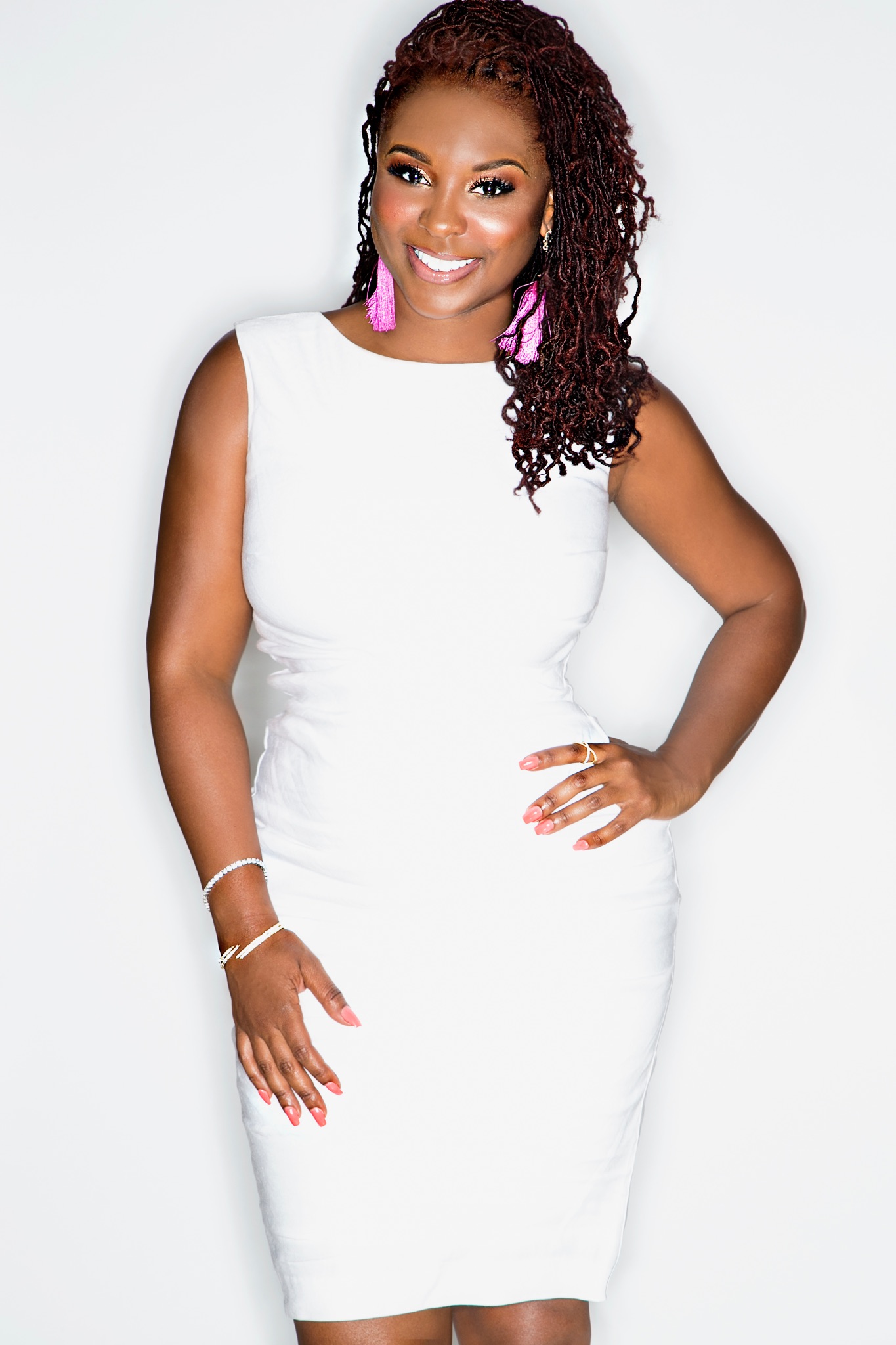 Hey Goddess!
In a world where it often feels like black women's beauty is under fire, it is empowering that Torrei Hart created this natural beauty hair care line as a legacy for her daughter.
Goddess Torrei Hart is much more than just Kevin Hart's ex-wife, she is a mommy-preneur who is making moves. Her daughter Heaven and son Hendrix should be very proud!
Press Play: Torrei Hart's  Story

[YouTube: Torrei Hart Podcast Video Link]
---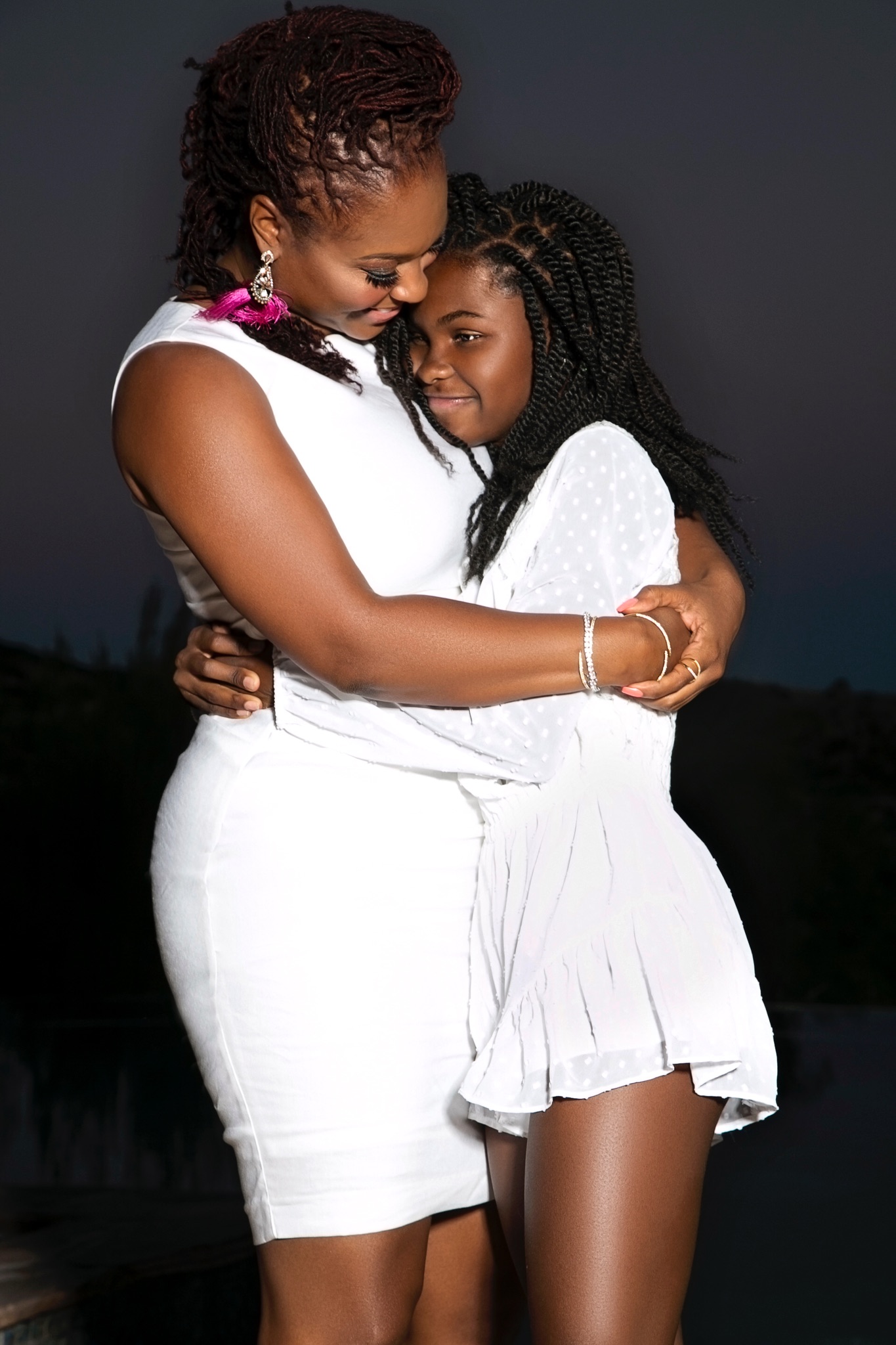 Abiola's ESSENCE Torrei Hart Interview Excerpt
Torrei:                 Because in Hollywood, it's not easy. When you get things like that, it keeps you motivated, it keeps you going. Then I begin to do a lot of sketch. I did a lot of sketch. I still do a lot of sketch and6 a lot of characters. Because basically, to me, sketch is you're acting but you have to come up with these characters.
Abiola:                 It's one of the hardest things you can do. It's one of the hardest things. If a person can do sketch comedy, they can do anything.
Torrei:                 Well, yes, I would say definitely sketch and stand up. I would say stand up is the hardest because I've done stand up as well. But I would say hands down, it is the hardest job in show business, it definitely is. So, if you could do those two, you can pretty much do anything.
Abiola:                 I just wanted to just jump in and highlight something that I think would be very inspiring for a lot of people. You said that you started out with "good job." A lot of people have a good job, "good job with benefits." Then when they want to leave that job to pursue their passion or pursue their dreams, people in their lives are very discouraging. How did you have the confidence to make that and be able to jump in, pursue your dreams and start booking your gigs, etcetera?
Torrei:                 You know what? I would tell you. I was in Australia and Kevin was there filming a movie called "Fool's Gold"  and I went with him, this is when I had son. I had, had him. I went with him to Australia.
Kate Hudson was one of his co-stars of the movie. I admire her and so, I had a talk with her and I just sit and talked to her and told her what my dreams and my goals were. I was like, "I've done this a long time. I've been training since I was kid. I always had the heart for this." I said, " But you know, now I have my daughter. I'm here supporting my husband. I say, it's kind of hard because some obstacles against me."
Kate said, "Well, you know what? The only way you'll ever be able to do something is if you just do it." She said, "There is going to be obstacles. There's obstacles in everything." And she was like, "You just have to do it. No ifs and buts about it, just get out there and do it." Because I was also very fearful, I mean, I won't say I was always like, "Let me just get out there and I can do anything." No, I was nervous. I'm drawing a blankk here.
Bill Duke. I took one of Bill Duke's acting class. I don't know if you're familiar with Bill Duke. And I mean, you talk about Hollywood life and it was big names in his class, so I was nervous. I had to get out there doing monologue. I didn't last in that class. I actually did not last. So, that's when I was like, "Okay. Maybe I should start smaller." I don't know but I mean, it was very nerve-racking for me.
Then, I end up in Howard Fine, who is another big time Hollywood acting teacher–
So, I took his class and there is where I started building a lot of confidence. And even so, even in his class, Tisha Campbell was one of the people I've—and he put in the master class because he thought I should be a master class. So, he put me in a master class and Tisha Campbell was one of the actresses in that class.
That gave me a confidence boost and he worked with me very hard and prepped me and got me on a new level. That's why I started building my confidence because I was acting alongside the likes of Tisha Campbell and people of that status. It helped me build confidence to know I could do it.
Then what I started to do was just keep going. I started producing my own projects. That's when I started doing the sketches. I did a short film called "Victim of Circumstance" where I co-wrote that with the director and I produced it and I also acted in that as well. I just figured, if I'm auditioning and I'm not booking the job and I'll just start creating jobs for myself and that's what I continued to do. And I was also at the time, I did stand up to also help with my confidence and that was very hard and very scary.
Because for one, at the time, my husband was a standup comedian. I don't want people, "You're just doing it because he's doing it." But I used to sit and write jokes with him. I knew the formula. I knew how to write jokes. I was around comedy since I was 20 years old. So, that was pretty much my life, that's all I knew.
I won't say it was easy for me to do, because it is very nerve-racking when you get on there. But once you're on stage, you calm down, but I figured, "Let me do this to also build my confidence." It surely did helped me with a lot because I started booking other things through being seen out on a comedy circuit.
Fast forward, of course, started having marital problems. That kind of took me out of it for a little while. I went to a very public divorce. And so, I kind of just– When I went through my divorce I was very withdrawn.
I didn't want to do that has anything to do with the arts at all. I kind of was just like, "I don't want to be around these people. I don't want to be around this." Because I started seeing people who said they were my friends but when it came down to as the alliances and the side that were taken, I was like, "No, that wasn't a true friendship." I can see that now. You go with the bigger the star, the person with more money. Like, I just started seeing things that really made me disgusted in the industry.
I kind of moved away. I was still in California but I kind of moved away for further out from the city. And just took solitude, did a lot of fasting, did a lot of praying and just getting my mind back right and essentially stay in a good place so I could be present for my children. That was my goal at that time, just to find my happy again and be a present mom for my kids.
Abiola:                 Yes, I think that, that is really important. Like you said, that you kind of went back in, went underground to take care of yourself, did your fasting, did your praying to kind of build yourself up. Because, yes, girl I've been through divorce and it is one of the most horrible things that anybody could deal with. How did you—because I didn't have to be a mom at the same time and so, that sounds incredibly difficult. How did you at the time be present for your kids while you were just feeling despondent?
Torrei:                 Well, it was very hard. I mean, and sometimes I wasn't. You know, I'll be honest. Some days I was just—my mom pulled out to be here with me. I also had my cousin. My cousin was living with me at the time, so she was there to help me. Then I had a few core group of girl friends who were there for me to help.
There were days I didn't want to get out of bed. There were days where I contemplated suicide. There were days where I just felt like my life was over and those were the days where I just called on help. Because if I can do, I knew, "Let me get some help and be vulnerable enough so that I can seek the help that I need." And so, I will say that, "Yes, I did have people there who did helped." There were days where I didn't have the help so I just pushed myself. I just said, "Okay. I got to do this for the children. That's it. I got to be strong for them."
And there were times they still would, they would be like, "Mom, are you okay?" They could sense it. I mean, I never cry or anything like that in front of them. Children, they are very in tune.
Abiola:                 Yes, they are.
Torrei:                 They could tell that they knew when mommy was having a great day or when mommy wasn't having a great day. I would say that between them and my upbringing of bringing of being raised in a very spiritual background and having that to stand on really helped me get through a lot of things that I got through.
Abiola:                 Thank you for sharing that.
Torrei:                 Yes. As a kid, boy, I used to hate being in church all the time. But as an adult, I'm like, "Thank you, God, that I have that foundation." Because I don't think I probably could have pulled through if I didn't have that foundation. So, I'm grateful for that.
Abiola:                 And as you said, Torrei, having been vulnerable enough to ask for help. Because I think a lot of women particularly black women, feels that they have to put up the front of being strong all the time. So, I think that you're going to definitely helped somebody today by sharing that. Thank you. Thank you for sharing that.
The beautiful thing is that now, you have created the Heavenly Hart Beauty Line. Tell us. Because we know your daughter's name is Heaven. What inspired the beauty line?
Torrei:                 Of course, you know it was inspired by her name, of course. Heaven is her first name, her middle name is Leigh and of course, Hart. So, it actually came from her.
I was approached by Nzuri, which I have a new relationship with Nzuri, and they wanted me to do something with their line. And I said, "Well, I've been thinking of creating a line. Since I have my locks, I've always wanted to get into natural hair care. I think it's very good that black women see you can still be beautiful, you can still be sexy even with natural hair. Because sometimes I felt like, people get it twisted, "She's gone natural so, you can't still be sexy."
I wanted to show different—and that's not true. I have lock and I feel more sexy with lock because I feel like, "Hey, I'm at a pool party now. I can get in the water and not feel some type of way."
I just messed around. I can dip my hair in and I felt like, "Oh, gosh. Okay. How d I look after I get out of the water?" That in itself gives me confidence. That makes me feel sexy. Let me put it out there a little bit more. I can take a shower with my guy and not be like, "Let me put the shower cap on."
Abiola:                 Yes, you can wake up the next morning sweaty and your hair still looks good.
Torrei:                 It still looks good and you feel exotic. I feel exotic. I feel empowered. This is my texture. It's what God gave me. I'm not trying to sport somebody else and be something I'm not. It just really has been an empowering journey for me, I feel so much more, I feel the most confident I ever have out of any hairstyles I've ever have.
With me being a mom and having a daughter who's not only a black daughter but you know she's a chocolate girl too. I want her to feel empowered and have that sense of, "This is who God made me. I am beautiful no matter what," and she loves her twist. She's very confident. I instilled that in her in a young age and it's still with her to this age at 12 years old.
That was really my main mission, my main goal was to inspire women and let them know, "It's okay to be you. It's all how you rock being you."
Abiola:                 Yes, you have inspired me as well. I'm a chocolate natural sister. Absolutely, it's beautiful for you to be giving this gift to your daughter. Because I say all the time, I say that our mother's couldn't necessarily teach us that kind of self-love because a lot of times they didn't know. That was just so beautiful that you created this, that you created this line for Heaven. What is her reaction to seeing mommy do it?
Torrei:                 You know what? I think she gets it.
I know she gets it but I think she still kind of like, "Okay." Until she sees me like out as you know, there's a big hair expo coming up and it's a going to be about 20,000 black women hair care, everything and she's going with me. I think once she sees the magnitude of it it's going to hit her. I don't think it's hit her yet because I told her, "This is a legacy for you. I'm creating this for you. This is inspired by you, honey. God gave it to me when I named her, I knew she was going to be something special just because he put it on my heart to name her heaven and our last name was Hart. It's like Heaven Leigh Hart. It's just like this has all been in the making now since she was born.
I hope she'll get it. I mean, my son, he already like, "Well, mom, what about me? What's going to be my product?" He's nice. He's a little business man, so he's just like, "What about me, mom? I can create something." He's sitting around trying to come up with ideas. And I'm like, "Honey, let's think about that. Well, I like what you're thinking but wait a second, we're going to get to you too."
---
Torrei Hart Natural Hair Care Family Album