Is juicing on your list of New Year's Intentions? It's on mine! Confession: I was juicing pretty heavily last summer and then my juicer broke and I fell off without replacing it. (Oy vey!) My family is very into juicing and so am I; I just have to get back on board.
Let's see what our review bombshell Coye LeRocke has to say about Urban Remedy. (And what the Loch Ness monster has to do with it!)
Neka Pasquale created Urban Remedy with a simple philosophy: food is medicine — and she recently partnered with supermodel Cindy Crawford… -aa

Hey Sacred Bombshell,
Juice regimens and I are long acquaintances.
We're far from BFFs but we've been familiar with each other since my preteen years.
My parents purchased a juicer as a means for the entire family to ensure we were in the best health possible and to also gleam at the fact they were in on the latest health craze.
And they we were, taking pounds of carrots, celery, apples, and whatever greens we could get our hands on and shoving them down the grin-shaped chute, only to be left with way more "waste" than juice to quench the thirst of a family of five.
The juice was not appealing to any of the senses. It was hot and looked more like something the Loch Ness monster would bathe in rather than something we should consume.
It was way more hassle than what it was worth and the juicer was packed away only to be dusted off to aid my folks in their New Year's Resolutions.
Fast forward several years later with some trial and errors in between, I tried juicing again but not solely for the health benefits but more for a "can I do it this time" endeavor.
I researched some companies and came across UrbanRemedy.com.
Founded by licensed acupuncturist, herbalist, and certified Chinese nutritionist Neka Pasquale (author of "Urban Remedy: The 4-Day Home Cleanse Retreat to Detox, Treat Ailments, and Reset Your Health"), Urban Remedy embraces a use "food as medicine" philosophy.
Urban Remedy is a line of raw, ready-to-eat snacks, meals, cold-pressed juices and energy boosting tinctures. Every product we make blends cutting-edge nutrition with Traditional Chinese Medicine to offer you deeply healing elixirs and edibles that taste as delicious as they are effective.
Customers have the convenience of choosing the date he/she wants the package to arrive. I placed my order on Sunday and the earliest delivery date was Tuesday. Sounds good to me!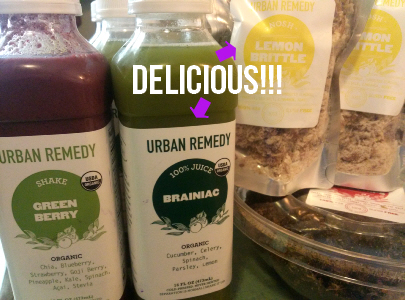 My order included:
Green Berry -(shake) Chia, blueberry, strawberry, Goji berry, pineapple, kale, spinach, acai, stevia
Brainiac – Cucumber, celery, spinach, parsley, lemon
Boost- Turmeric, lemon, stevia
Clean – Cucumber, celery, spinach, parsley, kale, burdock root, dandelion green, lemon
Flush – Cucumber, apple, lemon, ginger, mint
Soothe – Cucumber, celery, apple, spinach, parsley, ginger, lemon
Lemon Brittle – Lemon, banana, coconut, sprouted almond, vanilla, sea salt, cinnamon, agave
BBQ Kale Chips – Kale, cashews, water, coconut sugar, olive oil, Himalayan salt, lemon, spices
My Urban Remedy Verdict
Absolutely delicious! Brainiac and Flush, which by the way, has the perfect name were my favorite. The drinks went down smooth and were unexpectedly light and refreshing. Both the lemon brittle and BBQ kale chips are snacks I would keep on my desk for those quick fix cravings.
The packaging kept my products nice and cool from its long trip from one coast to the other. The sticker price can shock some (like myself) particularly in this economic climate but I'm looking at the overall benefits. However, Urban Remedy was well worth the investment and will be ordering again.
For more information, visit the official website, UrbanRemedy.com. Neka's book is named Urban Remedy: The 4-Day Home Cleanse Retreat to Detox, Treat Ailments, and Reset Your Health.
-Coye LeRocke
Urban Remedy Talks Superior Standards

---