Hey Rockstars,
Christelyn Karazin is a wife and the hard-working mother of four (!!!) but that's just the beginning.
In addition to writing features for women's magazines like Better Homes & Gardens, Woman's Day and Ebony Jet.com this goddess is the creator of the popular blog, Beyond Black & White. The blog is a community and lifeline for women of color interested in exploring interracial relationships. I'm a contributor to her love blog (here's my vision boards post) so find me there from time to time.
Today she's sharing her love and relationship wisdom with us here at The Passionista Playbook. I am excited that she's letting us in on the secrets to her marriage's success. That's Christelyn and her happy hubby in the lovely wedding pic above. Check out her video and 7 takeaway relationship tips below. (If you can't see Christelyn's relationship advice video click here.)
Oh – and guess what? Chris' brand new book "Swirling" will be available soon!

How to Keep Your Marriage Loving & Passionate by Christelyn of Beyond Black and White!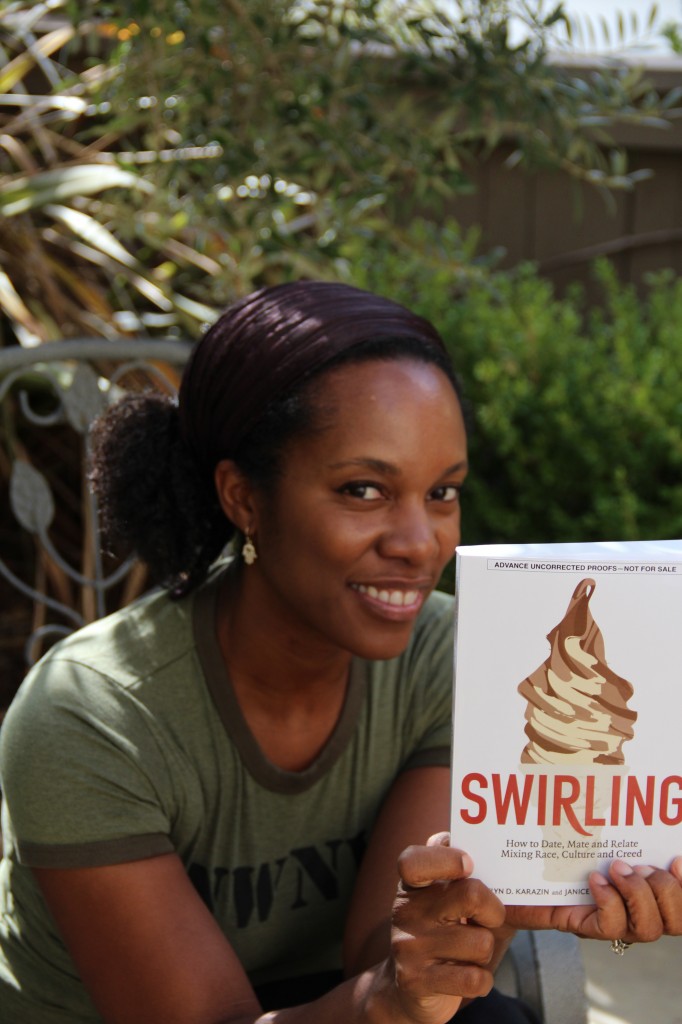 1.) Tell your partner often why you love him.
It serves as a reminder for you–why you married him in the first place–and a positive reinforcement for him.
2.) It's important to do things together, even if it's just doing mundane chores.
It gives you an opportunity to connect. My husband Mike and I love gardening together in the spring and summer. It's our "special thing."
3.) With four kids, sometimes getting together for a passionate interlude can be tough. 
Guess what I do to keep the sexy spark alive? I meet him during his morning shower, just before work. He usually has an especially good day when that happens. *wink*
4.) Who says you can't go back?
Go to the places you and your mate frequented when you were dating. from the fast-food joint or the island paradise, where you made love on the black sand beach. Go there–it's amazing how great memories and resurrect your passions.
5.) Practice being kind to your spouse.
It doesn't take a lot to create a warm and fuzzy feeling. If I'm running around doing errands near my husband's place of work, I often pop in and say hello, especially if I'm all made up and looking especially delicious.
6.) Be someone you'd want to come home to.
[Abiola says: Christelyn, I am quoting that sentence in the upcoming "
Bombshell Handbook
!"]
Switch places with your partner for a moment, Would you want to see you when you walk through the door?
7.) Take your partners concerns seriously.
Everyone wants to feel like they are being heard, and that their feelings are being validated by their partner. Wave off your partners complaints to your relationship's peril. Not feeling heard or appreciated with a big passion killer. Always be willing to listen, listen, listen.
Great advice, Christelyn. We can't wait to read your book.
You Should Also Read