Hey Goddesses! I am so excited to share with you that I am a Hay House author and oracle card reader. While I am still completing my book, meditations and oracle cards for you, be sure to tune in for my new monthly free series, Goddesses, Ancestors and Chakras! It's a monthly social media takeover on Hay House's Facebook and Instagram and I would love you to join us. 
We have to much fun — and we shift the very tectonic plates. 
Oh — and there is a bonus date this month. Join us also on Monday, October 13th. See you there…
:::::FREE GIFT ALERT: Want to get out of your own way? Get your free Stop Self-Sabotage Self-Worth Kit at RichGoddess.club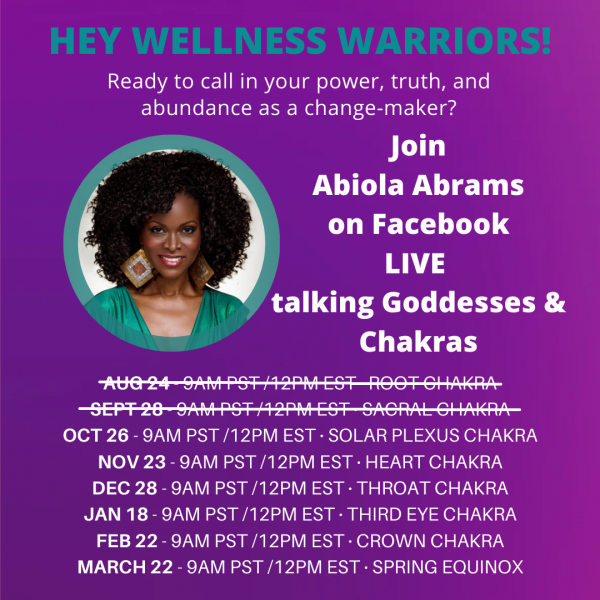 My Live Hay House FB & IG Series Schedule
Hey Lightworkers!
Ready to call in your power, truth and abundance as a changemaker?
Join me on Hay House's Instagram (@hayhouseinc) and Facebook (@hayhouse) Live the following MONDAYS talking Goddesses and Chakras
October 13 – 9AM PST / 12PM EST
October 26 – 9AM PST / 12PM EST – Solar Plexus Chakra
November 23 – 9AM PST / 12PM EST – Heart Chakra
December 28 – 9AM PST / 12PM EST – Throat Chakra
January 18 – 9AM PST / 12PM EST – Third Eye Chakra
February 22 – 9AM PST / 12PM EST – Crown Chakra
March 22 – 9AM PST / 12PM EST – Spring Equinox
Best sure to join me live on the Hay House Facebook and Instagram.
In Case You Missed This Month's Session…
Manifesting with Affirmations & Chakras [Hay House Law of Attraction]
[
YouTube Link
]
---
Pin This!