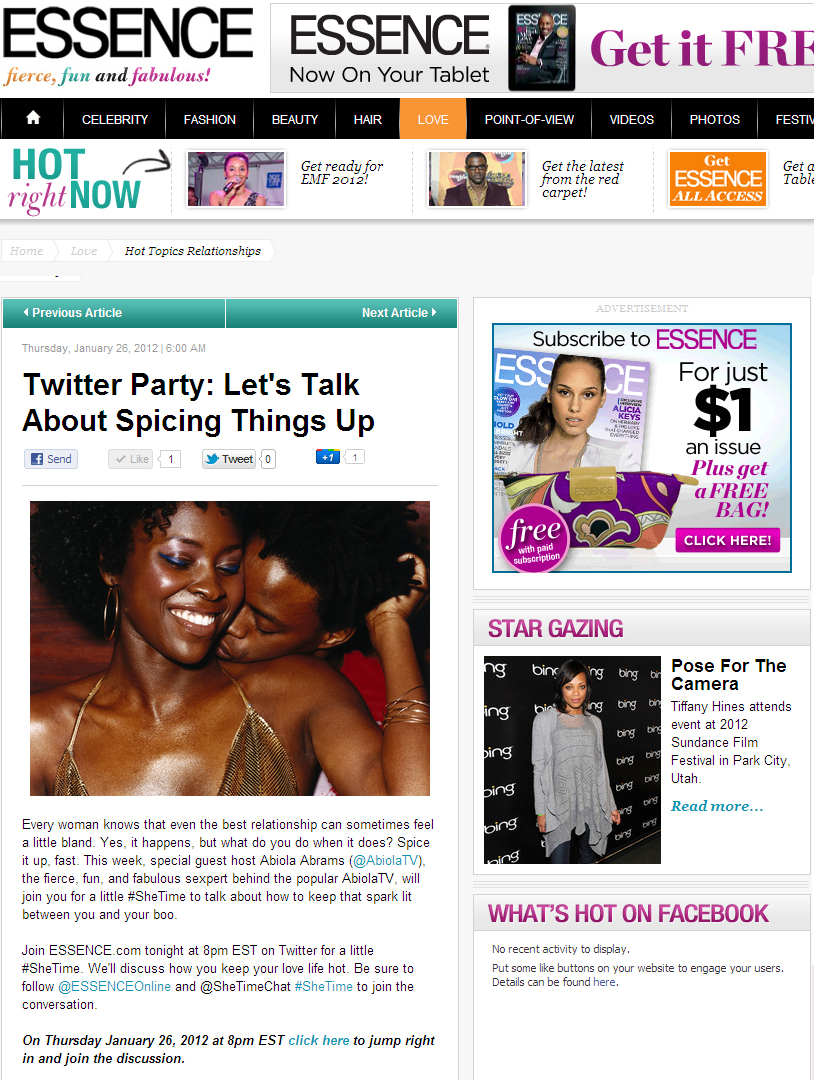 Hey Rockstars,
Join me tonight from 8 to 9 pm EST for a Twitter Chat with @EssenceOnline. My cohost will be the wonderful @Christelyn of the blog Beyond Black & White where I am a contributor. I thought that it would be a great pairing as she's married and I'm unmarried!
Just jump in on twitter and be sure to use the hashtag #SheTime. By the way, I'm on Twitter @AbiolaTV; and don't forget to grab a copy of the February 2012 issue of Essence Magazine, where I'm giving advice with The Love Squad…
Here are the questions that I came up with to get us going:
Question 1: "If sex is bad, is that a reason to break up?"
AA says: "It depends on why the sex is "bad?" If you love each other, sex issues are fixable. If it's a new partner w/bad sex & no chemistry, move on!"
Question 2: "Should couples have an open fantasy zone with each other?"
AA says: "Be open within your personal boundaries. We all have things we'll never to be into. Be upfront but willing to try new things & EXPLORE.
Question 3: "Is The Big O the most important thing in a sexual encounter with your partner?"
AA says: "O matters but you miss out if sex is goal-oriented. Focus on play, discovery, exploration. Think: Love making as a journey not destination."
Question 4: "What are your favorite "spice up your relationship" tips?"
AA says: "Boldly go where you've never gone before. Surprise is the sexiest element. Make time to engage all senses-taste, smell, touch, sound, sight."
See you on twitter!

Info from Essence.com:
Every woman knows that even the best relationship can sometimes feel a little bland. Yes, it happens, but what do you do when it does? Spice it up, fast. This week, special guest host Abiola Abrams (
@AbiolaTV
), the fierce, fun, and fabulous sexpert behind the popular AbiolaTV, will join you for a little #SheTime to talk about how to keep that spark lit between you and your boo.
Join ESSENCE.com tonight at 8pm EST on Twitter for a little #SheTime. We'll discuss how you keep your love life hot. Be sure to follow @ESSENCEOnline and @SheTimeChat #SheTime to join the conversation.

On Thursday January 26, 2012 at 8pm EST click here to jump right in and join the discussion.
Read more: http://www.essence.com/2012/01/26/twitter-party-lets-talk-about-spicing-things-up#ixzz1kakrdDY7