Speak life over yourself!
Here's a beautiful and positive inspirational gift from Abiola's dad. How to speak life, joy and abundance over yourself especially when the world is trying to shut you down! Here are key verses from the Bible that you can take with you everyday.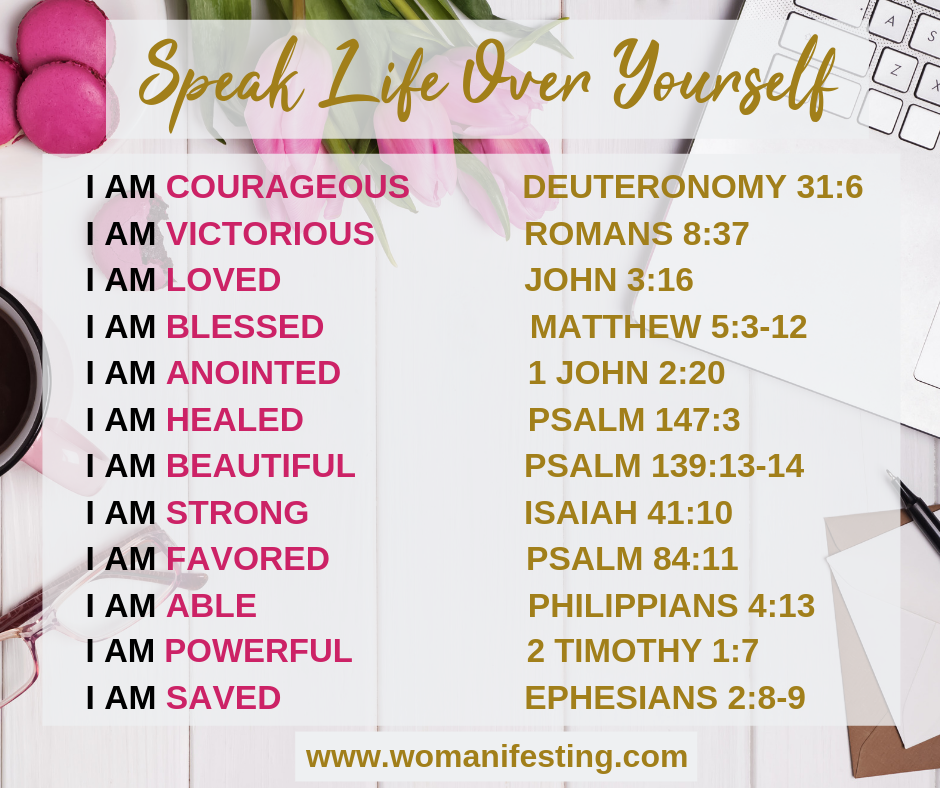 SPEAK LIFE OVER YOURSELF
Speak Courage!
I AM COURAGEOUS……….DEUTERONOMY 31:6
Speak Victory!
I AM VICTORIOUS………….ROMANS 8:37
Speak Love!
I AM LOVED……………………JOHN 3:16
Speak Blessings!
I AM BLESSED………………..MATTHEW 5:3-12
Speak Anointing!
I AM ANOINTED……………..1 JOHN 2:20
Speak Healing!
I AM HEALED………………….PSALM 147:3
I AM BEAUTIFUL…………….PSALM 139:13-14
Speak Strength!
I AM STRONG………………….ISAIAH 41:10
Speak Favor!
I AM FAVORED………………..PSALM 84:11
Speak Possibilities!
I AM ABLE……………………….PHILIPPIANS 4:13
Speak Power!
I AM POWERFUL……………..2 TIMOTHY 1:7
Speak Salvation!
I AM SAVED……………………..EPHESIANS 2:8-9
---
Watch: When Life Knocks You Down
Inspiration from Goddess Temple Sundays
[
YouTube Link
]
Pin Me!