Essence Magazine travel editor and journalist Sana Butler interviewed empowerment and education specialist Samantha Sinclair about her experiences at my Goddess Pray Love Retreats. 
When Goddess Sana asked if there were any goddesses who attended my retreats she could interview about their experiences for Essence, I instantly thought of Goddess Samantha. Samantha is so intelligent and focused, and has dedicated her life to the empowerment and advancement of others. Who better to share their genuine experience at my Goddess Pray Love Retreats than an educator and inspirational guru?
::::To learn more about how you can join a group of empowered women to manifest your miracles at the latest Goddess Retreat, click here.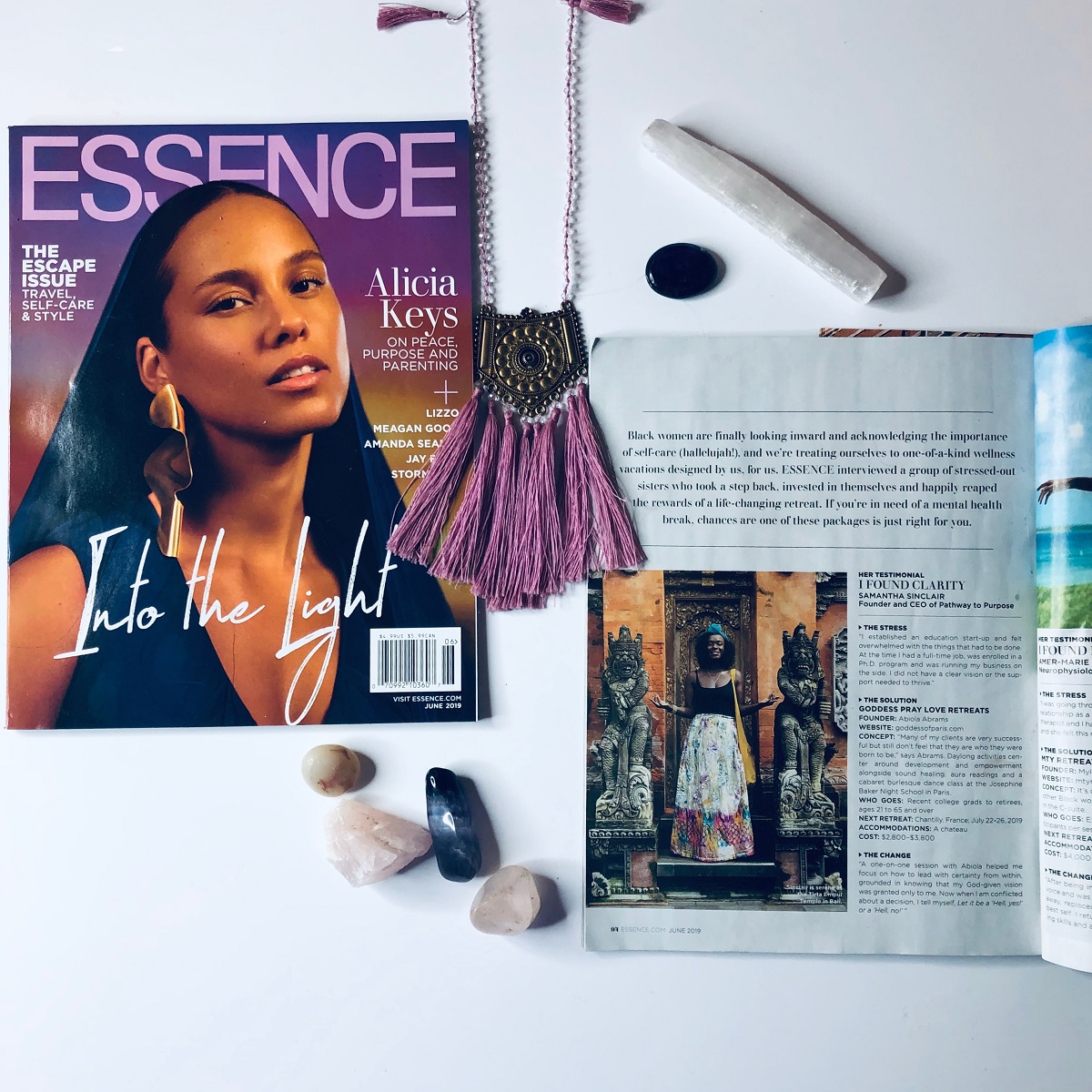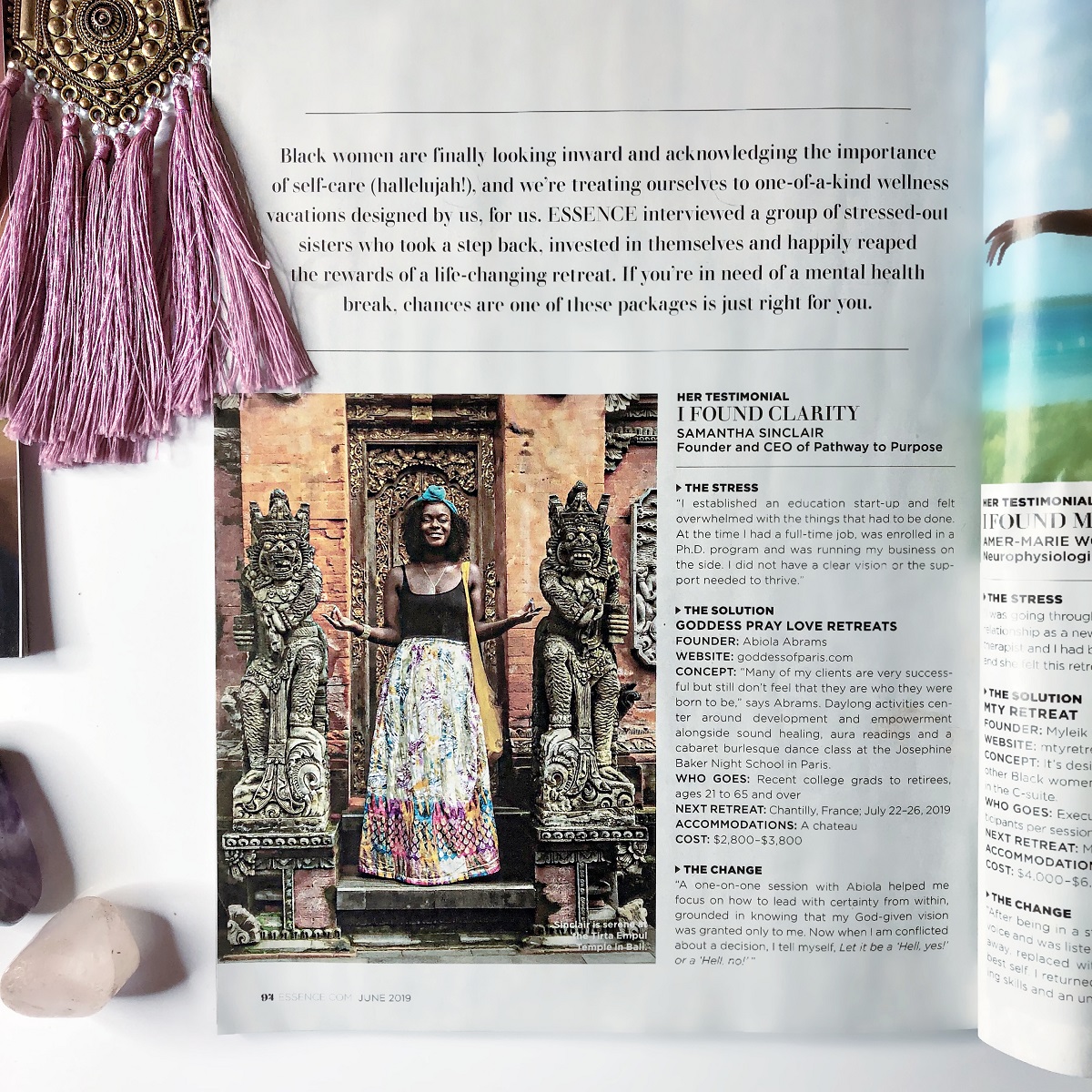 Empowerment Leader Samantha: Why I Attend Goddess Pray Love Retreats
ESSENCE: What do you do?
SAMANTHA SINCLAIR: I am the Founder and CEO of Pathway To Purpose where I work to educate, empower, and uplift students to accomplish their college and career goals. In as early as 7th grade, I help students develop the strategies, motivation, and accountability needed to succeed! My students are predominately first-generation, Black and Hispanic students who strive to overcome tremendous adversity in order to change the trajectory of their lives. Like many of my students, my parents had college bound aspirations for me but could not provide me with the step-by-step guidance needed to accomplish this goal.
Using my PhD research and my experiences as a first-generation student, I facilitate hundreds of student workshops dedicated to providing students with the information needed to make an informed college and career decision.
I create a space where students feel comfortable addressing concerns about family, culture, money, and life! These in-school workshops educate students on the history of higher education, breakdown college terminologies, compare types of colleges, discuss affordability, and most importantly, helps students identify their "why". The reason for pursing a college degree that will encourage them during challenging times.
In addition to student workshops, I host day and overnight college trips, parent workshops, student conferences, college panels, and special events! Since founding Pathway To Purpose, I organized hundreds of college trips to give students a first-hand understanding of college life outside of NYC. For many of my students, my college trips provide them with an opportunity to leave NYC, travel in a luxury charter bus, or visited a college for the first time. I provide students with many opportunities to learn in and out of the classroom!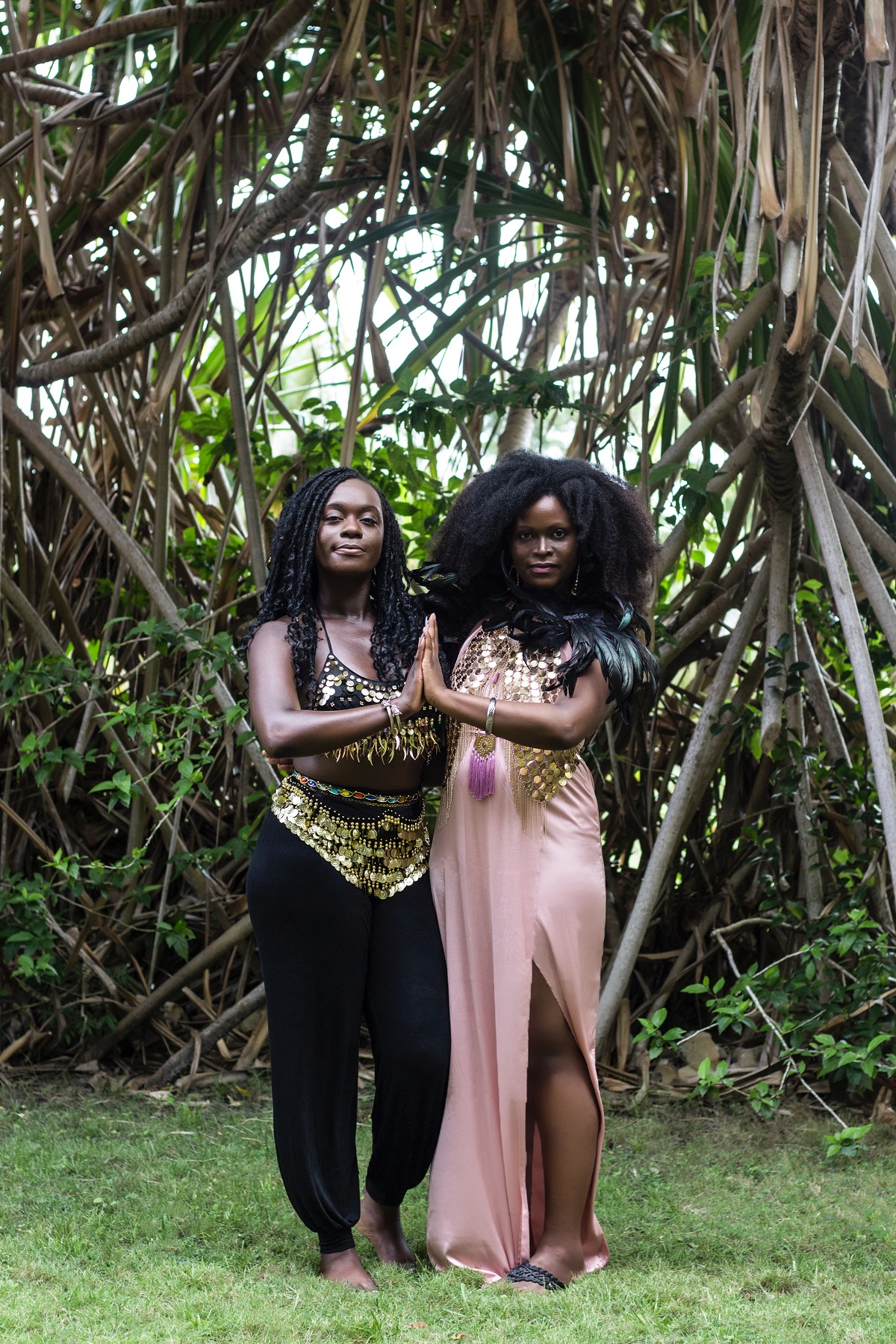 Q: Do you like your job?
Samantha: I LOVE my job! Many of my students thank me for being the first Ivy League educated Caribbean American business woman they ever met! "You're goals!", they say. But more than my accomplishments, they identify with my first-generation story. A story that is very similar to their own. I predominately work in the Bronx county, where the US Census data reports, only 19.4% of adults age 25 or older have a bachelor's degree.
Each day I get to motivate and inspire different groups of students to beat the odds by dreaming bigger, creating a plan, and accomplishing their goals! Some of my most memorable moments are the ones I could not have planned for. The thank you hugs for training English Language Learners to speak publicly, the smiles exchanges when taking students out-of-state for the first time, the gratitude expressed after bridge the gap in college knowledge for parents, and the end of the year staff reflections, makes this the most fulfilling job ever!
When I first started Pathway To Purpose, I did not imagine I would help over 5,000 students prepare for college. I am deeply grateful for the opportunity to educate and inspire students each day.
Q: Why did you decide to go on a wellness retreat?
Samantha: I started Pathway To Purpose in October of 2016 and soon after I began actively researching Black women in business who could help me navigate this new journey. As a new business owner, I faced many unexpected challenges and setbacks in obtaining my first contract.
I established my business just 3 months prior to meeting Abiola, and already felt overwhelmed with things to do. I did not have a clear vision for my business or the support needed to thrive! At the start of 2017, I set a goal to attend a wellness retreat, but I did not imagine I would find a retreat aimed to develop both the personal and professional aspects of my life. The retreat was exactly what I needed.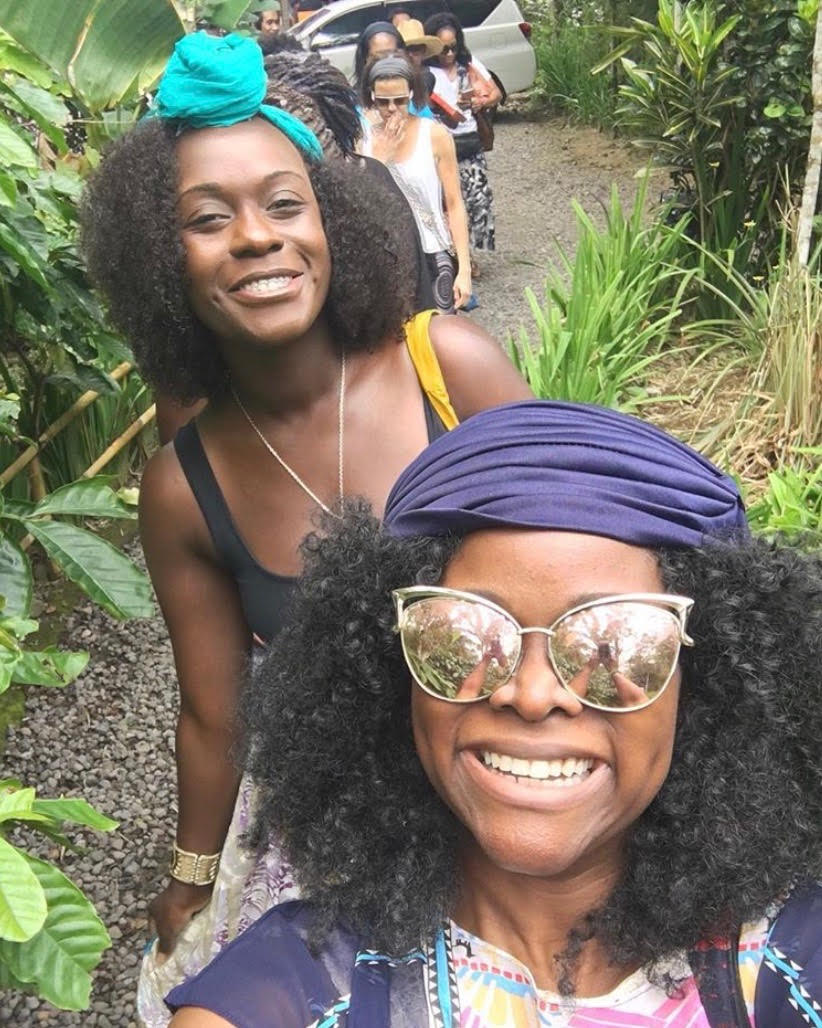 Q: Would you have booked a wellness retreat at a time where you had no stress in your life?
Samantha: I would have booked a wellness retreat, but not necessarily one that was geared towards helping business women succeed. I may have done a yoga or spa retreat instead. One that did not have workshops and day-long activities centered around development and empowerment.
I first heard about the retreat on the Happy Black Woman podcast when Abiola was the featured guest. I was immediately drawn to Abiola's story as we shared the same Guyanese culture. During her self-love episode she discussed the some of the culture barriers to self-love and abundance, and ways to overcome those limitations. While the retreat sounded interesting, it did not seem like the right time to explore attending. However, one month later, I unexpectedly met Abiola at the Happy Black Woman: Black Women of Power NYC conference in January 2017. This time I was sure I wanted to attend the Bali retreat!
Q: How many Goddess Pray Love Retreats have you been on so far?
Samantha: The Goddess of Paris retreat will be my 3rd retreat with Abiola! I participated in the Bali retreat in 2017 and the Belize retreat in 2018.
The Bali retreat was my first time attending a retreat and I have since attended the Belize retreat hosted by Abiola. I will also be attending her retreat this summer in Paris! I have yet to attend a retreat with another group.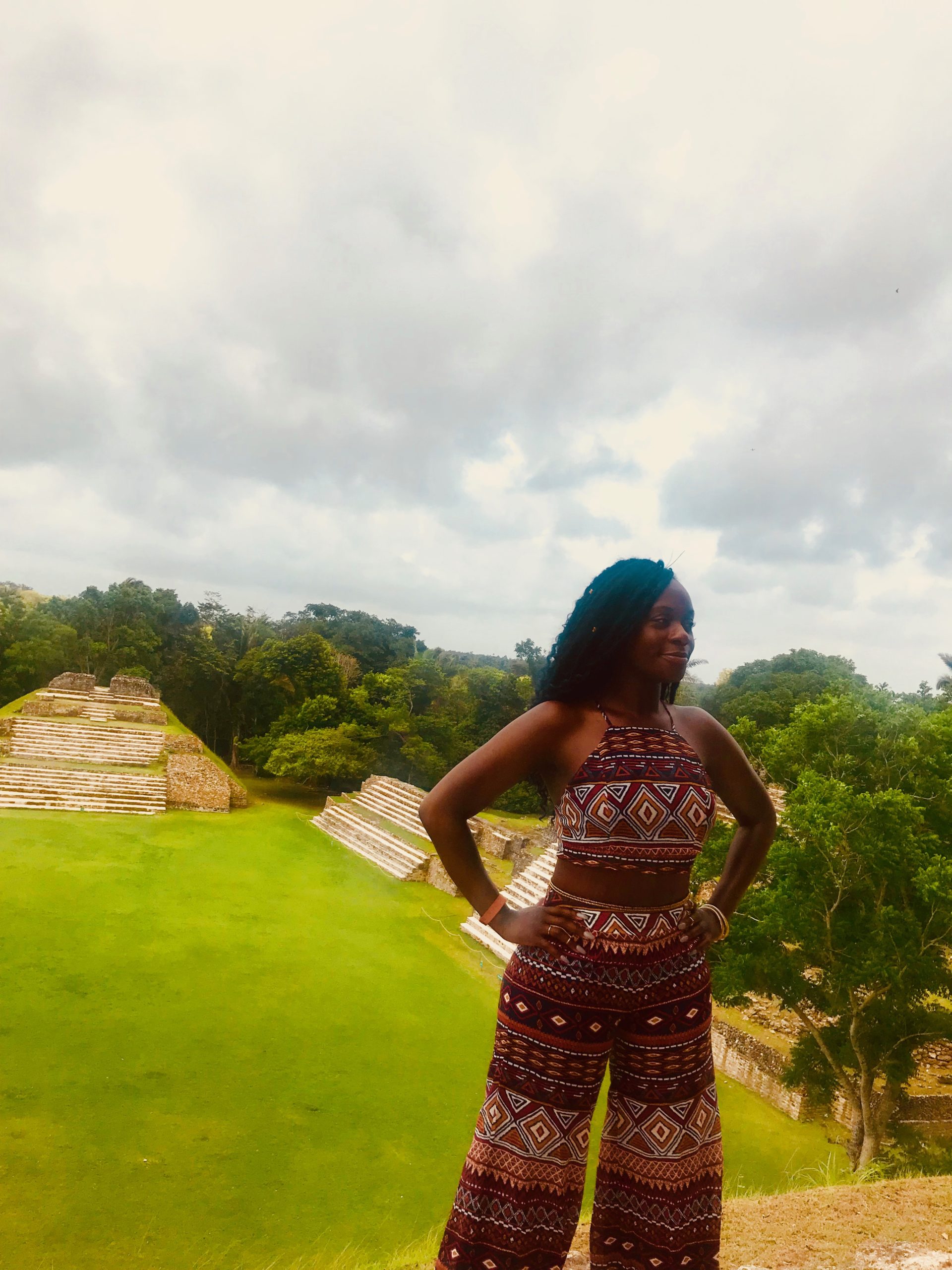 Q: How were you  transformed?
Samantha: Since the Bali retreat, I begin each day seeking guidance from my ancestors.
I know my greatest strength comes from within, so I no longer seek the external validation from loved ones. My God given vision is one that I will continue to make sacrifices for, remaining grounded in my own certainty. In challenging times, I seek the guidance of a select few who are in alignment with my purpose. Being intentional about who I share my life with protects me from the self-limiting beliefs of others.
Lastly, I have learned that when I am conflicted about a decision "let it be a hell yes or a hell no!" I now take full responsibility for my energy, always operating with my higher self in mind. My 1-on-1 with Abiola in Bali gave me the courage I needed to resign from my job at an earlier than intended date and with great confidence! I learned an important lesson in walking by faith and working tirelessly to accomplish my goal. My business doubled in partnerships and continues to expand each year, simply because I said yes to myself. Yes to believing in my vision and doing the work it takes to ensure I am adding value to lives of thousands of students.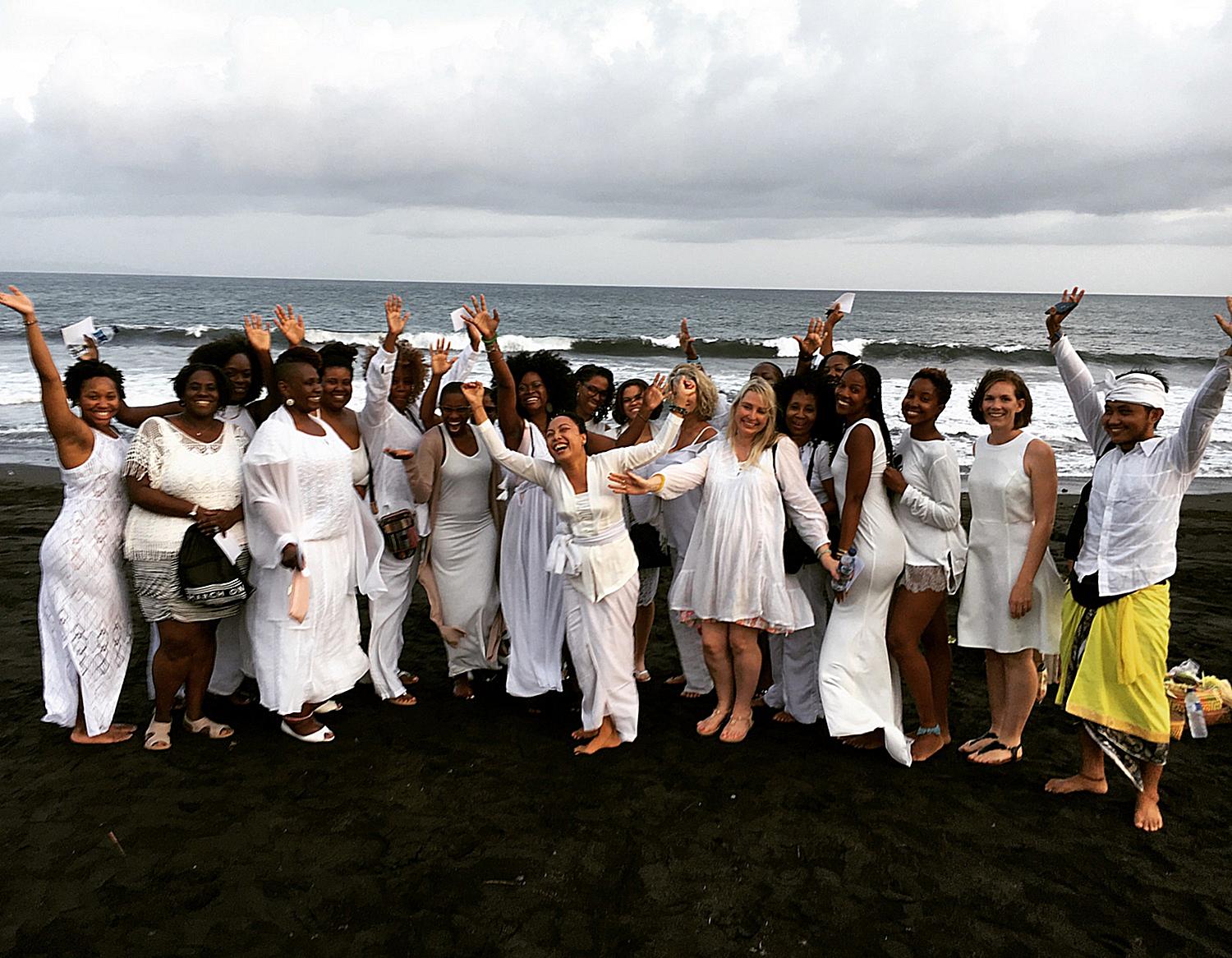 Q: How long did that transformative change last after returning to the real world?
Samantha: To this day the transformations I experienced in Bali and Belize remains with me. I keep the memories of both trips alive by rereading my notes, watching videos, sharing stories, and wearing the traditional garments I purchased while on the retreats. Additionally, I remain connected to Abiola through her weekly 20-minute videos that explore topics related to self-love, managing a business, living abundantly, and remaining spiritually grounded. I take the power I gained from the retreat into every meeting, workshop, and conference.

Samantha: As a new business owner, I was specifically looking for a Black woman in business to provide me with the strategies for becoming a successful leader. I first met Abiola at the Happy Black Woman: Black Women of Power NYC conference in January 2017.
The magically energy that Abiola manifest instantaneously creates a warm, loving, and friendly environment! We generally spend the first day getting to know each other through various formal and informal conversations. The women that Abiola's retreats attracts immediately feel like family! Each interaction reminds me of moments shared with my mother, aunts, sisters, and friends. There is a cultural understanding, familiarity with Black history and leaders, food, proverbs, and life experiences that are only true to black women. Had I been the only black person, I would have been more guarded.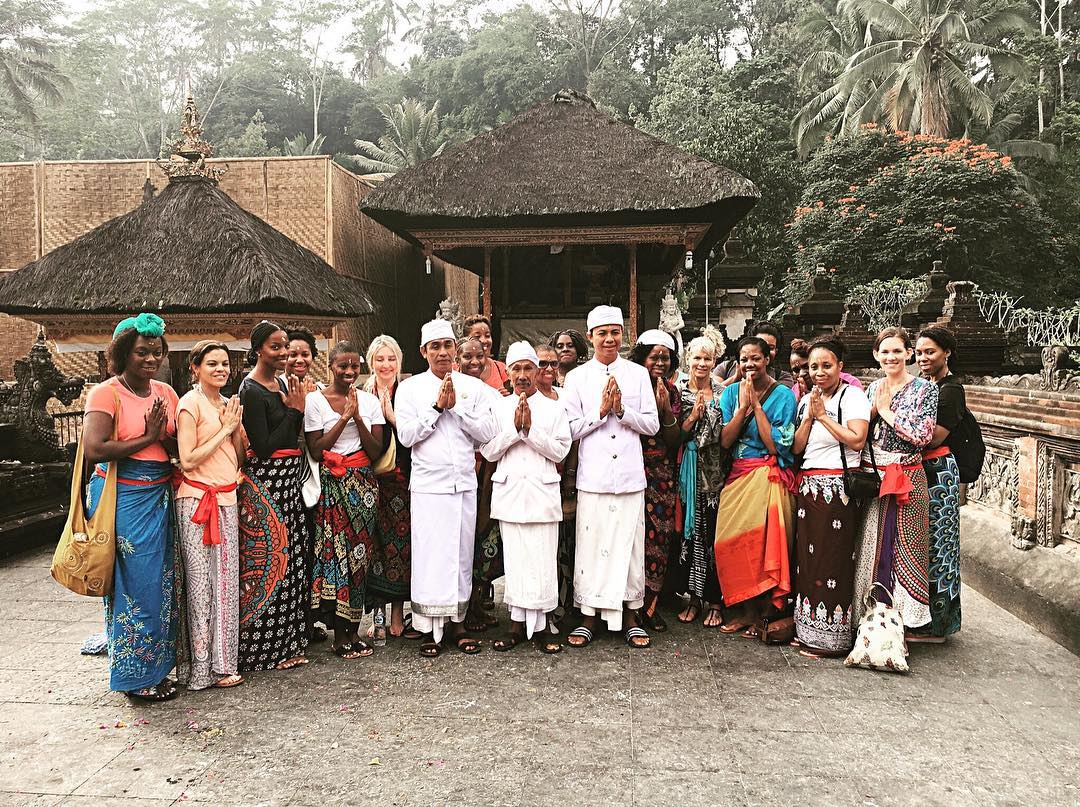 Q: What were your favorite activities?
Samantha: Bali 1-on-1 session with Abiola- Abiola prides herself in getting to know each woman and remembers important information shared, even years later! Meeting with her 1-on-1 gave me an opportunity to address my concerns and be empowered to make the next best decision, despite the expected challenges. Abiola reminds me lead with the certainty from within, grounded in knowing my God given vision, was given only to me. Our conversations encourage me to make decisions in alignment with the life I desire.
Sunrise Yoga- Starting each day with outdoor yoga at 6am was a wonderful way to center our thoughts and begin the day by setting an intention.
Tirta Empul Temple- My multiple prayers in the holy water allowed me to pray for many people for the first time. In the presence of hundreds, I felt the greatest sense of serenity.
Coffee Plantation- I enjoyed learning all about the various types of coffees in Bali and visiting the gift shop where I purchased various teas, oils, and spices.
Quality Time with the Other Women- Listen to the life experiences and wisdom shared by women of all ages are the moments I will always remember. Abiola attracts women from all walks of life, who come together and create this positive energy of instant familiarity, as though we were relatives coming together for a family event.
Belize:
The Medicinal Jungle Walk- This walk through the jungle was a beautiful reminder that God placed both our food and healing herbs on earth.
Conversations with Garifuna Mountain Spirit Healer– Listening to my Garifuna Healer provided me with the guidance I needed to bridge the gap between where I am and where I want to be, in all aspects of my life.
Healing Mineral Pool Ceremony- While in the mineral pool, dressed in all white, we prayed aloud and in silence for continued ancestral guidance as we prepared to journey back to our lives at home.
Summer Solstice Manifestation Dinner- I read out loud the life I wanted to manifest one year later, in 2019. This activity made my wildest dreams obtainable, allowing me to speak these desires into existence.
Quality Time with the Other Women- Listen to the life experiences and wisdom shared by women of all ages are the moments I will always remember. Abiola attracts women from all walks of life, who come together and create this positive energy of instant familiarity, as though we were relatives coming together for a family event.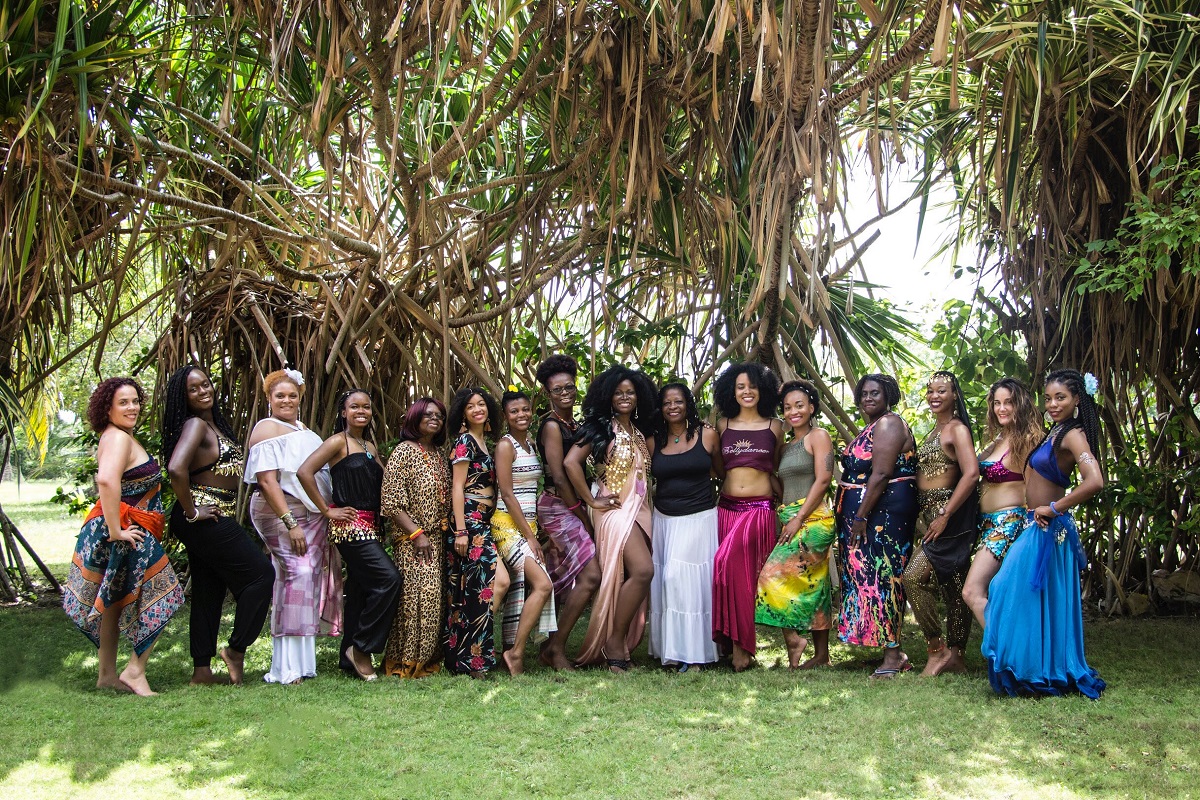 Q: What would you say to a reader who is thinking about going on a wellness retreat, in general?
Samantha: Do your research! Be sure you understand the retreat leader and the audience they attract. Listen to their podcast, watch their interviews, read their writings, and if possible, meet them! You should have zero hesitations on the trip you decide to participate in. For the 3rd year consecutive year, I will be attending Abiola's trip by myself and I absolutely would not have it any other way! I love going alone! There is something very exciting about embarking on an international trip alone.
There are so many wonderful things to experience for the first time as I leave all of feelings of comfort and certainty at home! If you decide to bring a friend or family member along, be sure they are in alignment with your reasons for attending. Retreats are not your average vacation. The schedule is filled with many day long activities that require active participation, enthusiasm, and energy! Be grounded in knowing why you are exploring this opportunity, determined to expand your perspective, open to making new friends, and prepared for a lifechanging experience.
Abiola's retreats are perfect for women who seek to be in alignment with their purpose by stepping outside of their comfort zone. Women who are ready to evaluate their self-limitations and explore ways in which they can transform their lives through inspired action.
Q: Any additional thoughts about the Goddess Pray Love Retreats?
Samantha: First Impression- WOW! Abiola is very intentional about our lodging and that is reflected in the accommodations, customer service, and meals that cater to all dietary needs.
The Scene- Supportive, warm, inviting, family, familiarity
Room- The rooms are always gorgeous, serving as the perfect zen space to unwind after long days.
Service- Unmatched
The women- Beautiful inspiration of all ages
Impact- Invaluable
Loved the Most- The unforgettable moments shared with women who just a short time ago were strangers. Moments I will always remember.
The retreat itinerary was the perfect balance of tourist attractions, informative workshops, meditation, fun, and downtime for rest, reflection, massages, and socializing. Abiola does a wonderful job of making changes as needed, which allowed me to reenergize before transitioning to the next event.
Some of my most memorable moments, were the ones Abiola did not plan for. I observed as she challenged each woman's perspective, limiting beliefs, and unconscious expressions of stresses and complaints. She reinforced the importance of remaining present, and made us realize that some of our stresses were in fact blessings, kindly reminded us when needed, that we were in Belize!
It is quite evident that Abiola takes great pride in providing a quality experience by collaborating with workshop facilitators who shared an aligned mission of equipping us with the knowledge and mindset needed to live in our purpose. Each leader, which included both healers, the yoga instructor, and her sister Damali, served our needs in their own authentic ways.
I left Belize different, stronger, and more focused than when I arrived. I have a clear understanding of my next steps, how to navigate through difficulties, and how to manifest the life I desire. I am forever grateful for Abiola's continued presence in my life. Each year her trip reminds me of how much I accomplished from the year before, and she has been there to cheer, encourage, congratulate, and inspire me along the way.
::::This Goddess is just getting started! Want to know what she will do next? Follow Samantha's powerful journey on Instagram @purposely_full
::::To learn more about how you can join Goddess Samantha, me and a group of empowered women to manifest your miracles at the Goddess Pray Love Paris Retreat, click here.
---
Watch!
Goddess of Paris Miracles & Manifestation Retreat Q&A
A Law of Attraction Retreat with Abiola
[
YouTube Link
]
---
Pin It!