Manifesting is intentionally creating your life. Chakra meditation helps you to get out of your own way. This is your moment to claim your sacred inheritance. This album was recorded during a live meditation program for women to manifest our desires.
Hey Sacred Bombshell,
I am excited to share that I have a new guided meditation album. The name of the new album is "Manifest Your Miracles, Magic & Mojo! Chakra Abundance Meditations."
This is my second guided meditation album. I think that you will really find it transformative. I created it during a live abundance class for women — and the results were powerful.
Whoo hoo!
Here's what this guided meditation for abundance album sounds like:
(Click to play.)

---
My Previous Self-Love Meditation Album…
My first meditation album is named "The Sacred Bombshell Self-Love Meditations." The Sacred Bombshell Self-Love Meditations help dissolve the fear-based beliefs that keep you playing small and lay the foundation for you to step into your majestic greatness.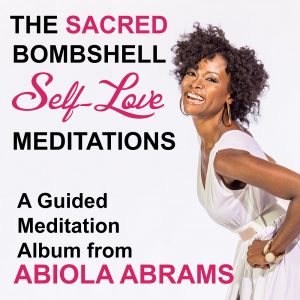 ---
About the Manifest Your Miracles, Magic & Mojo! (Chakra Abundance Meditations)
ALBUM NOTES:
It is time to unblock your energy so that you can manifest your miracles.
With the power of chakra clearing, balancing, aligning and healing, soulcare lessons, and guided meditation, empowerment guru Abiola Abrams guides you on a powerful journey. This course is designed to help you energetically get out of your own way.
Each of the seven main chakras represents an area of our emotional, spiritual, mental, and physical life. Abiola's sacred self-worth meditations, affirmations, and exercises will clear and open your chakra channels so you can allow your blessings to flow. Each chakra is primed to receive expressive life force energy which is also known as prana or chi.
When your chakras are blocked or unbalanced it's like being congested, you know when you have a cold. That's why we want to clear our chakras to receive our blessings. Chakra blocks or imbalances can occur after fearful experiences, conflict, emotional injuries, pain, trauma, and even over-indulging. At the end of this program, expect to feel clear and open to receiving and allowing.
THE BREAKDOWN:
-Are you ready to let go of everything holding you back so that you can receive your blessings? Are you ready to become aligned with your highest and greatest good?
-We all know what is is like to feel blocked. We feel stuck. We may feel overwhelmed. It can feel like things aren't working out the way we want.
-The first day is a mindset and meditation day. Our objective is to clear our energy for receiving.
-Each of the following 7 days will focus on a different chakra and life area.
-Our sacred intention is release all that is not working to allow our blessings to flow.
WHAT OTHER WOMEN SAY ABOUT THIS COURSE:
"THANK YOU this was amazing. I cried while meditating and I feel the positive change happening for my life." -Ta'sha H.
"I enjoyed it!! I loved Abiola's spirit and positive energy and all the wonderful things said! Her voice is very warm and inspiring with nothing but positivity spoken. Glad I was able to be apart of it." -Gwendolyn W.
"This [chakra] meditation has been wonderful and a breath of fresh air. It has opened my eyes to just taking some time for myself to just relax. Thank you so much for giving me this opportunity." -Tammy B.
"I absolutely loved it. I loved Abiola. I am really working on bettering myself this year, and this program will definitely help me." -Shantay C.
"There were moments I felt like Abiola was right next to me because she seemed to know what was going on in my mind at that moment. It was tough for me to stay focused and keep my mind from wandering but the other resources she shared will continue to help me get to a point where I am able to meditate through distractions. The material is awesome and I definitely plan to stick with the daily meditation mainly because of her guidance and information shared." -Shon W.
[Note: This album was recorded during a live empowerment class for women. This is a chakra opening and healing meditation process for manifesting.]
---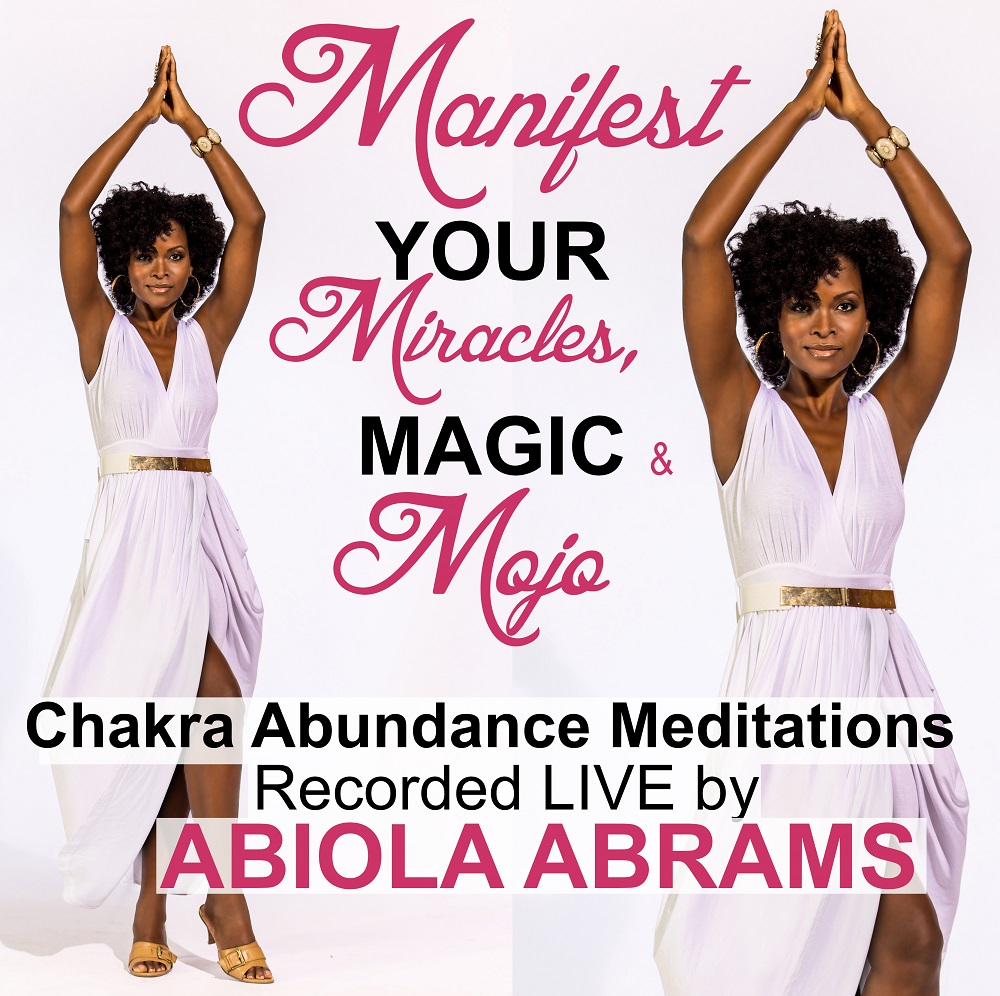 ---