It takes courage to be an actor and create the life of your dreams. It takes even more courage to branch out as an author. Add the biggest dose of courage of all to commit to the beautiful love of your life. Life lessons from Michael Obiora…
The handsome and successful Michael Obiora was born in London to Nigerian parents. After starting drama classes at aged seven, he was encouraged to join an agency by his drama teacher. He then joined a drama group at nine, and within a year landed a part in the hit British drama, 'Grange Hill.' Michael went on to appear in such popular British programs as 'Doctors', 'The Bill' and 'Holby City', but it was his role in the stage play 'Exclude Me' that really set the ball rolling.
Michael completed a successful 11-week run on stage at The Chelsea Theatre. Lead roles in the award winning play 'Fallout' at the Royal Court Theatre and 'Badnuff' at The Soho Theatre soon followed. Michael went on to appear in other popular British TV shows such as 'My Family', 'Judge John Deed' and 'Sea Of Souls'.

Abiola: You are someone who goes for it. You not only had the courage to become an actor but now a writer as well. Where do you get your courage from?
Michael: In all honesty I cannot really work out where I got my courage from. I do know that I wouldn't be as strong as I am now had it not been for my past experiences. I suffered a bad injury during a fight when I was fourteen years old, a year later I was expelled from school and completely fell away from the educational system. And less than a year after that my dad died. Those were character building years. Even when he was alive I had to navigate my childhood and career with very little guidance.
Abiola: What does your Nigerian heritage mean to you? What was your family like growing up?
Michael: I was born in London. But it didn't take long for me to realize that society is set up in a fashion where – although a lot of people don't want to admit it – color matters. So I made a conscious choice to learn Igbo from my parents – I asked them to speak the language to me exclusively for an hour a day when I was a child. But I think being the person I am, I would be proud of any heritage I have.
Identity is important to me. I do think that my parents could have done a better job of integrating us into Nigerian culture growing up. They didn't take us back as often as I think parents should, therefore our ties to Nigeria have significantly diminished over the years. So now, truth be told, it's up to me to reintegrate myself to Nigerian culture going forward. It's not easy because for some reason a lot people forget that Nigeria is a third world country – unless you have rich relatives over there it is extremely difficult to go back and forth. When my father died we lost all contact with his side of the family over there, and my mother is from a very poor village in Anambra State. The last time we were there we found ourselves in some incredibly dangerous situations.
So being married now, I think about our future children, and their identity – my wife is Creole, so our kid's will be British, Seychellois, and Nigerian. And I am definitely concerned that of those nationalities it's going to be harder to integrate the Nigerian aspect into their upbringing because my parents didn't provide a strong platform for that. I'm determined to address that, though. And whenever I'm determined it's a good sign.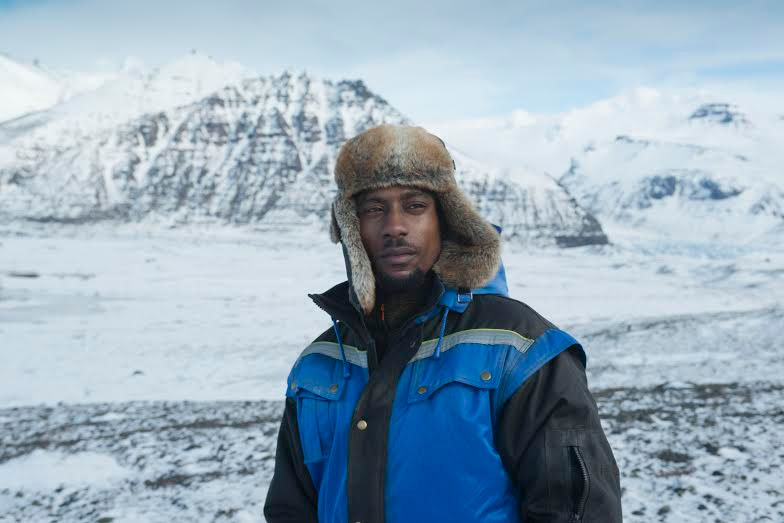 Abiola: I have an un-PC question for you. A few months ago, I wrote a series of articles for Match UK's black dating blog. I did research on black women dating in the UK — and these women of African and Caribbean descent felt neglected by black UK men. What are your thoughts on it? What do you recommend regarding love to these women?
Michael: This question isn't un-PC to me because I'm very comfortable talking about anything that concerns race. If I wasn't that would be a huge burden because I'm a black man. Black women feeling neglected by black men is an issue that I think is more prevalent than ever – it's actually one of the themes in my debut novel, Black Shoes.
First of all, I'll say – I am only one black man, and therefore do not represent anybody but myself. But of course that's obvious, just because I'm a black man it doesn't mean I speak for black men. So what I'm about to say is simply my opinion, and you'd probably get a different answer from a black man who had a non-black partner.
I think that because of the image of beauty that has been thrust upon us in the western world, for a very long time black people weren't seen as beautiful. If you are enslaved for no other reason than the colour of your skin, and completely humiliated and have all your human rights violated, how can you feel beautiful? And of course this has inevitably had a lasting effect. So I think a lot of black men and women have historically struggled to see themselves as beautiful due to colonialism, and there is still a hangover of that today. In the hierarchy of the world men are more dominant (another sad discrimination), so I think black women have struggled with the idea of their own beauty more than black men.
Add to all this that I think a lot of black men see having a white woman as a symbol of success. And I'll give an example from my own experience, it saddens me to say that the more successful I became as an actor, the less black people I was surrounded by. I was surrounded by even less black women. So if I wasn't with my now wife at the time, it would have been very difficult for me to meet a black woman.
My wife is Creole, and that word itself means mix. She has African and Indian roots. Her father's mother has distant Portuguese roots. There are also Chinese people in her family. So my wife was brought up with a less "black and white" attitude than myself. And her life is so rich because of it. I'd say it's richer than mine. Ask my wife what race she is and if she gives you the time of day she'll simply say "I'm Creole." She's not a color. She came into my life when I was seventeen years old and it really has opened my eyes, and it actually makes me excited whenever I think about it.
Finally, what I would say to black women is – do you only want a black man? Or is it that you think that black men are the only men you can get? I think I would be surprised if it was the latter because I think, especially now, black women are more desired than ever. But the fact is, for black women, the issue of being ignored by black men is still an issue, and I really do think that anybody who selects in that way should have a conversation with themselves – where did you get your idea of beauty from? Are you sure it's your own idea? Or have you been influenced by what's been thrust upon us in the western world? But of course, we are free to be with anybody we want – no matter what race or gender. So maybe black women should focus on their own self-love and remember that if a brother doesn't recognize that in you, then that brother is not for you. Focus on yourself – that's attractive.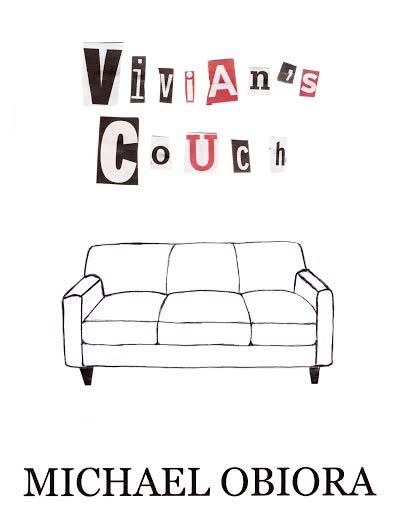 ::::Vivian's Couch by Michael Obiora
---
Abiola: Vivian's Couch is your second book. It is the prequel to your 2009 debut Black Shoes? What inspired this project? Who is your Vivian?
Michael: Vivian's Couch is about five main characters who all have a therapist in common – Vivian. We have the world's most expensive football player – who's step-brother is about to be released from prison, we have a former policewoman who quit the force due to racism and sexism, and who is now a marijuana addict. An MP who is being touted as London's potential first black mayor – until the summer riots of 2011. And finally we have a couple – Gemma and her filmmaker husband, Pete – whose marriage is in serious trouble mainly due to Pete's once stellar career nosediving.
I deliberately chose people from different backgrounds, and from different walks of life to have Vivian as the tie that binds them because I wanted to show that no matter what we look like, how much money we earn, or what status we have, we can all have problems. No matter how different we seem on the surface, no matter how much somebody can appear to "have it all", sometimes we could all do with a little help. There are of course sub-plots and other characters to keep the story moving, and (hopefully) entertaining.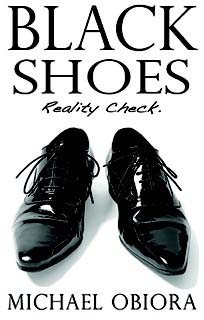 ::::Black Shoes: Reality Check by Michael Obiora
---
Abiola: What are your favorite books?
Michael: My favorite fiction book is Chimamanda Ngozi Adiche's Half of A Yellow Sun. Of course that book is based on the factual Biafran war. It struck a particular chord with me because my dad (who I lost when I was 16) actually lived through that war. You're probably trying to do the math, but my dad was 71 when he died. He was much, much, much older than my mother! Any Nigerian reading this won't be too surprised by the age gap.

My favorite factual book is The Devil's Double by Latif Yahia. And my favorite writer is Malcolm Gladwell. His books demonstrate a wide range of interests, and I also happen to agree with a lot of his theories.
Abiola: Hopefully everyone will go get your books! How can fans find you?
Michael: Fans can keep up with all things me at MichaelObiora.com. And the featured photo is from me and wife's Seychellois beach wedding, and the movie "Fortitude." Amanda Searle took both photos.
---
---