A moving documentary film in 4 parts about a young black woman dealing with bipolar disorder

Hey Rockstars,
Recently more women of color have been outspoken about dealing with bipolar disorder and other mental health challenges. Nonetheless, in our families and communities there are still stigmas when talking about mental health including depression and schizophrenia. I tackle these topic in the documentary "Knives in My Throat," which I produced,  directed and edited several years ago.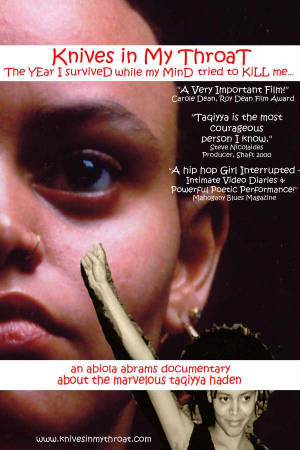 "Knives in My Throat" follows a year in the life of a 25-year-old biracial woman, half black and half Italian, facing her own bipolar disorder and her mom's schizophrenia while working and being in a romantic relationship. I screened the film at grad school and met with a degree of resistance from all groups of people as to why as a filmmaker and storyteller I would tell such the "negative" story of someone dealing with manic depression.
Authors Terrie Williams and the late Bebe Moore Campbell (mother of actress Maia Campbell) have both written about this topic frankly and courageously. I am proud to say that my documentary film "Knives in My Throat" won Best Experimental Film at the 2008 Reel Sisters of the Diaspora Film Festival.
Tomorrow I will be participating in a Twitter chat @abiolatv about African American women and mental health organized by Yoli's Green Living in honor of Women's History Month. The hashtag is #wmnhealth and we will be joined by Natural Beauty Expert Dr. Phoenyx Austin. The organizer Yoli Ouiya is a Green Chef and Sustainable Living Stylist.
Watch the doc film "Knives in My Throat: The Year I Survived When My Mind Tried to Kill Me" below.


---
Watch! Knives in My Throat
[
Vimeo Link
]
---
About the Documentary Film
The 54 minute documentary about bipolar disorder, manic depression, schizophrenia and family and communal stigmas surrounding mental health issues.
"Knives in My Throat "was released in 4 webisodes as a public service. The film follows a year in the life of Taqiyya Haden, a talented, but suicidal NYC hip hop poet and actress and her battle with manic depression and healing through art therapy.
Taqiyya's problems are compounded by her personal demons, namely her abusive Italian mother (with her own troubles) who raised the talented and intelligent biracial girl by often referring to her as "n*gger," and substance abuse. In addition, Taqiyya grew up in the New York foster care system.
If you can't see the video above, click here.
Thanks for watching.
If you or someone else needs help: more information on depression, mania, bipolar disorder, schizophrenia or women and mental illness, contact The National Institute of Mental Health (NIMH) at 1-866-615-6464 (toll-free). If you are suicidal, please note that this film is for informational and entertainment purposes only. We cannot help you here. You should immediately call the National Suicide Prevention Lifeline at 1-800-273-8255.
---
Knives in My Throat: The Year I Survived While My Mind Tried to Kill Me Full Cast & Crew:
Director: Abiola Abrams
Writers:
Taqiyya Haden
Abiola Abrams (screenplay)
Robert Galinksy
Cast (in credits order)
Taqiyya Haden – Self
T.J. Allard – Dream Icon
Robert Galinsky – Poet, Self
Dréd Gerestant – SuperDuperFly
Nanya Akuki Goodrich – Poet
Produced by:
Abiola Abrams – executive producer
Nana Brew-Hammond – associate producer
Justin Bryant – consulting producer
Eboni Cooper – associate producer
Alexandra Juhasz – consulting producer
Susannah Ludwig – consulting producer
Steve Nicolaides – consulting producer
Yolanda Y. Thomas – co-producer
Cinematography By:
Taqiyya Haden
Ethan Vogt
Film Editing By:
Abiola Abrams
Editorial Department:
Crystal Boyd – assistant editor
---
You may also be interested in: