We are not alone… Can we talk? 
Greetings Sacred Bombshell,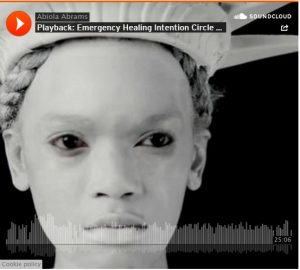 So last night I was up at 3 am — which is not weird because I'm a night owl. However, instead of doing my Sacred Bombshell Hour of Power (feel free to smile) — my gratitude journaling and night time meditation, I was crying. I was bawling because I was watching a video of Eric Garner's wife and family. (Eric Garner is the man murdered in NYC by a police officer in an illegal chokehold for selling untaxed cigarettes.)
Albert Einstein famously said that you can't solve a problem with the same mindset that created it. As a spiritual teacher and student, I often say you can't fix something by vibrating in the same energy of the challenge. I re-grounded and centered myself and announced a shared peace action — an Emergency Sacred Intention Circle — via Facebook, Instagram and Twitter for noon today.
We gathered virtually for the healing circle and it was SO POWERFUL! 
[:::Playback Audio Link]
Many of us (our tribe of big vision women, sacred bombshells, lightworkers, seekers, and luminaries) "showed up" on the phone line for the healing energy refocus. As I said in the invitation, "you don't have to pray, meditate or believe in anything. I'll bring the healing energy, you bring yourself." We had a beautiful circle.
I really want you to hear the playback of this event. I said it would only be about 15 minutes but it's about 20. During these difficult times, it is more important than ever that we know that we are a tribe, a community and that we are not alone. We did a loving-kindness metta meditation and I think it will be really empowering for you.

P.S. Next time, I promise to email you ahead of time so that you can join us LIVE, but here's the replay.
Listen…
If you can't listen on the player above, click here to playback on Soundcloud.
---
---
Photo credit: Wilfredo Douglas Chipana Huanca