Meet Harlem Couplepreneurs Leticia Young and Raymond Mohan: In this month's Essence Magazine, I profile 4 couplepreneurs, couples who are in business with each other.
As the founder of the Spiritpreneur Guru Academy, I was inspired by meeting these soul-centered business couples in love. The first couple you'll meet own Lolo's Restaurant (the food is incredible) in Harlem, New York City.  Leticia is my Alpha Kappa Alpha soror and my friend from high school; and her hubby Raymond and I share Guyanese roots. 
I'll share each of the 4 couples' stories here on the blog, just in case you don't have access to Essence Magazine.
:::Want to come change your life with me and a group of other amazing women? Click here to check out the Goddess Pray Love Paris Retreat.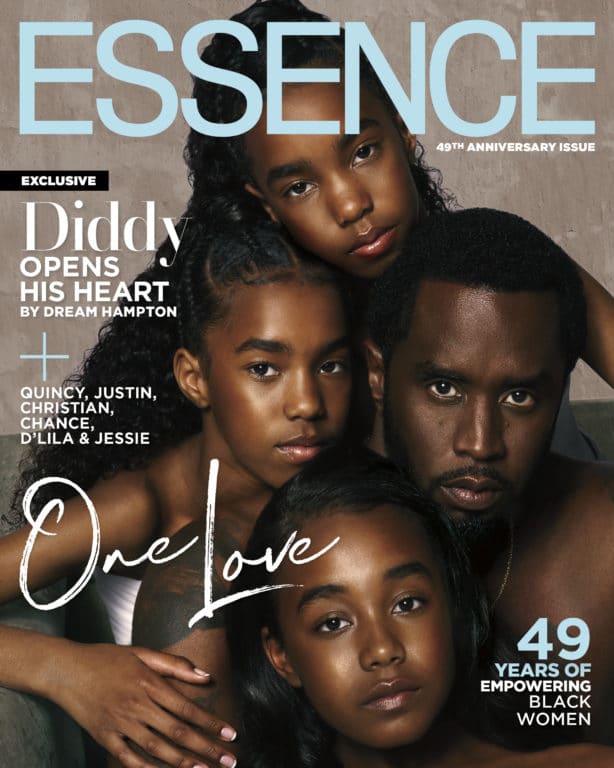 "Couplepreneurs: The Art of Mixing Business with Pleasure"
Black women are the fastest growing sector of entrepreneurs in the United States. The 2018 State of Women-Owned Business Report commissioned by American Express reveals that while the number of women-owned businesses grew 58% from 2007 to 2018, the number of businesses owned by black women grew by 164%. According to Black Women Business Startups, a report by the Federal Reserve Bank of Kansas City, African American women are the only ethnic or racial group with more business ownership than their male counterparts. In 2018, there were 2.4 million Black women-owned businesses.
Many of these industrious sisters are opting to create businesses with their significant others — or keeping it in the family by hiring them! Being a business owner is challenging by itself, but how does it work when your business partner is your romantic partner? Yes, things can get complicated very quickly.
Melinda F. Emerson, "SmallBizLady," is an expert on small business development.  Melinda supports small business owners as the bestselling author of Fix Your Business and founder of SucceedAsYourOwnBoss.com.
We asked SmallBizLady what readers should consider when forming their own love-business partnerships.
"There are people who believe you shouldn't hire someone that you can't fire," Melinda quips before sharing that she too has experience in being a "couplepreneur." "I once worked with my former spouse and he was always making us late for work. I am an early riser and he wasn't. We would start the day stressed and fighting heading to the office. That was until the couple who mentored us suggested we drive separate cars, and it solved a big problem."
Essence caught up with four real couples who are in business together to get their secrets for balancing love, family and business, plus we'll find out what our expert's advice is for each situation.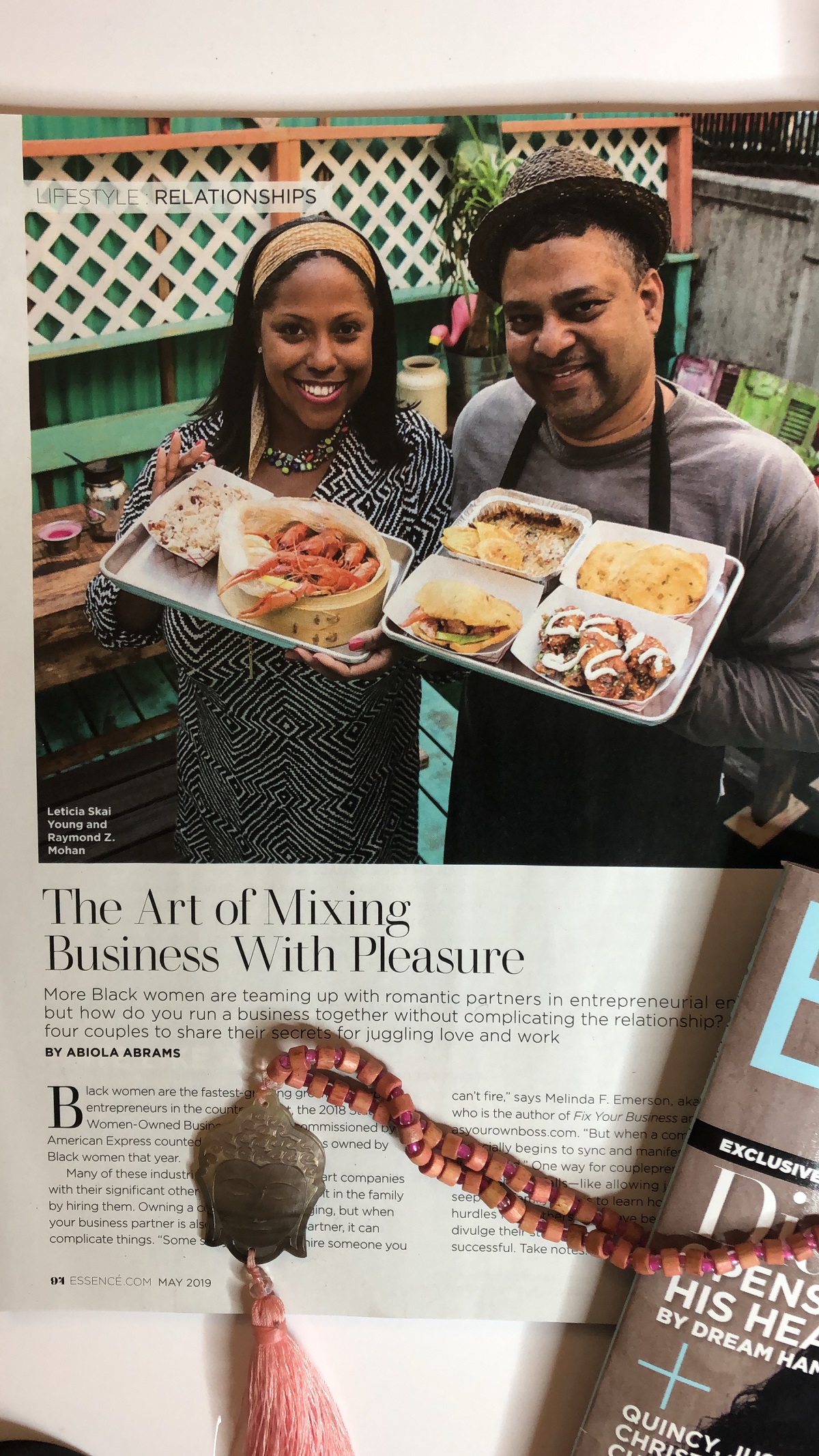 Meet Couplepreneurs Raymond Z. Mohan and Leticia Skai Young
LoLo's Seafood Shack, Harlem, New York
@lolosseafoodshack
Restaurateur Leticia Skai Young and Executive Chef Raymond Z. Mohan opened LoLo's Seafood Shack in the fall of 2014. Currently, they share their Harlem brownstone with their cat, Nita. LoLo's serves up coastal comfort foods from the Atlantic, all the way down to Guyana, South America, where Chef Raymond was born. Leticia brings the community flair as a born and raised Harlemite.
The LoLo's experience is inspired by the "Locally Owned, Locally Operated" seaside eateries known as "lolos" that the couple encountered while living abroad in the British West Indies. Chef Mohan has created a variety of nostalgic offerings from island-style barbecue to the coastal comfort foods of The Cape to Caribbean street eats served alongside their signature sorrel-infused LoLo's Punch. LoLo's Seafood Shack was awarded "Best New Harlem Eats" by the Amsterdam News and is a New York Times Critics' Pick.
Relationship Philosophy
Leticia says, "Raymond and I both serve as the faces of the business. Raymond is the Executive Chef and I am creator of the concept and brand and cover all aspects as the restaurateur of the business.
Working together means we have more opportunities to travel together. We've traveled to over 30 countries together for culinary research, which helps us stay inspired! One of the most challenging things about being in business together is that there is never a clock-out time."
Business Philosophy
Leticia shares, "Raymond and I met working in the restaurant industry at Colors Restaurant; a cooperative restaurant that was created to champion 911 survivors that worked at Windows of the World at the World Trade Center. We dreamt of being able to open a business one day. Then we sold our dream home and started LoLo's.
One of the benefits of working together is that it provides us the opportunity to create something bigger than ourselves. We provide jobs and mentorship to the young people of our Harlem community. We have team members who have been affected by issues including: gun violence, the penitentiary system and LGBTQ hate crimes."
Their Advice to Future Couplepreneurs
Chef Raymond Z. Mohan suggests, "One person should direct the long term strategy while the other partner oversees day to day operations." He advises, "There can only be one true leader so one of you will need to feel comfortable following the lead."

Leticia explains, "In our business I took the lead, which changed the dynamic of our relationship. Previously I was the one following Raymond when he garnered job opportunities."
Biggest Challenges
Leticia says, "Working together has stretched the dynamics of our relationship. As the restaurateur, I am fiscally responsible for us, which requires some flexibility of the traditional role of a wife in marriage."
According to Chef Raymond, "Working for yourself is much harder than working for someone else. It helps to be in business together if you both have a skill set that is conducive to the success of the business.We both feel that you must adapt a long term investment towards the business. Putting in hard work now allows you to reap the rewards in time."
SmallBizLady says:
"Clearly defined roles are key. Everyone needs something that they can be in charge of leading."
---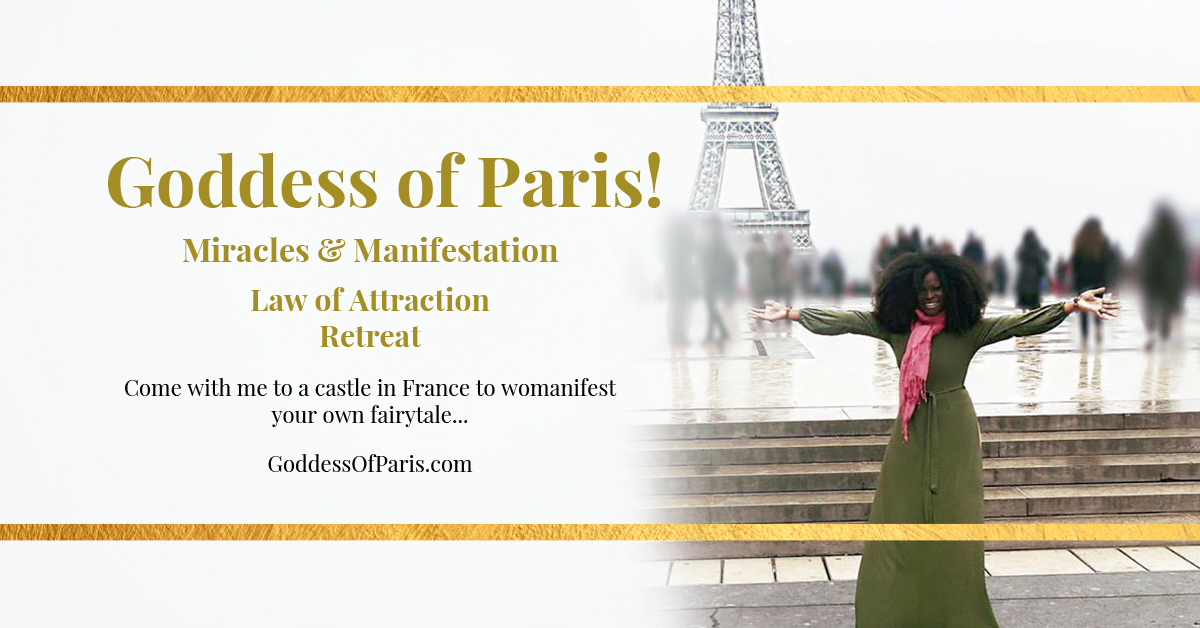 :::Want to come change your life with me and a group of other amazing women? Click here to check out the Goddess Pray Love Paris Retreat
Pin It!