Dress like a goddess, tag me and join us! 
---
Watch!
Jovhannah Tisdale – African Goddess Initiation

Hey Goddess,
Twenty years ago when I held goddess circles in my East Harlem living room, folks thought I was a weirdo. (Still do!) And no one knew what I was talking about. But here we are now. The feminine divine has been buried, hidden, and burned, but still we rise. And African spiritual philosophies have been demonized and belittled.
But again, here we are now.
This is what the African Goddess Initiation Summer Fest 2021 is all about! You are being called forth to reclaim who we really are – as women worldwide. You now must remember what we know in our bones and arteries. You are sacred.
Will you join us? You know this is for you if this message found you. The rebirth has already begun.
Sign up free at: AfricanGoddessClub.com
I invited about 20 power-filled goddess mystics, many of whom are featured in my new book, to share their knowledge with you.
Jovhanna Tisdale is featured in the book, African Goddess Initiation.
---
Today's Goddess Guru is Goddess Jovhanna Tisdale.
What does "goddess" mean to you, Jovhanna?
Goddess to me means that I recognized the divine within me and all around me. It's knowing and owning all parts of myself and being able to value, love, and accept all of me, even the shadow aspects. I also think of mothering. Goddesses create, nurture, and love. A goddess also rules her universe! To me Goddess is my true, divine essence.
How would you describe an empowered goddess?
An empowered Goddess is not afraid to take up space, to be heard, or to claim her birthright. She creates boundaries, commands respect with her presence. She is powerful indeed with just her essence and unapologetically creates the life that she desires. When I think of an empowered goddess, I think of living abundantly ever after in all aspects of life.
Is there a goddess that you relate to?
Beloved Isis! I feel so deeply connected with this Goddess and she always makes herself known to me. She embodies the energy of the Divine Mother, and is especially relatable to me as a single mother. I have a beautiful statue of her on my altar and often call upon her for guidance as a woman and single mother. She has been appearing to me in the form of snakes and hawks that I see in the morning on my walk to the river. She represents both the Mother and the Mystic, two things that I identify with deeply.
African Goddess Initiation Fest celebrates the divine feminine powers of the African Diaspora. How do you describe your heritage or home?
America is my home. I'm Central American and also have Native American roots. The world sees me as Black, and I am proud to be in the skin I'm in.
What magic are you most excited about sharing right now?
The Healing Single Mothers Community
The Healing Single Mothers Community is a monthly membership for single Mothers who are ready to live Abundantly Ever After, whatever that may look like for her. Inside she will find the secrets to transforming her life, reclaiming her power, and watching her dreams come true. You will have access to support, resources, and training to help you create the life you desire and attract the love you deserve.
💖 If you are in a space where you want to focus on your healing. I got you.
💖 If you are in a space where you need to work on forgiveness. I got you.
💖 If you are in a space where you are working on loving yourself. I got you.
The Healing Single Mothers Community was created for these exact reasons. When you are healed, whole, and complete within yourself, you are able to show up differently. That means you are a better parent too!
Inside the Community, you will find healing practices like meditations, tapping sessions (it's a powerful practice), journaling prompts, essential oils for support and so much more.
There are masterclasses about holistic self-love, creating a self-love altar, prosperity as a single mother, and new classes are added each month! PLUS… you get a bonus! Access to the Monthly Money Reiki Sessions to help your financial life too.
This Community provides holistic support. I share spiritual readings exclusive for members, plus when I'm called I will do live readings too! You get access to me as a healer, spiritual teacher, coach and reader. I am giving you all of me, because I want you to be the best you that you can be.
What do you want people to know right now?
Healing Single Mothers Community – www.healingsinglemothers.show/community
Join this exclusive Community for single Mothers! Start the journey to living Abundantly Ever After with support and guidance allowing you to release the chains to your past. Rebirth yourself into the Woman and Divine Mother you truly desire to be in a safe supportive Community with your sisters.
About Jovhannah Tisdale
Jovhannah Tisdale is a survivor on a mission to help other single Moms heal, grow, and thrive so they can live abundantly ever after. This single mom of 2 girls has overcome domestic violence and the side effects of that traumatic experience, including depression, anxiety, and PTSD.
Jovhannah is a heart-centered business owner of the Spiritual Love Sanctuary. She is a Reiki Grand Master and Teacher, a Master Spiritual Life Coach, Angelic Healing Practitioner, Certified Crystal Healer, EFT Practitioner, and Intuitive Tarot Reader, also known as The Spiritual Love Healer.
She is the creator of an exclusive virtual community, Healing Single Mothers where she is able to use her extensive skill set and loving wisdom to provide spiritual healing, guidance, and support to support single mothers.
Helping them on their journey to wholeness, inner peace, and love. She is also the host of the Healing Single Mother Show a podcast that focuses on motherhood, relationships, and life from a single mother's perspective.
It's Jovhannah's mission to empower and support other single mothers to continue living her best life, letting go of pain, shame, and trauma so that she can live Abundantly Ever After and prevent cycles of trauma from passing down to the next generation!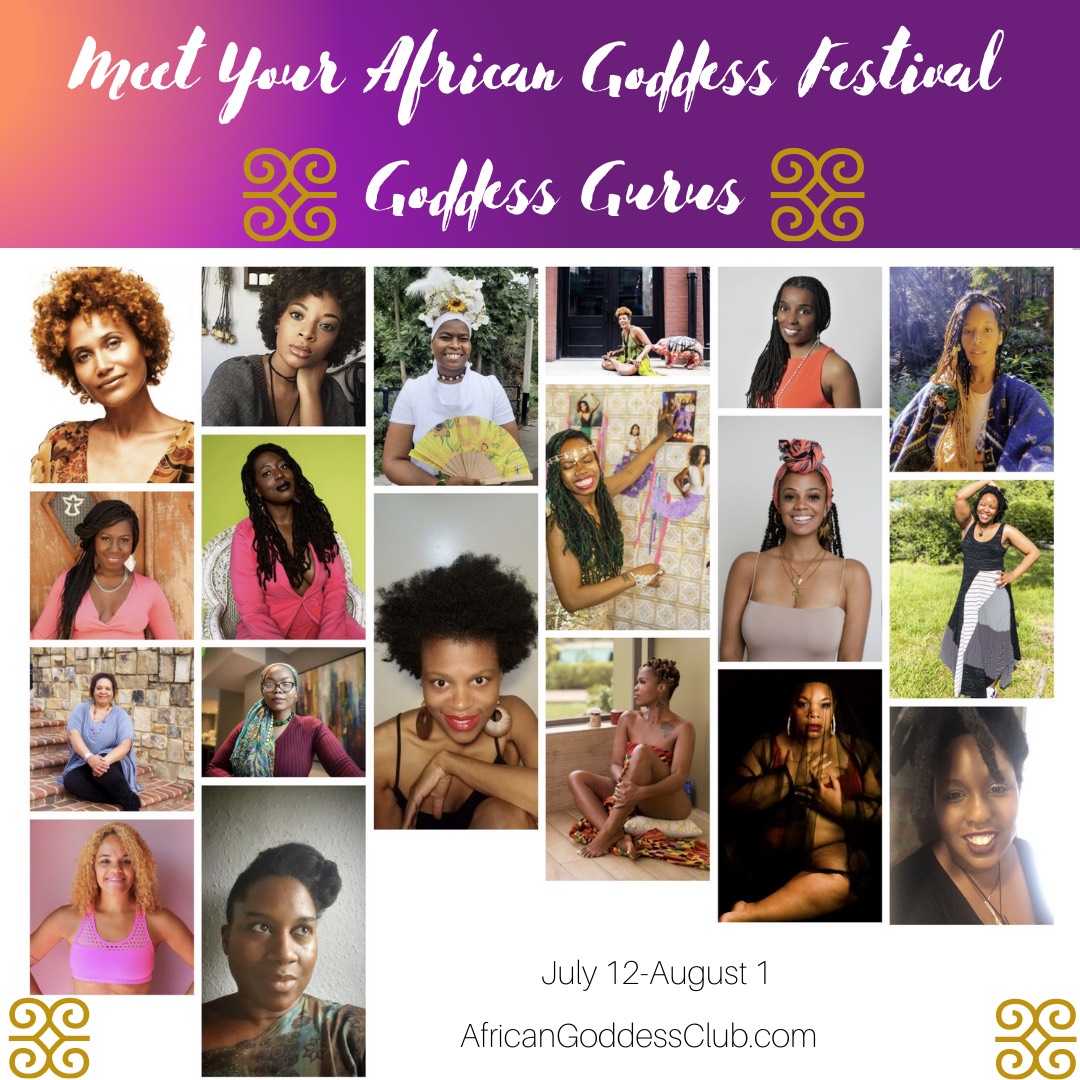 ---
About the African Goddess Initiation Summer Fest 2021
Here's how this free virtual event will unfold:   
From this Monday July 12th to August 1st, we will dance daily in the realism of the goddesses.
For the first 9 days, I will be going live on Facebook and Instagram — @HayHouse and @AbiolaTV.
PLUS every day you will be give another goddess lesson from the mystics I interviewed.
When you sign up at 
AfricanGoddessClub.com
, you will also receive a free 
Goddess Initiation Self-Love Starter Kit
.
---
Pin It