Dress like a goddess, tag me and join us! 
---
Watch!
Allison Rozzel – African Goddess Initiation

Hey Goddess,
Twenty years ago when I held goddess circles in my East Harlem living room, folks thought I was a weirdo. (Still do!) And no one knew what I was talking about. But here we are now. The feminine divine has been buried, hidden, and burned, but still we rise. And African spiritual philosophies have been demonized and belittled.
But again, here we are now.
This is what the African Goddess Initiation Summer Fest 2021 is all about! You are being called forth to reclaim who we really are – as women worldwide. You now must remember what we know in our bones and arteries. You are sacred.
Will you join us? You know this is for you if this message found you. The rebirth has already begun.
Sign up free at: AfricanGoddessClub.com
I invited about 20 power-filled goddess mystics, many of whom are featured in my new book, to share their knowledge with you.
Allison Rozzel is featured in the book, African Goddess Initiation.
---
Today's Goddess Guru is Goddess Allison Rozzel.
What does "goddess" mean to you, Allison?
A woman who gracefully and unapologetically embodies her most authentic self
How would you describe an empowered goddess?
An empowered Goddess knows who she is and who's she is. She understands that balance flows and as long as she honors the flow, she will stay in divine alignment.
Is there a goddess that you relate to?
Great Ancestress Maya Angelou
African Goddess Initiation Fest celebrates the divine feminine powers of the African Diaspora. How do you describe your heritage or home?
What magic are you most excited about sharing right now?
Enlightenment, Empowerment & Embodiment Membership Program
This is my new membership program that gives women the opportunity to not only work with me but build a community of women who are also on there sacred pathway to liberation.
What do you want people to know right now?
Link for my new membership program – https://tinyurl.com/sacredempowerment
About Allison Rozzel
Allison Rozzel is originally from Chattanooga, TN and now resides in Atlanta, GA. She is the mother of one amazing son who has left the nest! She is the daughter of two teachers. Since both parents were teachers, she said that she would never become a teacher. But God had other plans. Allison is a Spiritual Liberation Coach for BIWOC 40 and older. She is a certified Reiki Master Healer, intuitive oracle card reader and podcast host. As a coach she is essentially following in the footsteps of her parents by being a teacher but in her own spiritually, creative way! Her spiritual path began in 2014 when her son graduated from high school and she was left with the thought of, "okay my son is grown, now what do I do with my life?" She began blogging about her journey as an empty nester on a spiritual journey to find herself. From there she received and accepted her calling to become a coach and healer. Allison is passionate about seeing BIWOC becoming whole and healed by gaining knowledge of self, creating and implementing spiritual practices/rituals, and being the woman they were created to be gracefully and unapologetically!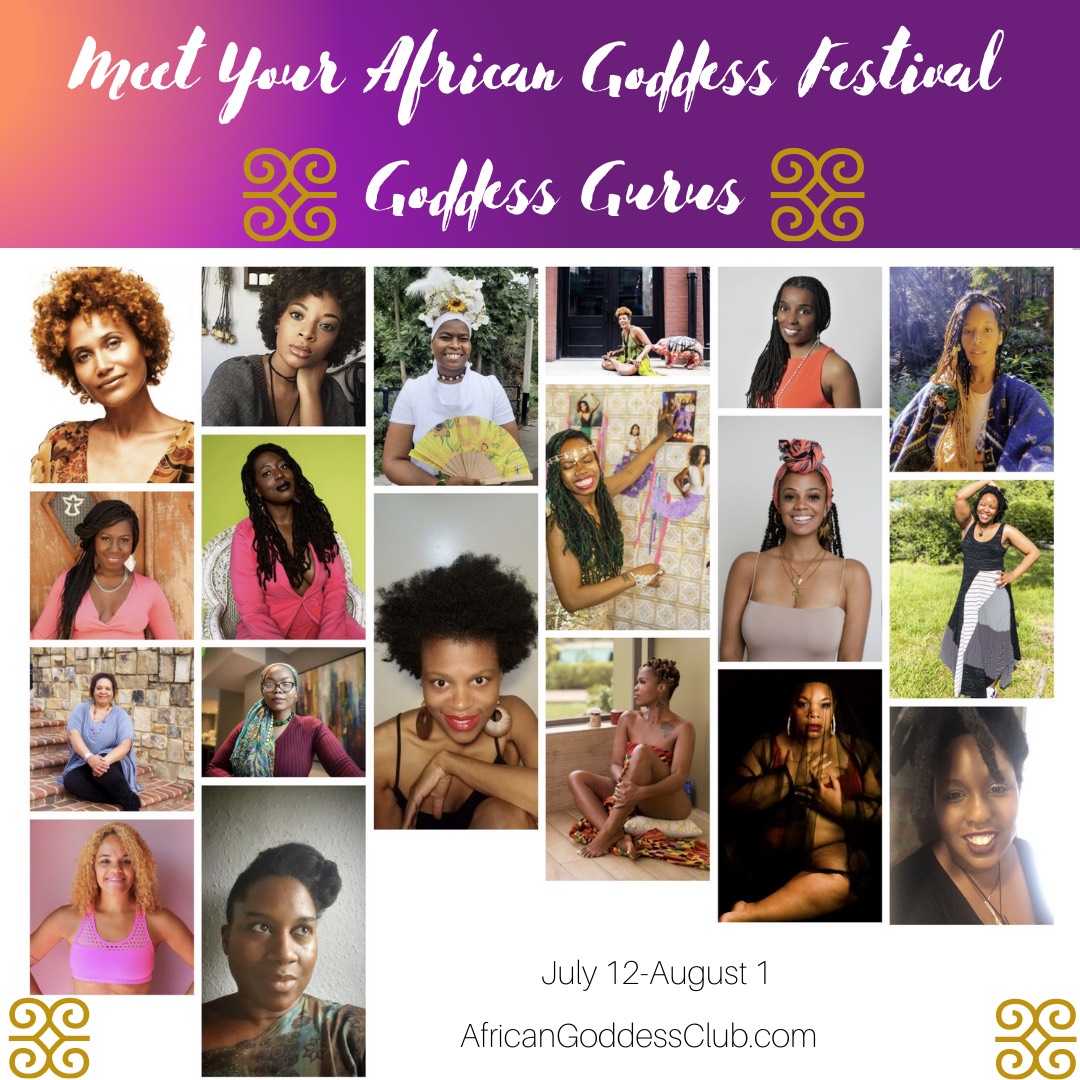 ---
About the African Goddess Initiation Summer Fest 2021
Here's how this free virtual event will unfold:   
From this Monday July 12th to August 1st, we will dance daily in the realism of the goddesses.
For the first 9 days, I will be going live on Facebook and Instagram — @HayHouse and @AbiolaTV.
PLUS every day you will be give another goddess lesson from the mystics I interviewed.
When you sign up at 
AfricanGoddessClub.com
, you will also receive a free 
Goddess Initiation Self-Love Starter Kit
.
---
Pin It