It sounds corny, but sometimes we need a lil blast of motivation, transformation and inspiration to revive us like a Red Bull shot Freshman Year of college.  Here are a few inspirational quotes to get us through the day.
Here is an Instagram compilation of inspirational quotes for you, Goddess!
Be inspired, be motivated! 
::::Learn more about the Goddess Of Paris Miracles and Manifesting Retreat at GoddessOfParis.com
Inspirational Quotes to Motivate You
1. Shame is the lie someone told you about yourself.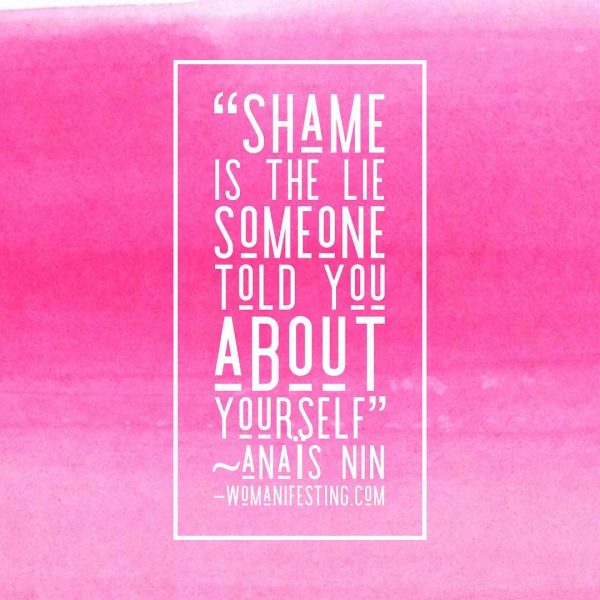 EXPOSING SHAME
Shame is the most low vibrating and debilitating of all emotions. Most of the things I've ever felt shame about were rooted in lies that I learned to tell myself about myself, inherited lies from society, culture, and family. Shame you feel is most likely based on the lie that you are only the sum of your experiences, or that you should be somewhere that you are not, or that you are not divinely inspired and perfectly made. Come on — we are bits of stardust and angel wings!! What do we have to be ashamed of?
---
2. Don't let anybody turn your sky into a ceiling. Even you.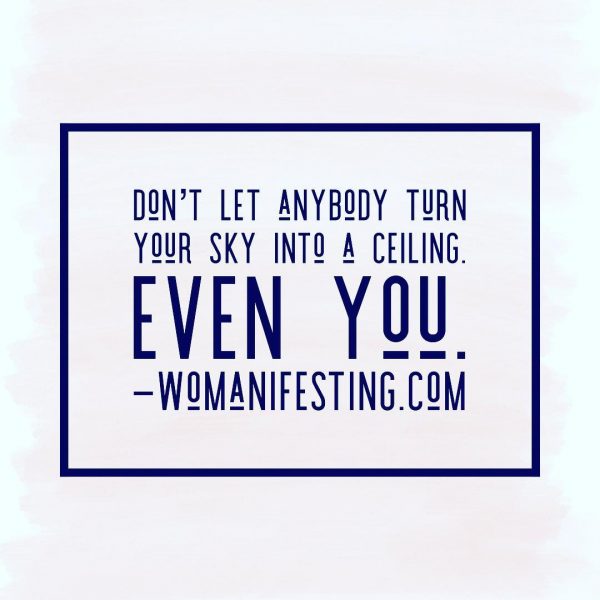 THE BOOGEYMAN
The biggest boogeyman blocking your dreams is you. I am celebrating my upcoming "Goddess of Paris! Miracles and Manifesting Retreat." Are you going to be joining us to meditate under the Eiffel Tower? Or do you have a million reasons why someone like you wouldn't do something like a spiritual empowerment goddess retreat in a castle in France? Our B.S. — belief systems — are the biggest monsters in our minds blocking all of our manifestations. Manifestations in love, health, happiness, wealth and wellbeing.
---
3. I care profoundly! Shouldn't you?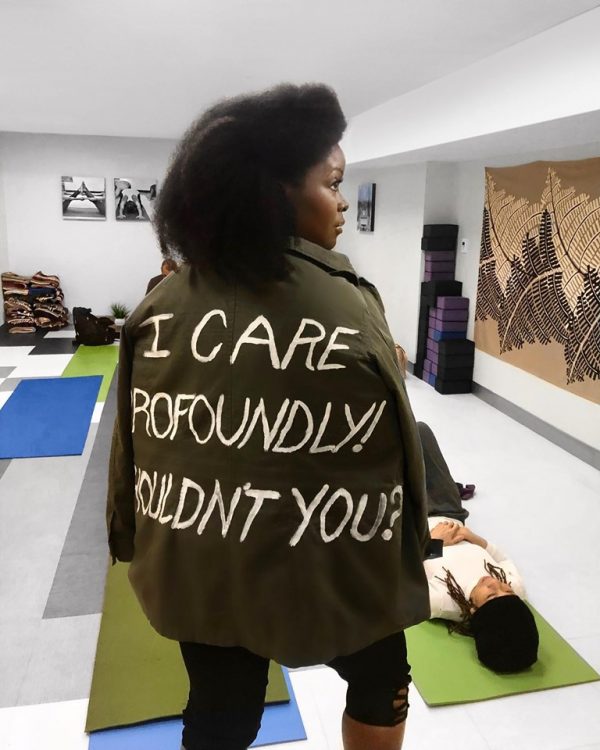 GODDESS RISING: YOUR SILENCE WILL NOT SAVE YOU
"Don't move forward after reading this like everything is normal. Don't shake your head at Alabama and then keep going about your day. Realize that this is a warning. It's Alabama and abortion today. It's you and your rights tomorrow. Your silence will not save you. So speak up." ~Ava Duvernay
---
4. Womanifesting Affirmation: "I AM NOW READY TO PROSPER BEYOND MY WILDEST DREAMS"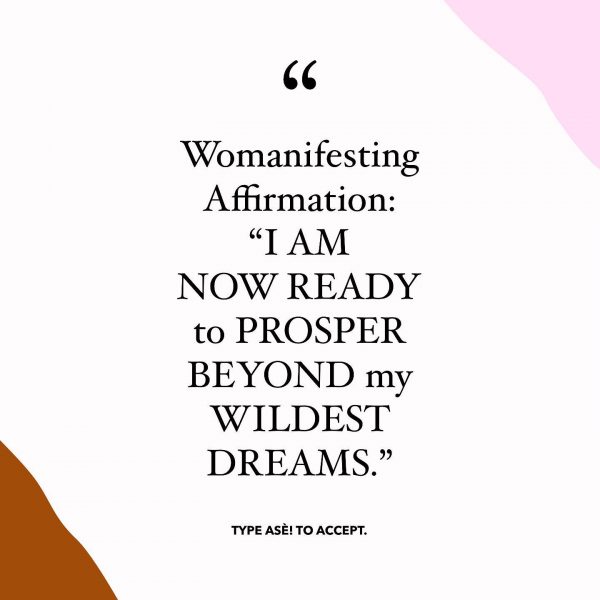 ARE YOU READY?
In today's Goddess Temple Sunday, we talked about the need to release the fear of being rejected in order to truly step into your power. Fear of rejection shows up as fear of what people think, people pleasing, hiding and playing small. (Video Live now on my blog, Youtube and IG.) This is one of the things we will be working on together at the "Goddess of Paris Miracles and Manifesting Retreat" this summer.  You say that you're ready: Affirm it! Claim it! "I am now ready to prosper beyond my wildest dreams."
---
5. Womanifesting Affirmation: I am not TOO old and it is not TOO late."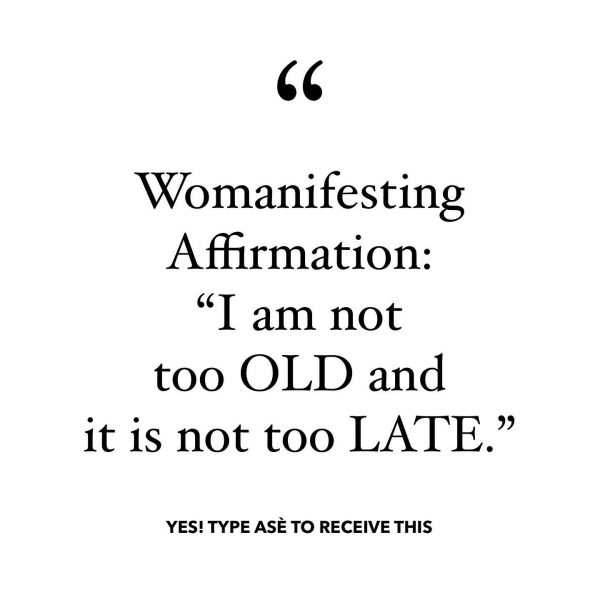 YOU ARE RIGHT ON TIME
I just had a call with one of the women coming on the "Goddess Of Paris Retreat". And she felt like at 45 she missed her mark and missed her calling. FALSE!! I remember feeling that same feeling at age 28!!
So the number of candles on your cake is irrelevant. However OLD you are right now, you are as YOUNG as you ever will be.
So GO FOR IT. You are not too old and it is not too late. Your best days are ahead of you.
---
6. Dear Ancestors, I am finally ready for everything you prayed for.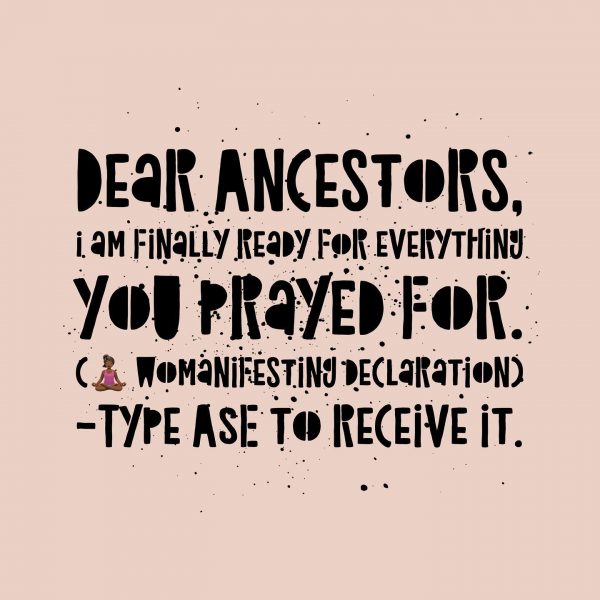 DEAR ANCESTORS
I AM finally READY for everything you prayed for. Thank you for planning for us, sacrificing for us and thinking of us. We vow to make you proud— and nothing you experienced will be in vain. Amen. A-women! ASÈ-O. And so it is.
---
7. Are you being lost in the fire or built by it?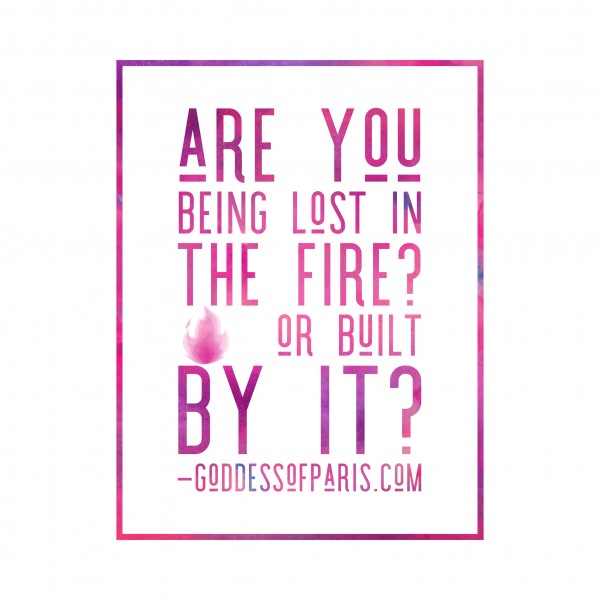 FIRE
Inspirational Quotes: "If you weren't powerful, they wouldn't try to suppress you."
---
8. Love to all mommies, aunties, grandmas, cousins and all who mother in someone's village! Also, I know that Mother's Day is difficult for so many – you have a right to feel your feelings.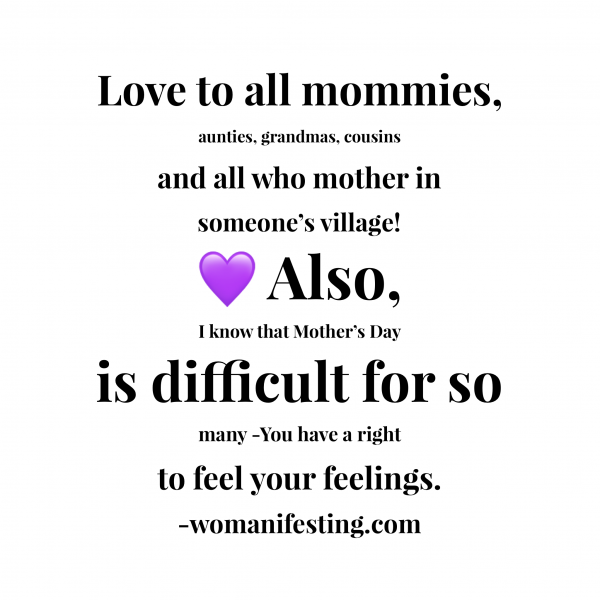 LOVE || Happy Mother's Day to my beautiful Mommy. 
Love to all mommies, aunties, grandmas, cousins who mother in someone's village! I know that Mother's Day is difficult for so many. You have a right to feel your feelings. Forgot my phone today. Belated blessings!! And the beautiful news is that no matter what the foundation was that made you the queen you are — you get to mother your beautiful self now.
---
9.  Womanifesting Declaration: The next 7 days are going to be filled with blessings, miracles, breakthroughs and abundance.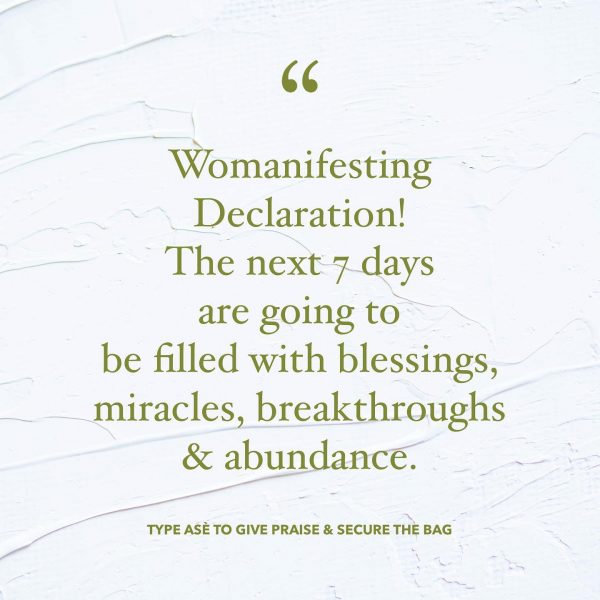 ASÈ-O
---
Pin It!