Happy inspirational quotes are only one part of your personal happiness strategy, but we all need motivation time to time, right?

Calm Coach Jamie presents 33 happy inspirational quotes to rock your beautiful day.
If you enjoy these spirited quotes, you may also enjoy my free Spiritual Business Success Camp. Join the Spiritpreneur movement at UnblockMyBusiness.com.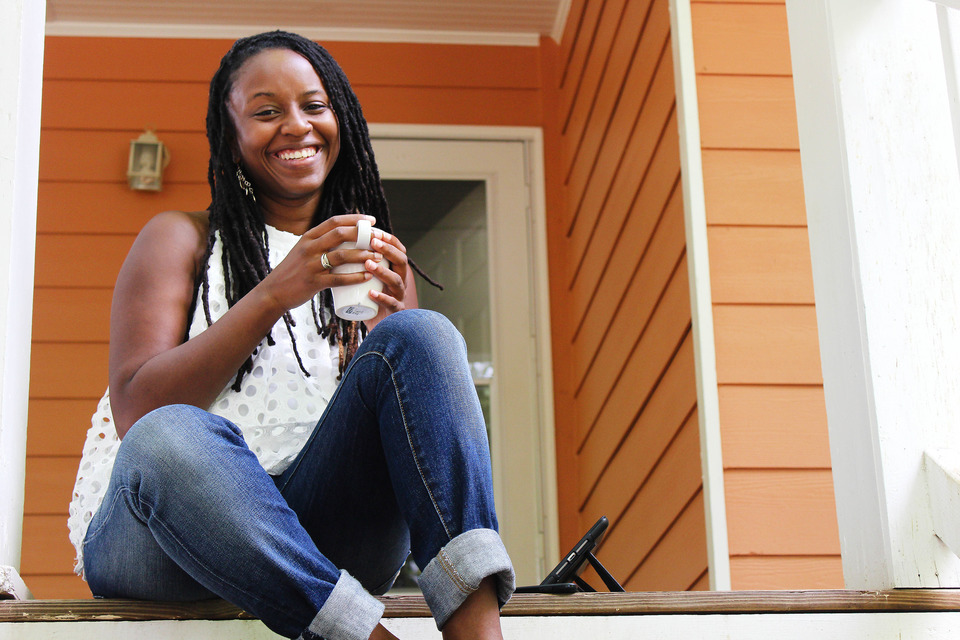 Happy Inspirational Quotes from Calm Coach Jamie 
Happiness.
It's something we all want, but many of us tend to see it as something that will happen "one day," at some point in the future. We think we'll be happy when we reach "that goal," get "that job," or find "the one."
Well, I have some good news for you: You can — and should — choose joy and happiness right now! It's so important that you learn how to enjoy wherever you are in your life on the way to where you're going.
Here are 33 happy inspirational quotes to rock your beautiful day. for you to start being happy now!
"Decide to be happy, knowing it's an attitude, a habit gained from daily practice, and not a result or payoff." – Denis Waitley

---

"Happiness is intrinsic, it's an internal thing. When you build it into yourself, no external circumstances can take it away." – Leo Buscaglia

---

"Joy does not simply happen to us. We have to choose joy and keep choosing it every day." – Henri Nouwen

---

"The happiness of your life depends upon the quality of your thoughts."  – Marcus Aurelius

---

"The key to being happy is knowing you have the power to choose what to accept and what to let go." – Dodinsky

---

"Happiness is the consequence of personal effort. You fight for it, strive for it, insist upon it, and sometimes even travel around the world looking for it. You have to participate relentlessly in the manifestation of your own blessings." – Elizabeth Gilbert


---

"If you want to be happy, do not dwell in the past, do not worry about the future, focus on living fully in the present." – Roy T. Bennett


---

"Happiness depends upon ourselves." – Aristotle


---

"The present moment is filled with joy and happiness. If you are attentive, you will see it." – Thich Nhat Hanh

---

"Optimism is a happiness magnet. If you stay positive, good things and good people will be drawn to you." – Mary Lou Retton

---

"When one door of happiness closes, another opens, but often we look so long at the closed door that we do not see the one that has been opened for us." – Helen Keller

---

"In our daily lives, we must see that it is not happiness that makes us grateful, but the gratefulness that makes us happy." – Albert Clarke

---

"Happiness is there for the taking — and the making." – Oprah Winfrey

---

"Life is to be enjoyed, not simply endured. Pleasure and goodness and joy support the pursuit of survival." – Willard Gaylin

---

"Joy is what happens to us when we allow ourselves to recognize how good things really are." – Marianne Williamson

---

"There is no happiness on a layaway plan. You will not be happy 'one day.' " – Abiola Abrams


---

"Find ecstasy in life; the mere sense of living is joy enough." – Emily Dickinson

---

"Joy is the most magnetic force in the Universe." – Danielle LaPorte

---

"Happiness is not something you postpone for the future; it is something you design for the present." – Jim Rohn


---

"The place to be happy is here. The time to be happy is now." – Robert G. Ingersoll


---

"Plenty of people miss their share of happiness, not because they never found it, but because they didn't stop to enjoy it." – William Feather


---

"Joy is not in things…it is in us." – Richard Wagner


---

"Be happy now — right in this big, bright, juicy minute — or you will never be." – Abiola Abrams


---

"Happiness is not the absence of problems, it's the ability to deal with them." – Steve Maraboli


---

"Find joy in everything you choose to do. Every job, relationship, home…it's your responsibility to love it, or change it." – Chuck Palahniuk


---

"Let your joy be in your journey — not in some distant goal." – Tim Cook


---

"Happiness cannot be traveled to, owned, earned, worn, or consumed. Happiness is the spiritual experience of living every minute with love, grace, and gratitude." – Denis Waitley


---

"The art of being happy lies in the power of extracting happiness from common things." – Henry Ward Beecher


---

"Joy is a decision, a really brave one, about how you are going to respond to life."  – Wess Stafford


---

"Happiness is letting go of what you think your life is supposed to look like and enjoying it for everything that it is." – Mandy Hale


---

"Joy comes to us in ordinary moments. We risk missing out when we get too busy chasing down the extraordinary." – Brene Brown


---

"Happiness is a choice, not a result. Nothing will make you happy until you choose to be happy. No person will make you happy unless you decide to be happy. Your happiness will not come to you. It can only come from you." – Ralph Marston

---

"Don't put your happiness on hold by giving it conditions such as: 'I'll be happy when…' Choose to feel positive now, and enjoy the journey." – Mario Cortes


Create more happiness (and calm) in your life with Calm Coach Jamie's Find Your Calm Affirmation Cards.
Go here to learn more.
---