Meditation guide and sacred healing meditations just for you…
Get comfortable. We're about to go within.
I always say that prayer is us talking with the Highest Power and meditation is us listening.
Here's how Wikipedia defines meditation: 
Meditation is a practice in which an individual trains the mind or induces a mode of consciousness, either to realize some benefit or for the mind to simply acknowledge its content without becoming identified with that content, or as an end in itself.
The term meditation refers to a broad variety of practices that includes techniques designed to promote relaxation, build internal energy or life force and develop compassion, love, patience, generosity and forgiveness. Meditation has been practiced since antiquity as a component of numerous religious traditions and beliefs. Meditation is also used to clear the mind and ease many health concerns, such as high blood pressure, depression, and anxiety. It may be done sitting, or in an active way—for instance, Buddhist monks involve awareness in their day-to-day activities as a form of mind-training.Prayer beads or other ritual objects are commonly used during meditation.
Hello Sacred Bombshell,
Whoo hoo! I am celebrating the my new meditation album with goodies and gifts for you.
You can buy the "Sacred Bombshell Self-Love Meditations," a guided meditation album, on CDBaby.
I am also teaching a Meditation for Manifestation Course this week for my goddesses at the Single Wives Club's new LoveYOUNversity. I just adore Koereyelle and V, the Sacred Bombshell Spiritpreneurs that created the site.
Of course, we are totally aligned because LoveUniversity.us is one of the URLs for this site!
Your Meditation Guide
Here's my celebration gift for you. I have a free Sacred Bombshell Meditation Guide just for you. You can get your free meditation guide by clicking the photo below.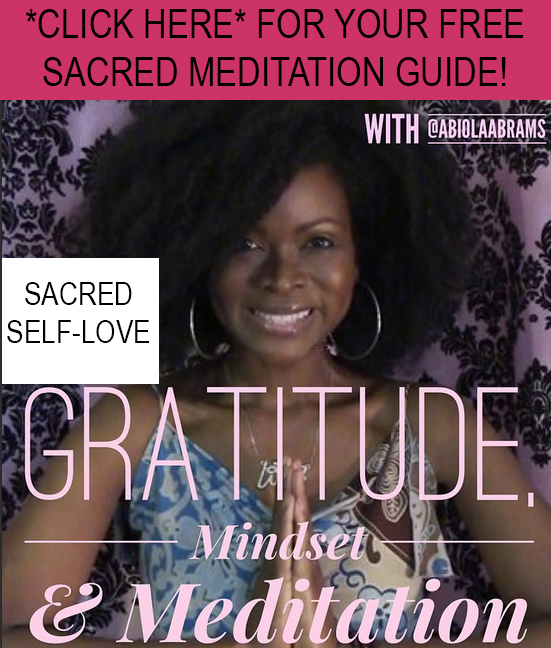 ---


::::::::::::::::::Sacred Bombshell Album on CD Baby::::::::::::::::::
Testimonials for My Current Meditation Group:
"THANK YOU this was amazing yesterday. I cried while meditating and I feel the positive change happening for my life I can not wait to get to know you all you ladies and start other self love, friendships,business ventures." -Ta'sha H.
"I enjoyed it!! I loved Abiola's spirit and positive energy and all the wonderful things said! Her voice is very warm and inspiring with nothing but positivity spoken.  Glad I was able to be apart of it!" -Gwendolyn W.
"I absolutely loved it. I loved Abiola. The Love You University is the bomb. I am really working on bettering myself this year, and this program will definitely help me." –Shantay C.
"I loved the class and meditation challenge! During the challenge there were moments I felt like Abiola was right next to me because she seemed to know what was going on in my mind at that moment. It was tough for me to stay focused and keep my mind from wandering but the other resources she shared will continue to help me get to a point where I am able to meditate through distractions. Its possible the timing of the meditations being sent contributed to my mind wandering since I had a full day of thoughts. For me, listening to the sessions in the morning after waking up would have prepared me for the day. Other than that, the material is awesome and I definitely plan to stick with the daily meditation mainly because of her guidance and information shared." -Shonnie W.
"This meditation challenge has been wonderful and a breath of fresh air. It has opened my eyes to just taking some time for myself to just relax. Thank you so much for giving me this opportunity." -Tamika B.
---

If you can't see the video above, click here to watch on YouTube.
---