In case you missed it, this was so much fun! 'How to Let Go of What's Holding you Back & Shine!'
Watch my self-love Google Hangout with empowerment guru and inspirational speaker Sammy D.
Hey Sacred Bombshell,
Samantha "Sammy D" Davis is a motivational speaker on the power of positive thinking with the goal to empower all women to feel beautiful, powerful, and special. It was great to be her co-host for this inspirational episode.
Here's what Sammy D wrote about this super fun ep:
"How to have self-love that lasts by letting go of your limiting beliefs! This episode of *SAMMYD TV dives into what makes us love ourselves by letting go of false ideas and stories which don't serve our highest good. Abiola Abrams, author of The Sacred Bombshell Handbook of Self-Love, shares what works and how we can finally LET GO of our limiting beliefs!
We shared why it's OK to have limiting beliefs about ourselves (no one is supposed to be perfect), tools to let go of the anxiety these false ideas and stories may present, and how being a bombshell is a whole new type of sexy (that anyone and everyone can, and deserves to be!)."

If you can't see this video, click here to watch.
Whoo hoo! This TWEET just came in from Sammy D:
@abiolatv on #sammydtv! A viewer said this episode made her #spirituallydrunk … how about you? http://t.co/PhfvCR4umt

— Sammy D (@sammydavisTV) August 31, 2014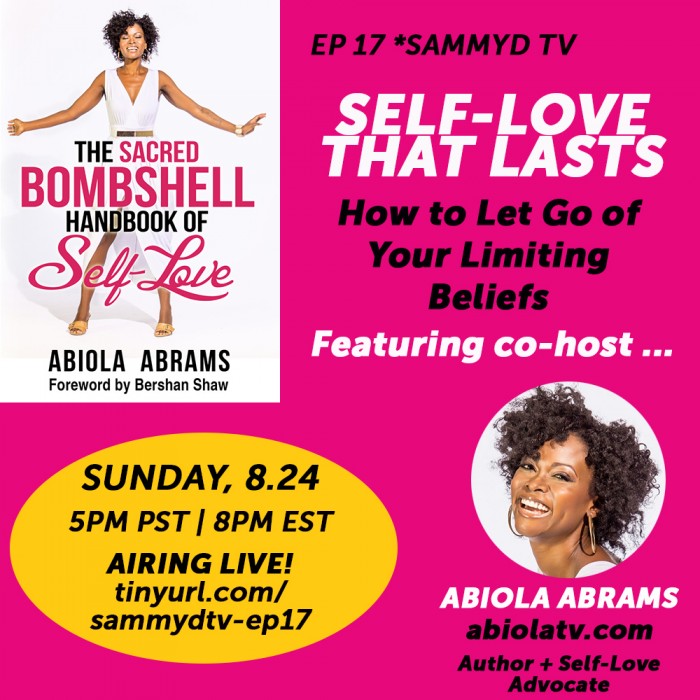 ---