Do affirmations work? Positive affirmations can be a powerful tool for transformation. They can also be used to your detriment. See why I said positive affirmations can become like shoveling sugar over sh*t.
Dr. Jeanine Staples is one of the Master Teachers in my upcoming Spiritpreneur Accelerator program. Recently, she interviewed me as a part of her Breakthrough Summit. Check it out.
::::Click here now to register for this free online empowerment summit for women.

The time is now…
But for what?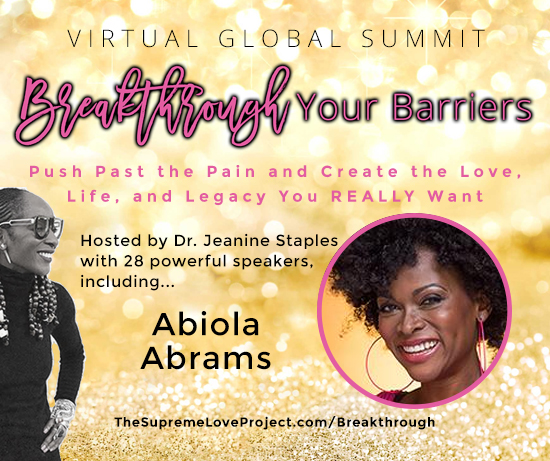 Hey Goddess,
As the maker of powerful affirmation cards, obviously I love affirmations and the transformational power of healing language.

This is different that happy happy joy joy positive thinking with blinders on.

I had a conversation with my heart-sister Goddess Jeanine Staples about overcoming self-doubt, people pleasing and martyrdom.
The conversation is a part of her Breakthrough Summit — and I think you will find it really helpful and empowering.
As I say in the healing session, when you are chanting positive affirmations with no foundational healing work, you are basically just shoveling sugar over sh*t!!
Check out our dialogue TODAY by clicking HERE now. 
WATCH! When Affirmations Don't Serve Us
It hurts my heart when I hear about other goddesses who are stuck in a muck of their own.
Stuck. Stagnant. Stifled. Unable to have the life and love they want. Broken with anxiety, shame, voicelessness, violations, and rage, or shrinking fear, insecurity, uncertainty, and nervousness.
That's why I'm really excited about an event that I have been invited to participate in, and I think you will be excited about it, too. It's called the Breakthrough Your Barriers: Push Past The Pain And Create The Love, Life, And Legacy You REALLY Want Virtual Summit  and it's hosted by Dr. Jeanine Staples of The Supreme Love Project.
I'll be joining 27 other experts to bring you access to our cumulative knowledge base and methods for breakthrough multiple barriers in life, love, and legacy building. We'll all be sharing how we broke through our barriers to build the lives of our dreams and loves of our lives to embody the self-esteem, self-respect, self-trust, and self-possession that is 100% ours.
Here's the truth: Every successful woman and man has an ugly story, just like everyone else. We all have significant hurts. Intense struggles. Deep humiliation. Major setbacks. Irrational resentments. Painful injustices. Mind-boggling confusion. Weaknesses and bitter endings.
When many people walk through these things, they build barriers in an attempt at self-preservation.
But deep down inside, these barriers can prevent them from achieving the life of their dreams. It often affects one area of life…a place where you don't feel you get it right. Or, those barriers may appear in many or even all areas of life.
What about you? What are the barriers you have constructed?
This event is about breaking through those barriers! It's about learning how to recover and get off the crazy cycles of self-neglect and suffering. In this summit, I'm talking with Dr. Jeanine Staples about doing exactly that
You got this.
Stop doubting yourself.
xoxox,
a.
P.S. Join TODAY — here's the link: