Dress like a goddess, tag me and join us! 
---
Watch!
Lorriane Anderson: African Goddess Initiation Festival 2021

Hey Goddess,
Twenty years ago when I held goddess circles in my East Harlem living room, folks thought I was a weirdo. (Still do!) And no one knew what I was talking about. But here we are now. The feminine divine has been buried, hidden, and burned, but still we rise. And African spiritual philosophies have been demonized and belittled.
But again, here we are now.
This is what the African Goddess Initiation Summer Fest 2021 is all about! You are being called forth to reclaim who we really are – as women worldwide. You now must remember what we know in our bones and arteries. You are sacred.
Will you join us? You know this is for you if this message found you. The rebirth has already begun.
Sign up free at: AfricanGoddessClub.com
I invited about 20 power-filled goddess mystics, many of whom are featured in my new book, to share their knowledge with you.
---
Today's Goddess Guru is Goddess Lorriane Anderson.
What does "goddess" mean to you, Lorriane?
To me, goddess means self-love. It means honoring yourself, worshipping yourself, allowing your inner beauty to be shine unobstructed, and knowing your worth. Knowing you have something unlike anybody else and knowing that something is worth celebrating.
How would you describe an empowered goddess?
An empowered goddess is someone who is unapologetically themselves. Its a state of being and deep understanding of your desires, ambitions, your boundaries, and your needs. Most of all, an empowered goddess is someone who is limitless. Someone who gives herself permission to do the things that feed her soul.
Is there a goddess that you relate to?
I relate to different goddesses and ancestresses at different times. Right now, Oshun is speaking to me so I am in deep relationship with her. Most frequently, I identify with Earth Mother.
African Goddess Initiation Fest celebrates the divine feminine powers of the African Diaspora. How do you describe your heritage or home?
My heritage is primarily west African American but I also have significant ancestral roots in Great Britain and Ireland.
What magic are you most excited about sharing right now?
My new oracle deck – The Earthcraft Oracle.
This deck is very important to me in terms of representing different shapes and sizes. Owning my body, my heritage, and spiritual practice are things that were challenging to embrace for a long time. Creating this deck is an expression of my commitment to and devotion to being authentic, speaking my truth, and worshipping myself as a sacred temple.
What do you want people to know right now?
Spirit Element is brand which features a selection of self-worshipping tools, including my favorite "Sacred body & ritual Oil." There's also information for purchasing my deck there. – Spiritelement.com
About Lorriane Anderson
Lorriane Anderson is a tarot reader, astrologer, spiritual teacher, writer, and soul-based entrepreneur. Her work focuses heavily on sacred and intentional living as well as using spiritual practices as a pathway for profound healing, growth, and transformation. She is heavily influenced by her diverse lineage, bringing together healing practices from her ancestors in a practical, updated way.
She owns and operates Spirit Element, a soul-based apothecary and Made with Stardust—which provides private label development and supplies for spiritual-based businesses. Her published works include The Earthcraft Oracle, Seasons of the Witch: Samhain Oracle and Affirmations: Words of Inner Wisdom. She currently lives in Los Angeles, CA.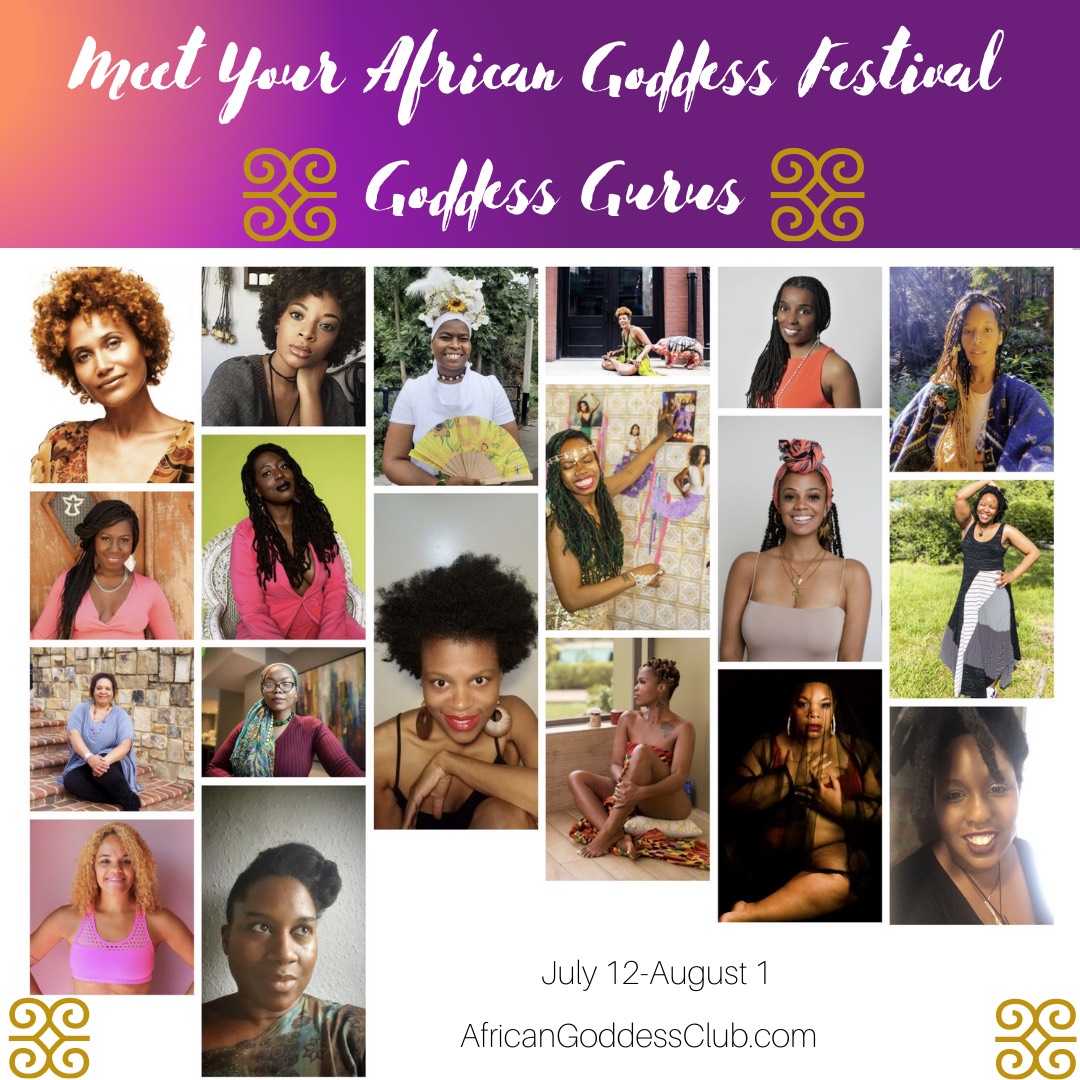 ---
About the African Goddess Initiation Summer Fest 2021
Here's how this free virtual event will unfold:   
From this Monday July 12th to August 1st, we will dance daily in the realism of the goddesses.
For the first 9 days, I will be going live on Facebook and Instagram — @HayHouse and @AbiolaTV.
PLUS every day you will be give another goddess lesson from the mystics I interviewed.
When you sign up at 
AfricanGoddessClub.com
, you will also receive a free 
Goddess Initiation Self-Love Starter Kit
.
---
Pin It