"The minute I heard my first love story, I started looking for you, not knowing how blind that was.
Lovers don't finally meet somewhere. They're in each other all along." ― Rumi
Last summer when I gave a keynote speech at the Essence Festival in New Orleans, I was in very good hands. One of the goddesses making things run smoothly was filmmaker Quan Lateef-Hill. She was smart, funny, and on the ball in making the production seem seamless!
This woman also has some magic with her. I often pull one of my African Goddess Affirmation Cards at random and gift people with the spontaneous insight. The card I pulled for Quan completely "coincidentally" (we know there are no coincidences) was Quandisa or Qandisa, Moroccan Goddess of Sensuality in my deck.
I originally wasn't going to hand over the card, fearing it might be inappropriate in a work environment, even though I am the Essence.com Intimacy Intervention advice columnist. I followed my intuition, handed it over, and Quan loved the juicy insight. She revealed she is a newlywed and pointed out her handsome husband.
Check out our fun and inspiring conversation about her new film…

ABIOLA: Quan! Tell us all about the movie. Why should we see it? What inspired this project?
QUAN: "DISTANT LOVER: TTYL" is a short film that explores long-distance relationships.  It is music driven and tells the story of so many people who are making love work, on their terms.

I created this piece because it was really important for me to tell a story that I feel is honest and current. So many of us, especially millennials, are trying to have it all. We want amazing careers, we want a family, we want to travel, all that! Sometimes that requires great sacrifice. After shooting this film last year in New York I read somewhere that in 2013 there were 14 million US couples that define themselves as having a "long distance relationship", so it's real out here. People want happiness, and sometimes being together means being apart.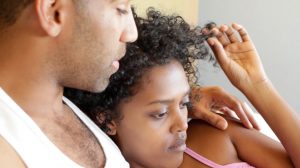 Abiola: Indeed! You're a newlywed. Congrats, goddess! As you know, I like to get all in your business. Tell us about meeting your husband?
Quan: (laughs) It's so funny, because in telling more people about this film, everyone wants to know if it was inspired by a personal story, and it kinda was. I met my –drumroll please — husband (yay!) in grad school in DC at Howard University. We literally courted for four months before I moved to New York City for a TV job. In the 6 years before we got engaged we were long distant off and on several times spanning various distances including New York to Los Angeles. It could be really hard at times, but we both decided that what we had together is important enough to do the hard work that a long distance relationship takes.
Of course there was an attraction there and we are in sync in so many other ways, but we initially connected because of the drive and goodness we saw in each other.  We both have overarching goals of helping people through the arts. Supporting each other in telling our truth and the stories of others keeps us happy and fulfilled – this is what got us together and will keep us together.
Abiola: Yay! Beautiful. I love your love story. I work with 99% women but a male coaching client told me once that all of the women he met were miserable. I explained that yes, there is a lot of bitterness because we go through a lot and don't heal. Your entire aura is peppy and upbeat. Do you think that there's any truth to his feeling? What makes you feel better on days when you feel stressed?
Quan: Yikes! That's a gross generalization and stereotype. I have heard this from guy friends before, especially in relation to women of color. It's flat out false. We all have baggage that we bring into relationships, good or bad. It's important for all of us to do the work of being our best selves and not inflicting our frustrations or daily stresses on those we love and care about. If we want to be happy, we have to decide to be and remove the drama from our lives.
I try to constantly remind myself of the iceberg theory and the thought that everyone you meet has unseen trauma or pain, you literally never know what people have been through in life or that very day. I greet everyone with a smile or a hug as much as possible. On my stressed or crazy days I can be a bit of a loaner, not wanting to spread my bad energy around. If it's really bad, I allow myself one mopey day, I play my music really loud, go to a movie, get some comfort food, take a long nap, etc. and the next day… it's time to get over it and move on. I don't believe in holding in or bottling up pain. We have to acknowledge our emotions, but not wallow in them.
Abiola: Well said, Quan. Do you feel like more of us need to be open to long distance love?
Quan: I don't necessarily think people need to be more open to long distance love, I think that we all have to be honest with what we can handle. It's definitely not for everyone and takes maturity and commitment. It's hard work and requires support from your partner plus friends and family outside the relationship.
Abiola: What are your long distance relationship tips?
Quan: I'm definitely no expert, but my tip is the same tip I would give to any and all relationships… COMMUNICATION is key. You have to be honest with yourself and your partner about what you want, what your expectations are, and your feelings towards any and all relationship decisions. Being upfront is what makes me and my husband work.
Abiola: I'm proud of you, sis. Where can people find you? How can they see this project?
Quan: I'm @ProducedbyQUAN everywhere (twitter/facebook/IG) and the film is on my site at thequan.com. The film will also be featured in a couple Film Festivals early next year. I will post all the details and updates on my site as well.
Abiola: Excellent! In my new book, "The Sacred Bombshell Handbook of Self-Love," I define a sacred bombshell as a woman who loves herself mind, body and spirit. What makes you a sacred bombshell, Miss Quan?
Quan: My self-love comes from my family, strong women and men who reminded me of my worth and value as a human being, as a woman, as a Black person, and as whatever I chose to define myself as. Many of us look to others to validate our beauty, our power, our love – I first look within and then try and spread that feeling around. That's why I consider myself a sacred bombshell.
---