Dress like a goddess, tag me and join us! 
---
Watch!
Guerda Victor: African Goddess Initiation Summer Fest Day 13

Hey Goddess,
Twenty years ago when I held goddess circles in my East Harlem living room, folks thought I was a weirdo. (Still do!) And no one knew what I was talking about. But here we are now. The feminine divine has been buried, hidden, and burned, but still we rise. And African spiritual philosophies have been demonized and belittled.
But again, here we are now.
This is what the African Goddess Initiation Summer Fest 2021 is all about! You are being called forth to reclaim who we really are – as women worldwide. You now must remember what we know in our bones and arteries. You are sacred.
Will you join us? You know this is for you if this message found you. The rebirth has already begun.
Sign up free at: AfricanGoddessClub.com
I invited about 20 power-filled goddess mystics, many of whom are featured in my new book, to share their knowledge with you.
Guerda Victor is featured in the book, African Goddess Initiation.
---
Today's Goddess Guru is Goddess Guerda Victor.
What does "goddess" mean to you, Guerda?
Sovereignty. Purity. Power. Many of us have been conditioned to believe we are anything less than Divine. We spend our lives trying to be good enough in hopes that an external savior will finally see our goodness and have mercy on us and redeem us, bless us with our rewards, someday, or maybe in the after life. Goddess means reclaiming and owning my Power as a Sovereign Divine being and knowing that everything about me is Pure and Sacred. And choosing to live in that Supreme state and experience life from that place. I can create anything I wish the maGick is in me!
How would you describe an empowered goddess?
An empowered Goddess lives in the state of I Am Power and I am not afraid to express that. The I Am Power Goddess does not modulate and compromise her values to fit in. She is not afraid to show up and take up space and gives herself permission to express and experience all of herself and all of her desires.
Is there a goddess that you relate to?
Oshun and Isis have been Goddesses I have related to and been intrigued by and I have had people associate me with Oshun. That being said I have found that different Goddess would show in my world at different times. Most recently I encounter Goddess Eve. It surprised me because I had never heard Goddess Eve or Eve being referred to as a Goddess. I did some inquiry and I was astounded by what I found. She is the Mother of all Creation!
African Goddess Initiation Fest celebrates the divine feminine powers of the African Diaspora. How do you describe your heritage or home?
Haitian though and through lol Born and raised in Haiti both parents are Haitian.
What magic are you most excited about sharing right now?
The Wealthy Goddess Manifesto
Core principles to unleash and activate wealth potential. It's poetry, activation and remembrance and an act of declaration.
What do you want people to know right now?
Link to claim Manifesto and receive 20% off of personal activation.
About Guerda Victor
Guerda (G-air-da) is a Business and Money Conscious Coach. She helps spiritual entrepreneurs, mystics who are ready to call in more cash in their business doing their sacred work in the world, heal their money trauma, bust through their fears and activate their Unique Cash Frequency™ to create the wealth and abundance they desire in their business and their lives.
Guerda holds a Masters in Mental Health and Counseling with specialty in Trauma. She has 20 years of experience in Mind Body and Energy therapy. She uses her combined expertise in Counseling, Mind Body and Energy Mastery technique to create the most transformative experience for her clients.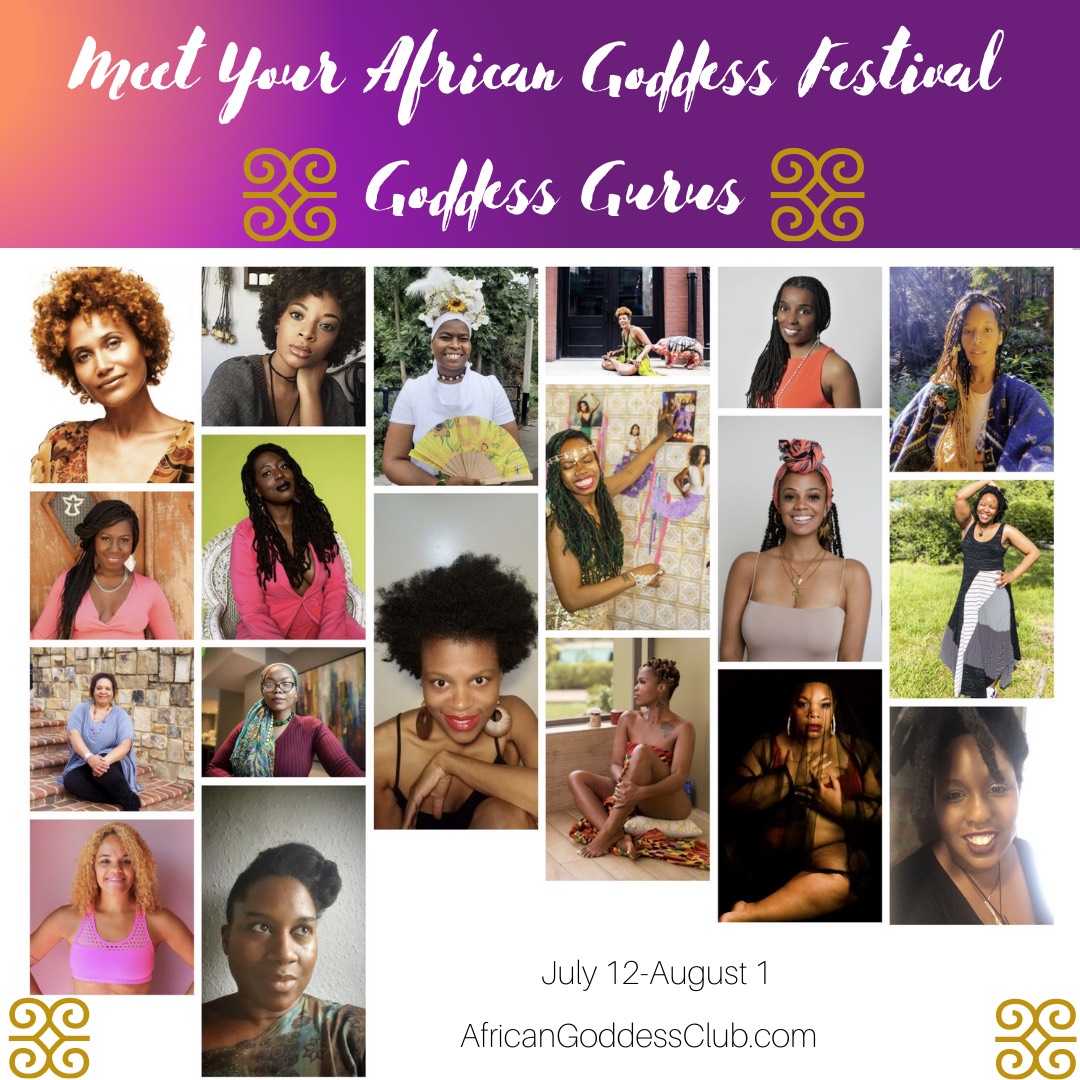 ---
About the African Goddess Initiation Summer Fest 2021
Here's how this free virtual event will unfold:   
From this Monday July 12th to August 1st, we will dance daily in the realism of the goddesses.
For the first 9 days, I will be going live on Facebook and Instagram — @HayHouse and @AbiolaTV.
PLUS every day you will be give another goddess lesson from the mystics I interviewed.
When you sign up at 
AfricanGoddessClub.com
, you will also receive a free 
Goddess Initiation Self-Love Starter Kit
.
---
Pin It