I loved this conversation, speaking with Marilu Shinn about the intersection between Shamanism and the Sacred Feminine as a path towards reclamation of essence and reconnection to our Ancestors and the Land and ultimately to our purpose as stewards of the New Earth. 
I've the kicked off for the African Goddess Rising Oracle Cards Deck and the Global Goddess Rising Circle.
::::Learn more here.
Watch
Medicine Woman Marilu Shinn
[
YouTube Video Link
]
---
About Goddess Marilu
I serve as a Medicine Woman and High Priestess Initiated into the Andean Shamanic Path. I'm honored to carry and share the codes of the New Earth and the Ancient Cyclical Wisdom of the Sacred Feminine with women and sisters from around the globe through my online and in person teachings, retreats and pilgrimages. I believe that we are in a time of fundamental shifts and our Sacred Medicine are needed to re-awaken regenerative systems and structures informed by cooperation and co-creation. The Return to Feminine ways is here and we rise and activate.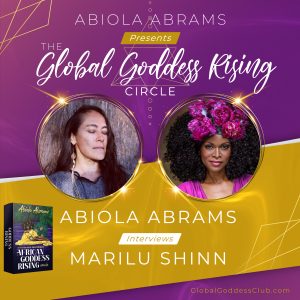 What does Goddess mean to you?
The Goddess is the universal force and essence from which all life is usher forward. She lives within the wombs and hearts of All women across time and space dimensions.
What is your current offering?
My upcoming three Day "Journeying with the Three Shamanic Worlds of Engagement" – Thursday, October 28-30th from 1-3 pm PST.
A somatic, sensory and participatory immersion into the Three Shamanic Worlds for healing, empowerment and activation. Journey with drum sound medicine to the lower, middle and upper worlds to receive direct revelations to your questions and current path. Receive the guidance and medicine of sacred animals allies, particularly the serpent, Jaguar and condor keepers of the Andean cosmo-vision. Be guided in Shamanic Journey and Soul Retrieval as a way to come home to yourself.
On my Instagram account @mujermedicine, you will find a link to my current offerings, website and newsletters registration.
Learn more at: kawakenergymedicine.com