Today we are as young as we ever will be – no matter how old you are. That means that aging is a beautiful thing. If you disagree, how about the alternative?
When Olay sent me a bottle of their Regenerist Luminous Facial Oil for this sponsored post, I was honestly skeptical. I like to mix my own natural oils for my goddess-y skin care. As usual, if the product sucked, I wouldn't share it but I love it. It would cost me a fortune to mix up these oils. My sensitive and super dry skin really responds to this mixture. I love finding new beauty products that enhance me naturally. Thanks, Olay!
 
Hey Gorgeous,
I see you shining over there all set to take over the world. We are Big Vision Women, you and I. That means that we have a calling to stop playing small and step into our greatness. We do this by embracing all aspects of our lives to the best of our abilities. Some days, I have to confess, are better than others!
Aging like a sacred bombshell means reveling in the moment and embracing beauty as a powerful and sacred practice. I consider myself to be a daughter of Mother Earth, but I do not plan to go gracefully into the night. Uh-uh.
Who cares about aging gracefully? I plan to ride this thing until the wheels fall off! My beauty is glowing because I wake up every day and re-decide all over again to believe in myself.
Like you, I am still a work in progress. I don't welcome wrinkles or look forward to grey hair any easier because I am a self-love coach. But I am THRILLED that aging is no longer a curse. You can be forever young by embracing your magic, miracles and mojo to manifest your best life.
5 Sacred Bombshell Keys to Aging Like a Goddess: Forever Young
1. Forever Young Tip: Meditate, meditate, meditate in your own way.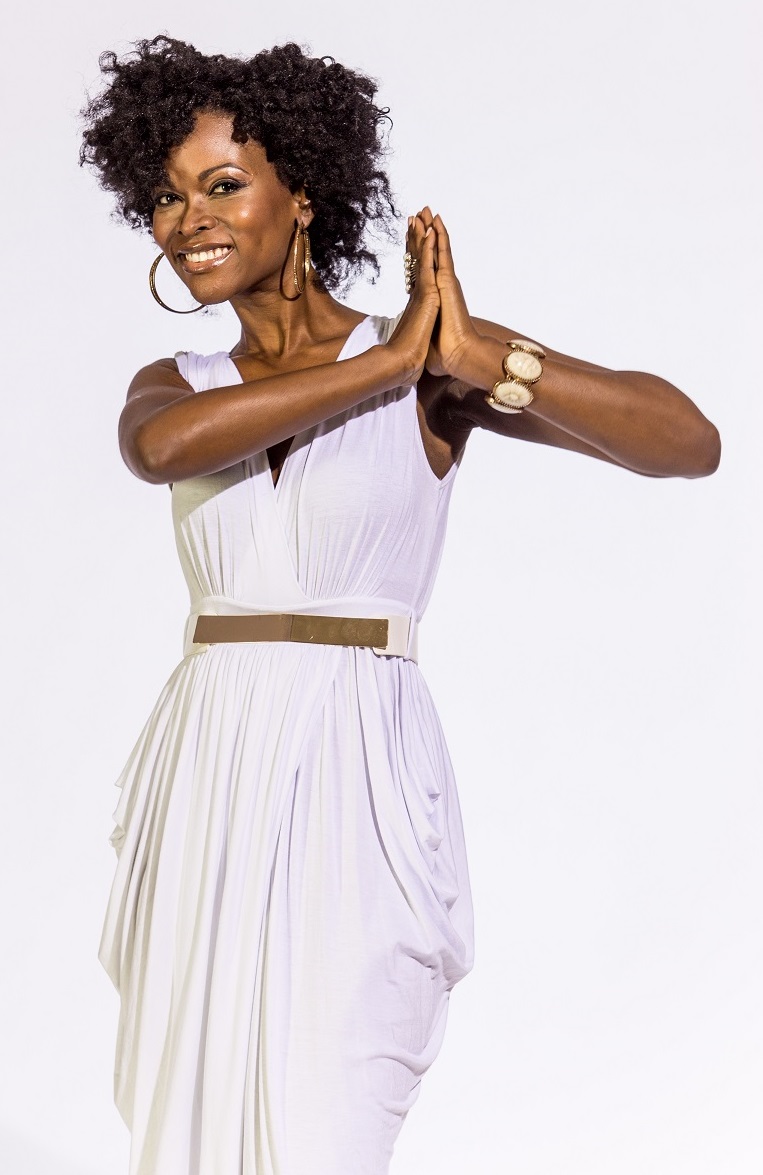 I recently wrote an article about how to meditate for folks who hate meditation. I am a New Yorker and the daughter of immigrants. My brain is always turned to ON. I had to make a dedicated focus of learning to tune out.
There are all kinds of ways to have a meditation practice. Dancing, journaling, walking, sitting in silence, yoga, and always coming back to the breath…
Getting quiet allows me to live out loud and be yes, forever young.
---
2. Forever Young Tip: Party it up with our Amazing Elders.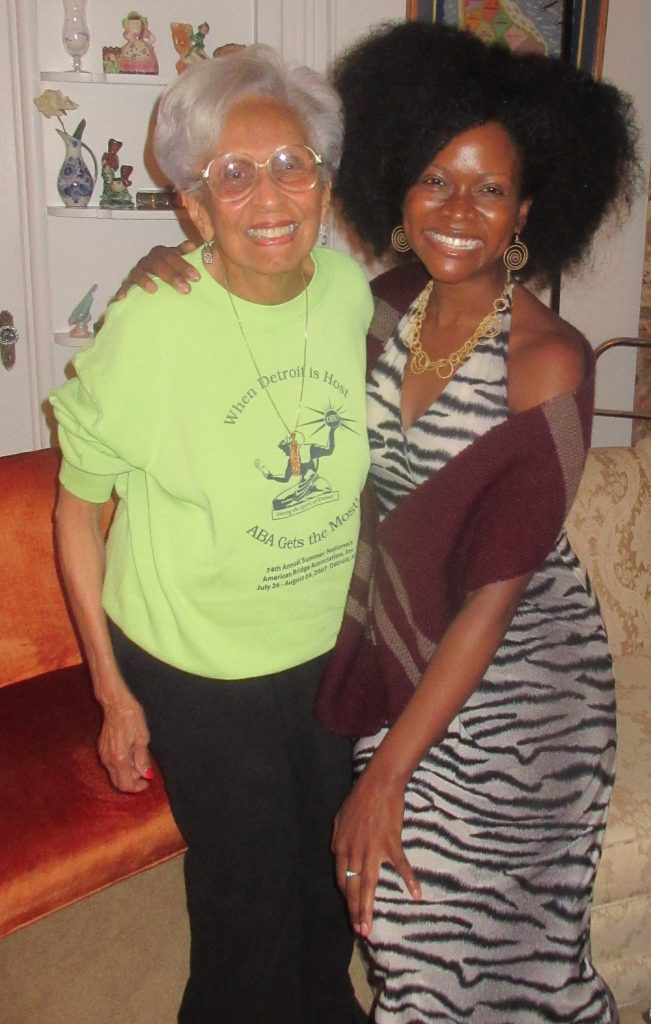 Age is just a number.
Here I am with my new friend and fellow Alpha Kappa Alpha Sorority sister, Daisy. This gorgeous woman is 97 years young.
Try fixing your mouth to say you feel old when you're hanging with a rocking and rolling 97-year-old great grandmother. Her granddaughter is my age and has a gorgeous new son.
Yay for inter-generational wisdom being passed on. I've already lost both of my grandmas but I adopt surrogate grandmothers everywhere we go – and I am hungry to pass on their knowledge.
---
3. Forever Young Tip: Create your own "Girls-Night-In Sacred Self-Care Kit" with Regenerist Luminous Facial Oil.
As my regular bombshells know, I love putting together custom self-love kits just for you. This is a girls-night self-care kit I created just for me. Of course there is a candle. I use unscented if I am also burning my jasmine or sandalwood incense. I also have fresh food-grade lavender for lavender lemonade tea that I got from the lavender farm in Cape Cod. Yes, the same one with the fairy garden. My favorite crystals are rose quartz for love and amethyst for connecting inwardly. Hot pink journals, the books The Sacred Bombshell Handbook of Self-Love and Dare, my African Goddess Affirmation Cards, my mala beads for meditation, and Regenerist Luminous Facial Oil are a must.
Caring for your skin with oil seems counter-intuitive, but it really has made a difference in keeping my skin fresh, dewy, and youthful. I sometimes make my own oil blends, but when I can't do that (most of the time), I really appreciate the all-natural blend of ingredients in the Olay Regenerist Luminous Facial Oil. Check it out: coconut oil, apricot kernel oil, grape seed extract oil, sunflower oil, evening primrose, sesame oil, jojoba, babassu (good stuff), and mimosa oils!
---
4. Forever Young Tip: Take Magical Adventures.
Believing in magic is empowering at any age.
Here I am at a Fairy Garden a couple of short months ago in Cape Cod Massachusetts. I took a #SelfLoveRoadTrip with my fellow conjure woman Zuyapa Jackson.
Do fairies exist? Who I am to say they do or don't? As Albert Einstein famously said, "We can live as though everything is a miracle or as if nothing is a miracle." I choose EVERYTHING.
This fairy garden was pure magic. The fairies are rocking it and if you believe in the mojo of the world, then you are too!
---
5. Forever Young Tip: Be full of your lovely self as a healthy mindset.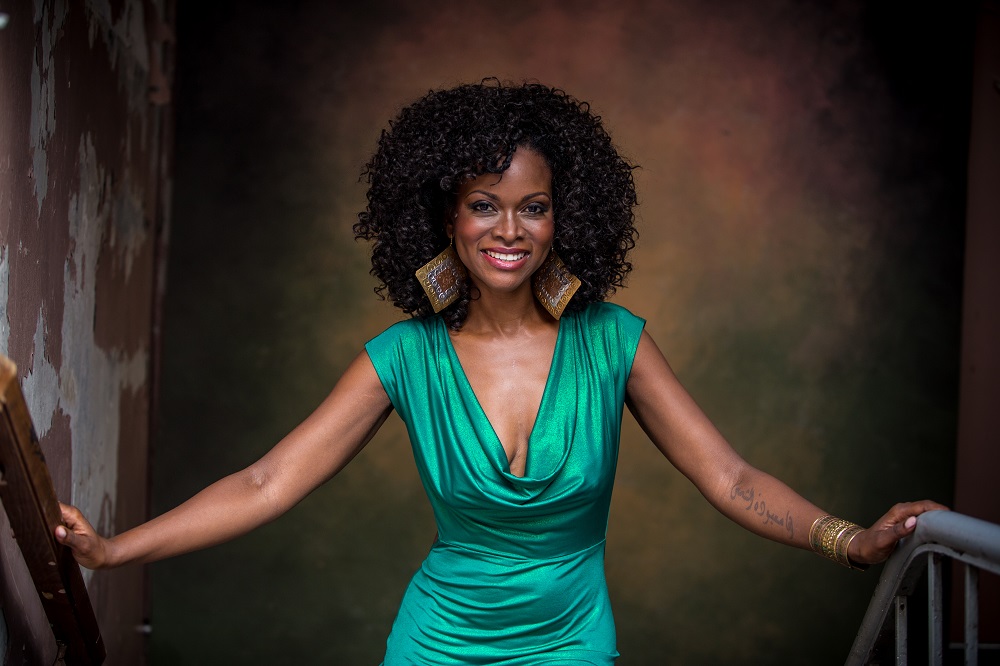 Step into your greatness. Fullness is a powerful principle.
There is nothing wrong with being full of yourself when your self is full of beauty. Own all parts of you.
When you do what you can to find beauty even in your perceived ugliness – and give yourself an inner makeover by learning the lessons of your own past and starting anew every day.

---
Brand Statement: Olay is a worldwide leader in skin care and has been trusted by women for over 60 years, maintaining its founding philosophy: to maintain a deep understanding of women's changing needs and to combine products that fit their needs with the latest advances in skin care technology. Regenerist was created along those lines to address women's anti-aging needs, and millions of women have tried it and loved it, making Regenerist the #1 anti-aging moisturizer.* (*Based on Nielsen data week ending 2/1/14.)
Disclosure: Compensation was provided by P&G via Mode Media.  The opinions expressed herein are those of the author and are not indicative of the opinions or positions of P&G.
---