WEvolve Box is a subscription service that delivers metaphysical and sacred objects to inspire a deepening awareness of ones infinite nature. To subscribe to these mystical boxes by Lalania Simone, visit WEvolvebox.com.

Happy Earth Day, Sacred Bombshell,
Full moon tonight, goddess…
Enjoying these EXQUISITE sacred objects from WEvolve Box and Sacred Bombshell Lalania Simone.
And yes, that's one of my African Goddess Affirmation Cards (Ala, Igbo Goddess of Creativity) hanging out with her sacred rune stones by Aventurine, Goddess Lakshmi, Ganesha, Indian scroll, Seeds of Intention bundle and other cosmic goodies.
This is a magical box experience.
Enjoy my temporary garden altar created with gifts from the WEvolve Seeds of Intention Box.
Here's what Lalania Simone has to say about altars: "Creating a sacred space is deeply satisfying. A special place where you can take a moment and appreciate the magic of life, meditate or take a breath and ask for some divine guidance.  An altar or shrine can be anywhere, on top of a cabinet or dresser, or on the wall on a shelf. All you need are a few items or symbols that hold some meaning for you."

#fullmoon #garden #altar

About the WEVolve Seeds of Intention Box
The delicious months of spring are a wonderful time to plant your spiritual seeds, what would like to see come to fruition over the next few months and even years? This box has several elements to inspire your process of planting your precious seeds.
(Scroll down for more details from Goddess Lalania, Creator of the WEvolve Box.)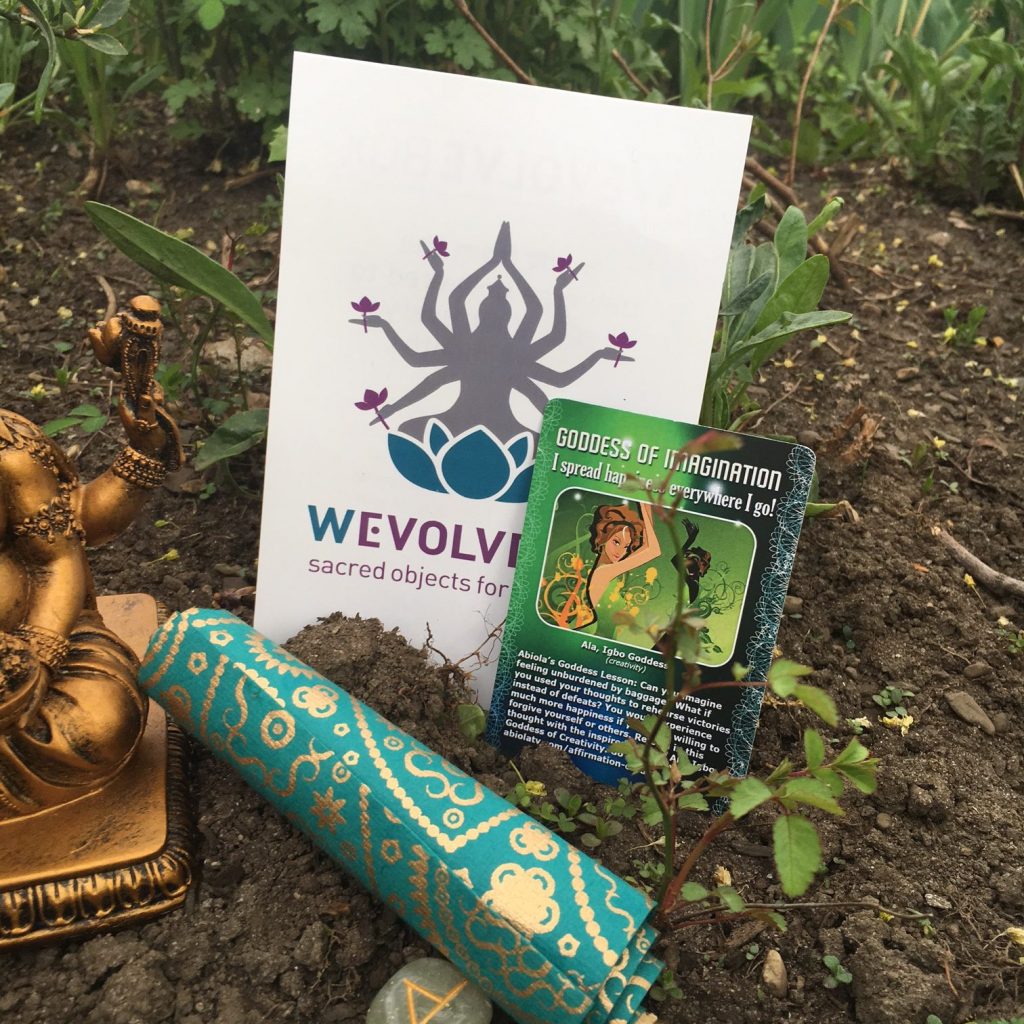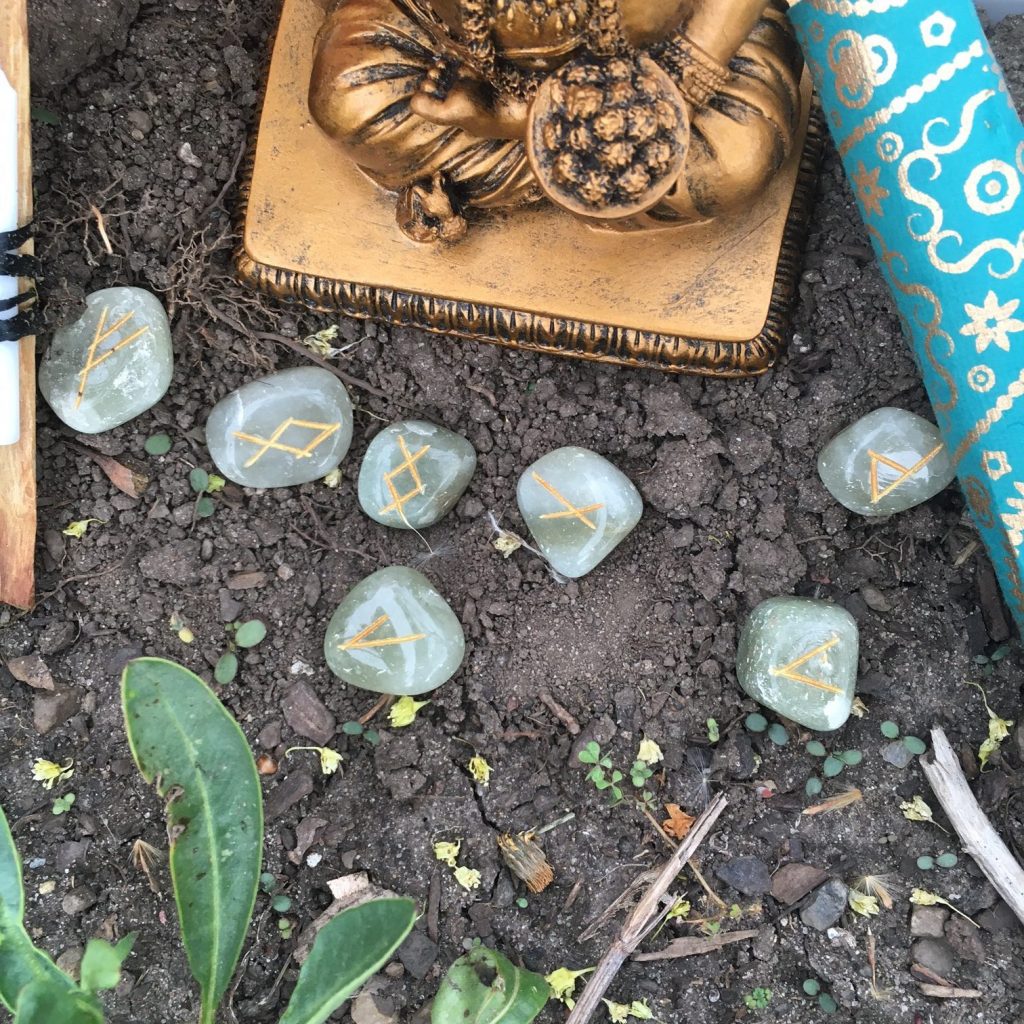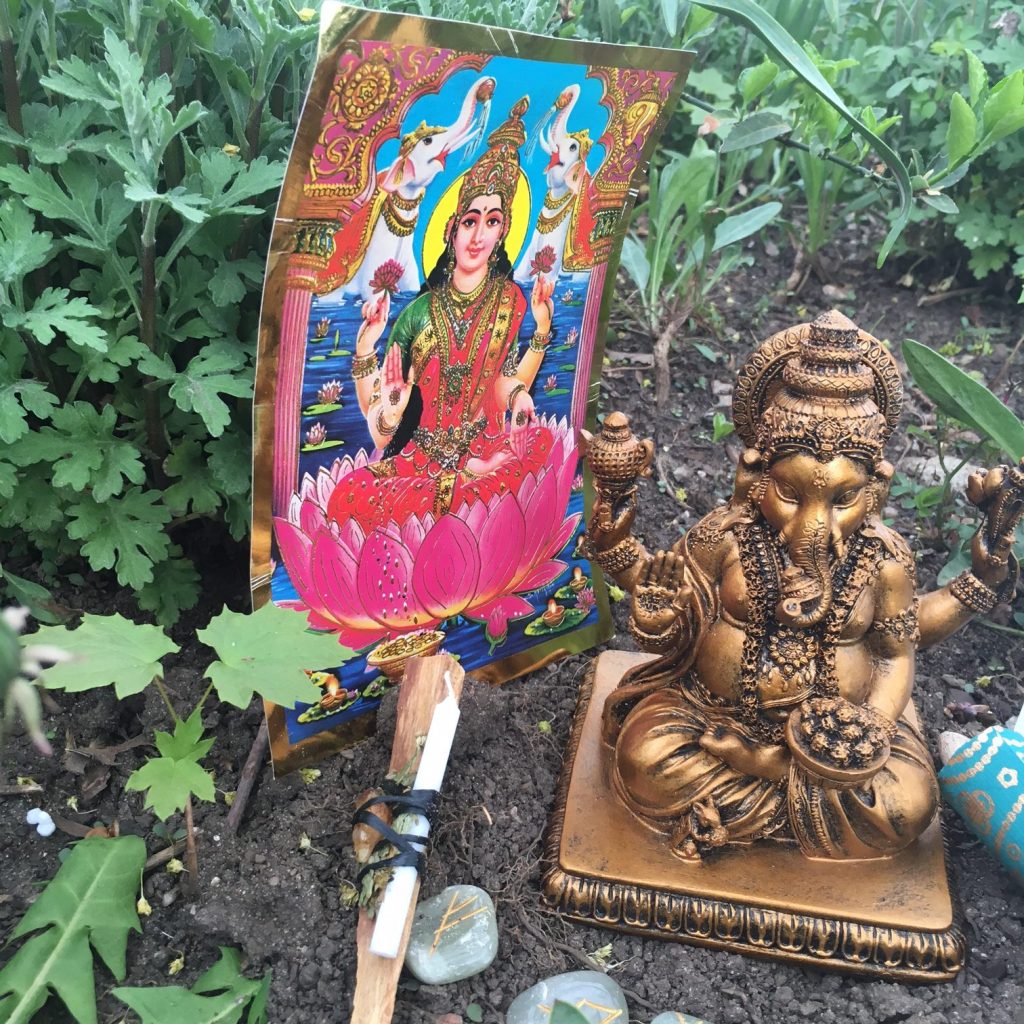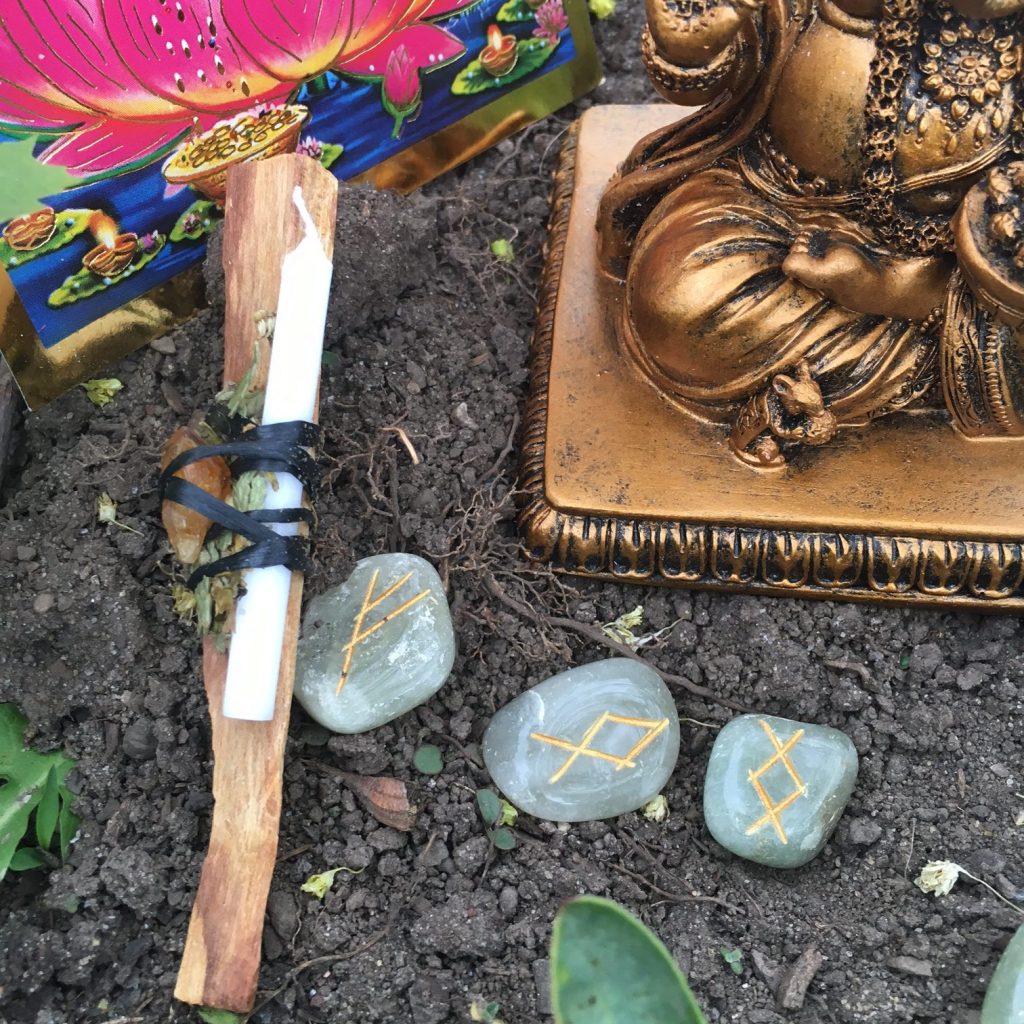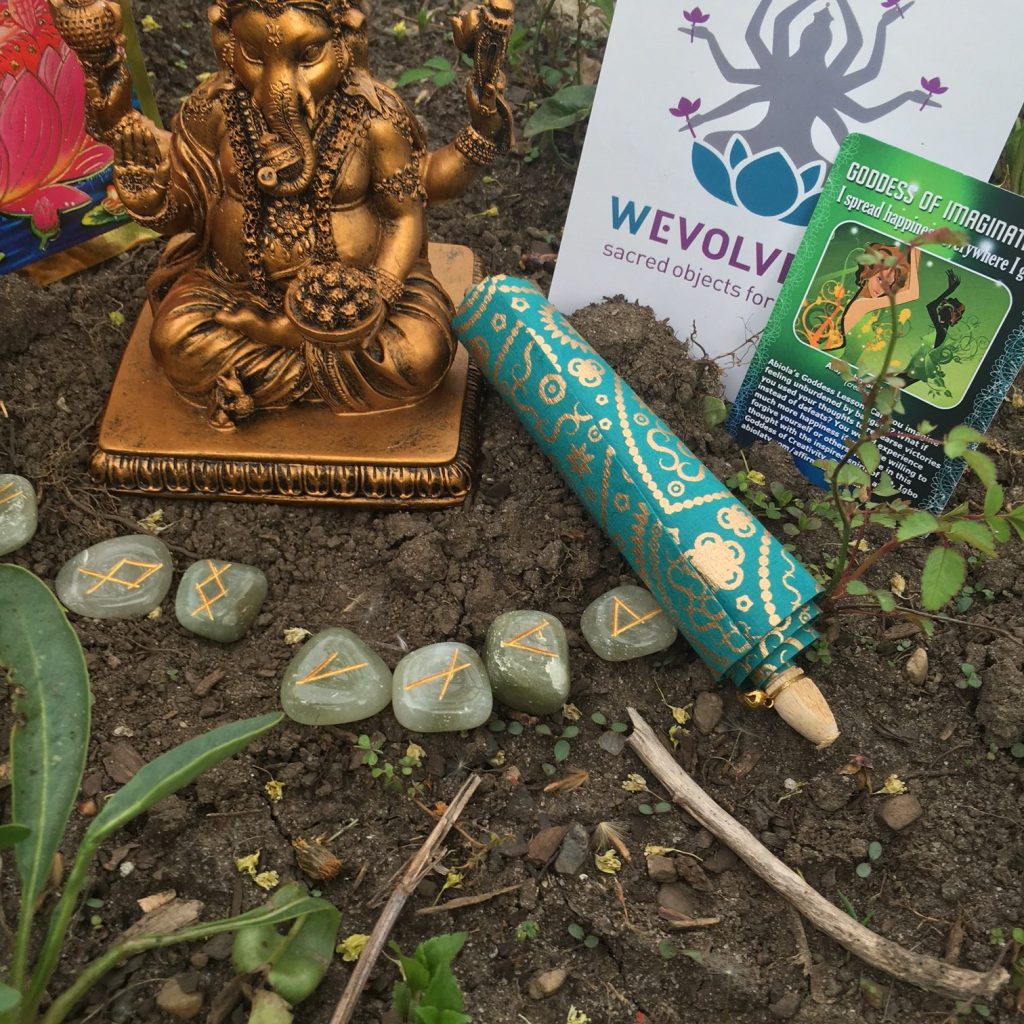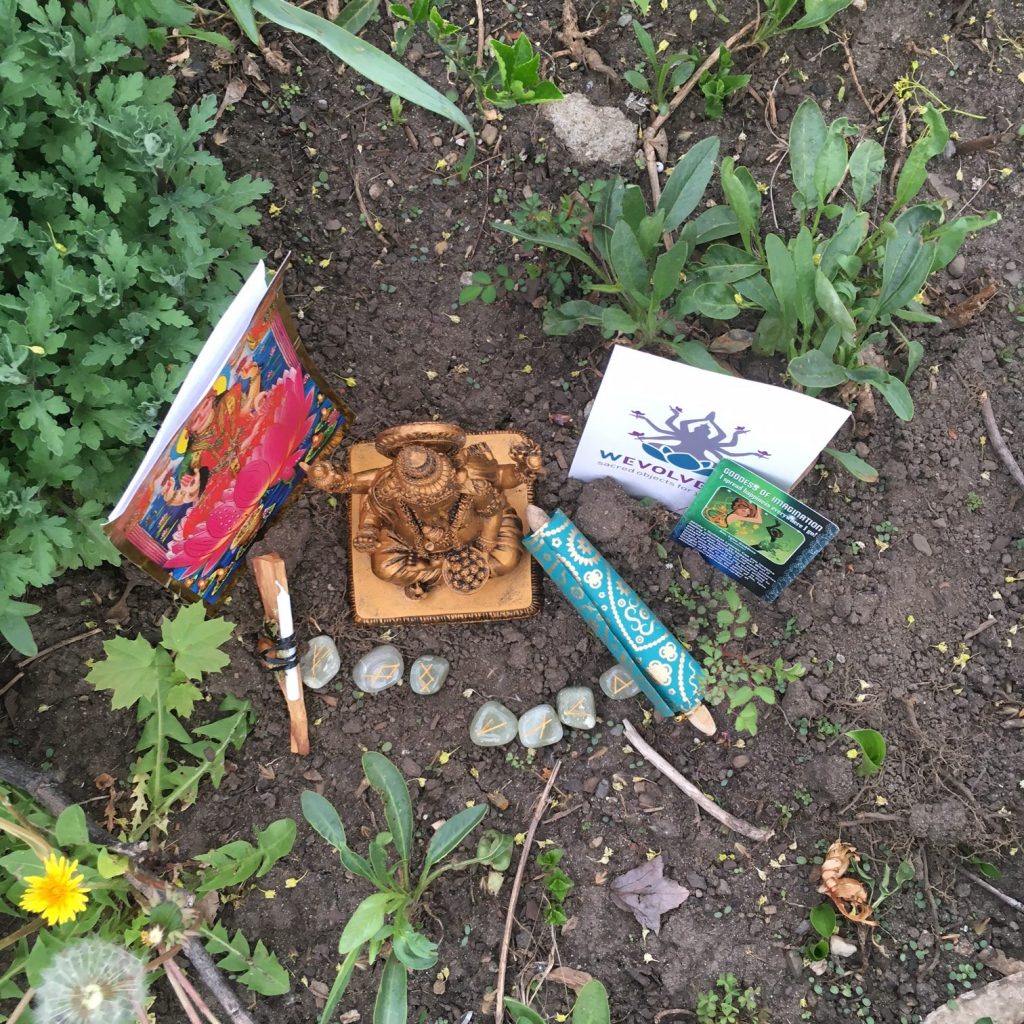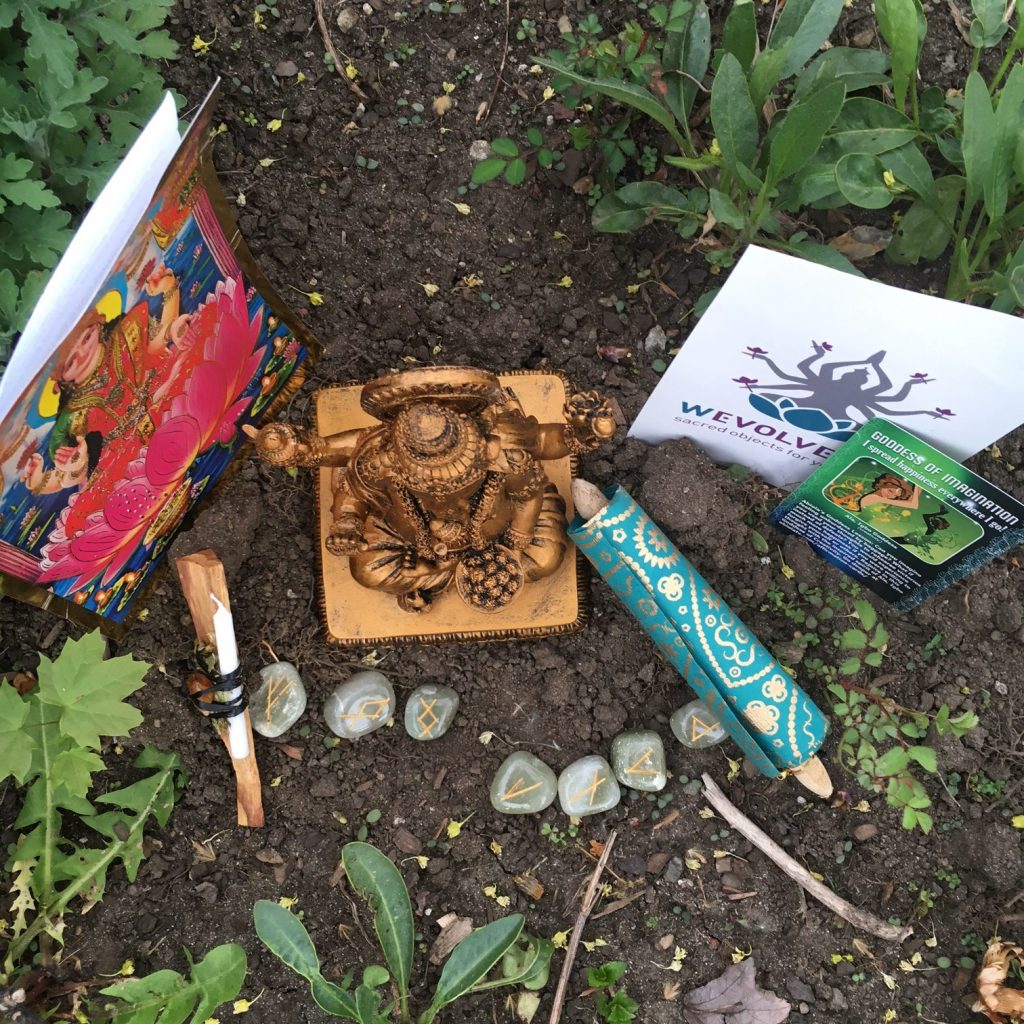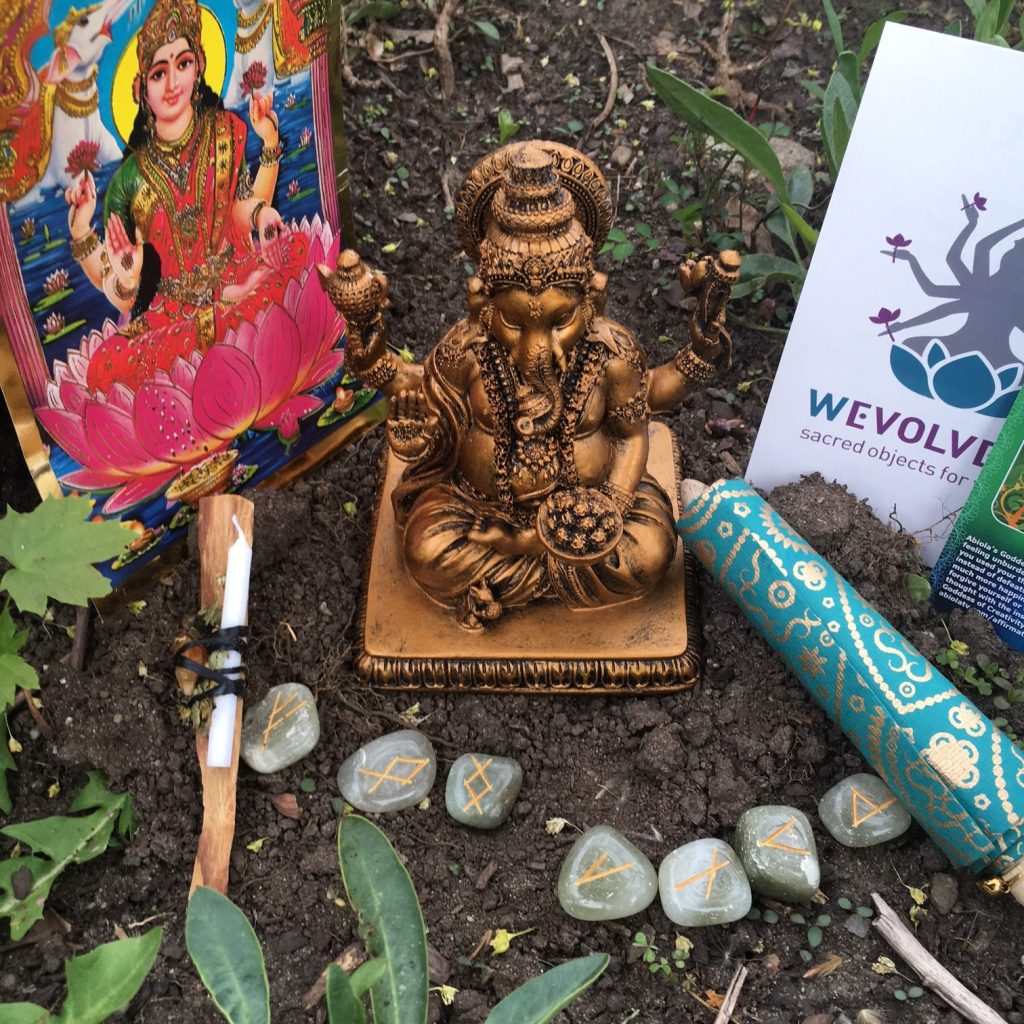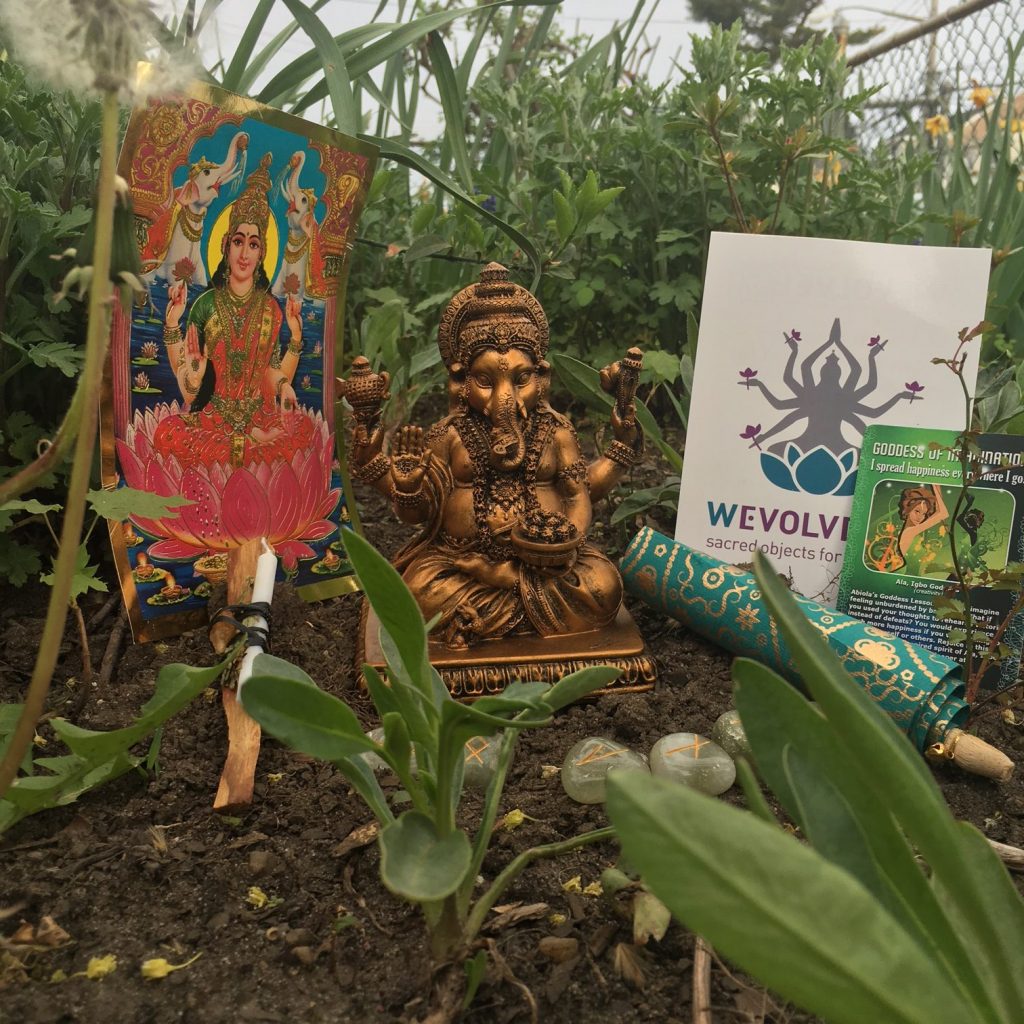 Here's what's inside this WEvolve Box:
-Lakshmi Post Card: Lakshmi is the Hindu Goddess of abundance, self-realization and true wealth. Place this card near your sacred space to remind you of your own innate abundance and generosity.
-Aventurine Rune Stones: Rune stones are an ancient tool used for divination, to receive guidance from your divine inner wisdom, spirit guides or angels. The runic alphabet is from early Germanic languages, and were used by the Vikings. Use your runes for a quick bit of guidance by picking one stone, or a more intricate cast rune reading using the included spreads instructions. One simple way to read them is to cast a past, present, future, three rune spread from left to right. There are many wonderful books and online sites to help you gain a deeper understanding of the meanings of each rune.
Green Aventurine is known as the Stone of Opportunity. It is thought to be the luckiest of all crystals & stones, especially in manifesting prosperity & wealth. It also helps align conditions to create opportunity. Aventurine releases old patterns, habits & disappointments so new growth can take place. It brings optimism, allowing one to move forward with confidence and to embrace change.
Green Aventurine also soothes emotional wounds, allowing one to recognize the issues behind illness or imbalance, depression or defeat, and to facilitate the release of unhealthy relationships, patterns and heartache. It encourages one to view hardships in life as impermanent, as an opportunity for growth in a new direction, and for taking all things in stride. It inspires a feeling of lightness, even humor, which can then stimulate a renewed sense of optimism, joy and hope. It is a reaffirming stone, especially during times of change or upheaval and can be the emotional anchor one needs to remain stable and firmly grounded.
Green Aventurine is used in meditation as a transitional aid, bringing powerful Earth energy to our efforts in seeing the best life has to offer. It also assists in persevering through times when it seems as if nothing is happening.
(Source)
–Seeds of Intention Spell Bundle: Take some time to consider what you would like to see unfold in your life and use this mystical spell to move your intention into the Universe with beauty and  grace.  Each bundle includes a palo-santo wood smudge stick, herbs, a citrine crystal and a candle as well as instructions. This bundle was custom made especially for this month's theme by Ritual Cravt, check out more magical items at ritualcravt.com.
–Handmade Indian Paper Scroll: Use this beautiful scroll in the above ritual, writing down your intentions or seeds that you would like to nurture & grow into fruition. Or use it how you best see fit, write your favorite affirmations, mantras or intentions. Write a letter of unconditional love from your higher self or write a letter to a loved one.
–Ganesha Resin Statue:  Ganesha is s Hindu deity and is widely revered as the remover of obstacles, the patron of arts and sciences, intellect and wisdom. Ganesha's head symbolizes the Atman or the soul, which is the ultimate supreme reality of human existence, and his human body signifies Maya or the earthly existence of human beings. The elephant head denotes wisdom and its trunk represents Om, the sound symbol of cosmic reality. Ganesha holds, supports and guides all other chakras, thereby "governing the forces that propel the wheel of life." Invoke the energy of Ganesha to help you move through challenges.
Planting Seeds Meditation
Visualize yourself mindfully digging a shallow hole in some dark and fertile soil. In your left hand there is a small seed. Pick up the seed with your right hand, hold it to your heart visualizing your intention and place it into the soil. Cover your seed with a light layer of soil. Send your seed the energy of love, prosperity, health, joy or whatever energies you feel this seed needs to grow abundantly. Then visualize watering your seed, look up to see the warm rays of the sun shining down on your little mound of earth. Place your hands together in the prayer position and bow to your seed mound, and say "So will it be." Do this in turn for each of your intentions.
Occasionally return during meditation, come back and send nurturing energy to the seed, water and talk to it lovingly. Trust that you have planted your seed, and that the Universe will unfold your highest good around that seed. In truth, the harvest of this planting may not look exactly like your original intention, but it will be in perfection for your path and process.
Love to you!
Lalania Simone
WEvolve Box
---