New event — join us! 
Here is the link to learn more about this workshop: https://www.collegeofpsychicstudies.co.uk/workshops/divine-feminine/african-goddess-initiation-sacred-rituals-for-self-love-prosperity-and-joy/
Watch!
About the Workshop
---
About the Event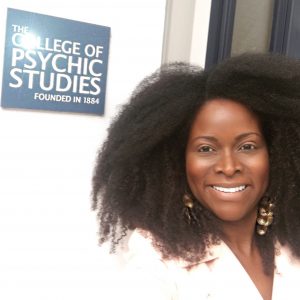 This live, online workshop brings actionable self-love and self-care rituals, ceremonies and celebrations based on the goddesses of the African diaspora and global African culture.
Consider this to be an initiation into your own power – it is time to shine and realize that you are powerful, fearless and wonderfully made.
Imagine being able to welcome ancient African goddess magic into your daily life to dissolve your fears, limiting beliefs and shadow blocks.
In this workshop, Abiola shows you how the principles of conjuring your own power in her ancestral African traditions can help you to become the person you were born to be.
When Africans were kidnapped, trafficked and brutally brought to 'The New World', they hid their deities and rituals in stories of saints, angels and legendary characters. From Egypt to South Africa, West Africa to South America, Cuba to New Orleans, their names were chanted: Yemaya, the Erzulies, Ala, Yasigi, Iset/Isis and Maat among others.
You will learn about some of these goddesses, how to invoke and honor goddess energy, and how the goddess honors you. In addition to the principles of embodiment, there will be a self-love, self-care or manifesting ritual related to each goddess.
Please bring your favorite crystals, some water, a candle (if you're able to safely burn one) and something that is sacred to you.
—
We will not be recording this workshop. One of the unique aspects of the College's online events is that they are highly interactive. Participants are encouraged to discuss and share with the tutor and the group. These sharings can be very personal, and some may not feel comfortable with them being recorded.
—
Previous participants say:
"FAB!! Abiola is a captivating, charismatic, magnetic and an outstanding teacher. I thoroughly loved the workshop as Abiola explained to us many things which I had not grasped from reading books. Thank you Abiola!"
"I had a fantastic day at the workshop. The content was amazing, the tutor was genuine and fabulous; and the people that attended were beautiful!"
"She was so amazing, what a great lady, please bring her back. Thank you!"
Here's what to expect:
All you need to take part is a good internet connection and a computer with a webcam, microphone and Zoom.
On booking this workshop, you will receive an email with the Zoom link to access it. Remember to check your spam folder if you don't receive this confirmation email in your inbox.
To secure your place on this workshop click book now.
Price: £80.00
Become a member today and you will save £20.00 on this purchase.