Abiolacabulary: How to Speak Like a Bombshell… Self-love dictionary excerpts from The Sacred Bombshell Handbook of Self-Love…
---
Ready, Gorgeous? Here's Your Self-Love Lexicon
Sacred Bombshell
Let us decree that a bombshell is a woman who unconditionally loves, honors, and accepts herself – a woman in full ownership of herself and her divinely ordained feminine power. She is flesh and blood and sacred all at the same time. Traditionally, the word "bombshell" has been used to mean a woman oozing with sex appeal. I have reclaimed and redefined the word. It is no accident that "drop a bombshell" means to drop a surprise bomb, good or bad, into someone's life. A woman who knows her power is a force ignited. Bombshell, for our purposes, is not a look. Bombshell is a way of being. Owning your bombshell is owning the part of you that knows. Yes, a true bombshell is skilled in the fine art of seducing life, but she is firstly head over heels in love with herself – mind, body, and spirit.
Femergy
Femergy is my term for feminine energy. Before you dismiss energy, have you ever felt someone's eyes on you or thought of someone and there they were? That's because we're all energetic beings.
Nizhoni
I define Nizhoni as "beauty as a spiritual practice." Beauty is in art, faces, places, and fields of violet flowers. You deserve to drink in beauty as a spiritual practice on a daily basis. The way you prepare your food should be an act of beauty. Adorn your body with garments that make you feel divine. Visit libraries and museums that enrich you and let cultural beauty seep into your skin. Make your living and work spaces lovely to behold. Go hiking and admire the bold elegance of Mother Nature's creatures. Gaze upon a lake mirror and look upon your own unique visage and one-of-a-kind beauty. This beauty is a living force. This is Nizhoni, the full love of all things beautiful. Beauty is truly divine.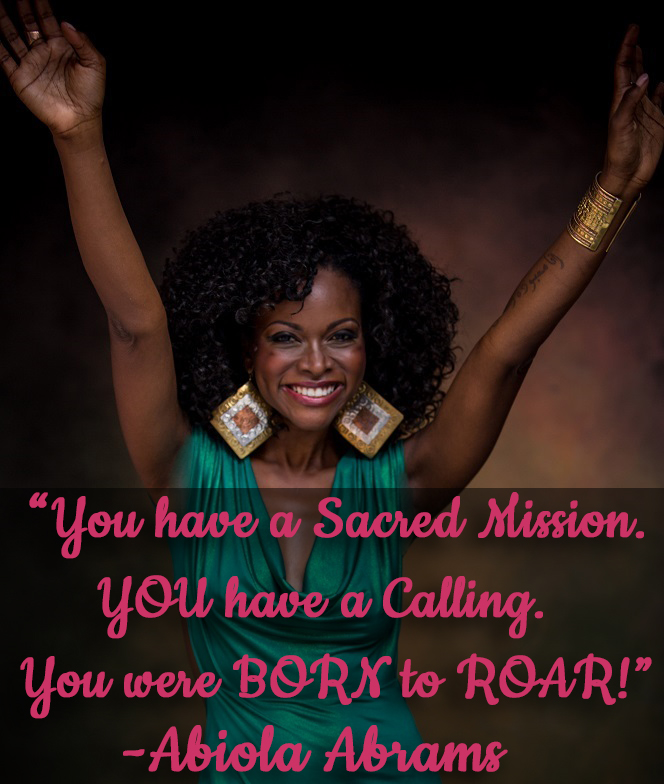 Fullness
Most of us were taught that it was a bad thing to be "full" of ourselves. The term is used to mean someone ego-based or conceited. Any woman standing fully in her personal power was met with "Who does she think she is?" How dare she think that she matters? Stop pretending that you are powerless. Give up the idea that your hunger is acceptable. A woman filled with her essence is radiant and vibrant. The difference is being full of yourself vs. full of your Self.
Playing Small
Playing small manifests in different ways for different women. Playing small includes not being vulnerable with your loved ones, not going for that raise, not treating your body like a temple, not doing your writing, knitting, or teaching that you are here to do. I made a decision a couple of years ago to stop playing small. I released my victim mindset and the reasons why it was everyone else's fault that I had to play smaller than my full, juicy, bombshell self. I accepted my right to live in the sacred space of welcoming pleasurable situations, passionate work, positive experiences, and playtime.
Post Traumatic Love Disorder
After I noticed this very real trauma in enough of my relationship coaching clients I gave it a name: "PTLD, Post Traumatic Love Disorder." Soldiers as well as assault and rape victims experience PTSD, Post Traumatic Stress Disorder, a normal reaction after surviving the traumatic ravages of life-changing war. PTLD occurs after a devastating love event, an incident that may trigger childhood issues. We feel betrayed, broken or abandoned. Then we take this energy forward, living and dating like love zombies and the walking wounded.
Spiritpreneur
My work is all about helping each sacred bombshell woman to stop playing small, find her voice, step into her greatness, and answer her sacred calling. Whether her sacred calling is to be a senator or stylist, if she is becoming the woman she was born to be and creating her own path of service, she is a spiritpreneur. This is the spiritpreneur's journey.
Sacred Self-Care
If you can't treat yourself well, why should someone else? Good self-care is not just manicures, pedicures, and massages. It's getting help for yourself if you need it. It's reminding yourself that you are worthy. My urgent and relentless self-care involved nurturing my body by transitioning to a plant-based diet. Practice good self-care by having boundaries. Are you meticulous about who and what you allow into your mental space? Do you have a practice of meditation, gratitude, and/or affirmations? Do you take care of your body temple?
Goddess Year
The Goddess Year is a 12-month program that I developed for single women to focus on themselves. Consider the Goddess Year to be the Year of You. It's kind of like the gap year that some European students take between high school and college to find themselves. But you don't find yourself – you create and reveal yourself. If you have already partnered with your soulmate, you can still have a Goddess Year. Make it a year where you are unconditionally devoted to you. We all need a Goddess Year because women, and mothers in particular, often see the world through the eyes of everyone but themselves. Young men are encouraged to take time to learn themselves, "sow their oats," and be selfish, while young women are ushered toward constant coupledom.
Soulcare
I help Big Vision Women, my Sacred Bombshell sisters, to step into their personal power by providing soulcare, skills, and strategy. Soulcare is ministering to the care of the soul, addressing our fears, emotional challenges, self-confidence issues, personal stresses, and success blockers.
Hear Us Roar
Hear Me Roar is the rallying cry of a sacred bombshell who has gone from self-love to self-launch, a woman who has become a sacred spiritpreneur. The Hear Me Roar Coaching club is launching soon. Stay tuned…
---

About the Healing Power of Words

::::If you can't see the video above, click here to watch on YouTube.
---
Here's Abiolacabulary for Settle-Free! Watch…

::::If you can't see the video above, click here to be inspired on YouTube.
---
Select Sacred Bombshell Self-Love Healing Tools:
EFT
Meditation
Chakra Clearing
Affirmations
Visionary Boards
---