Here's one from the Sacred Bombshell archives. This piece for Ms. Magazine was one of my first public works. They wanted to know the opinion of an "intern-type." Everything I said then still applies. Find her TED Talk on bullying after my letter.
I applaud Monica Lewinsky for taking her happily ever after..

June 1999
Dear Monica,
Women like you, who do not feel the need to apologize for being themselves, are my business. Recently, I was given a "Fun, Fearless Female Award" by a women's magazine for Goddess City, my off-broadway show. Goddess City is about crushing the dangerous labels and expectations–both positive and negative–that our society attempts to stamp on young women.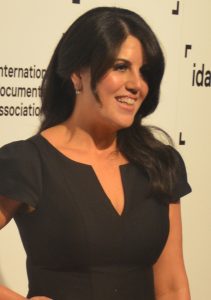 I was among the legion that watched your first televised interview. You appeared vibrant, bright, and, yes, sexy. You were sexually confident enough to say, in essence, "I wanted and enjoyed it," and you were humble enough to take the responsibility that is yours without chalking it up to naïveté. An intern so daring that you would show your boss your panties, you sat eye-to-eye with the queen of 20/20 and giggled about your exploits with the prez like he was the boyfriend-next-door, because to you he was. I must admit that a big part of me says, "Girl, you've got some nervy ovaries in you!"
The reaction to your Barbara Walters interview that I hear most often is, "She didn't seem sorry enough." You have no doubt been weeping for a year. How many mea culpas does America crave? You have been so brutally honest about the areas where you choose not to be repentant that there is no reason to believe that you lie about truly feeling sorry. You could easily have feigned the requisite remorse. It seems that the need to marginalize you makes it difficult for people to view you as both repentant and sensual at the same time. Having the audacity to be a bold woman without apology does not cancel out your regretting wrong choices. A young woman can be sexual and remorseful and also compose talking points.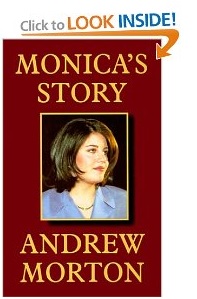 Why assume that if a woman declares she welcomes sex and the pursuit of it, either she's young and unstable or somebody else is pulling the strings? All of us, as women, have free will to make our own bold and sometimes stupid choices. Youth and weakness have nothing to do with it. This is the core of the problem that people have with you, Monica. They still cannot handle in-your-face sexuality from women. Our sexuality is supposed to make us feel guilty. Popular opinion indicates that people prefer a woman who seems more victim than opportunist. Maybe that's why you are being persecuted more for your brazenness and aggressive sexual persona than for the fact that you, like many of the "moral majority" who've attacked you, behaved questionably. On the other hand, attempting to build up one's self-esteem by abusing other women, like Hillary Rodham and Chelsea Clinton, is unacceptable and inhumane. Obviously, you never expected to have to consider the political implications of your sex life, but things fall apart.
You have forced a much-needed national debate about women and sexuality. Your flagrant comfort with your sexual self is, to me, completely and unconditionally feminist. Your story is moving the discourse of feminism, stagnant for so long, forward. We are openly discussing women and sex and power.
Your flagrant comfort with your sexual self is, to me, completely and unconditionally feminist
Monica, I applaud you for having the nerve to earnestly speak the truth about your fever but be bigger than the scandal. Eventually, the vultures will feed elsewhere, and this, too, shall pass. So what do you do while all eyes are on you? Continue to heal, then explode onto the scene.
You have the global ear, now do something with it! Don't let your entry into the history books read only . . . well, you know. Speak out. Write out. Act. Make an impact, and consider the consequences of your actions. Learn that you are worthy of being loved on your own terms. Study Vanessa Williams' recovery. Whatever your soul desires, be it, and know that you have a fierce African Caribbean actor/writer sister in New York City who has your back. We are young, but we do have free will, and our youth is a reason to succeed, not an excuse to fail. Monica, I've been arguing that you have a mind of your own. Now use it to create yourself.
Walkin' in nerve, fever, and truth,

---
How to Kick Start Your Movement!
---
Photo Credit: "Monica Lewinsky 2014 IDA Awards (cropped)" by Mingle Media TV. Licensed under CC BY-SA 2.0 via Wikimedia Commons.
---
Monica Lewinsky's TED Talk on Bullying
---