It may be snowing but it is SPRING plus a new moon… An eclipse and an equinox. 
It's a magical day to be a Conjure Woman.
What a delicious moment for Sacred Bombshell feminine energy.

Hello Sacred Bombshell,
Happy Spring! Nature is being refreshed and born anew – and so are we. As my new program for Spiritpreneurs ia bout to launch, I am excited because this is the time of new beginnings. Many of you are ripe for reinvention and rebirth. This is how we evolve.
I pulled 3 cards from my African Goddess Affirmation card deck for us to celebrate rebirth, reinvention, and new energy. This is all yummy feminine energy.
Of course, the cards I pulled are right on point. I pulled the Goddess of Nature, the Goddess of the Flow, and the Goddess of Magic. They represent Isis, the Egyptian goddess, Ngame, the Akan goddess, and Yemaya, the Yoruba goddess.
The feminine energy affirmations: I trust my intuition, It feels good to live my dreams — and MOST appropriately, I respect the seasons, patterns, and flow of life.
Let's go deeper…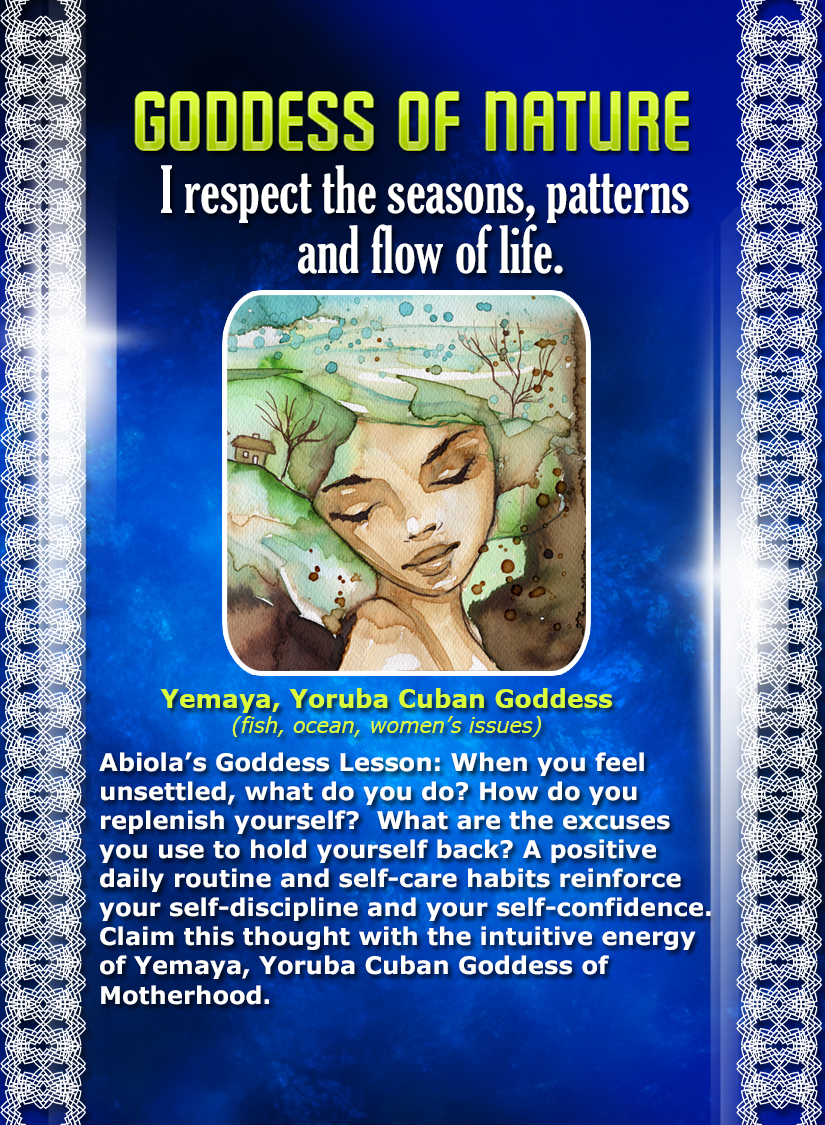 Goddess of Nature
Yemaya, Yoruba Cuban Goddess
(fish, ocean, women's issues)
I respect the seasons, patterns and flow of life.
Abiola's Goddess Lesson: When you feel unsettled, what do you do? How do you replenish yourself?  What are the excuses you use to hold yourself back? A positive daily routine and self-care habits reinforce your self-discipline and your self-confidence. Claim this thought with the intuitive energy of Yemaya, Yoruba Cuban goddess of motherhood.
---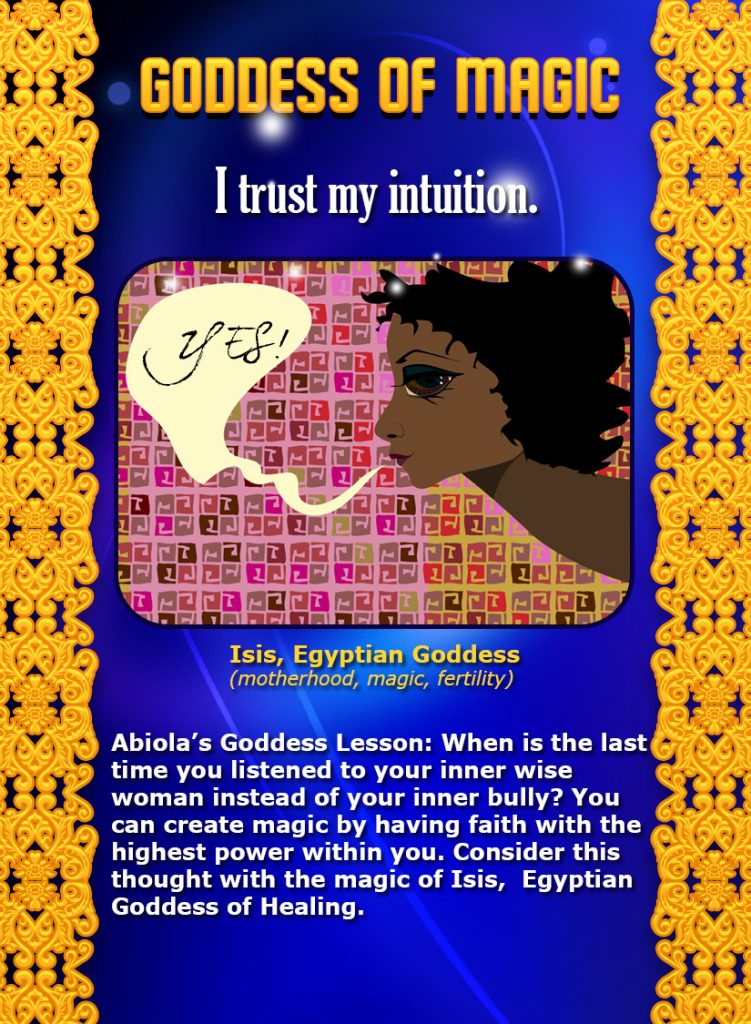 Goddess of Magic
Isis, Egyptian Goddess (motherhood, magic, fertility)
I trust my intuition.
Abiola's Goddess Lesson: When is the last time you listened to your inner wise woman instead of your inner bully? You can create magic by having faith with the highest power within you. Consider this thought with the magic of Isis,  Egyptian goddess of healing.
---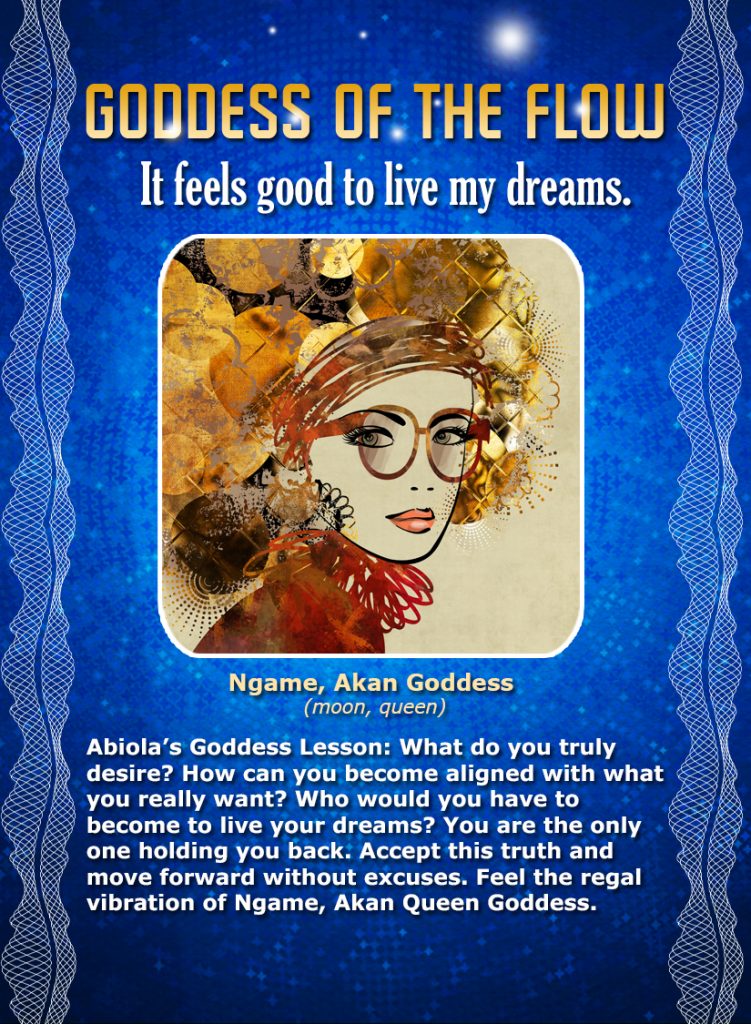 Goddess of the Flow
Ngame, Akan Goddess (moon, queen)
It feels good to live my dreams.
Abiola's Goddess Lesson: What do you truly desire? How can you become aligned with what you really want? Who would you have to become to live your dreams? You are the only one holding you back. Accept this truth and move forward without excuses. Feel the regal vibration of Ngame, Akan queen goddess.

---
---
About these feminine energy affirmation cards: African Goddess Affirmation Cards are a timeless motivational tool. Oshun, Yemaya and Isis are goddesses of the African diaspora. You know Venus, Aphrodite and Athena. Now it's time to tap into the gifts of Afrocentric female deities. Artistic representations of beautiful contemporary women with natural afro hair and shades of brown skin represent goddesses of love, abundance and beauty. These feminine power archetype cards feature self-love lessons and positive affirmations from Love-Body-Spirit™ Coach Abiola Abrams, author of The Official Bombshell Handbook. Use for intuitive guidance, daily empowerment goals, oracle readings, divination discovery or self-coaching.
I AM ENOUGH.
I LOVE BEING ME.
LIFE LOVES ME.
THIS IS MY TIME.
::::Get the cards here.
---