Dress like a goddess, tag me and join us! 
---
Watch!
Lady Shepsa Jones: Day 8 – African Goddess Initiation Summer Fest

Hey Goddess,
Twenty years ago when I held goddess circles in my East Harlem living room, folks thought I was a weirdo. (Still do!) And no one knew what I was talking about. But here we are now. The feminine divine has been buried, hidden, and burned, but still we rise. And African spiritual philosophies have been demonized and belittled.
But again, here we are now.
This is what the African Goddess Initiation Summer Fest 2021 is all about! You are being called forth to reclaim who we really are – as women worldwide. You now must remember what we know in our bones and arteries. You are sacred.
Will you join us? You know this is for you if this message found you. The rebirth has already begun.
Sign up free at: AfricanGoddessClub.com
I invited about 20 power-filled goddess mystics, many of whom are featured in my new book, to share their knowledge with you.
Lady Shepsa is featured in the book, African Goddess Initiation.
---
Today's Goddess Guru is Goddess Lady Shepsa.
What does "goddess" mean to you, Lady Shepsa?
Goddess to me means the divine feminine energy that co-creates the Universe with the divine masculine. As women, we have a special relationship with this divine feminine and therefore can call ourselves "goddess".
How would you describe an empowered goddess?
An empowered goddess is a woman that is aware and awakened to her divine feminine nature and is actively living from this power. She understands the depth, wisdom, sensuality and creativity of the feminine and prioritizes experiencing it in her life.
Is there a goddess that you relate to?
Oshun ore ye ye o! It is because of Oshun that I discovered the path of sacred sexuality.
African Goddess Initiation Fest celebrates the divine feminine powers of the African Diaspora. How do you describe your heritage or home?
What magic are you most excited about sharing right now?
My new coaching program: Queen, A Sacred Sexual Initiation For Black Women
Queen is a 7 month initiation designed for Black women who desire to go on a journey to heal sexual trauma, awaken their orgasmic nature and transform their lives through learning Tantric and sacred sexual practices. We will walk through the 7 Gates Of Sexual Healing and Empowerment to birth our sacred sensual goddess selves!
What do you want people to know right now?
Queen Coaching Program – https://letgoletgoddess.com/queen
Queen: Sacred Sexual Healer Initiation For Black Women information and opportunity to apply.
About Lady Shepsa
Lady Shepsa is a sacred sexuality coach, author, and "juju woman"—one who taps into her magical powers for healing and manifestation. As a coach and healer, she helps women who feel non-orgasmic and shutdown, find bliss and fulfillment through connecting with their sacred sexual energy and divine feminine power. She has spent over ten years studying the spiritual sciences of the African Diaspora, China and India. Through the study of Tantra and sacred sexuality, Shepsa has reconnected to the goddess within her and assists other women to do the same in her coaching programs and retreats. She is a published author of three books, a poetry book called the Goddess Pages and two self-help book for women called, Happy and Healed, Five Steps to Getting Over ANY Man and Finding the Love You Deserve and Nice For What?! How To Go From Being A Good Girl To A Badass Goddess. Shepsa is a certified yoga teacher and certified Sacred Femininity Facilitator from Tao Tantra Arts. Shepsa is also licensed massage therapist. Through her company Let Go Let Goddess she guides women on a journey to their highest self, their inner goddess to discover a life of bliss.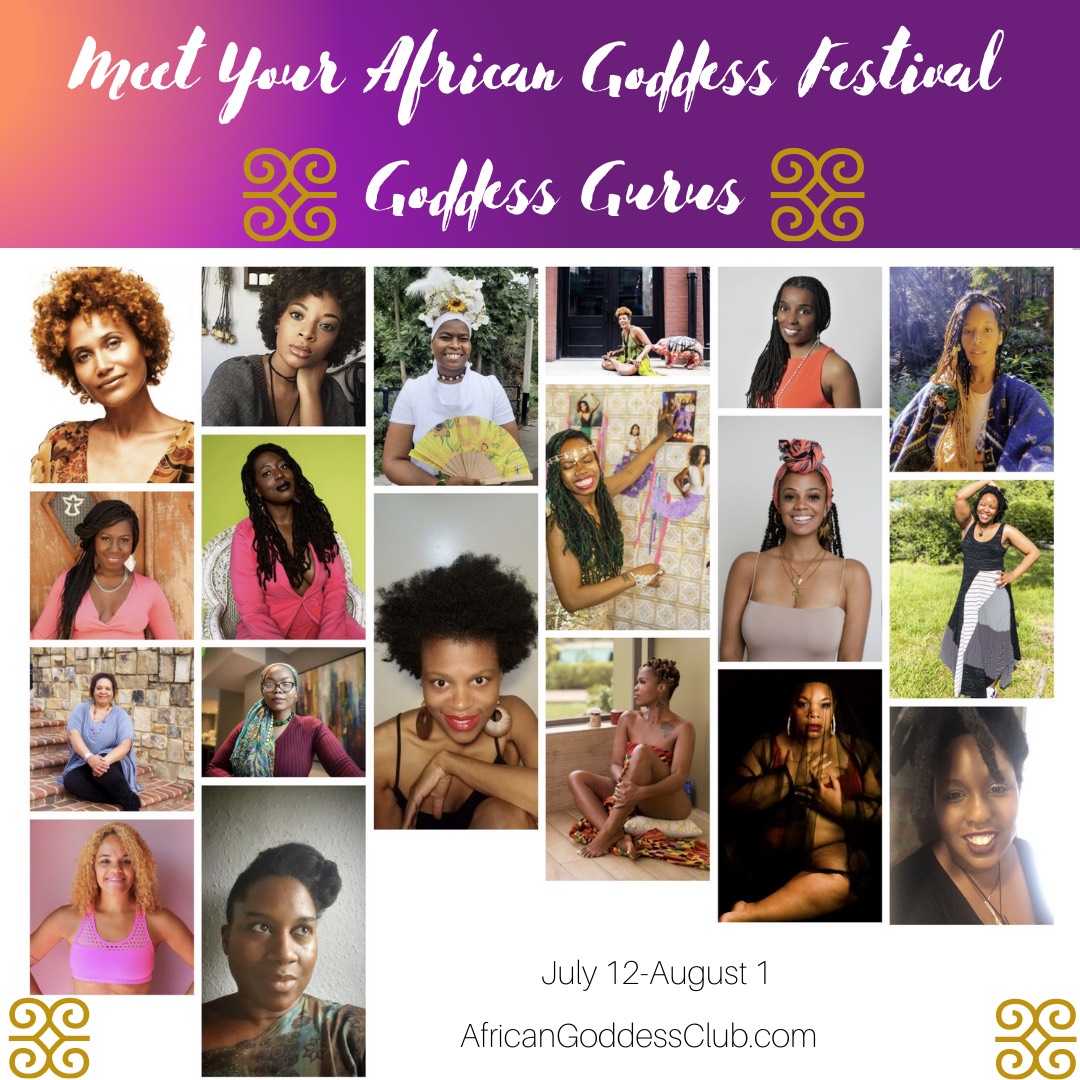 ---
About the African Goddess Initiation Summer Fest 2021
Here's how this free virtual event will unfold:   
From this Monday July 12th to August 1st, we will dance daily in the realism of the goddesses.
For the first 9 days, I will be going live on Facebook and Instagram — @HayHouse and @AbiolaTV.
PLUS every day you will be give another goddess lesson from the mystics I interviewed.
When you sign up at 
AfricanGoddessClub.com
, you will also receive a free 
Goddess Initiation Self-Love Starter Kit
.
---
Pin It