Our super blogger Coye LeRocke takes on Violet Sanctuary. Violet Sanctuary is a holistic oasis owned by Tia Johnson, who we're going to be hearing a lot from around here. Tia and I will be leading a series of healing and empowerment retreats together. The first will be a Sacred Business Empowerment Event for heart-centered entrepreneurs at the University of Pennsylvania in the fall. You can also join us for a book signing at Sisters Uptown Bookstore on September 21, 2014.
Spiritual entrepreneur and healer Tia Johnson is the author of "To Be Goddess: Every Woman is a Goddess – Discover Your Domain in Which You Reign Supreme." Tia focuses on coaching and promoting inner and outer spiritual growth. Having excelled in business administration at LaSalle University, Tia's mission is to help people live the live they're meant to live.
Meditation is going to make you happier and more connected to the world. That's what it's done for me and that makes it the most beautiful gift that I could share with any of you. – Russell Simmons, Entrepreneur.com
For those who are skilled mediation practitioners, I applaud you. It's no easy feat and is still on my to-do list above perfecting a smoky cat eye and attending a Broadway show. The hip hop mogul Russell Simmons credits meditation for his 30-year legacy. He says that with two daily 20-minute sessions for a six-week duration, one can conjure incredible results assuming in both their personal and professional lives.
Since my mid-twenties, I have attempted to master this seemingly mystical means to shut down, out, and off distracting internal conflicts, negative energies, and noisy neighbors. A way to clear my head, experience a glowing sense of euphoria, and to finally regain a greater sense of self without having to find inner peace and tranquility at the bottom of a martini glass.
So when the opportunity presented itself for me to come even just a step closer to tapping into my inner sacred bombshell through mediating, I was more than happy to oblige.
Enter the Violet Sanctuary Spa, an oasis for those seeking serenity and stillness amongst the world's chaos.
Founded and curated by intuitive healer and author, Tia Johnson, the VSS sets out "to coach and promote your inner and outer spiritual growth; allowing you to create the healthy, meaningful and peaceful life of your dreams."
After a quick exchange of info, a goody box was swiftly sent to my mailbox.
Here are the deets:
1) The Violet Sanctuary Spa Presents: "Sanctuary of the Spoken Vibe"
This is a meditation album by Tia Johnson. I was sent excerpts from the album. My favorite in particular was Atmospheric Impressions. It was like taking a cosmic voyage with no real destination. Just absolute freedom. In fact, it's on repeat now as I write this.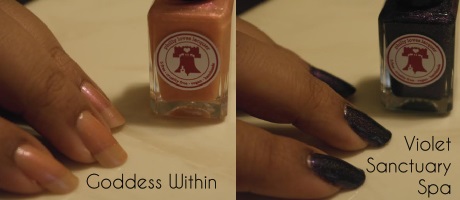 2) Spiritually Infused Vegan Nail Polish
The beauty offspring of the VSS brand is a vegan and animal-friendly nail polish. Goddess Within is a shimmery antique, soft pink and another lacquer sharing the company's name is a bold statement in the shade of a vibrant royal purple. (Cute!)
3) "To Be Goddess: Every Woman is a Goddess – Discover Your Domain in Which You Reign Supreme"
This book covers such topics as understanding what it means to be a Goddess, owning your power by claiming at what you are great, self transformation and gaining access to meditations, rituals, and blessings.
Slightly larger than your average self help book, "To Be Goddess" is reminiscent of those activity books you may have begged for as a child but then it is exactly as such. Although it's an easy read, it is packed with wonderful information and exercised that resonated with me long after consuming the material.
Whether you're looking for mediation music, a means to step up your polish game or a great guide to take you to another level, the Violet Sanctuary Spa has you covered.
"To Be Goddess" is available on Amazon and BarnesAndNoble.com. For more information, visit the official Violet Sanctuary Spa website and peep her video below:

---
To learn more about meditation and phenomenal feminine power, check out this video with 'Spirit Junkie' guru Gabrielle Bernstein and our very own Abiola Abrams below:
---