I love showcasing amazing Spiritpreneurs, and today's incredible business, BoxGoodness.com, is owned by Goddess Nadine. More about that in just a bit.
Why stress yourself running around from store to store or browsing online retailers offering mediocre merchandise trying to find unique items when your goal is to put together a memorable and special gift.
Looking for something not seen everywhere else?
BoxGoodness is a fun and witty one-stop–online-shop, featuring carefully curated themed gift boxes.
Each box is filled with hand-selected goodies to wow the recipient or to spoil oneself. It takes away the hassle of figuring out a gift theme, finding the perfect pieces, and packaging them beautifully. All are conveniently done for you to absolute perfection.
We LOVE that this website offers gifts for loving on yourself, Goddesses, Girls Nights, Besties, Holidays, and more.
The awesome BoxGoodness.com owner, Nadine, is passionate about creating magical moments, extraordinary events, and breathtaking gift giving, and it shows in every detail that is put into each box.
Why BoxGoodness Gift Boxes
Priding ourselves on giving meaningful gifts of quality, we love all the different options BoxGoodness has to offer.
Gifting isn't just about buying an expensive or flashy item. Thinking outside the box, yet getting everything you could have hoped for and more inside a box – that's the name of the game, and BoxGoodness knows how to play!
Depending on the theme, boxes include jewelry pieces, décor items, small purses, and more; some even come with a free surprise! While category collections such as Girls Night Out, Oh Beach Please!, Best Friends Forever, and Holidayze, have you covered for any gifting event; the Treat Yo' Self collection makes it a breeze to show yourself some major love too.
BoxGoodness Example Boxes
1. #Blessed Box – Treat Yo' Self Collection (Best Seller)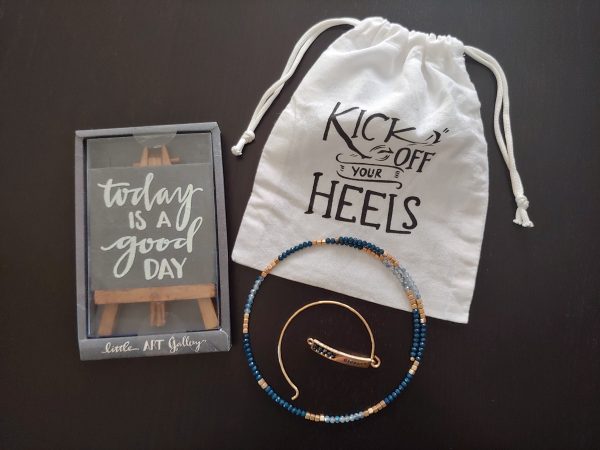 This one is our absolute FAVE over here!!
Ready – Set – Consider yourself #Blessed and Treat Yo' Self to a lil' sumthin' sumthin'!
With a small re-usable 'Kick Off Your Heels' gift bag filled with a multi-color beaded coil choker, goldtone hematite gemstone bead ' #Blessed' embossed bar bracelet, to a miniature 'Today Is A Good Day' art gallery easel. Everything you need to make you feel good all around! Go ahead, spoil yo' self or someone else!
2. Pucker Up Box – Girls Night Out Collection (Includes Free Surprise)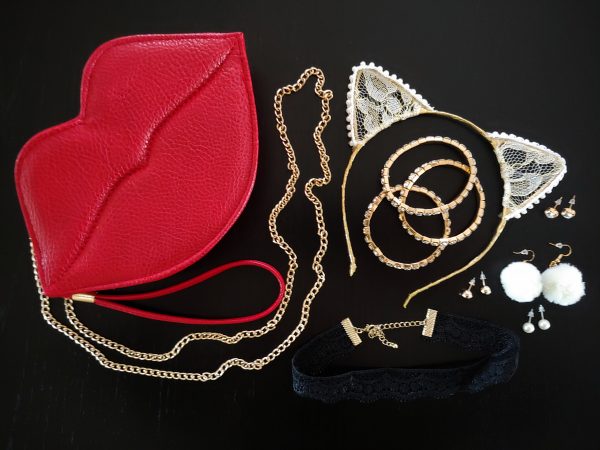 Treat yourself or your BFF to this Girls Night Out essentials accessory box.
From a cute pucker lips purse, seductive lace choker, playful kitty ear headband, and rhinestone bracelets – to multiple earring style choices. Throw on that little black dress of yours, get your nails done, your hair did, and put on that all-time-never-out-of-style classic red lip.
All you need for that hot night out on the town or that long-awaited Male Revue night you and your girls have planned.
Ready – Set- Get Naughty.
3. Ho! It Up! Box – Holidaze Collection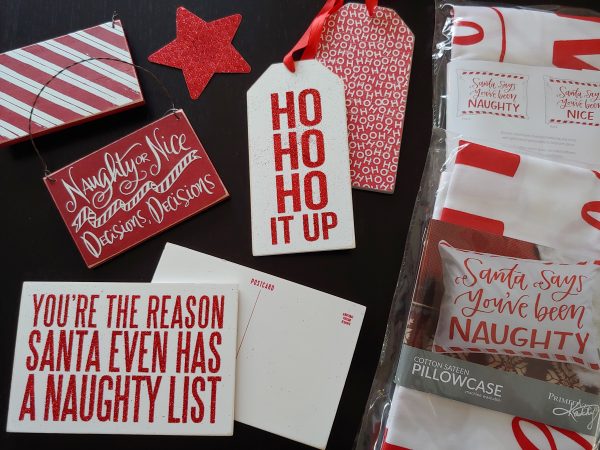 Say it loud, say it proud and most of all – Ho! It Up! This box is for all the Naughty-Listers out there.
Packed with naughty goodness for home and self, including one naughty surprise. From a wooden postcard to use as a gift box message and a decor piece in one to a double-sided pillowcase, a bottle tag to pimp a favorite bottle or use as an ornament, and one free surprise. Anything the naughty heart desires.
Gift on or snatch this box up for yourself… you know you want it 'cause naughty is just how you roll.
Pin Me!