Have you heard of Abiola's Goddess Retreats?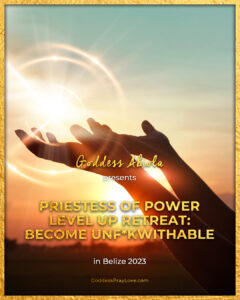 Hey Beautiful!
As this year winds down, the vortex opens for the next magical cycle of our lives —
So I am sharing with you, my community, a special opportunity to get in to alignment with my new sacred retreat offering for 2023 before it launches in January.
Introducing the Priestess of Power Retreat — my most magical offering ever.
This ALL VIP beachside retreat is truly a gift from the ancestors, including medicinal healing class with a Mayan priestess, Kundalini sensuality lessons, farm to table food, a Money goddess Mastermind, meditation at ancient ruins and so much more.

This transformational and life-changing journey EVEN includes your second flight to the resort, aerial yoga, 1-on-1 readings, oracle lessons and more, oh my!
The special rates and bonuses are a gift in direct response to what you told me you need from me.
Learn more here: https://womanifesting.com/divine-feminine-priestes…
One of the package bonuses is even the opportunity to have a 1-on-1 retreat VIP day with me in New York City.
I am challenging you to level up and your Spirit has commanded that I do the same.
Are you in for the PRIESTESS ERA?
Learn more about the early goddess pre-launch super sale packages here: https://womanifesting.com/divine-feminine-priestes…
And the first 10 people who sign up will also be gifted a free ticket to my NYC Fall 2023 weekend event.
I am SO ready — are you?
So much love — and so many blessings,
Abiola
P.S.
Here is the Priestess of Power link: https://womanifesting.com/divine-feminine-priestes…