ENDORSEMENTS FOR
AFRICAN GODDESS INITIATION:
SACRED RITUALS FOR SELF-LOVE, PROSPERITY & JOY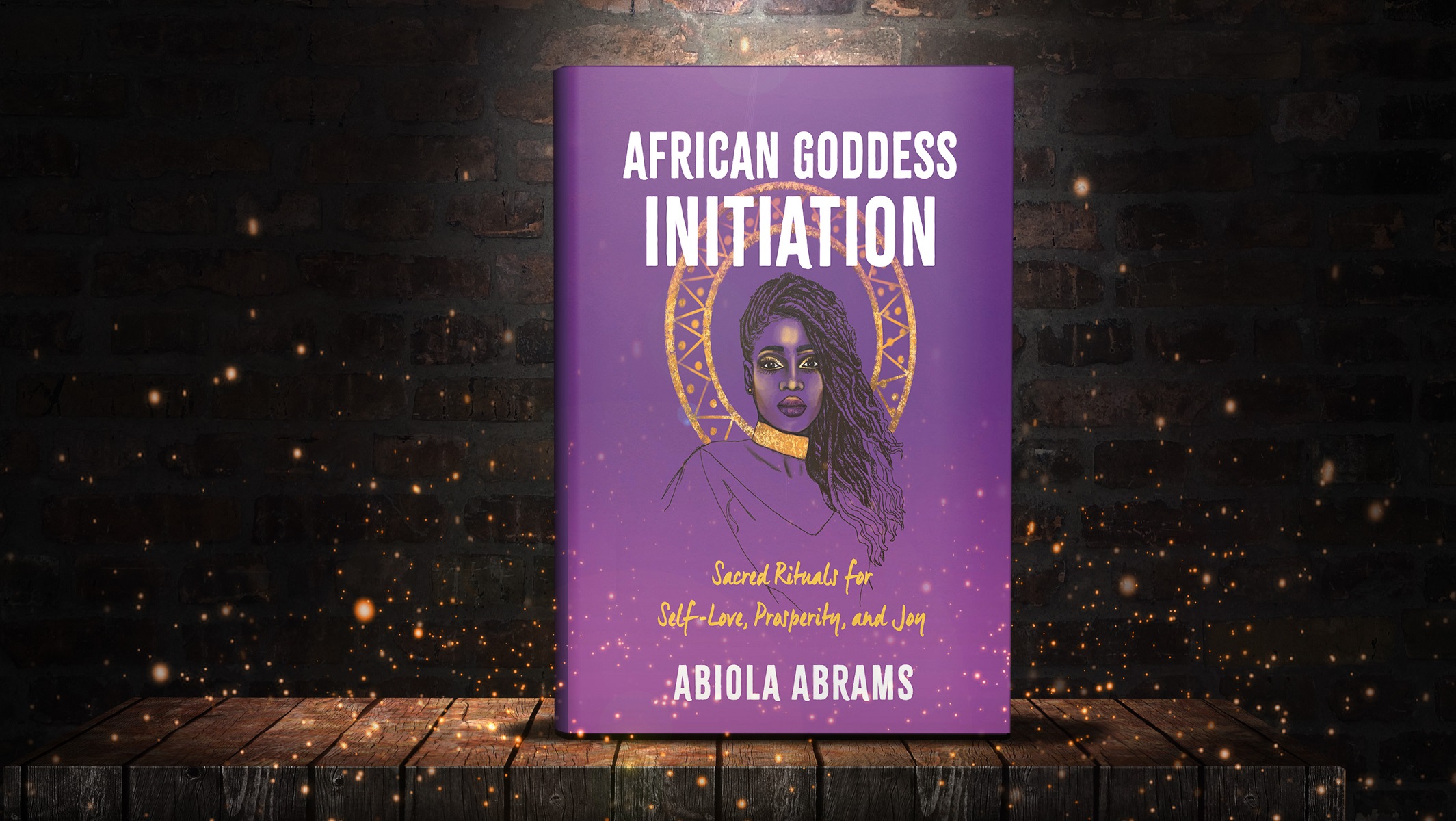 "There is no greater hand to hold through your guided journey into the land of self love and spiritual connection than Abiola's, who will no doubt handle it with care. She has consistently shown up for women for more than a decade and brought out their very best and this guided journey into our most sacred rituals is no exception." Charli Penn, ESSENCE Lifestyle Editor 
"Abiola Abrams, a true African Goddess, has put her heart and soul into this inspiring book that helps guide you to self awareness, self healing and self love. This book is a MUST for every woman's household." Yvette Hayward, Founder, African American Literary Awards 
"We are at a crossroads spiritually and in search of answers. In African Goddess Initiation, Abiola introduces our ancient mothers back to us. It is a welcome reunion for those of us seeking a deeper connection with African spirituality and the ancient wisdom of our ancestors." -Yolanda Sangweni, founder, African Women Create, senior director of programming NPR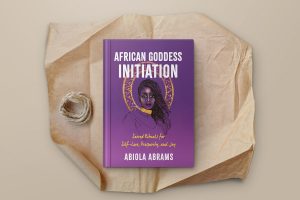 "Abiola Abrams is a powerful storyteller and historian. For anyone looking to explore Global African spiritual traditions laced with love, this is the text. Many of us have been forced to forget where we come from. This book isn't just history it contains rituals and ceremonies that tap into our collective DNA. Abiola's words are a soothing balm in turbulent times. This book is an offering, a gift from our ancestors and they are felt on every page. A deep bow for Abrams as a channel, guide and compassionate cheerleader. If this book is in your hands there is a reason. This book will permanently live on my nightstand when I need reminders, encouragement or guidance. She's invited us all on this journey, solo or as a group. I'm eternally grateful for this wisdom and the invitation to reconnect with 'global sisterhood'. – Oneika Mays, Healer and Star of TBS' "Lost Resort" 
"Abiola invites us all to embrace the divine feminine energy within needed to nurture the planet at this time and takes us on a healing journey passed down from our ancestors to go within and active our most authentic self while removing limiting beliefs that hold us back from expressing who we truly are" -Koya Webb, author of "Let Your Fears Make You Fierce" and and star of Z Living series "Yoga Girls"
"One of the most important contemporary books on the transformational power of ritual, and the journey to awakening the Divine Feminine in ourselves, Abiola Abrams has generously gifted us with a profound body of work inviting us into the sacred spaces and rituals of her spiritual ancestry – the extraordinary rich world of African goddess magic and mysticism. This book is pure alchemical magic. If you're called to open its pages it offers nothing less than a fierce, loving, and timely initiation to awaken the Goddess within. More importantly it fills a great gap in our collective soul as the author reclaims the mystical power of her ancestors and firmly restores it to its rightful place. African Goddess Initiation is a living map to an inclusive unified world where we all are valued." – Colette Baron-Reid oracle expert and best- selling author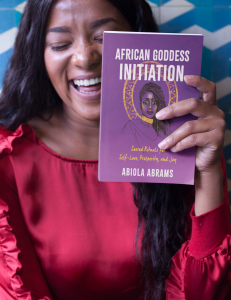 "Can you hear that? It's the sound of the Goddess rising, calling you into Her circle. Abiola Abrams and her beautiful book African Goddesses Initiation are a part of this rising. This book is magical and grounded as well as encouraging and affirming." – Yasmin Boland, best-selling author of Moonology
"Abiola blesses the world with the knowledge of her spiritual ancestry, inviting all women to wake up to their divine power. Read this book from cover to cover or close your eyes and trust as you open a page. You'll find wisdom and rituals to nurture your spirit on every page." Jessica Ortner, New York Times Best Selling Author and co-creator of the Tapping Solution app
"Women are awakening to our sacred feminine power, and it has been a long time coming. At the forefront, beating the drum and clearing our path is Abiola Abrams. Abiola has held sacred space and hosted goddess circles for just over 20 years now and it has culminated in her latest offering African Goddess Initiation. In this book, Abiola joins forces with our powerful goddesses, ancestors, and spirits to guide us through a divine feminine initiation and rebirth into our capital "S" Self. With the warmth of your best girlfriend and the wisdom of the ages, Abiola walks us through nine key inner temples we must face to awaken the goddess, the divine feminine, within. Goddess rising is an energy that can no longer be contained. Abrams invites us to answer the whisper of the goddess rising. Will you say, yes?" – Nikki Woods, Best-Selling Author, leading media strategist and former Executive Producer of the Tom Joyner Morning Show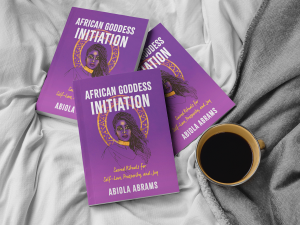 "When it comes to self-love and self-care, sacred rituals have the power to transform the relationship you have with yourself and deepen your understanding of what love can be.  The way Abiola shares African rituals is powerful, sensuous, and connected. African-based spiritual tools through a womanist (or feminist) lens are necessary, now, more than ever. My hope for this book is that it is in the home of every woman of color in the world." – Dr. Jeanine Staples, anthropologist, sociocultural literacist and author of The Revelations of Asher: Toward Supreme Love in Self
"Abiola Abrams is gifted and skilled at sharing insight on how we can emerge our inner power, radiate our energy, and recognize  our personal sacred places. As a woman of color, I appreciate the fact that we have these opportunities to reaffirm the "know" that we do to nourish our minds, body and soul.  I am sure readers will walk away feeling empowered, educated and energized. This book will help emphasize the approval of owning and celebrating our contributions in the spaces we occupy.  We are fortunate to have coaches who are intrinsically motivated to  share this education. I am excited to see the many ways in which this book will impact in positive ways!" -Patricia Robinson, Educator & Community Advocate at mspatrobinson.com, VP of Community Engagement for HOT 97, WBLS , WLIB
"In this book, you will find some genuine Black goddess magic! In a time where we all long for ritual and the goddess, Abiola Abrams provides us with both. It's a journey of discovery as we learn to traverse the path of the ancient ones. We have so much to learn, and this book provides a powerful roadmap to help us unlock our power and connect to the ancestor world." -Spring Washam, Author of A Fierce Heart: Finding Strength, Courage, and Wisdom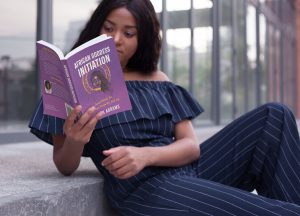 "Awakening to the divine feminine inspired by African Goddess Initiation is an enchanting gift of self-discovery. For African women on the continent and in the diaspora, feeling wounded by cultural aesthetics that do not reflect who we are, this could not come at a better time. We are ready to welcome this beautifully rendered gift that realigns us with the way of our ancestors and allows us to channel their wisdom for our individual and collective healing." -Dr. Michelle Yaa Asantewa, editor of In Search of Mami Wata: Narratives and Images of African Water Spirits and author of Guyanese Komfa: The Ritual Art of Trance 
"African Goddess Initiation is the best book I've ever read on the divine goddesses and feminine wisdom from Africa. It's richly and beautifully written and Abiola brings her special ancestral medicine to every word she shares. This is a divine book that every priestess, sacred leader and spiritual maven needs to have as a part of her collection." Julie Parker, Host of Priestess Podcast and Co-Founder Priestess Temple School 
"Abiola's book is such a breath of fresh air. There are many soul tribes awakening at this time. For Those that are called to the path of the African Goddess, and are just drawn to work with Goddesses, this is a must have book to Lay a solid foundation for your spiritual path. In the age of information and misinformation, it's such a blessing to read from authors who overflow with integrity and share their works with others. Thank you for this gift Abiola." – Chef Ameera, Food Alchemist, Food Network star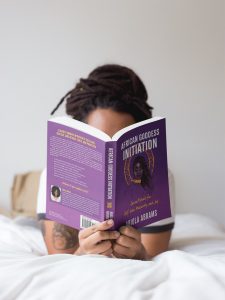 "This is an inner (in-her) soul whisperer to the inner woman and a calling for feminine energy. This masterpiece that Abiola has written in connection with the work she has done for women teaching them how to speak their truth and stand in their power serves as a compass to support women pick up their crowns and regain their rightful place in the Queendom. This is a clarion call for all goddesses who are no longer afraid of the oppressor. Thank you, Abiola for being a point of light that we all need and showing us how to use our lights." -Lucinda Cross, Author of Activate Your Vision Board, Media Personality and owner of Activate Worldwide
"Abiola is the embodiment of the nurturing and guiding energy of the feminine—warm, welcoming and free of judgement. This is the self-love guide we need in the generation. Her kindness, brilliance, and compassion come through every page. Essential reading for us all." —Christelyn Karazin, creator of The Pink Pill, author of Swirling: How to Date, Mate & Relate, Mixing Race, Culture & Creed
"Abiola's gift is spreading inspiration. Reading just the first few pages of African Goddess Initiation will begin to awaken any sleeping queen unaware of her power. Women should run to this book and use it as a roadmap to empower and remind ourselves who we are." – Raqiyah Mays, Author of The Man Curse, Host of Real Black News Podcast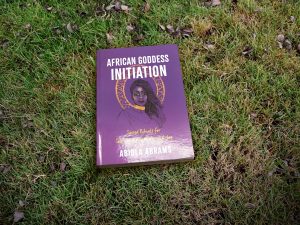 "Goddess Abiola IS Magic! Abiola masterfully and lovingly teleports you to the Divine continent of Mother Africa to lead you through the treasured and sacred rituals of the Goddesses. Prepare to learn how to release, heal, manifest and love on yourself with the Ancient power filled rituals of the birthplace of civilization. With Abiola's limitless love and compassion for you to be your best self always in all ways makes this book an invaluable guiding light with directions!" – Kathleen Booker, The Queen of Serene, Inspirational Breathwork Coach and host of The Shift Network's Breathwork Summit
"Be deeply transported into the emergence of your bigger story. Abiola helps us sense the self who is patiently waiting to be inhabited through rituals, sacred practices, and magic from the African Diaspora. A life-transforming read! Expose yourself to the alchemy of African goddesses and traditions — a lost language. Abiola transports you into an initiation of feeling, beauty tradition, ritual, and experience that extracts the gold from your life. Trace your roots all the way back to the MOTHER of origin. This book is a rite of passage for anyone who hungers for more of their truth and connection to a lineage of power with riches untold." Ayesha Ophelia, Writer, Coach and creator of The Girlfriend Manifesto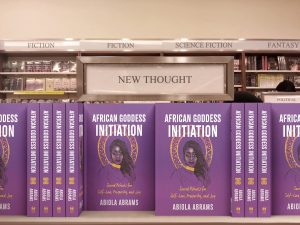 "I have been dreaming of a book like this for years. With stirring language and bountiful knowledge, Abiola Abrams transmutes ancient African goddess power into a decidedly modern context. From start to finish, African Goddess Initiation: Sacred Rituals for Self-Love superbly demonstrates Abram's transformative magic and her compassionate wisdom. If you desire reconnection to the OG of the Divine Feminine—the African Goddess Herself, this is the book (or should I say journey?) for you.  It may have been "…a long time coming and a long time coming back…" to the power of the African goddess, but this book skillfully proves that the wait is officially over." – Hannah Eko, author of Honey is the Knife
"Abiola's words are like a circuit of bright, healing energy that coursed through my body, mind, and soul. Her words will activate a deep longing and remembering of the Goddess Self in every woman that picks up African Goddess Initiation: Sacred Rituals for Self-Love,Prosperity and Joy." -Kara Stevens, founder of The Frugal Feminista, author of Unmasking The Strong Black Woman
"African Goddess Initiation is a beautiful invitation to cultivating more self-love in your life. Wherever you are on your journey, Abiola's powerful words will guide you courageously to experience powerful African rituals to go inwards and expand your heart towards a life that aligns with your highest self. Additionally, she offers powerful practices that are easy to incorporate into your daily life to help you move through limiting beliefs, shadow blocks, and inner fears, empowering you to fully step into your power. Abiola has been such a blessing and light in my life, and I cannot wait to share this book with my clients and will continue to recommend it long into the future." -Sarah Anne Stewart, Holistic Health Practitioner (AADP)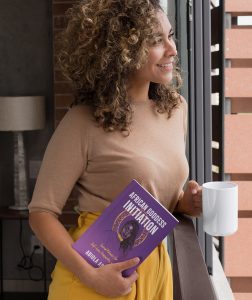 "I promised myself that I would vibrate on a higher level in every area of my post pandemic life. "This book" or "Book Title by"  is a sacred, culturally relevant and much needed invitation to my whole soul to begin my self love journey to do so. (Xanax) What a divine roadmap of lessons sanctioned by our mighty ancestors leading me on a path of knowledge, introspection, awakening, self reflection, and sisterhood allowing me to tap into, invigorate and bring forth the transformative and life sustaining power of my sacred feminine goddess already within." -Sharene "Shay S." Wood, Lifestyle Entrepreneur
"African Goddess Initiation is the right book at the right time. Abiola, with her many years of goddess wisdom and empowerment, sets the stage and takes you on a magical, spiritual journey. Commit to the rituals in this very detailed and loving guide to the divine feminine, and a whole world of possibility awaits!" -Erickka Sy Savané, Writer, Editor, Communications Consultant
"It's hard to believe that Abiola's vibrant, energizing presence could translate so well onto the page, but here you have it. This book is an invitation to step into your own timeless power, transmuting the pain of the past into real wisdom and grace today. It's also an education, blending relatable, personal stories with an introduction to some of her-story's most inspiring goddesses from a variety of cultures, especially those which have been misrepresented in the West and are long overdue for a sacred reclamation." -Joanna DeVoe, creator and host of Hippie Witch Magick For A New Age podcast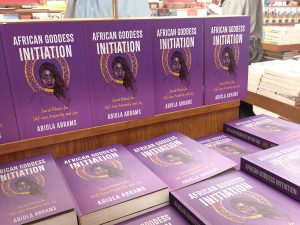 "I'm never surprised at the magical inspiration of Abiola. Her book  "African Goddess Initiation Sacred Rituals for Self-Love, Prosperity, and Joy" just seals the deal on just how magical this amazing Goddess of self-love is! In a world where self-love is mandatory for survival, Abiola takes her readers to a place of deliverance within the "goddess circle" we feel included, seen, heard, supported, awakened and understood! Thank you Abiola, This book is more than just a voice of reason, it's the manifestation of purpose, how to truly reach it and a read for me that's been long overdue." -Tinzley Bradford, Speaker, Coach, Author of "The Settle-Free Dating Method for Women"
"When I read the first few sentences of this book, I immediately felt my vibrations raise, and my Spirit connected to the words. As someone who is interested in implementing African spirituality into my practices, Abiola does an excellent job of breaking down who each Goddess is and provides practical and simple exercises to call in the energy of each One. This book feels like I'm coming home to my truest, deepest self." -Jamie Nicole, Founder of Black Mom's Guide to Calm.
"For such a time as this, In "African Goddess Initiation: Sacred Rituals for Self-Love, Prosperity and Joy"  Abiola Abrams is giving the most timely message.  She reminds us in a time when people don't know where to turn that turning inward is the key. What hit me the most while reading is everything we've been looking for we already have; we just have to utilize spiritual guidance to unlock it.  What I know for sure is that this book is life altering and the wisdom imparted will last this lifetime and beyond." Joy Cook, CEO Joy Cook Public Relations Group