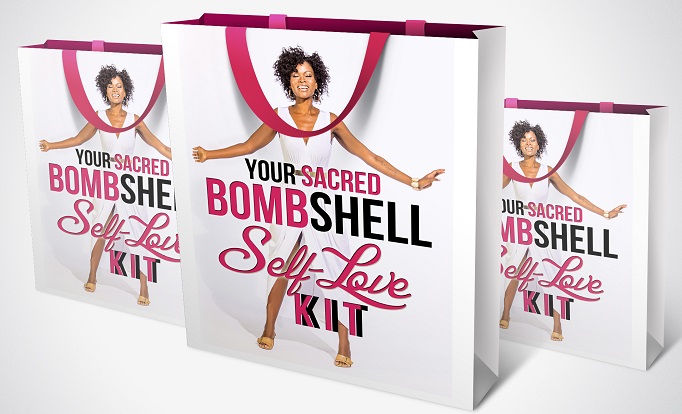 Own Your Greatness Self-Worth Kit
For Your Professional and Personal Empowerment
Get this powerful set of tools, a $497 value, to help you step into your greatness.



The Spiritpreneur Success Blueprint & Guide
The Spiritpreneur Success Blueprint outlines 108 things every Business Bombshell needs to do in order to succeed online.
This 26-page book and checklist can help you to answer your calling and step into your purpose by making your business a contender.
The Spiritpreneur Success Blueprint has a $49 value with key pointers on topics from your opt-in to settling up your funnel.
This step into your greatness tool will help you to get your mission, message, and movement into the world so that you can make an impact.

P L U S    P O W E R F U L   B O N U S E S… 
Hear Me Roar Greatness Guide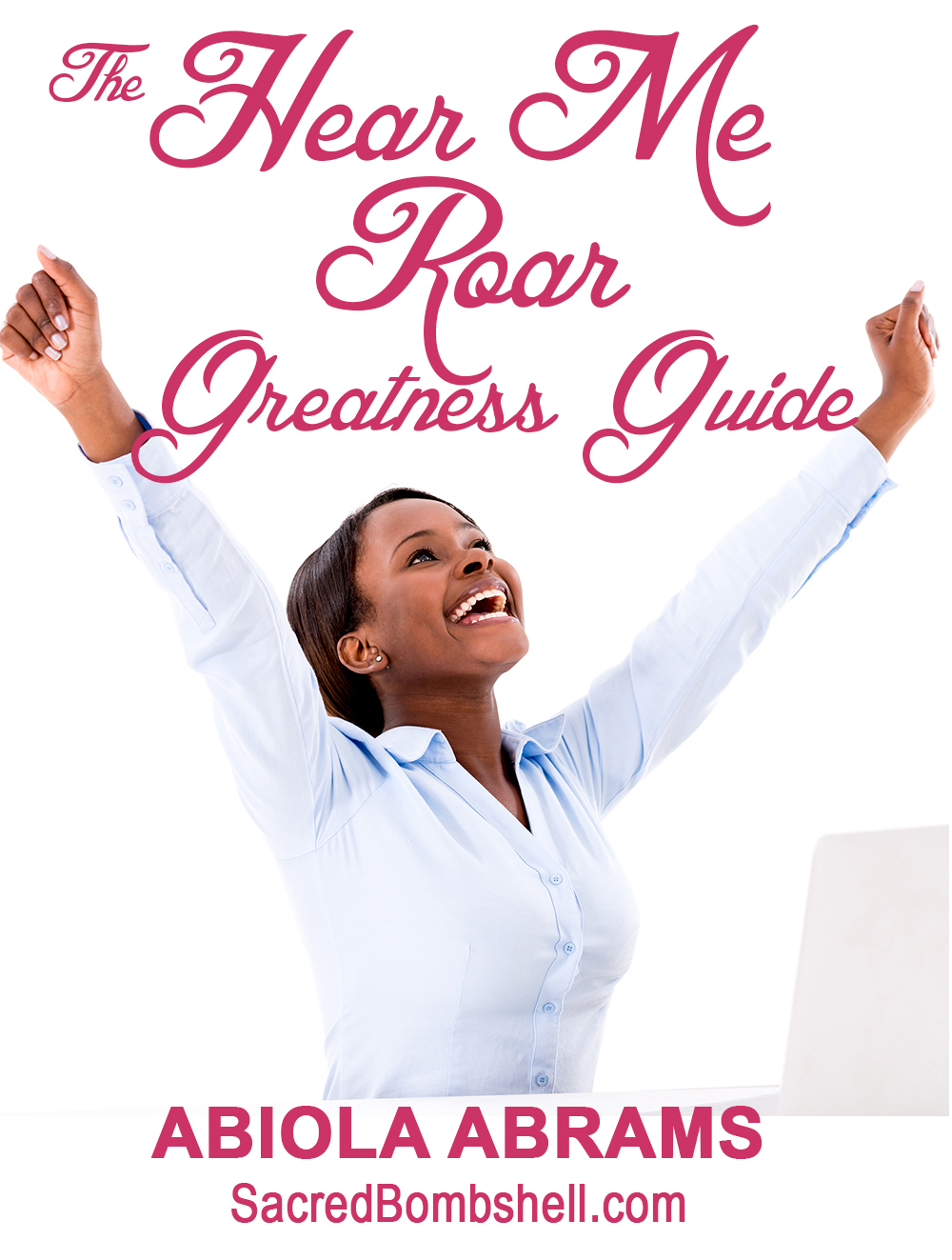 The Hear Me Roar Greatness Guide is a 33-page report on how to stop playing small and step into your greatness.
This powerful self-worth guide includes:
19 ways to answer your calling, 16 keys to tune up your self-esteem, 27 ways to positively challenge your righteous rage, 12 ways to be a leader, how to overcome feeling blue, and the reasons why you were playing small in the first place.

Sacred Bombshell Guided Meditation Track and Guide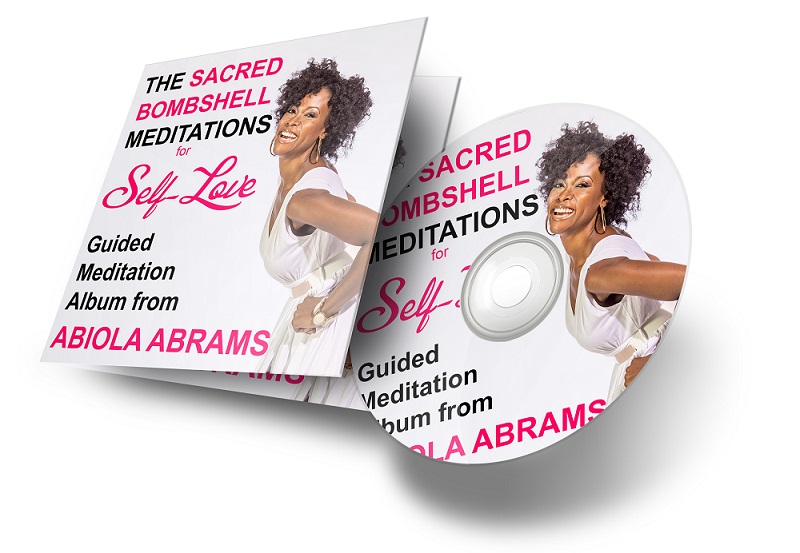 Loving yourself is the key to feeling joy, conquering your fears and stepping up to be the person you were born to be? We all know that we should love ourselves more, but how? These guided meditations and visualizations focus on dissolving negative self-talk, mind memes, and life patterns.
"The Sacred Bombshell Self-Love Meditations" help dissolve the fear-based beliefs that keep you playing small and lay the foundation for you to step into your majestic greatness.
You will get a sample track from the sacred self-love meditation album and a free meditation guide for your empowerment journey.
Sacred Business Success Planner
"Think like a queen. A queen is not afraid to fail." ~Oprah Winfrey
Here's your Sacred Bombshell Breakthrough Success Map and Planning Journal. Use this journal as a guide to write your mission statement. Clarify your purpose. Zoom in on your passion and your vision for your bombshell breakthrough life.
This tool will help you to understand why are you are tolerating things that you don't want in your life. Use is to set objectives and step into your greatness. Examine the true meaning behind your decisions and actions. This success journal will help you stay committed as you see the purpose behind your actions.


Self-Reinvention Guide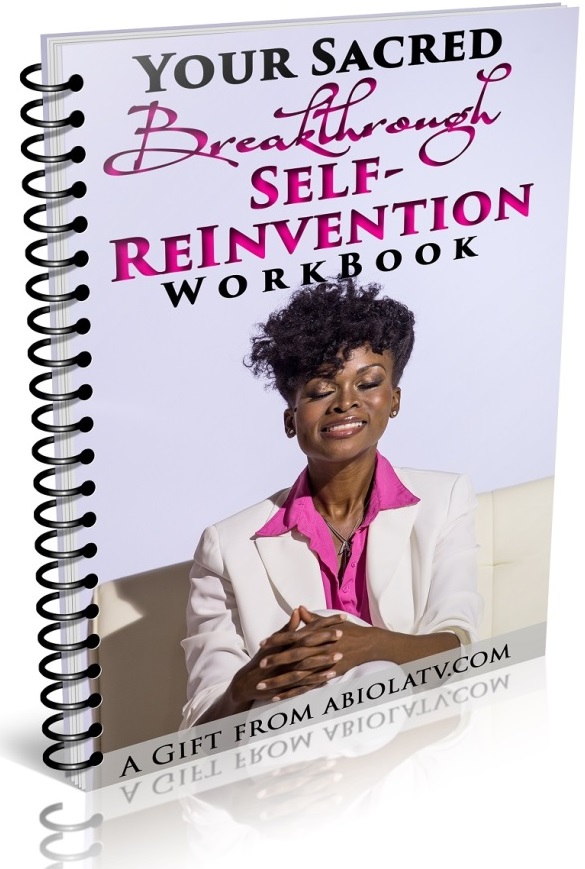 Life is evolution, and self-reinvention is a part of personal evolution. With a few "poor" decisions, your life may feel like it's off-track. One thing leads to another, and, uh-oh. Suddenly you realize that you're not living the life you wanted. That's okay. While you have breath you can always make a new choice.
This is a moment for self-reinvention. We have no choice but to evolve but the important thing is for you to keep up with you. Yes, of course self-reinvention seems daunting — and it is.
Here's the deal: a few positive, self-loving decisions, a revised plan of action, alignment with who you were born to be, clear objectives, and time are all it takes to dramatically change your life for the better.

Self-Sabotage Checklist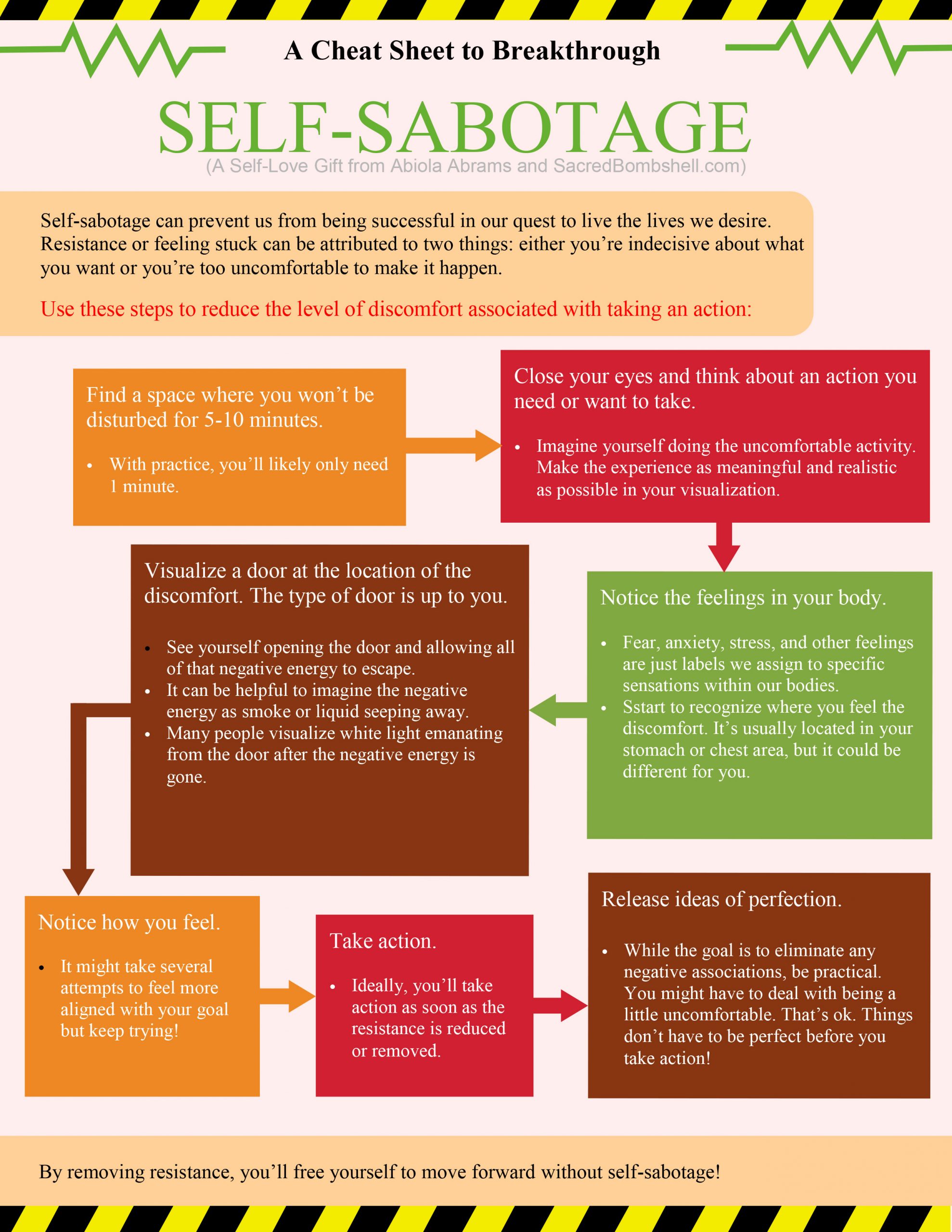 Rejection is largely a self-fulfilling prophecy.
When we fear rejection, we often reject ourselves before life does. For example, when you're constantly worried about rejection, it changes the way you act. You become nervous, anxious and defensive. You may even appear to be kind of shifty or unsteady. Those actions may cause you to be rejected by others. After all, who wants to hire, book, or spend time with someone who has bad energy?
Consider how this fear is affecting your behavior. Are you acting in a way that's causing others to reject you? Are you rejecting yourself?


Printable Self-Care Diary Page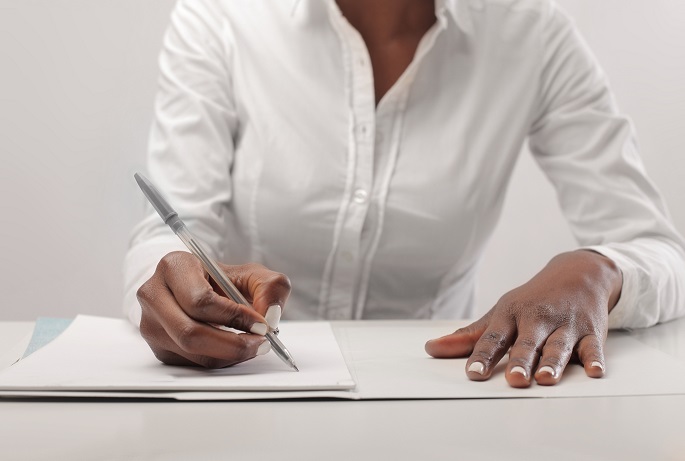 This printable daily healthy journal page is your Love-Body-Spirit log for food, fitness, emotions and gratitude. This journal page also includes room for the day's intentions, best moments, and areas for improvement. This self-care diary page is also a great tool for both intuitive eating and mindful eating.

Power Audio- You are the One You've Been Waiting For
Let us decree that a Sacred Bombshell is a woman who unconditionally loves, honors, and accepts herself – a woman in full ownership of herself and her divinely ordained feminine power. She is flesh and blood and sacred all at the same time. A bombshell adores her womanly self. Yes, a bombshell is force to be reckoned with. We're talking about women like Dr. Maya Angelou, Eve Ensler, Oprah Winfrey, and Gloria Steinem. We also include traditional bombshells like Dorothy Dandridge, Marilyn Monroe, Halle Berry, Sofia Vergara, Beyoncé Knowles, and Sophia Loren. First ladies like Eleanor Roosevelt and Michelle Obama are also Sacred Bombshells. The beautiful Venus and Serena Williams are bombshells, as is Jennifer Lopez.
Our objective is to bomb the shell of who you have been in favor of who you are becoming. It's a journey for a bombed-out shell to remember that she's a Sacred Bombshell. (Excerpt audio lesson from the Whole Life Detox Program.)

Self-Inquiry Questions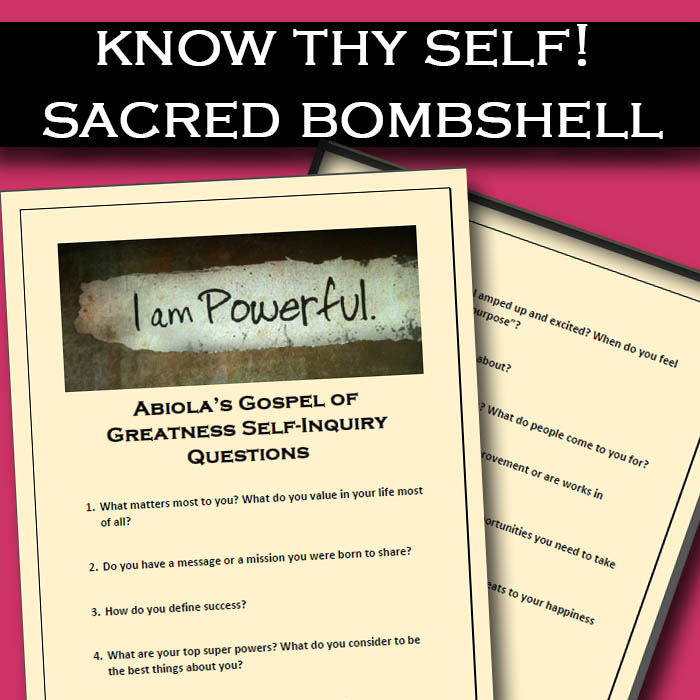 There are some of us who live too much in our heads. However, most people are not introspective enough. If more people took the time to examine themselves and chart a course for their lives, the world would be a juicier place.
There is no knowledge like self-knowledge. First, know thyself. After all, how can you love someone you don't know? How can you know anyone else if you don't first know and love yourself?


Your Self-Love Manifesta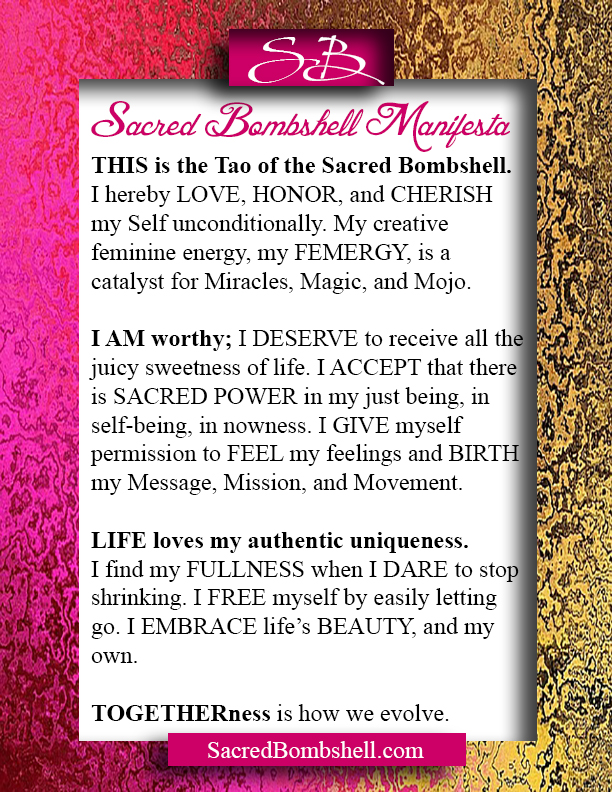 Here is your Bombshell Manifesta, the sacred contract with yourself that I mention in "The Sacred Bombshell Handbook of Self-Love." This year is all about manifesting, magnetizing, and monetizing our miracles, magic, and mojo to birth and rock your mission, message, and movement.
How do you get started? Easy. Print this, recite this, repeat this, breathe this, chant this, dance this, live this, love this, share this… Step into your greatness.

 Bonus: The Sacred Bombshell Handbook, 3 Chapters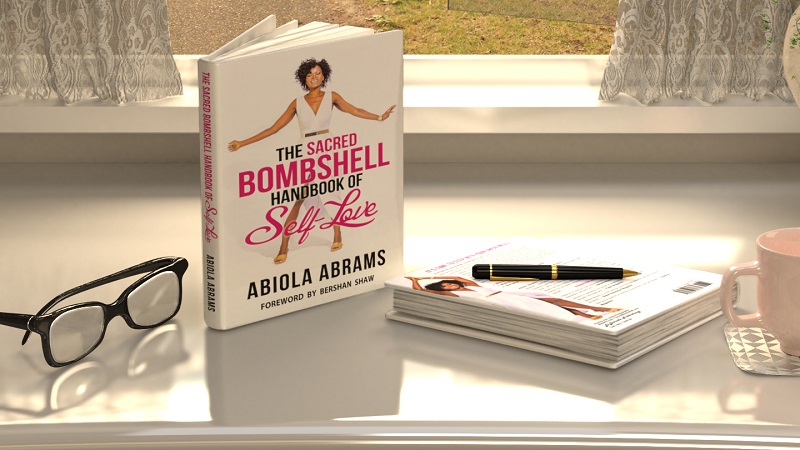 If you're looking for a sign, this is it.
"The Sacred Bombshell Handbook of Self-Love" is your invitation and initiation to become the woman you were born to be and to finally live the life you were born to live. Consider this a vision quest to the center of yourself. Your bombshell self is that most empowered part of you, the part of you that knows your true worth. When we say "own your bombshell," we mean own what you believe about yourself, own your story, own loving yourself without apology, and own how you move in the world.