Recently, I interviewed several couplepreneurs for Essence Magazine. As the founder of the Spiritpreneur Guru Academy, I absolutely loved these conversations with the couples who are in business with each other. Did you catch my conversation with Leticia and Raymond, husband and wife owners of Lolo's Restaurant in Harlem [link]? Here is the next one in the series, meet Keziah and Mark, natural hair care couplepreneurs… 
:::Want to bring your sparkle to a manifesting retreat with me? How about in a castle in Paris, France? Learn more at GoddessOfParis.com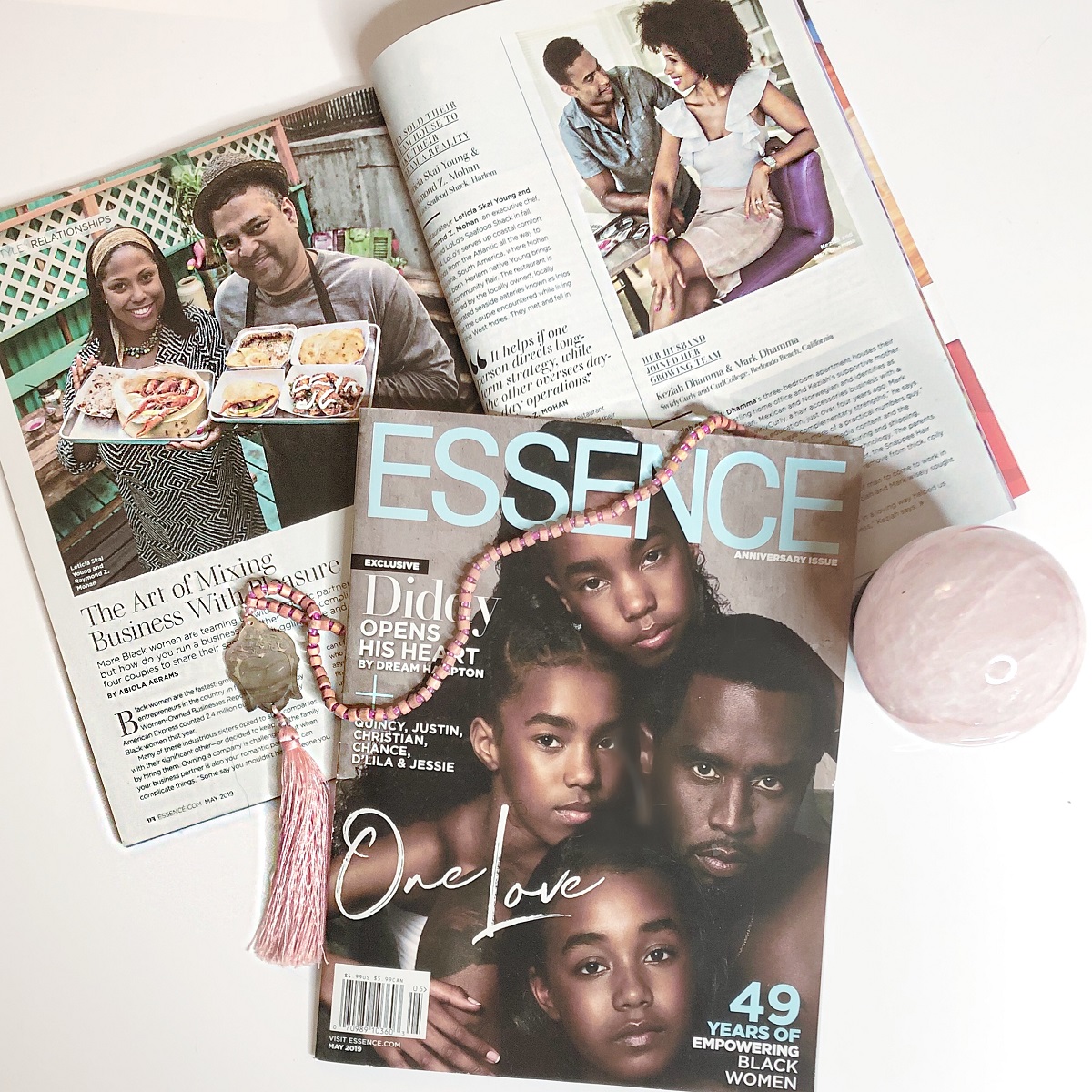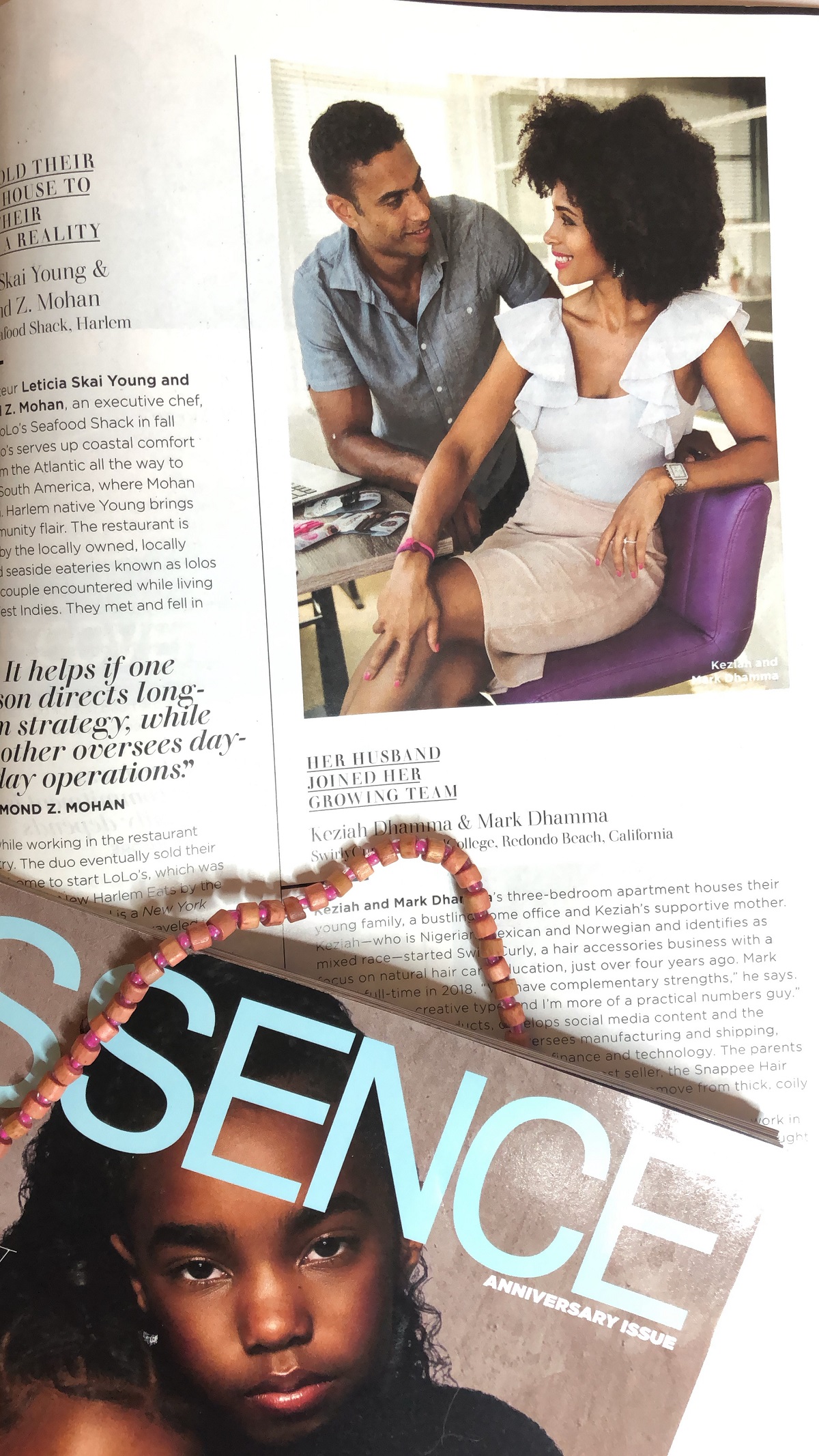 Meet Couplepreneurs Keziah Dhamma, Founder & CEO, Mark Dhamma
SwirlyCurly and CurlCollege, Redondo Beach, California
@snappeeinc
Cali-based natural hair entrepreneurs Keziah and Mark Dhamma have been married for 3 years and have a 16-month old daughter named Satori. Their 3-bedroom apartment houses their young family, a bustling home office and Keziah's supportive mother. Both Keziah and Mark identify as Mixed Race. Keziah is Nigerian, Mexican and Norwegian. Mark's heritage is from St. Kitts and England.
Keziah started SwirlyCurly just over four years ago. Mark joined the business full time in 2018. At SwirlyCurly they create hair accessories and share hair care education for the natural hair community.
Keziah invents all products, develops social media content and their CurlCollege curriculum. She also oversees manufacturing and shipping. Mark runs sales, marketing, finance and technology. Their best selling product is the Snappee Hair Tie, the only hair tie made for thick, coily, curly hair. The Snappee has a unique snap feature which makes it easy to remove with no hair damage.
Relationship Philosophy
The couple shares that, "the best part of being in business together is that we get to grow together in our careers and spend lots of time together, working on a shared mission." They go on to explain, "We have complementary strengths. Keziah is more of the creative type and Mark is more of a practical numbers guy."
Business Philosophy
Keziah says, "I created the Snappee Hair Tie out of personal frustration; I was sick of regular hair ties that pulled out chunks of my hair! My natural hair journey started 9 years ago when I finally decided to do the 'big chop'. After thousands of hours of research and experiments I finally got the bomb fro I was working so hard to get. However, between the standard bun for the gym, afros, puffs & up-dos, I wished that I had a hair accessory I could use to transform my hair throughout the day. So I created the Snappee Hair Tie. The Snappee allows you to style your hair without snagging."
Their Couplepreneur Advice:
Keziah offers, "Our advice is be committed. Marriage counseling and leadership training helped us immensely. Learning how to communicate with each other in a loving way has helped us improve our relationship and business.

Another thing that really helped us keep things in perspective is saying our wedding vows together each night and sharing five things that we're grateful for about each other. This means that we never go to sleep without feeling good about each other or putting our disagreements aside."
Biggest Challenge
"The business put us in marriage counseling because we couldn't communicate about decisions or accountability without it ending up in a shouting match," Mark confides. "I wouldn't put up with shouting from anyone else in business. It seriously affected our relationship because I started avoiding her and she was mad at me for checking up on her when it was 'her business.' That's when we turned to marriage counseling and leadership training for help."
@SmallBizLady says:
"There's a big difference whether a couple started the business together or if one of them joined later.  It takes a special kind of man who can come to work in his wife's business. Find another seasoned couple in business to mentor you."  
Watch!
Why did Keziah Dhamma create SwirlyCurly Hair Biz?
Pin It!