"The real act of marriage takes place in the heart, not in the ballroom or church or synagogue. It's a choice you make – not just on your wedding day, but over and over again – and that choice is reflected in the way you treat your husband or wife." ~Barbara de Angelis. 

Hey Love,
This week at Abiola's Love Class at Madame Noire, we're talking about how to determine whether a man is husband material or not. Everyone is always talking about whether women are "wife material," and we will definitely get to that, but is the guy you're considering marrying "husband material?" As a love and self worth coach, I spend a great deal of time talking with my clients about values, what their personal values are and the values they seek in a life partner. As someone who is not currently married, these themes intersect with my own life as well.
When we think of Hollywood and pop culture, only a few names come to mind as being "good husbands." Of course, we NEVER know what's going on in anyone's life behind closed doors, but it seems like President Barack Obama, Sidney Poitier, Nick Cannon, Will Smith, Samuel L. Jackson and a couple of others may have the husband gene. However, their wives might say something different in confidence. Who knows?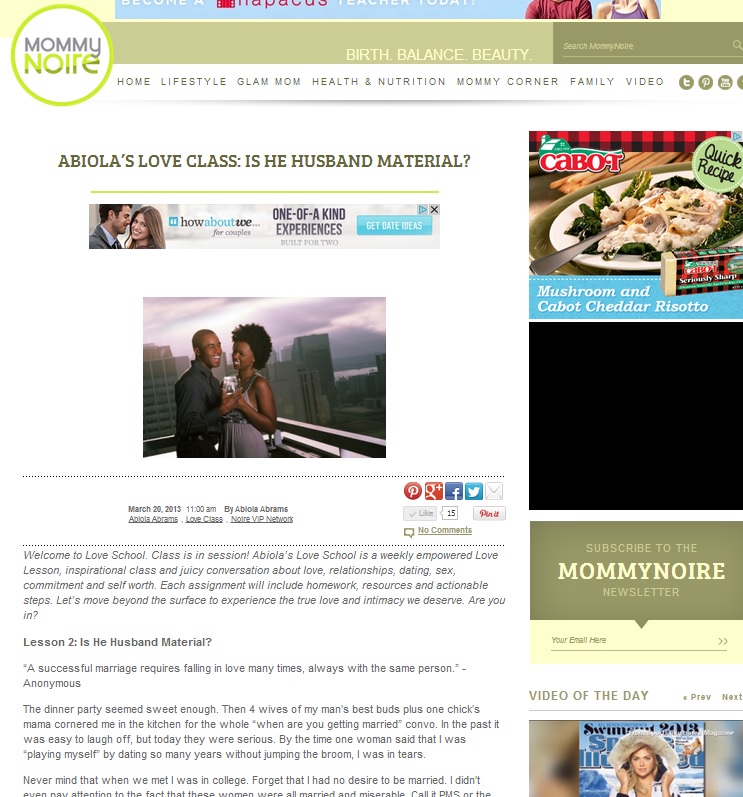 We're trying to create positive, healthy relationships when many of us have never seen them up close!
Instead of looking toward Hollywood, find positive marriage role models in your own family or community and invest in premarital counseling before thinking of jumping the broom. Also, be clear about your expectations of each other… After all, the road to many divorces is paved with expectations. Consider making a love contract — not as unromantic as it may first seem. For example, the woman I recently advised in my Essence column had a different picture of what their intimate life would be than her husband.
Last week in #LoveClass we discussed have post traumatic relationship issues, so you definitely want to check that out if you missed it. A great deal is made of physical attributes, perfect height  weight, and so on, but I challenge you to go deeper. The most important thing to remember is that you must first have all of the qualities that you're seeking.

—
More Passionate Living!