Holding space and witnessing your own greatness is the greatest gift that you can give back to the great ones like Dr. Martin Luther King, Jr. and Oprah Winfrey.
Holding space means creating a safe container for personal growth, evolution or just to be.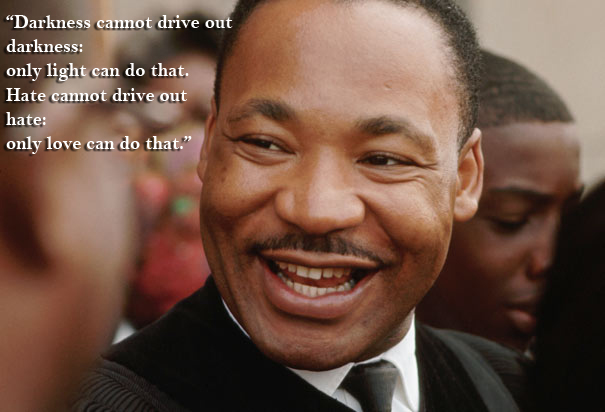 Dear Goddess,
Happy Dr. Martin Luther King, Jr. Day!
"If you can't fly then run, if you can't run then walk, if you can't walk then crawl, but whatever you do you have to keep moving forward." – Dr. King

My mom reminded me this weekend that this time of year when I was a kid, she would always play for us records and tapes — yes records and tapes! — of Dr. King's speeches.
Thank you, Dr. King, not only for all of the sacrifices you made so that I could mouth off on the internet, but also so that I could have agency in my life and well-being.
Thank you also for giving me a love of oration and nation building.
The power is in the community.

The power is always in the tribe.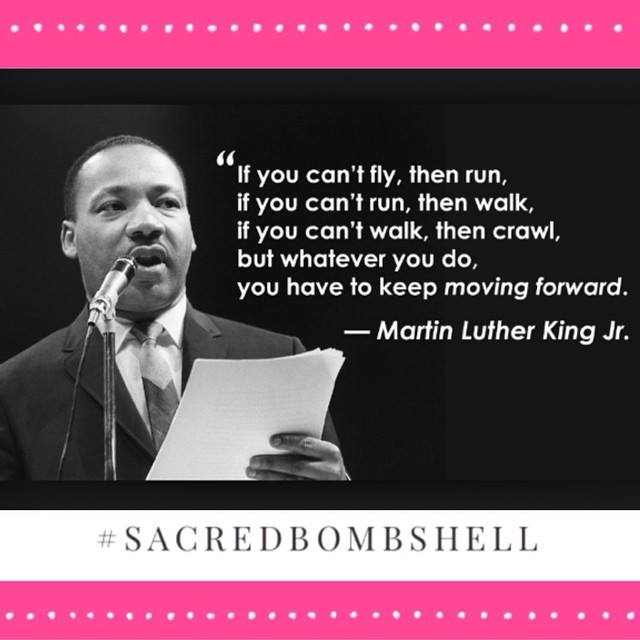 As a member of my tribe, I am sending you this because this is YOUR TIME TO STEP UP.
Last week at the Golden Globes, Oprah Winfrey gave a speech that is STILL giving me chills.
This means SO MUCH at a time where every single day seems to bring a challenge to our basic self-worth and sense of self.
Auntie O declared that TIME IS UP —
Time is UP for the dated, old way of thinking and being that has many of us as women moving through our lives, begging for permission to be who we were born to be.
Oprah holding space in a Golden Globes speech left many people begging her to run in 2020 for President.
Can you see it?
Instead of "you get a car" — picture it:
"You get a sense of dignity!
And you get a sense of dignity — and you get a sense of dignity, too… "
After that Oprah speech, I posed a challenge to my Spiritpreneur Warrior Business coaching clients that I want to share with you.

When we stand in the face of greatness, we are most often passively in awe.
We behold Auntie Oprah with tears at her capacity to move us en masse.

We revel in a riff from Beyonce, Lady Gaga or Mariah Carey.

We get our whole lives together entirely when Michelle Obama or her husband charm us with their seemingly unending optimism in the face of strife.

And some of us (meaning me) cry like a baby when we hear Dr. Martin Luther King, Jr. speak.

Again and again, passively in awe.
AWE is necessary.
But a time like this is not a time for passivity.
My clients like YOU are– women leaders, coaches, healers, entrepreneurs…
WOMEN who are stepping into the entrepreneurial power and abundance as they DARE to build businesses and tribes.

The Oprah-related assignment was this:
Watch (again) this Oprah speech…
Not as a spectator but as a fellow healer, goddess, guide, sister, coach, high priestess, lightworker…

And ask yourself:
*Why is this incredible presentation so very powerful to behold?

*What qualities do you see in Oprah that also exist within YOU?

*Notice her storytelling power that we cover in the Speaking for Spiritpreneurs Kit…

*What does her body language say?

*What do we believe Oprah must believe about herself to exude such powerful energy?

*What can we learn just in this one presentation from one of the greatest speakers, teachers and motivators of our current human generation?

The time of merely being spectators is over.

You are being called to step up.

How are you holding space for your own mission?
We spoke about this on my Saturday broadcast with the incomparable Arzu Mountain Spirit, the Garifuna healer who will be with us on Summer Soul-stice at my Goddess Pray Love Feminine Power Retreat in June.
And we will be talking about this later this week, when I invite you to join the Spiritpreneur Guru Accelerator to build your own business and tribe.

To celebrate this changing of the inner guard, we have–
FREE, FREE, FREE classes on facebook.com/abiolaTV all this week:
(These sessions directly answer recent questions you have sent me.)
The Spiritpreneur free sessions will be on building a biz as a coach healer or creative guru, overcoming self-doubt, getting clients, pricing, moving out of procrastination, tribe building, and creating your own course.
Free Facebook Spiritual Business Class Schedule:

***Tues 1/16, 4pm EST
***Weds 1/17, 4pm EST
***Thurs 1/18, 6:30 pm EST (This one requires registration: www.RichGoddess.club)
***Fri 1/19, 2pm EST
***Sat 1/20, 11am EST I ALSO created a juicy, NEW FREE Spiritpreneur Guru Roadmap just for YOU.
This new FREE offering outlines exactly how YOU can raise your status, step up into your power and abundance, and begin to be well-regarded in your niche as an influencer, expert and guru.
You were born to make a difference.
Let's do this!!
You are powerful.
Your spirit is beautiful.
You are enough.
You have a purpose.
Download the free Spiritpreneur Guru Roadmap here:
Xoxox,
a.
P.S. See you at the juicy FREE CLASSES on Facebook.com/abiolaTV —

Free Facebook Spiritual Business Class Schedule:
***Tues 1/16, 4pm EST
***Weds 1/17, 4pm EST
***Thurs 1/18, 6:30 pm EST (This one requires registration: www.RichGoddess.club)
***Fri 1/19, 2pm EST
***Sat 1/20, 11am EST
P.P.S. Speaking of holding space, join me for Goddess Temple Sundays, our weekly blast of inspiration and magick. For TEXT reminders whenever I am going LIVE, text GODDESSTEMPLE to 43506 in the USA.
P.P.P.S. 🙂 Download your FREE SPIRITPRENEUR GURU ROADMAP – now at http://www.Spiritualista.guru
Pin Me!