Yay!! My new African Goddess Positive Affirmation Cards are now available for purchase.

Greetings Gorgeous,
I love affirmation cards and oracle cards. I have purchased all kinds of inspirational cards over the years.
Some of my favorite cards have been affirmation cards by spiritual teachers Louise Hay and Dr. Wayne Dyer. Then I had some great "Life Mosaic" cards with positive quotes from poet and empowerment guru Dr. Maya Angelou. Abraham-Hicks has a beautiful set of "Law of Attraction cards" that I've had for a while. A particularly powerful deck of goddess cards for me is "Gifts of the Goddess" by Amy Zerner and Monte Farber. For Christmas I gifted myself with Denise Linn's Gateway Oracle Cards. Sometime this year, I will probably buy a tarot deck — I used to be so afraid if them even though I read rune stones! Chuckling at myself now… I've been eyeing Doreen Virtue's decks for a while.
I'm not about bumper sticker self-love although sometimes that helps!
So what have I done over the years with these inspirational cards?
A sacred bombshell can never have too much inspiration! I haven given these cards out sometimes individually as inspiration calls. I also have attached them to gifts. I like to use them to do readings for myself and others. Sometimes I'll pull a card for a coaching client before a session. I'll also pull a single card for "Daily Word" style inspiration or read them in a spread. There are many, many positive and inspiring uses.
I've also made my own positive affirmation cards for years. Back when my focus was creating art films as a vehicle to coach, empower and inspire women I made promotional affirmation cards that I had printed to go with each project. Then I used to just make them on business cards and give them out.
In 2009-2010 I started sharing creative custom affirmation cards on my blog. (Here's an early set.) 2012 was the first year that I created my own full deck of 30 cards. (Find those on this Pinterest board.) I made them printable to offer here on my site as positive inspiration. It was fun sharing them on Instagram and Pinterest. I used images of the same model from my debut novel "Dare" in her dramatic black lipstick. Some of the affirmations were "Dare" inspired as that's the year that Walmart did a re-release of my first novel in an African American fiction collection.
African Goddess Affirmation Cards — whoo hoo!
My new collection of "African Goddess Affirmation Cards" fulfills a need that I've had for many years. Some people like Denise Linn make a point of having multicultural images so occasionally there will be a brown woman so I can say, "yay! She looks like me."
Why these cards? As a woman of color, I wanted to be represented by more than the occasional card in the deck.
I wanted to create a deck of motivational and inspirational positive affirmation cards featuring women of color.
I also really wanted cards that represented the goddesses of the African diaspora. In school I learned about the Greek and Roman goddesses. I learned about Aphrodite and Venus but never the Yoruba or Dahomey or Ashanti female deities or the Haitian Erzulie studied by Zora Neale Hurston.
My third wish was to see representations of natural textured African hair on beautiful contemporary women. I wanted to see women with a range of long and short, kinky, coily, curly, teeny weeny afro and wavy natural hair.
In addition, I wanted the art work to be rich, beautiful and diverse showing women in every walk of life, with shades of charcoal black, mahogany brown, cocoa, yellow, red, amber, cafe au lait and alabaster skin.
Jeez was I asking too much? Nope!
My lovely affirmation cards I'm proud to say fulfill all of my wishes including diverse goddesses and goddess lessons. Each goddess card features a lesson and a link to a goddess of the African diaspora. There are Santeria, Egyptian, Yoruba, Native "Aboriginal" Australian, Cuban, Haitian and Continental African goddesses. Isis is included as is Oshun, Yemaya and Mami Wata.
This was such a labor of love and the positive response has been so amazing that I am already making notes and sketches for my second deck. Yay!
I have been using my new African Goddess Affirmation Cards for a few months and I have to tell you that, even though I made them, I find them really inspiring. Not only do they make great oracle cards but they are perfect for tuning into your intuition or providing just a burst of inspiration when you need it most.
Pull a goddess card and drink in the affirmation. Repeat it to yourself like a mantra throughout the day. Chant it while you work out and when you encounter your friends and frenemies. I like to keep my cards charged up my my altar or tape specific ones next to my bathroom mirror for an extra boost.
"I am worthy."
I have a detailed reading and self-coaching lesson on each card but I urge you to go deeper for your own inspiration. See if you find clues in the art work that make you think about what path you should be taking next. Check out the assignment on the card and make that your mission for yourself.
"Life loves me."
Maybe you just need a reminder that you are enough and this is your time to shine. It goes without saying but these cards are about affirming self-love and self-worth, not any particular religious association. The cool thing is that these cards don't just appeal to black women or women of color, but I've received great feedback from women of all backgrounds because we're all in this together. Good stuff!
I gave my cousin Adana a deck of my African Goddess Affirmation Cards as a gift and then this morning she randomly sent me this awesome and inspiring text: "Hey. Thank you for the cards I read one daily and it gives me insight, sort of like combination of my horoscope/tarot cards." I was so excited that I texted her right back to ask if she'd be open to sharing her review on the site. She made my day! I look forward to your feedback as well.
"I am enough."
Order a set here or if you already have one, shout me and and share your thoughts. I have more goodies coming related to the cards and want to make sure that you're the first to know. (Join my mailing list to stay in the loop.)
Passionately yours,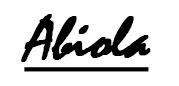 P.S. I can't wait to see what you think!
Here's the box cover: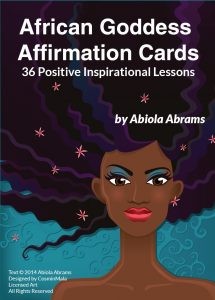 Here are some of the magnificent Love-Body-Spirit Goddesses featured: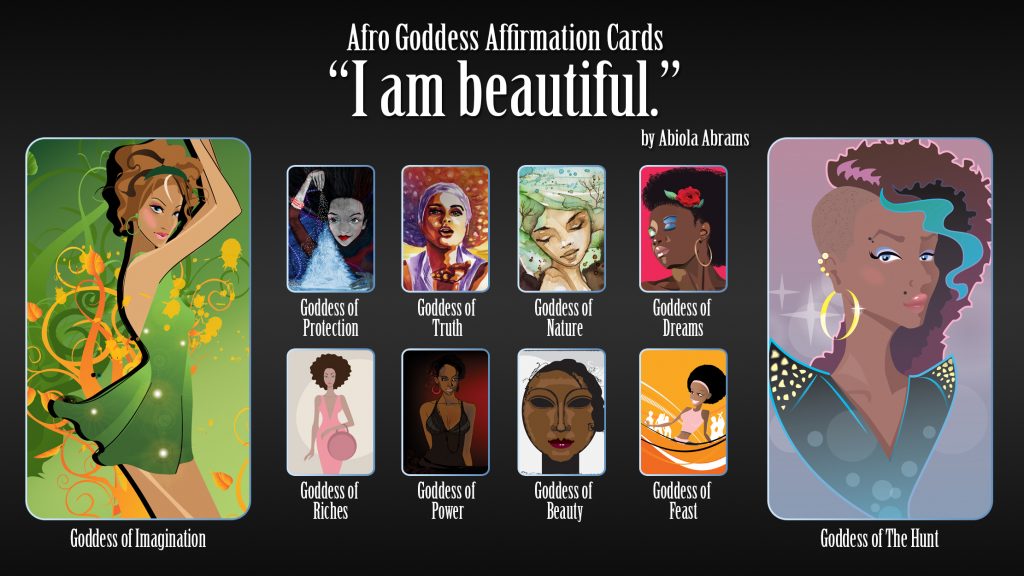 Here are a few of my 36 beautiful affirmation cards: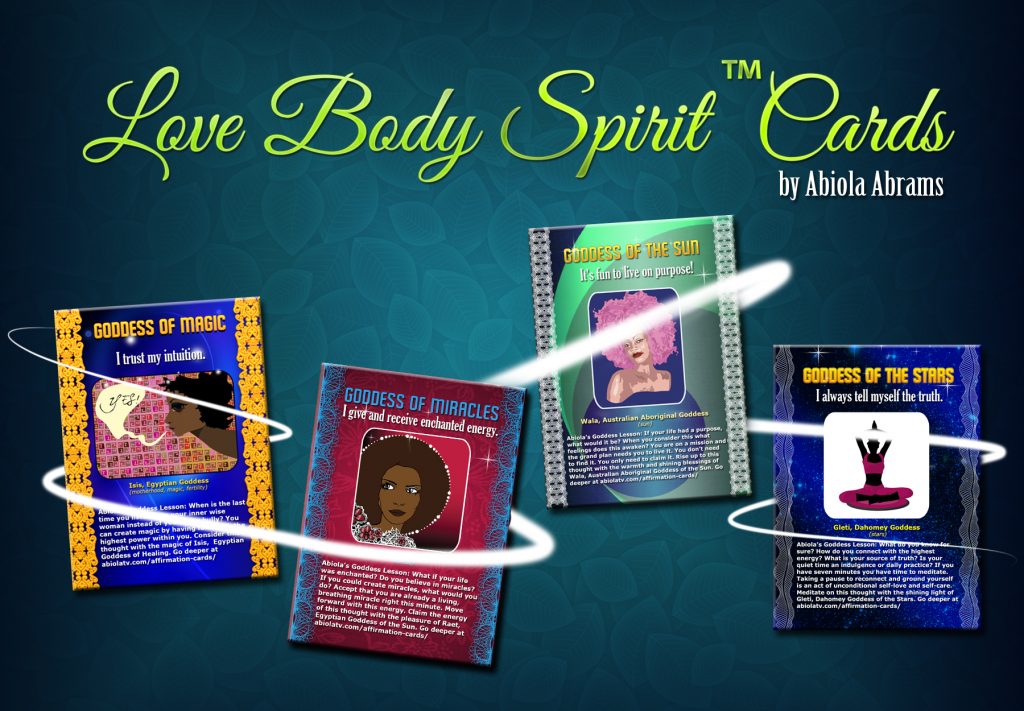 Each Goddess Affirmation Card has a lesson: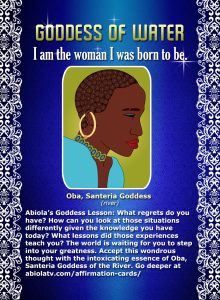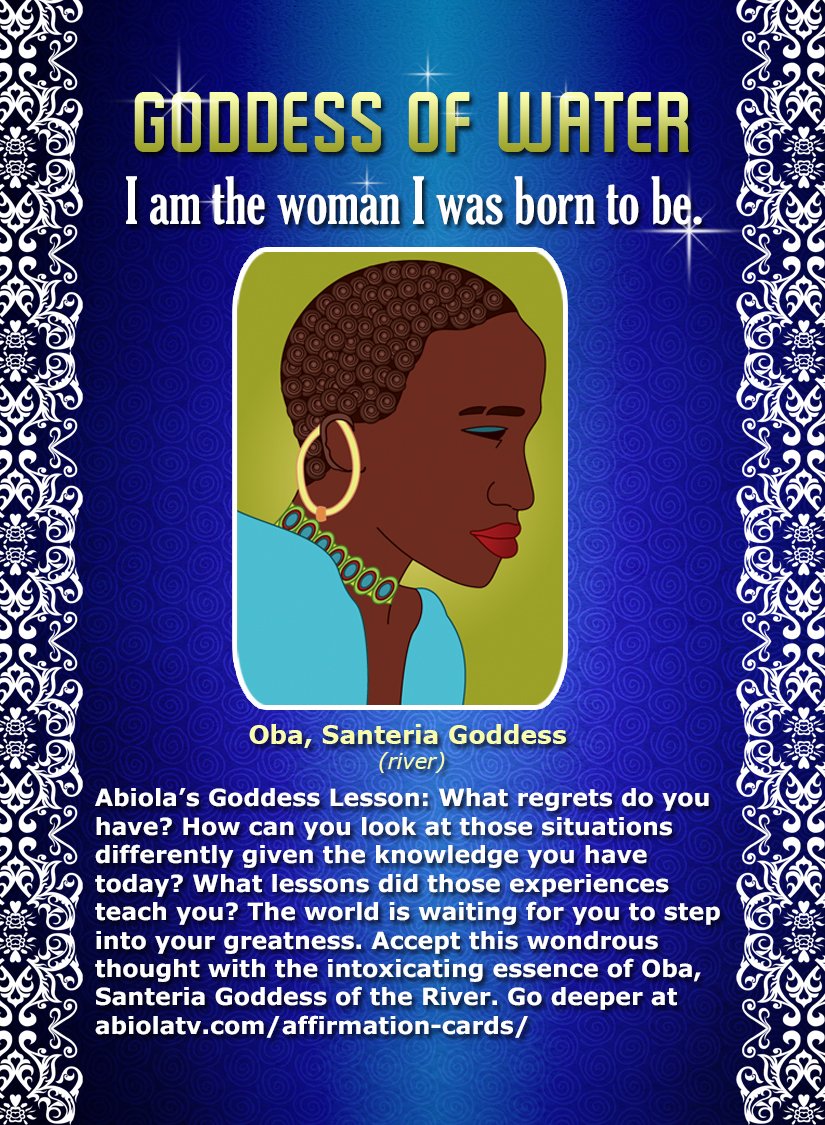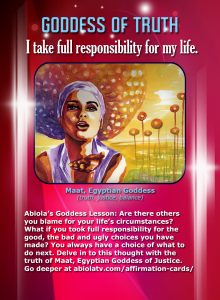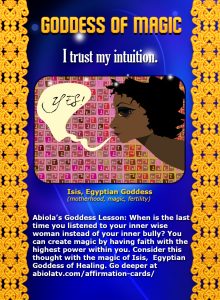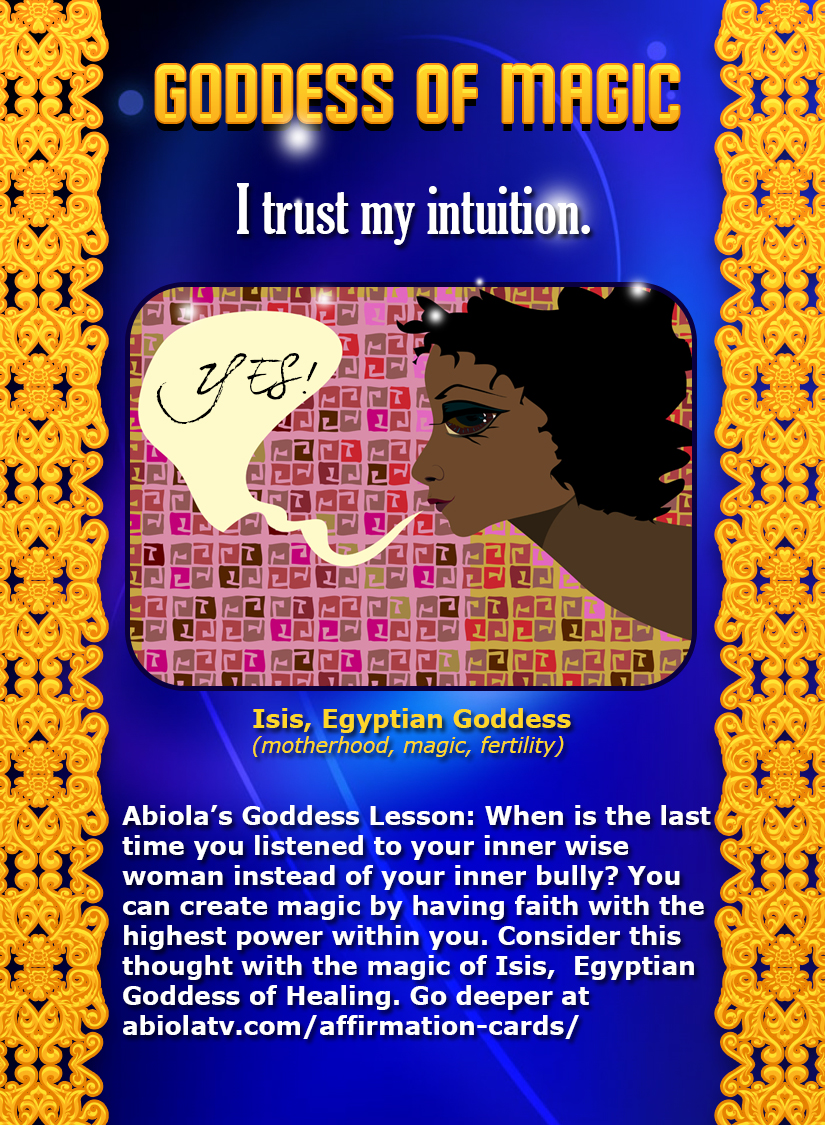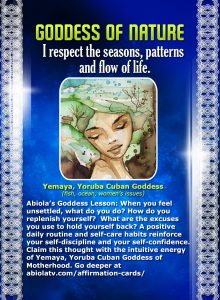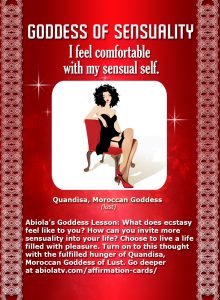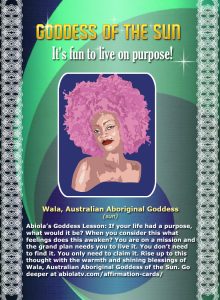 About the Inspirational Positive Affirmation Cards
The African Goddess Affirmation Cards are a timeless motivational tool. Oshun, Yemaya and Isis are goddesses of the African diaspora. You know Venus, Aphrodite and Athena. Now it's time to tap into the gifts of Afrocentric female deities. Artistic representations of beautiful contemporary women with natural afro hair and shades of brown skin represent goddesses of love, abundance and beauty. 
These feminine power archetype cards feature self-love lessons and positive affirmations from Love-Body-Spirit™ Coach Abiola Abrams, author of The Sacred Bombshell Handbook. If you enjoy personal development, self-help books, affirmation cards or tarot cards, then these are for you. Use for intuitive guidance, daily empowerment goals, oracle readings, divination discovery or self-coaching. 
Click this link [here] to order the cards.
 This is what the back of the cards looks like: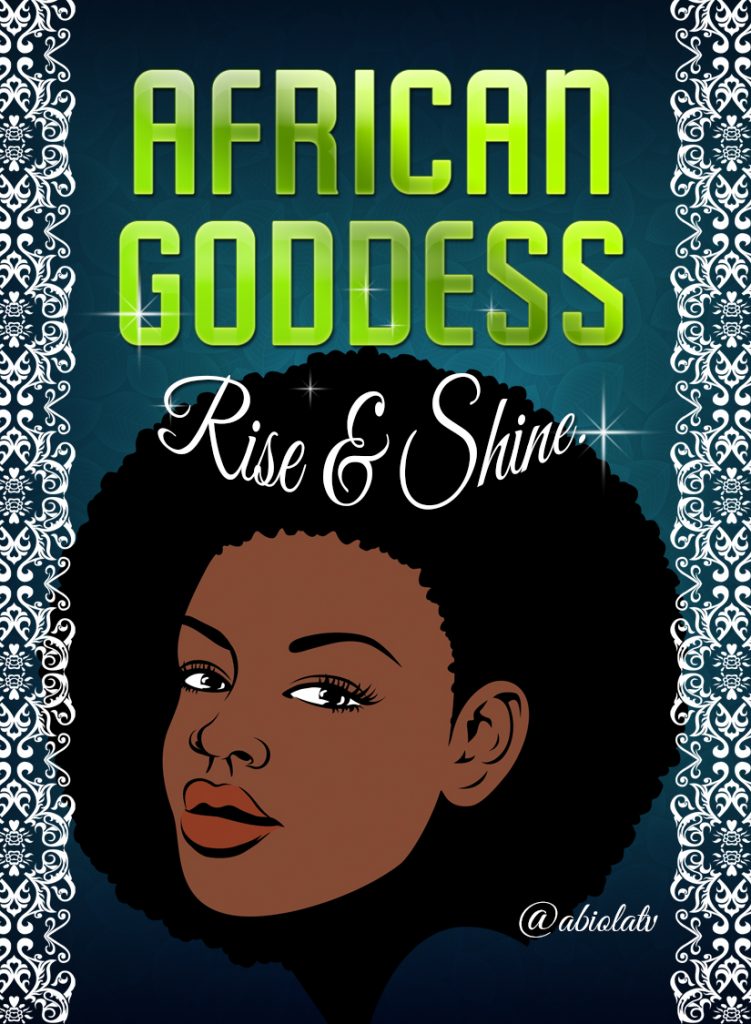 These beautiful cards only cost about $20 right now and you get them in a FEW weeks.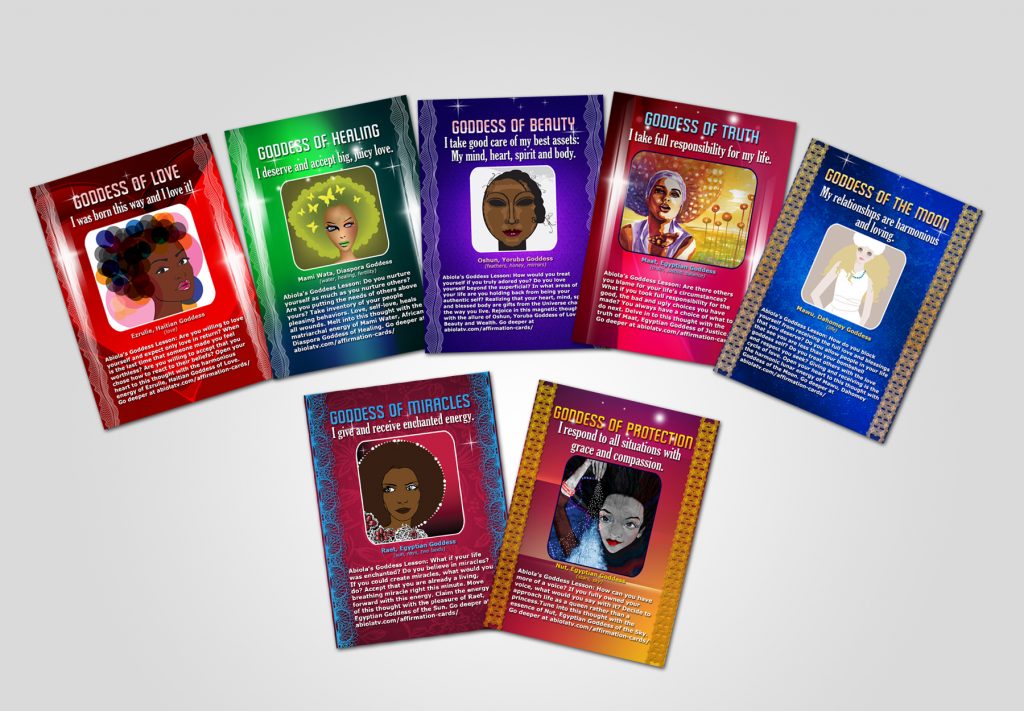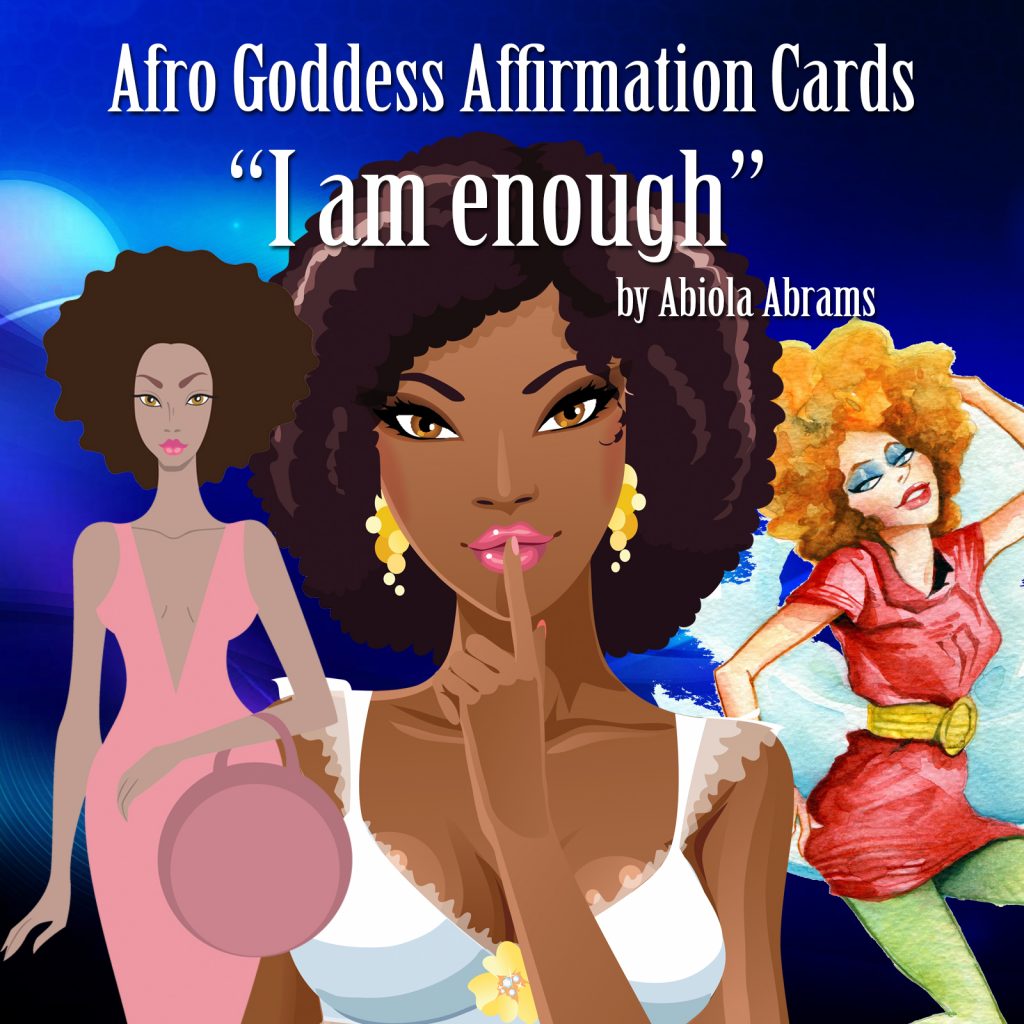 ---